Humans have used scents to lull themselves to sleep for thousands of years. In ancient Egypt, those who could afford it would burn frankincense, myrrh, cinnamon and cypress to induce sleep and enhance dreams. The Romans used the scent of chamomile to relax and drift into dreamland. Even the "father of medicine," Hippocrates, was an advocate for aromatherapy.
Aromatherapy, the practice of using scents for medicinal purposes, is shown to promote deeper sleep and reduce fatigue. Certain scents are shown to promote positive mood and relaxation, which often leads to rest. One study even finds that the natural scent of the person you love can help you get better sleep.
Aromatherapy can promote relaxation and restfulness. To help you sleep better, we looked at 15 scents that are scientifically proven to promote relaxation, improve sleep quality and even treat insomnia.
1. Lavender
The sweet smell of lavender is one of the more commonly known sleep remedies, as well as one of the most well-researched. The herb is shown to ease restlessness and agitation. It's also used to treat insomnia and promote deeper, longer sleep. Finally, studies find that lavender decreases the heart rate and lowers blood pressure, which helps participants relax and fall asleep.
Popular Fragrances That Use Lavender:
Jo Malone – Amber & Lavender
Burberry – Brit Rhythm
Floris – 197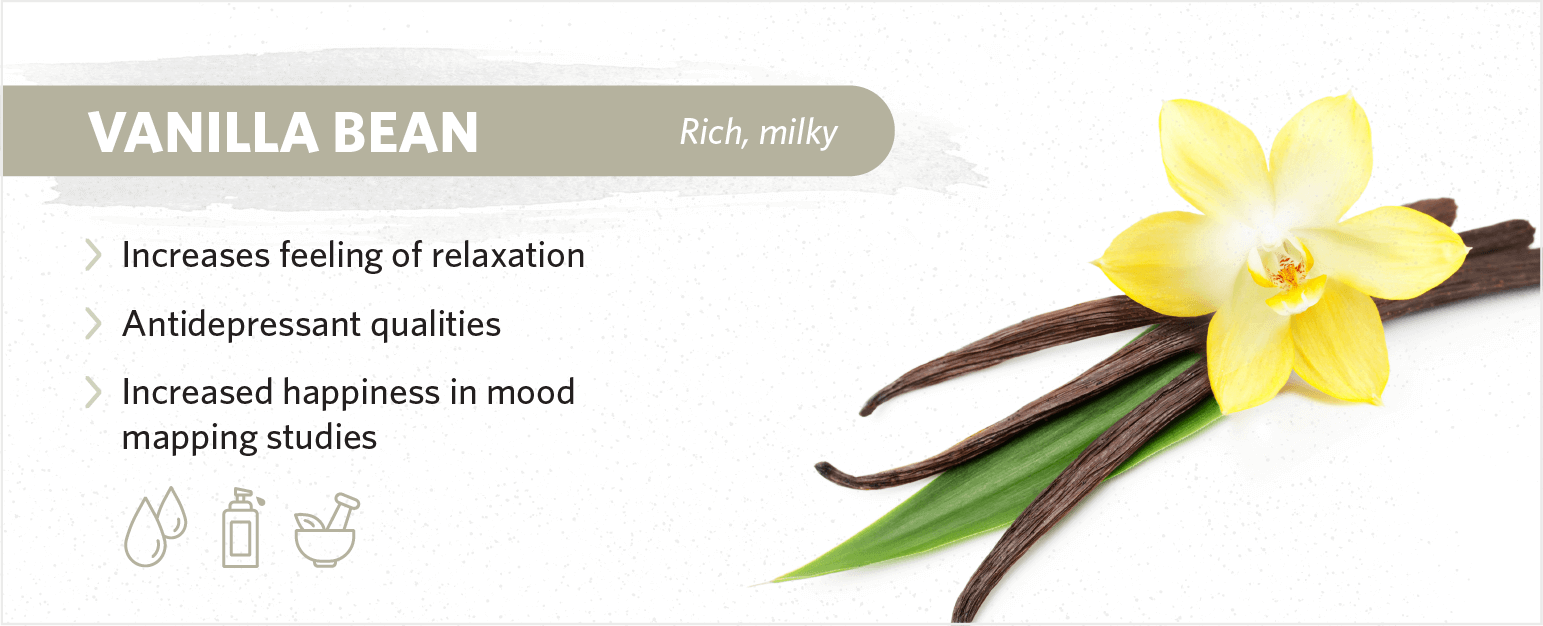 2. Vanilla
Known for its rich taste and smell, vanilla is shown to have a positive effect on mood. It also decreases arousal in test subjects. It can also act as an antidepressant in some cases. This creates the perfect environment for falling into a deep, restful sleep.
Popular Fragrances That Use Vanilla:
LaVanila – Pure Vanilla
YSL – Black Opium
Atelier – Vanille Insensee Cologne
3. Valerian Extract
While Valerian extract can be used orally for the same purpose, one study finds that the smell of valerian extract increases delta and theta activity in the brain. These are the parts that control drowsiness and deep sleep. Another study involving rats finds that they fall asleep more quickly and sleep longer after sniffing the extract.
Popular Fragrances That Use Valerian Extract:
Stilton – Eau de Stilton
Tonka Oud – Illuminum
S-Perfume – 100% Love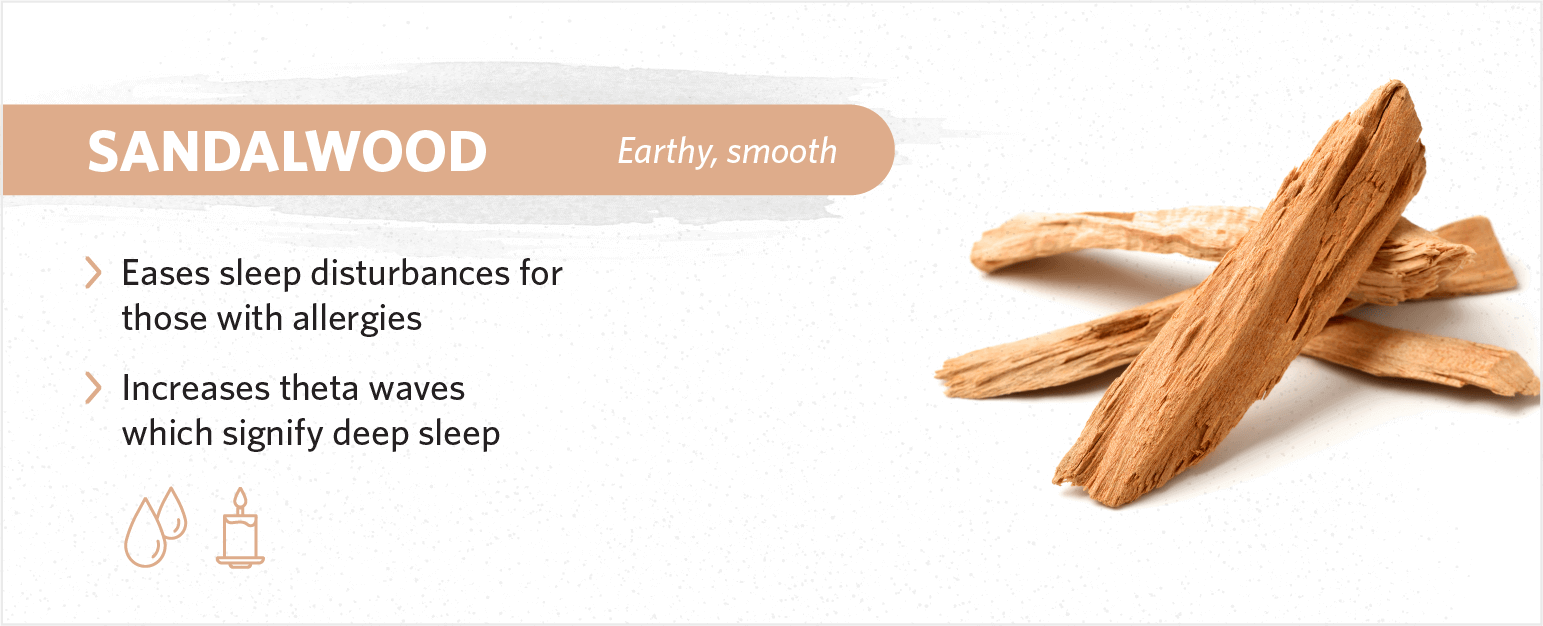 4. Sandalwood
The soft, warm, smooth scent of sandalwood is a favorite among perfume makers. While the scent is soothing on its own, one study shows the smell of sandalwood increases theta brain activity, which signifies drowsiness and deep sleep. It is also shown to ease sleep disturbances for people with a cold or allergies.
Popular Fragrances That Use Sandalwood:
Tom Ford – Santal Blush
Chanel – Coco
Byredo – Parfums Blanche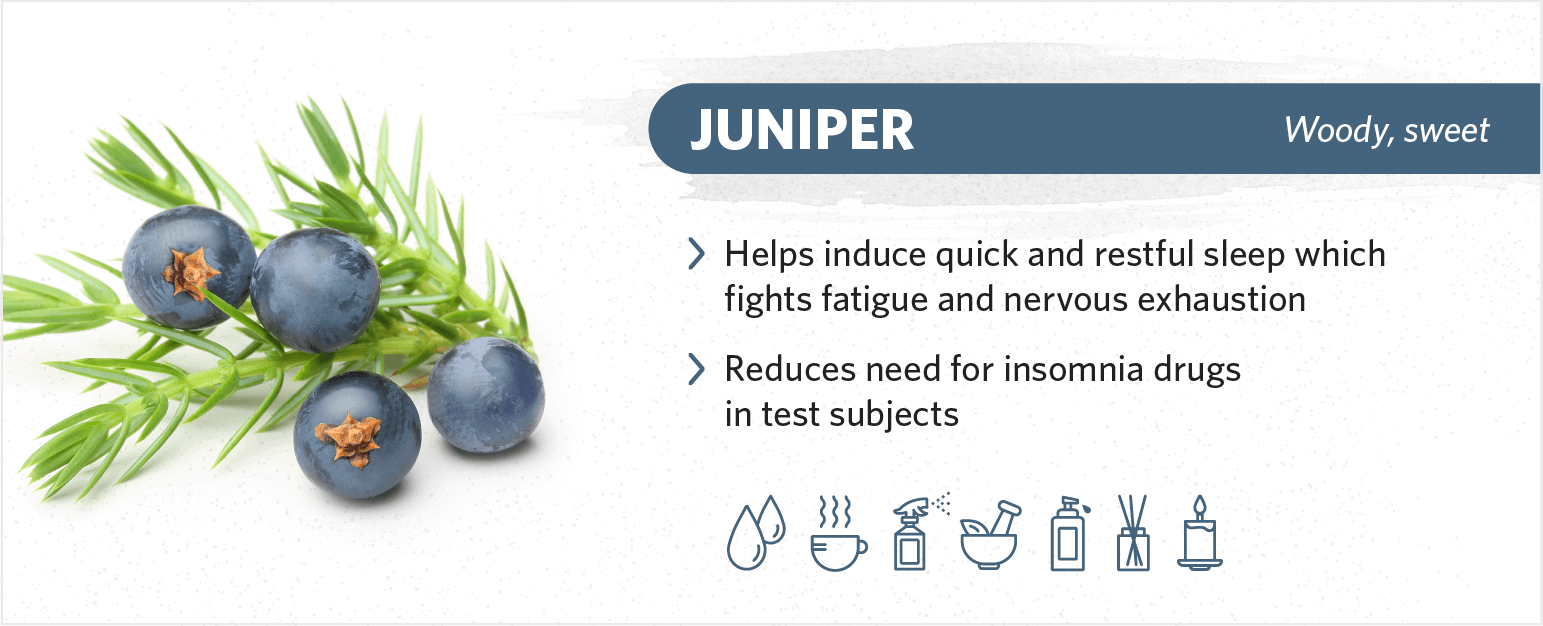 5. Juniper
Woody smelling juniper is shown to treat insomnia. One study finds that patients who inhaled juniper (along with a few other scents) were able to cut down on their sleep aid medication. Juniper is also proven to treat many problems in the body including fatigue, nervous exhaustion and menstrual difficulties, suggesting it has multiple benefits.
Popular Fragrances That Use Juniper:
Apothia – L
Ralph Lauren – Polo
Creed – Original Santal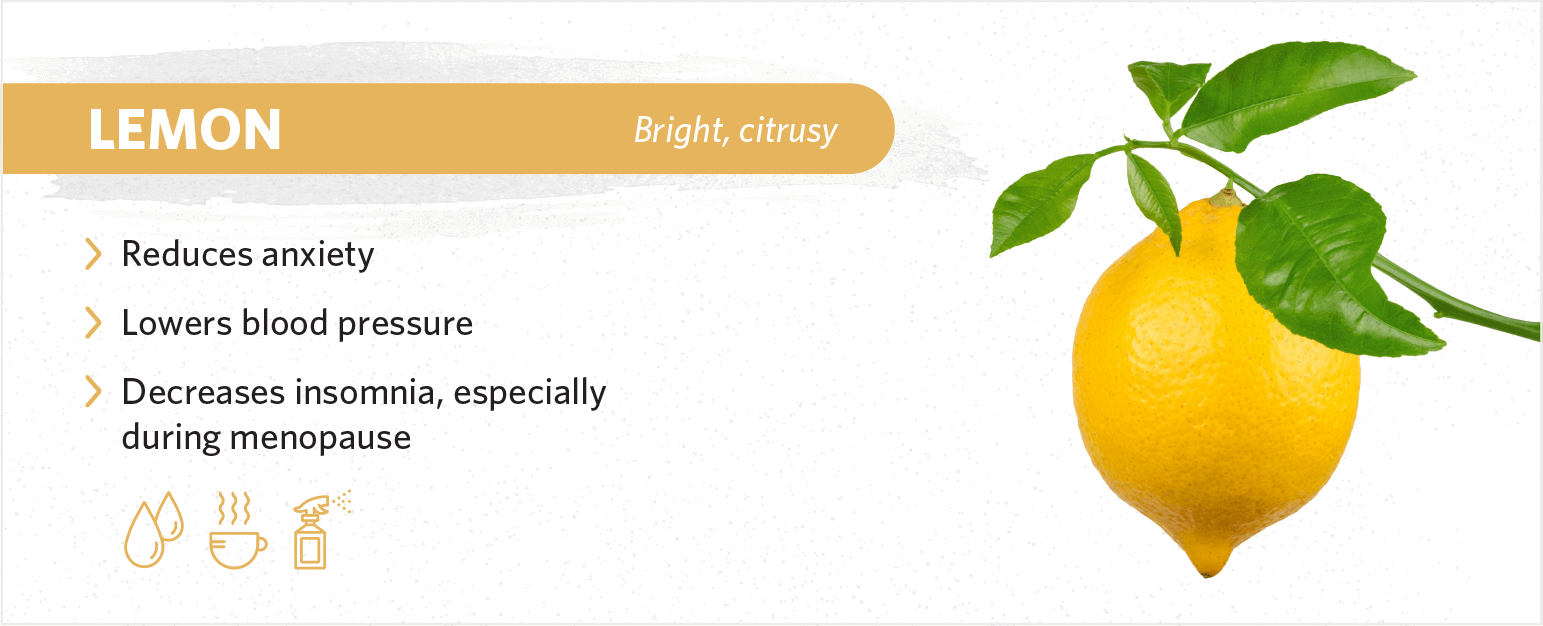 6. Lemon
Lemons, whose juice can be ingested with water, cooked into your food or used in aromatherapy, reduce anxiety and stress levels, lower blood pressure and calm allergies — all of which leads to more restful sleep. They even decrease insomnia, especially for menopausal women.
Popular Fragrances That Use Lemon:
Chanel – No. 5
Jo Malone – Lime, Basil and Mandarin
Fresh – Sugar Lemon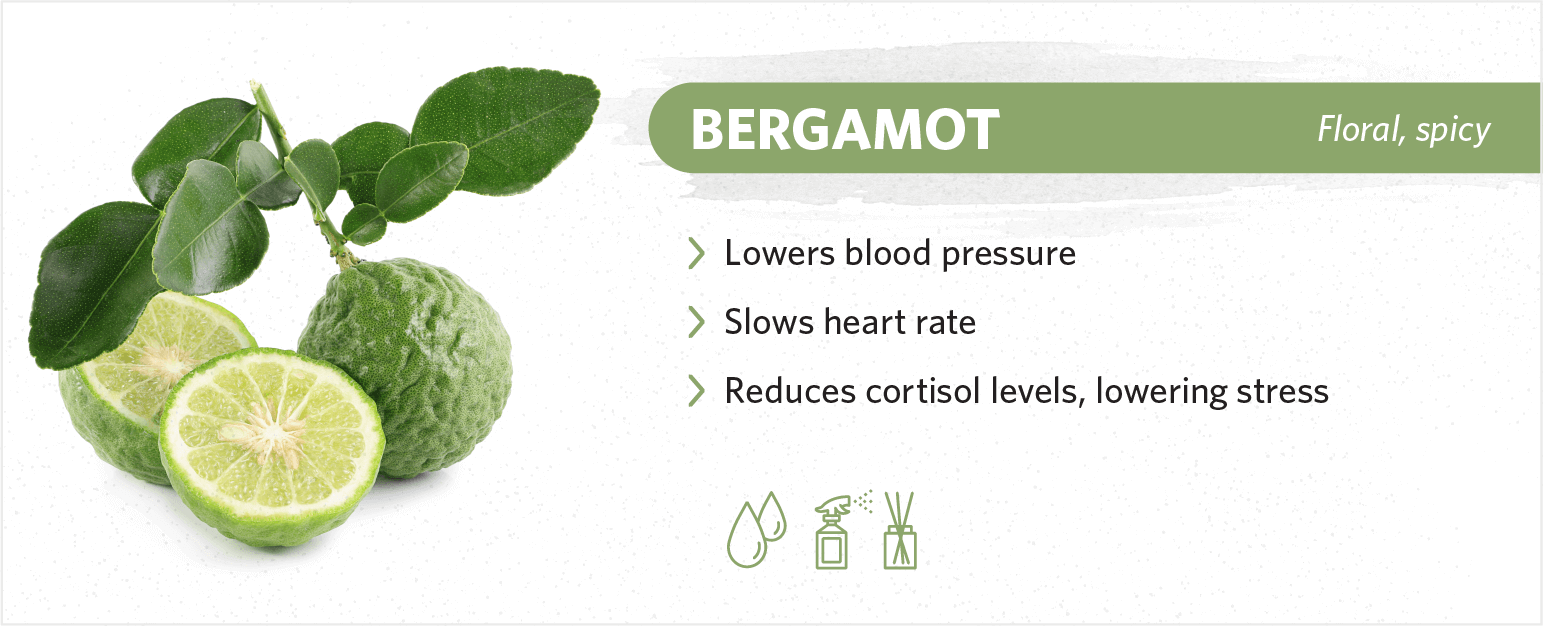 7. Bergamot
Bergamot oil, used in many popular fragrances, yields a citrus-like fragrance and has a slightly spicy-floral quality. The scent is shown to reduce psychological stress responses, lower blood pressure and lower cortisol levels to promote better sleep.
Popular Fragrances That Use Bergamot:
Armani – Privé Eau de Jade
Floris – Bergamotto di Positano
Tom Ford – Venetian Bergamot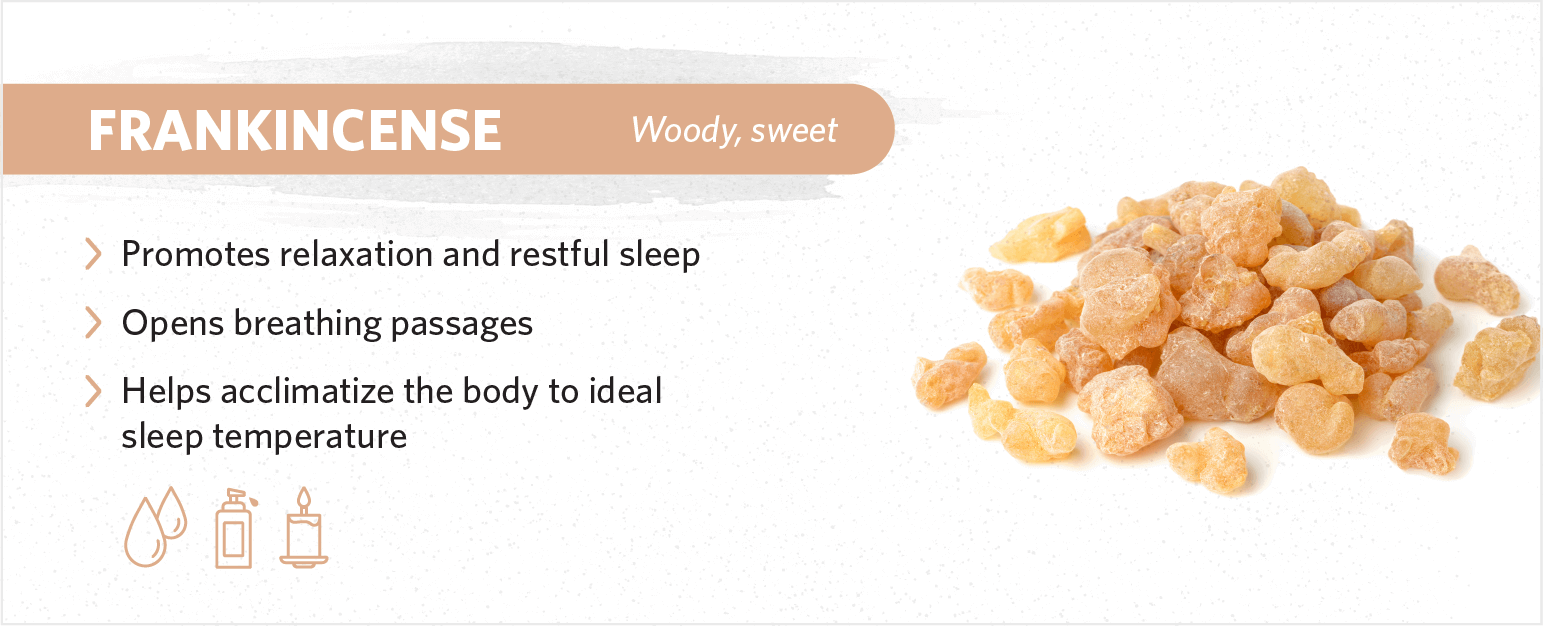 8. Frankincense
Frankincense has been used since ancient times as a therapeutic element because of its sweet, earthy and also slightly fruity smell. According to recent studies, the smell helps patients relax and have more restful sleep.
Popular Fragrances That Use Frankincense:
Five – Eau De Royal Secret
Marilyn Miglin – Pheromone
DKNY – Delicious Night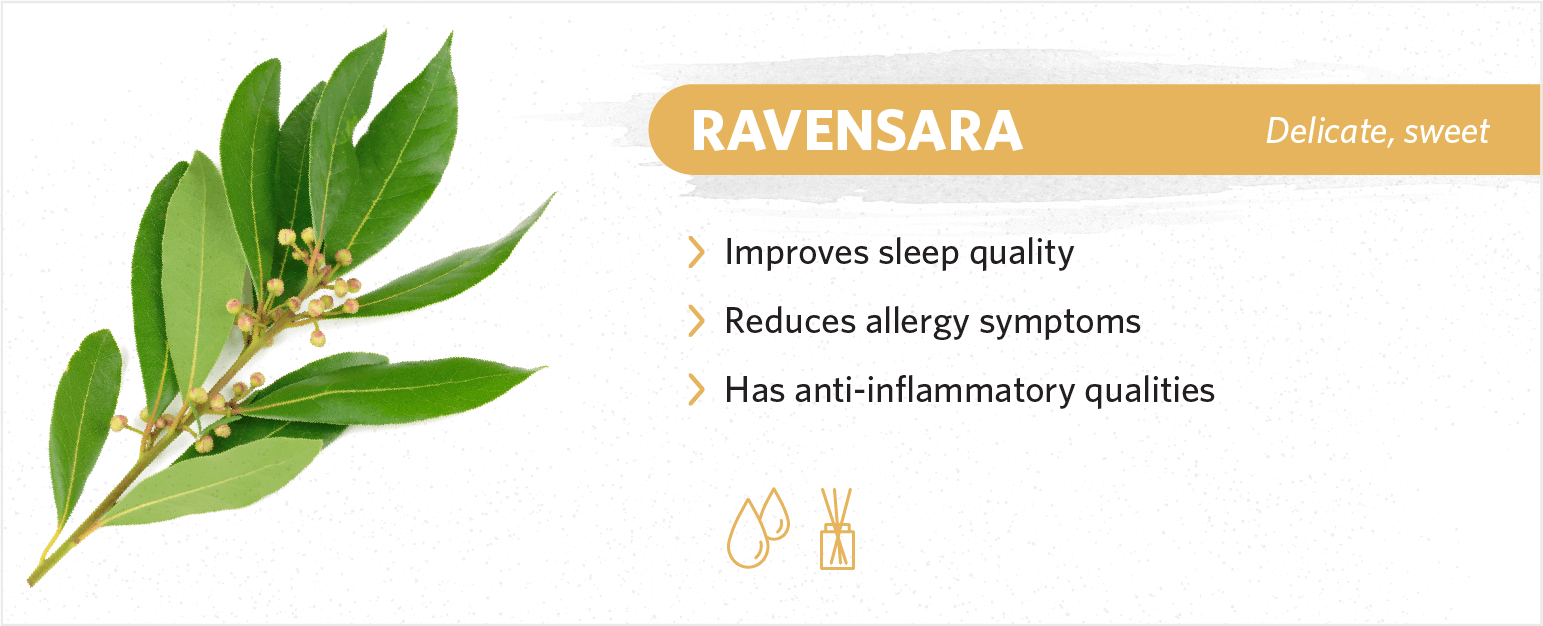 9. Ravensara
In one study, researchers found that Ravensara improves sleep quality in individuals who are experiencing allergy symptoms or nasal congestion. It is said to be an antibacterial, antiviral and antifungal as well.
Popular Fragrances That Use Ravensara:
Alexandre.J – Meili 2
Mendittorosa – Alfa
Jovoy Paris – Lys Epona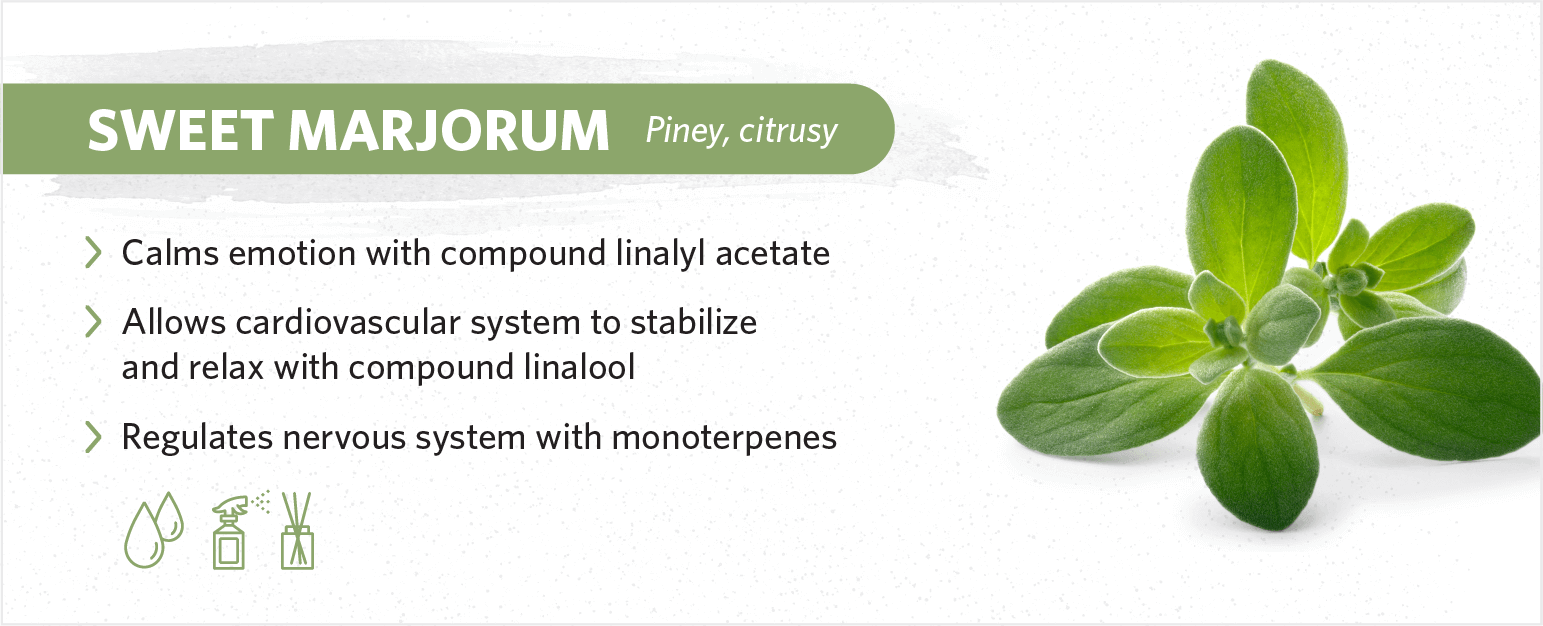 10. Marjoram
The compounds in sweet marjoram are shown to aid in sleep. These compounds include linalool, which stabilizes the cardiovascular system and helps a person relax, as well as linalyl acetate, which promotes calm. According to this study, sweet marjoram improves the sleep quality of nurses on monthly rotating night shifts.
Popular Fragrances That Use Marjoram:
Fendi – Fendi
Armani – Prive Oranger Alhambra
Burberry – Burberrys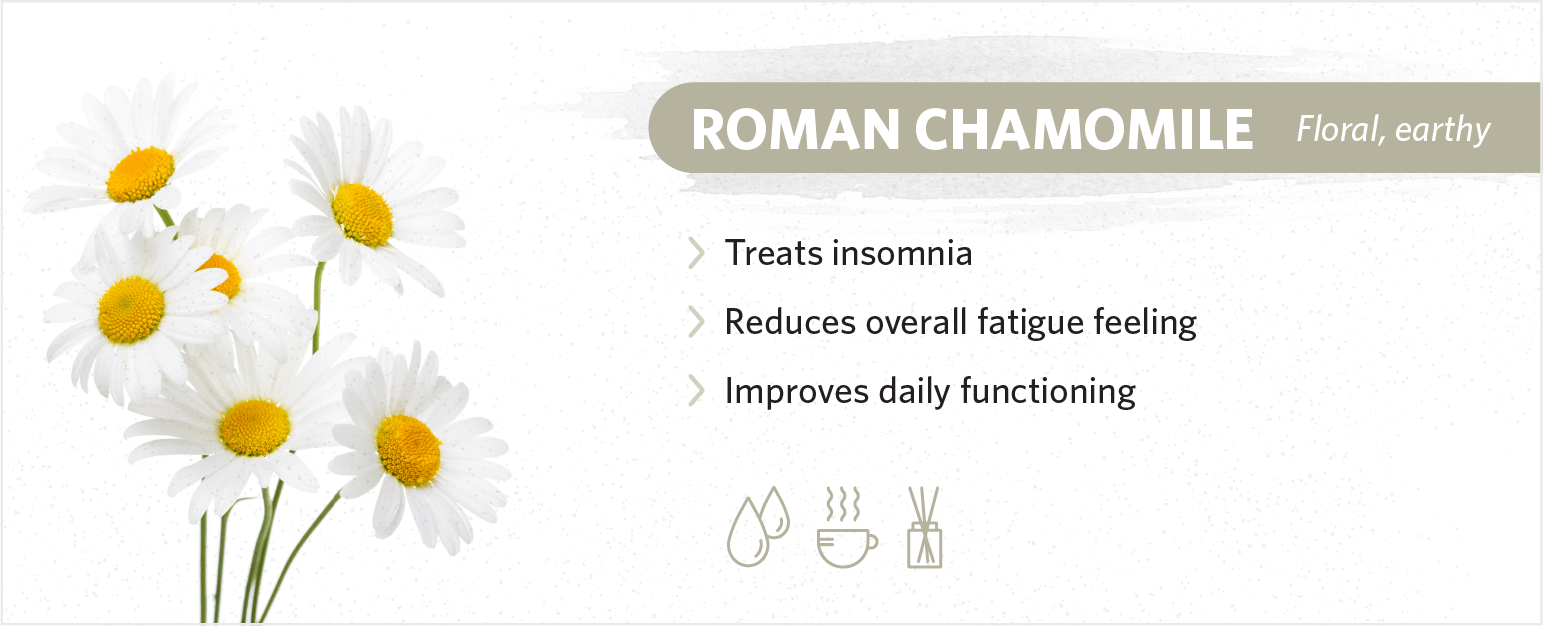 11. Roman Chamomile
A well-known calming agent, Roman chamomile was originally used to help lull residents of the Roman empire to sleep. Today, studies show that it helps promote sleep and ward off insomnia. It is also shown to potentially improve overall daytime functioning and lessen feelings of fatigue during the day.
Popular Fragrances Roman Chamomile:
Clinique – Aromatics Elixir
Calvin Klein – Escape
Demeter – Chamomile Tea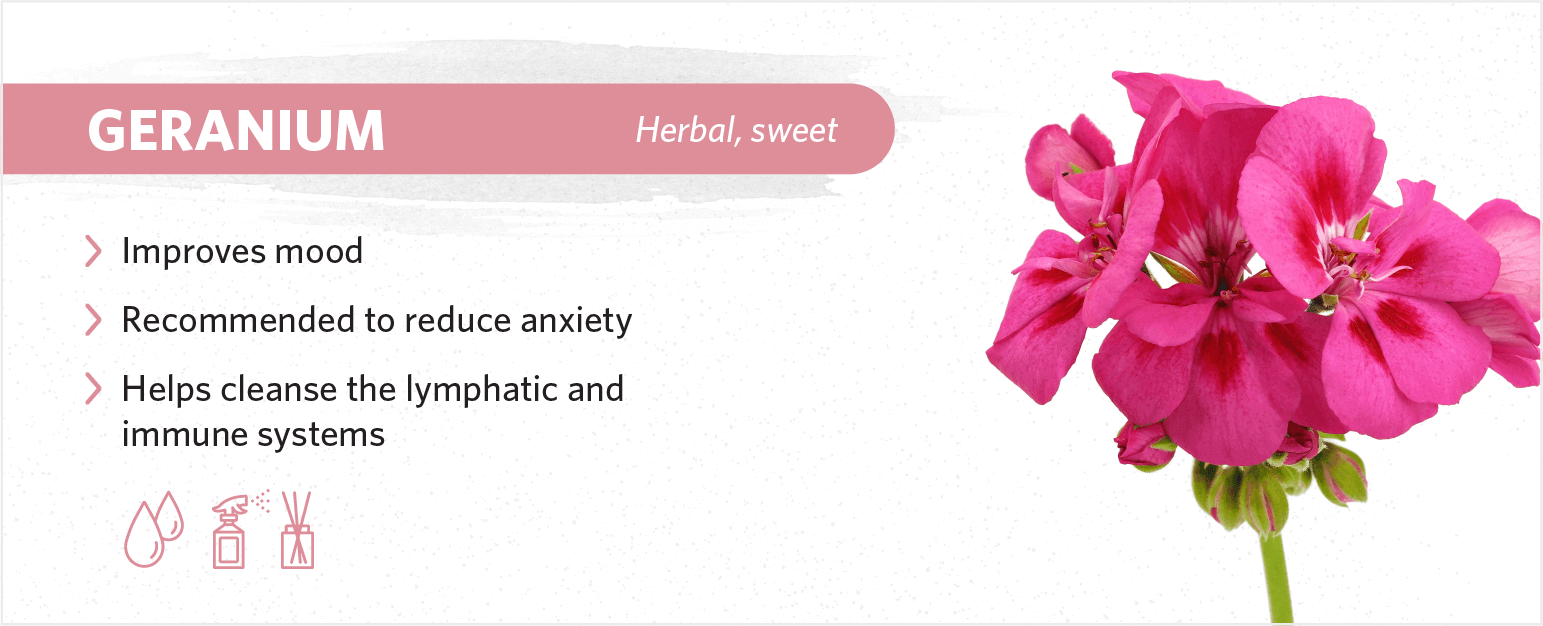 12. Geranium
The scent of geranium helps improve sleep, relieve stress and lift the mood. Verifying its benefits, scientists find that used alongside lavender, it helped ease sleep as well. It can also help cleanse the immune and lymphatic system, which helps with relaxation.
Popular Fragrances That Use Geranium:
Demeter – Naturals Geranium
Frederic Malle – Geranium Pour Monsieur
ELDO – Rossy de Palma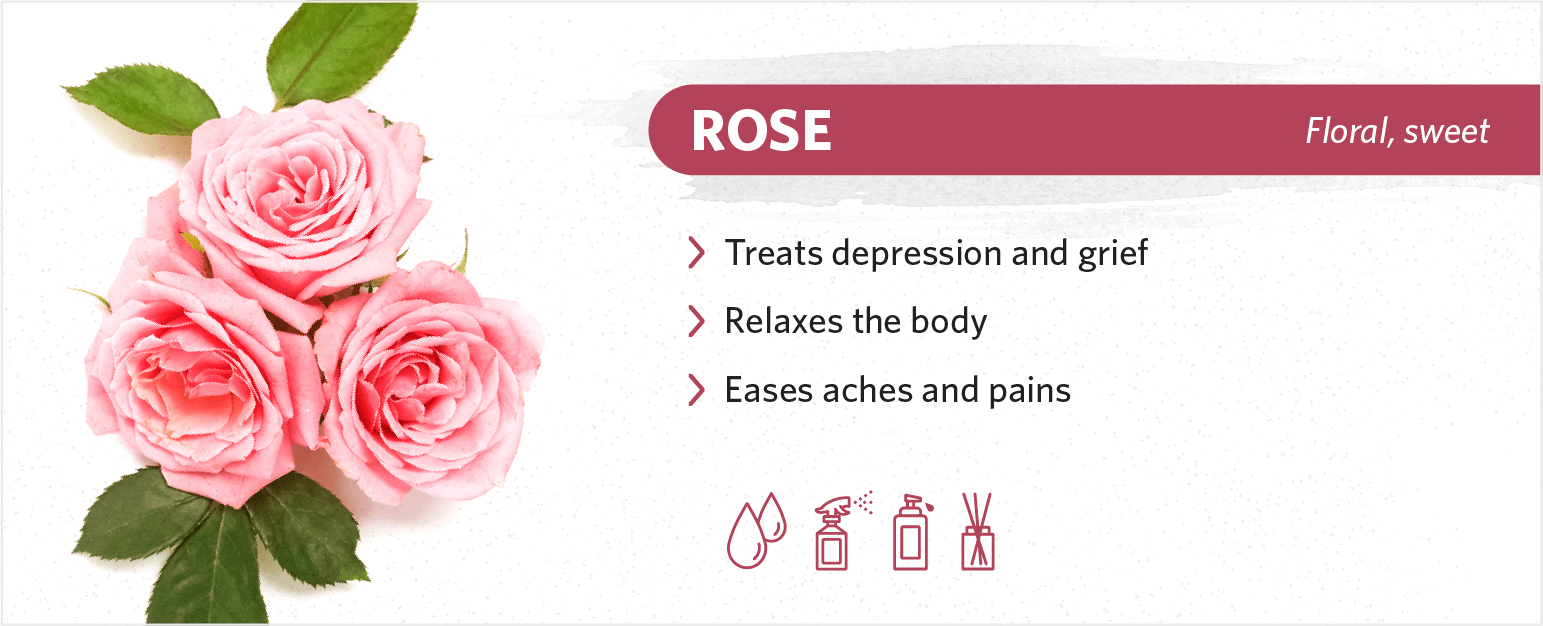 13. Rose
Rose oil is used to treat depression, grief, nervous stress and tension (among other ailments). Studies show that it also relaxes the body and eases pain, which can make rose oil a powerful sleep aid.
Popular Fragrances That Use Rose:
Hermes – Rose Ikebana
Stella McCartney – Stella
YSL – Paris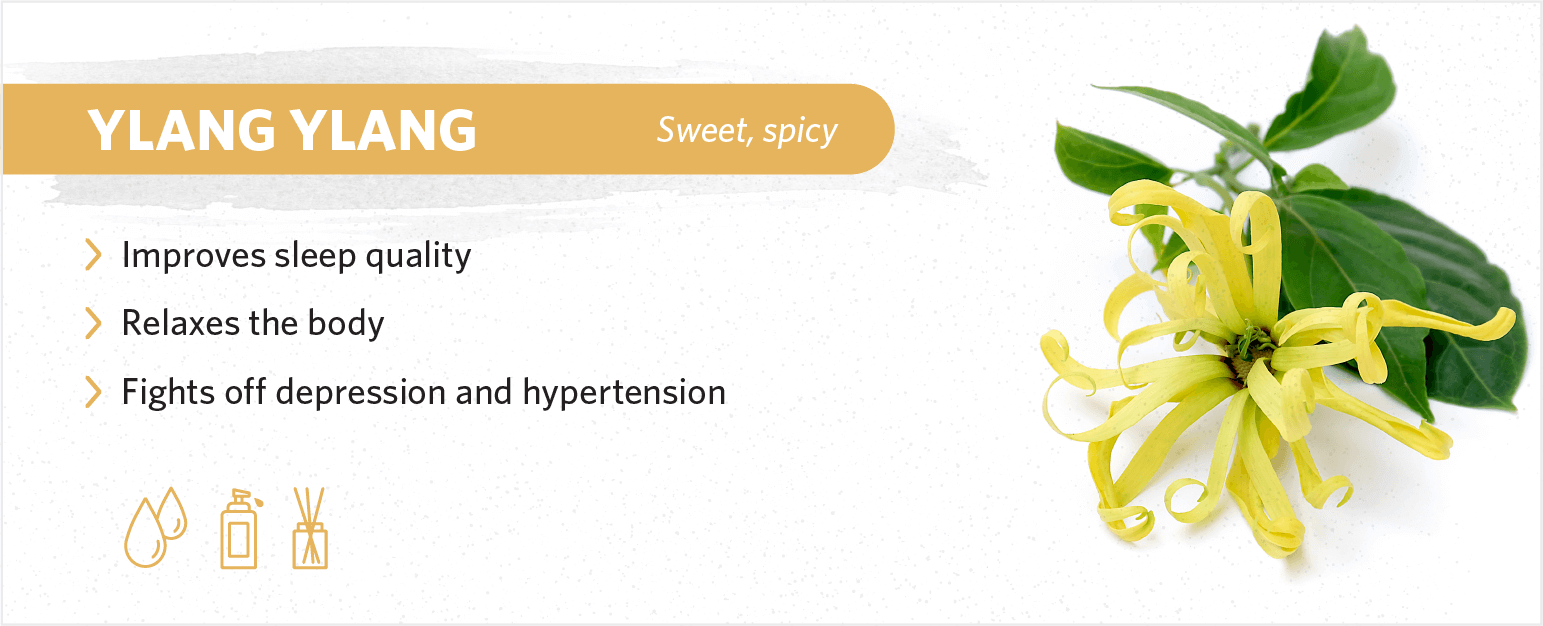 14. Ylang Ylang
The flower's sweet oil has been used to treat insomnia in Thailand for many years. More recently, however, Thai scientists have put ylang-ylang to the test. In a study of Thai college students, ylang-ylang improved sleep quality. It also relaxes the body, fights depression and eases hypertension.
Popular Fragrances That Use Ylang Ylang:
Givenchy – Ylang Austral
Christian Dior – J'Adore
Chanel – Coco Mademoiselle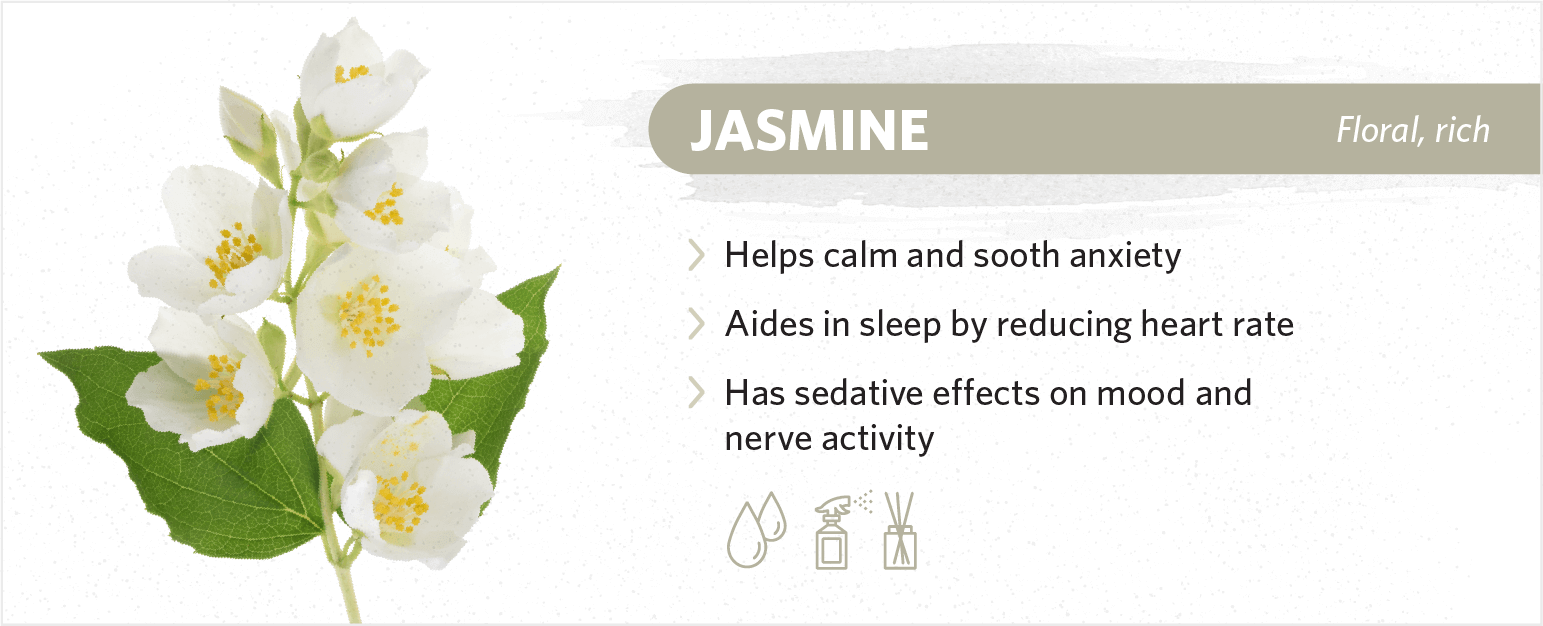 15. Jasmine
Sweet-smelling jasmine is popular in fragrances, but it's also proven to have a similar chemical makeup to commonly prescribed sleep aids. According to this study, the flower soothes anxiety and promotes sleep, working as a valium substitute. It also lowers your heart rate, encouraging sleep.
Popular Fragrances That Use Jasmine:
Chloe – See
BVLGARI – Jasmin Noir
Dolce & Gabbana – Light Blue
All of these scents can be a viable natural alternative to prescribed sleep aids. The best part about them is their accessibility. One has to only acquire the scent in the form of an essential oil, extract or included in a fragrance. Many commonly used perfumes and colognes feature these scents, and some even feature more than one. Simply diffuse the scent or spray a bit on your pillow and sheets to reap the benefits!