The Companies That Own the Majority of Fragrance Brands on the Planet
When it comes to beauty and perfume brands, there are just a few parent corporations that own the majority of fragrances. From cosmetics icon L'Oréal to fragrance specialist Interparfums, these beauty conglomerates have cornered the market on the top perfume brands. Do you know what company owns which brands?
The FragranceX research team took a look at some of the biggest beauty companies in the world to see how many perfume brands they really own.
Click the image to expand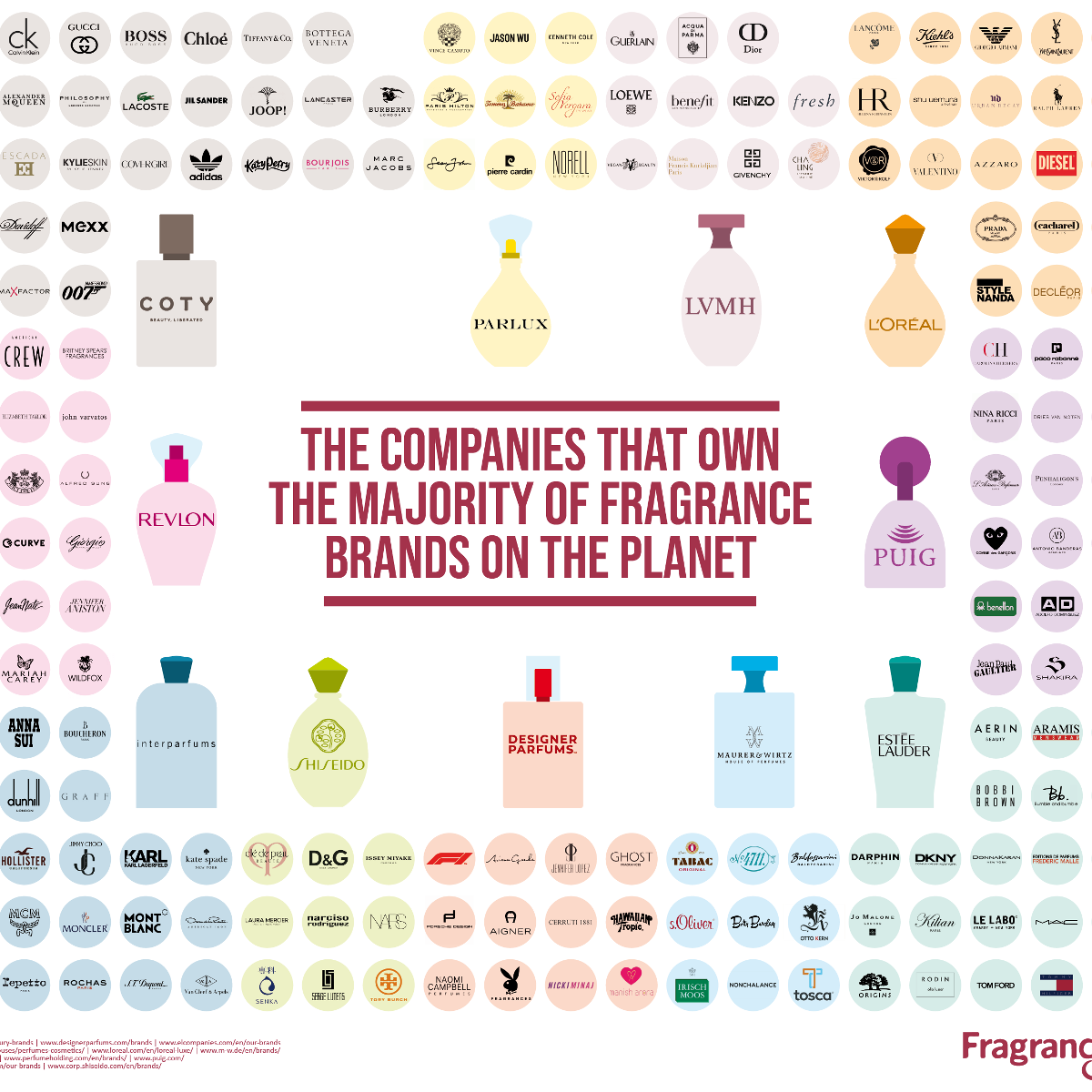 Who Owns the Most Perfume Brands?
The 11 beauty and fragrance companies we looked at own more than 170 of the best perfume brands in the world. Coty is perhaps the largest manufacturer of fragrances, including some popular brands like Burberry, Gucci, and Calvin Klein
Here is the full list of fragrance brands that Coty owns or licenses:
Adidas
Alexander McQueen
Bottega Veneta
Bourjois
Bruno Banani
Burberry
Calvin Klein
Chloé
CoverGirl
Davidoff
Escada
Gucci
Hugo Boss
James Bond
Jil Sander
JOOP
Katy Perry
Kylieskin
Lacoste
Lancaster
Marc Jacobs
Max Factor
Mexx
Miu Miu
Philosophy
Roberto Cavalli
Tiffany & Co.
The Most Popular Fragrances for Women and Men
Some perfume brands are timeless. While beauty fads come and go, these mainstays will never go out of style. The following are some of the most iconic women's perfumes and men's colognes of all time:
Chanel No. 5: This fragrance has been considered the best perfume for women for a century. It has been a staple among celebrities and glamorous people since it was created in 1921. Chanel's fragrances are created by in-house chemists and aren't owned by any of the parent companies on our list.
Shalimar by Guerlain: This fragrance, owned by LVMH, is another best-selling women's fragrance. Its subtle notes of vanilla and sandalwood make it a classic.
Calvin Klein CK One: This fresh and modern fragrance is designed for both men and women. While many Calvin Klein perfumes have become popular through the years, CK One remains the most well-known.
Ralph Lauren Romance: This popular fragrance was launched in 1998. Its soft floral notes have made it a favorite for decades.
Dolce & Gabbana Light Blue: This fruity and floral fragrance is popular among women who crave the summer sunshine.
Chanel Bleu de Chanel: Among men's fragrances, Bleu de Chanel is one of the most popular luxury perfume brands in history. It's been a best-seller for years.
Giorgio Armani Beauty Acqua di Gio: This unique men's cologne was launched in 1996 and has notes of lime, bergamot, and rosemary.
Perfumes have three sets of notes that unfold over time. They give perfume their uniqueness. The following are the three layers of fragrance:
Top Notes: These are the scents that are immediately noticed upon applying a perfume.
Middle Notes: After the top notes dissipate, the middle notes become apparent. They are known as the "heart" of a perfume.
Base Notes: These notes bring depth to a fragrance and often work in harmony with the middle notes. They usually cannot be detected until about 30 minutes after perfume application.