Herve Leger Perfume
2 Fragrances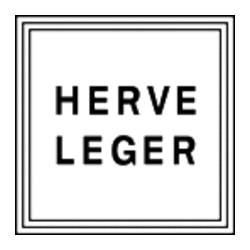 History and background of Herve Leger. Herve Leger can almost be called the "King of Stripes. Practically every one of his designs, has stripes or bands in some form or other. These colourful designs are made from elastic bandages hand-stitched together and are very distinctive.

Herve Leger was born in 1957 in a village in the North of France. In 1973 he won a place in art school, so he moved to Paris. ... Learn more about Herve Leger He started his career as a hair dresser in Maniatis Salon, but felt that this was not his forte. So in 1975 he changed his profession to hat-making which he felt would lead him into the fashion world. He designed and made up a group of hats reminiscent of Christian Bernard and Elsa Schiaparelli, for Venus et Neptune, the trendiest shop on the Left Bank in Paris.

In 1977 Leger got his first break, when the Italian knitwear designer Tan Guidecelli took him to work for him, where he learned to cut and construct patterns, select fabrics, and do other tasks essential for a man dreaming of being a couturier. In 1980 impressed by Leger's work, fashion legend Karl Lagerfeld took him under his wing, and sent him to Rome for further training.

Till 1984 Leger assisted Karl Lagerfeld to produce extravagant fur coats for Fendi in Rome, where Lagerfield was the designer. As Lagerfield had taken over Chanel in 1983, he also called on Leger as his assistant there to help design its couture and ready-to-wear collections. However, after two collections, Leger felt he should concentrate on free-lance work.

During the year of 1984, Leger designed the Cadette collection in Milan, the Haute Couture collection for Lanvin, and a Pret-a-Porter collection for Princess Diane von Furstenburg.

Finally, in 1985 after a very long time working for other people, Herve Leger finally opened his own atelier in Paris, behind the Palais Royal, where he specialized in a look that was simple yet sexy. In 1987 while still continuing his own line, he also orked under direction of Karl Lagerfield, creating designs for Chloe where Lagerfield was the designer. In 1988 he worked on the crystal bead accessories collection of Daniel Swarowski.

In 1989 Leger's new collection was to be presented to the fashion world. Leger had not had any inspiration, he wanted a new look, a show-stopper for his finale. He was pacing up and down his studio. He picked up some seam bindings and began to wind them around a mannequin like an Egyptian mummy. This was the inspiration he needed and the beginning of his famous stripes. His trademark is now fabrics mixed with Lurex, Lycra, Elastene, stretch fabrics wound around the body for a tight fit.

In 1992 Seagram group of Canada, aquired 50% of finance and Leger was able to develop his own company at 21 rue de Fauberg St. Honore, the famous Street of Couture, in a building where Coco Chanel once lived. He runs a team of about 30 people.

In 1996 Super model Tyra Banks wore a red Leger dress to the Oscars.

His dresses are made of bands of stretch fabrics, wool, or silk woven with Lycra or Elastene, wound around the body for a tight fit. At fashion shows his designs are one-of-a-kind, made to a couture standard, each one designed for the body that could wear it.

Apart from dresses, he also designs dresses constructed of knitted cotton and viscose bands, easy, brightly coloured T-shirts, suits made of both matte and shiny fabrics and minimal light-looking striped tops.

He says, "I like to make women look beautiful, who want to please and be noticed". Leger is fast becoming the master of high-tech sex appeal, but he is anxious to diversify after his success with the band dresses.

He was inspired by designers like Claude Montana, Azzedine Alaia and Gianfranco Ferre. He sells approximately 2,000 dresses each season.

He generally dresses super models like Elle MacPherson, Cindy Crawford and celebrities like Princess Stephanie of Monaco. He designed the wedding gown for Iman when she married rock star David Bowie.

A recent Summer collection was cool white trouser suits which were created with architectural precision. He still continues with his band designs, but in 1997 also included a series of elegant black robes. Says Leger "designing clothes is not really a mystery, as long as you keep one important thing in mind - the body."

In the late 90's, Herve Leger managed to create ever new and exciting collections. Nevertheless, 1999 proved to be terrible year for the designer. His company was sold off, the new owners BCBG sacked him and hired Jerome Dreyfuss to design the clothes for the house of Leger. Herve Leger went into litigation. But you can't keep a good couturier down. Herve opened a small boutique on the rue Jacob in quaint St. Germain, in the name of Herve L. Leroux (Herve the Red) a name suggested by Karl Lagerfeld, his good friend. This new line focuses again on a woman's figure and can only be described as "sexy".

His collection for Fall 2001 proved that a rose by any other name smells just as sweet or even sweeter. There were only 15 pieces but Herve has exchanged bands for drapes in subtle rich deep tones. Beautiful, classically elegant dresses from the Fugitive of Fashion, are back.

Herve also designs body-conscious clothes for Wolford.

Women's Perfume List by Letter
Women's Perfume List by Letter
Women's Perfume List by Letter

Free Shipping!
Free Shipping on all orders over $35! Spending less than $35? No problem! Just enter coupon code "FREE" at checkout.