Lulu Guinness Perfume
4 Fragrances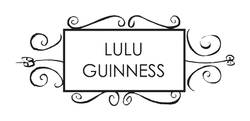 History and background of Lulu Guinness. Lulu Guinness handbags are currently sold to some of the most exclusive stores in the world. Lulu also has three successful retail stores—one in London and two in the US. In 1999, she opened her first store on Ellis Street just off Sloane Street. In September 2001, Lulu opened her first US store in the heart of the West Village in New York City. ... Learn more about Lulu Guinness And in September 2002, the new store in West Hollywood opened. All stores are testament to Lulu's style and elegance.

Her ever-expanding clientele includes Elizabeth Hurley, Madonna, Bjork and Judi Dench, for whom she designed elegant clutch bags for the 1998 and 1999 Academy Award ceremonies. Celebrities such as Katie Couric and Helena Bonham Carter are also die hard fans.

Lulu's creations are quickly becoming design classics. The Florist Basket and Violet Hanging Basket now form part of the permanent fashion collection at the Victoria and Albert Museum in London. Lulu loves the creative challenge of design, especially for runway shows. While she has already designed for the ready-to-wear collections of Collette Dinnigan, Clements Ribeiro, Marcus Lupfer and Scott Henshall, she still has aspirations to design for a leading couturier.

Despite her success, Lulu has never had any formal design training apart from a one-year foundation course at art school and a long-standing passion for fashion. In 1989, she left her job in video production to start her own business from the basement of the house in West London that she shares with her husband, Valentine, and her two daughters Tara and Madeleine.

Lulu's business began when she became frustrated because she could not find the right bag. So she designed her own. Her first bag was a briefcase for carrying all her papers. Joseph Ettedgui saw this design and asked her to design a capsule collection for his store. Liberty and Harvey Nichols then picked up the collection.

The rest is history. Lulu began to design beautifully feminine collections of evening bags, inspired by old style 50s glamour, all of which were handmade in England of the highest quality and the finest fabrics and trims.

In September 2000, Lulu opened a showroom in New York to manage the increasing demand for her bags in the US. The CEO of Lulu's US division is Michael Schultz, who was a founder of Urban Outfitters and Anthropologie.

Lulu's personal style and original designs keep customers thirsting after her entertaining, stylish bags.

Women's Perfume List by Letter
Women's Perfume List by Letter
Women's Perfume List by Letter

Free Shipping!
Free Shipping on all orders over $35! Spending less than $35? No problem! Just enter coupon code "FREE" at checkout.