Jun 19, 2023
|
3 min Read
Ferrari Colognes: 3 Fragrances to Test-Drive
It's probably safe to say that when Enzo Ferrari was born in Modena, Italy, in 1898, few would have predicted that his name would someday be associated with wealth, luxury, and craftsmanship. But more than a century on, the Ferrari brand continues to impassion and inspire – and not just among high-end car enthusiasts.
For much of its history, Ferrari was indeed exclusively involved in luxury vehicles. Under Enzo Ferrari's leadership, the company – then called Scuderia Ferrari – spent several decades in the early 20th century developing high-performance cars, strictly for racing. Then, in 1947, Ferrari began building street-legal road cars for the general public. It was then that the famous 'prancing horse' icon galloped into our collective imagination – a newly minted symbol of prestige and opulence.
Now suppose you want to live the Ferrari lifestyle – but aren't quite ready to shell out half-million dollars for a turbocharged concept car. Good news! You actually have plenty of options. For decades, Ferrari has been steadily building itself into an accessible consumer brand, with offerings like eyewear, laptops, clothing, bicycles, and even top-notch writing instruments. But no arm of the Ferrari brand has been so successful in this regard as the company's fragrance lines.
In 1999, the company debuted its first cologne, Ferrari Black. An eastern blend of spicy and sweet notes, the scent made quite a splash – both in the fragrance world and among Ferrari devotees. Since then, Ferrari has gone on to release dozen of other colognes and perfumes. The company's approach to fragrance is similar to its philosophy around automobiles: Rather than aiming for mass-production, Ferrari creates exclusive, limited-edition fragrances that dazzle with their high quality and luxe aura.
3 Best Ferrari Colognes to Test-Drive
Ready to test-drive a Ferrari fragrance? If you don't know where to start, we've got you covered. Here are four of the company's must-try colognes.
You can't go wrong with the original. Ferrari Black opens with bright notes of plum, lime, and red apple – and an unmistakable whiff of bergamot, the iconic fruit of Ferrari's native Italy. But underpinning these clarion top notes are a musky, woody base of cedar and vanilla.
The smooth balance of citrus and wood is a slow-burning confidence boost – the kind of scent that steadies your nerves and fuels your passion. Whether you're buckling into a high-end race car or gearing up for a high-stakes business meeting, this scent is an ideal choice.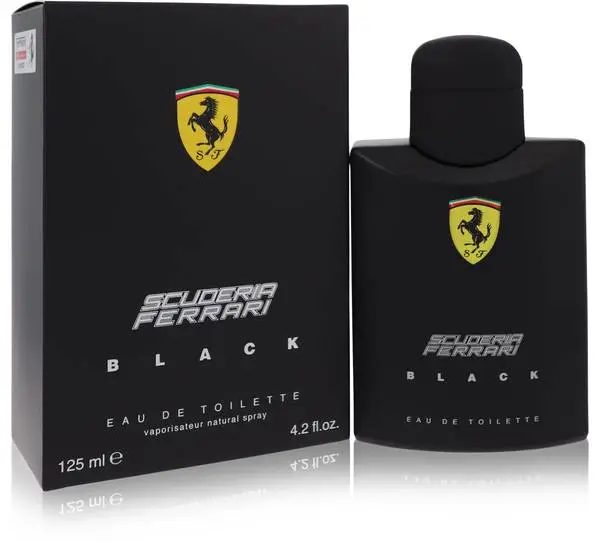 The name of this fresh and daring fragrance harkens back to the first Ferrari company – Ferrari Scuderia (Italian for 'stable'). The company, which developed elite vehicles strictly for races, was known for taking risks and pushing limits with style and finesse. In all of these qualities, this fragrance is a perfect match.
Ferrari Scuderia Black, like Ferrari Black, opens with invigorating top notes of citrusy bergamot and refreshing lime, creating a zesty and vibrant introduction. Its heart notes feature a captivating blend of aromatic lavender and spicy cinnamon, adding a sophisticated and alluring touch. The fragrance settles into a warm and sensual base of woody notes and musk, leaving a lasting impression of elegance and masculinity.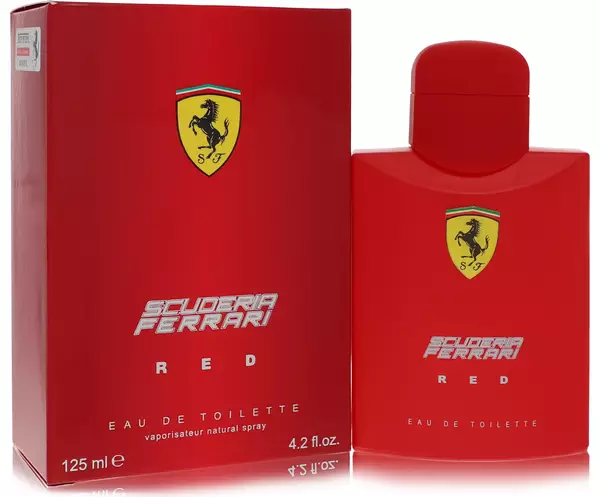 No less daring than its brother scents, but perhaps more stealthy, Ferrari Red is a cologne of elegant, sophisticated masculinity. This is the scent of a laureate – a confident strength with nothing to prove.
Ferrari Scuderia Red delivers fresh and citrusy top notes of lemon verbena and orange. Its heart is marked by jasmine, geranium and nutmeg, followed by a base of cedar, sandalwood and vanilla spice.
Ferrari colognes offer a range of captivating scents that embody the essence of luxury, power, and elegance. From the classic and timeless Ferrari Black to the bold and intense Ferrari Scuderia Black, and the dynamic and energetic Ferrari Scuderia Red, each fragrance is carefully crafted to evoke a distinct personality and leave a lasting impression. Whether you're a fan of sleek sophistication, daring intensity, or vibrant energy, there is a Ferrari cologne that will perfectly complement your style and make a statement wherever you go. Experience the allure of these iconic scents and unleash your inner Ferrari.
Now go check out our best-selling men's fragrances!
Subscribe via Email
Get the best of FragranceX delivered straight to your inbox