Mar 31, 2020
|
3 min Read
Finding The Perfect Perfume for Mother's Day
Chances are, your mom knows you better than you know yourself. So, how do you choose a Mother's Day gift she's sure to cherish? Perfume encompasses liquid memories, so make sure her day is as exceptional as she is with a fragrance that fits her. At FragranceX, we recommend considering her style, favorite flowers, and her personality as you pick out a perfume. Making sure it's personally selected ensures she'll wear it over and over again, and that she's sure to think of you each time she sprays it on. Find out which of these options is the perfect perfume for Mother's Day for your mom.
The Perfect Perfume for Mother's Day: What's Your Mom Like?
Mom's aren't one size fits all. This Mother's Day, make sure that you're picking out an Eau de Parfum that speaks to the type of woman your mom is. Whether she's your ultimate confidant, a boss at home and the office, or an adventurer, you're sure to find the right perfume for her among these perfect perfumes.
Hopeless Romantic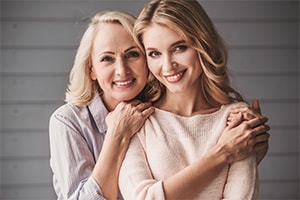 Your mom still holds hands with Dad and always sees the best in people. In Victorian days, different types of flowers were sent as secret messages. A sprig of lily of the valley, for instance, indicated, "you make my life complete." This flower, also known as muguet, is forever the flower of May, and her special day. Gift her with Muguet by the illustrious French perfumery Molinard.
Flower Child
Your mom still wears flowers in her hair and, when she's not barefoot, Birkenstocks. Help her update her vibe! Alyssa Ashley White Musk includes two throwback notes she's sure to love; musk and patchouli. These groovy accords soften with white florals and fresh green leaves for a blend she'll adore.
Wonder Woman
Mom has a full-time job, spends quality time with her children, and prepares delicious meals. Her costume is a business suit during the week and jeans on the weekend. Show her how much you appreciate all she does with Narciso Rodriguez for Her, a honeyed floral with a dual nature. The femininity of osmanthus and orange blossom gets an elegant touch of musk, vetiver, and woody notes.
Glam Fan
She never leaves the house without red lipstick and high heels. Who else but your mom is FaceTime ready before she's had her coffee? Gift her with Versace Vanitas, a "notice me" blend of heady white flowers and a sultry woody drydown. Plus, the bottle is almost as gorgeous as she is.
Green Thumb
Nothing makes your mom happier than tending to her garden each morning. She cares for each plant as tenderly as she nurtures her children. Bring her garden indoors with Flora by Gucci, a bright bouquet of pink peony and roses wrapped in vanilla and creamy sandalwood. The bottle is a tribute to Princess Grace of Monaco, Grace Kelly's favorite scarf. She'll know you are giving her the royal treatment with each spritz.
Fun and Bubbly
Mom is known for lighting up the room, so get her a fragrance that's as vibrant as she is. Marc Jacobs' Daisy Eau So Fresh features a fruity and flirty blend of green, floral, and powdery accords. Plus, the playful bottle is sure to tug at her heartstrings.
Forever Favorites
If you're not sure which blend will speak to your mom, then pick up a classic scent she's sure to adore. Favorites like the musky, fruity, and floral fragrance of Versace's Bright Crystal perfume always impresses. Alternatively, try the impeccable blend of Giorgio Armani's Armani Si with notes of freesia, white cedarwood, and blackberries.
Is mom the type of woman that likes to change up her fragrance with the seasons? Get her ready for the warmer months with an exotic and fresh blend such as Gucci Bamboo or Chloe (new) Perfume by Chloe.
Last but not least, consider getting mom a fragrance that's almost as sweet as she is. Kim Kardashian's Pure Honey Perfume is glamorous yet delicate. You can also remind her that she'll always be the one with The One by Dolce & Gabbana.
Whether mom is drawn to spicy notes of pink pepper or classic floral scents, you're sure to find the perfect gift for her at FragranceX. Shop our selection of popular perfumes and show mom how much you care!
Subscribe via Email
Get the best of FragranceX delivered straight to your inbox