Mar 23, 2021
|
6 min Read
How To Create Bathleisure Time At Home + Self-Care Rituals To Practice
If you haven't heard about it already, "bathleisure" is a new trend that's been taking over social media. It's a fashion trend all about wearing comfortable lounging clothes, robes, slippers and even a towel around your head. Obviously, these looks aren't typically worn out in public, but are commonly featured in selfies or stories on various social media platforms.
Although the bathleisure trend is commonly associated with what you're wearing, that's not what the whole trend is about. It's also about showing off your self-care rituals and how you treat yourself to some pampering – something most of us tend to put on the bottoms of our to-do lists.
However, self-care has started to become a hot topic lately, mostly due to the uncertainty and stress that's come from the effects of COVID-19. Starting a bathleisure routine as well as other self-care rituals has many physical, mental and emotional benefits. Keep reading for inspiration and helpful tips to create the perfect batheisure and self-care rituals for yourself.
Bathleisure Time for Self Care
Creating bathleisure time means you treat yourself to a relaxing and full-scale bath routine. It's all about pampering yourself, including slipping into a cozy robe, pouring a glass of wine and gathering all of the spa supplies you need to spoil yourself in the tub.
Pampering yourself has many benefits, one of which is reducing stress. Stress is a killer and has been linked to various diseases and pathological conditions, so it's important to incorporate a pampering self-care ritual like bathleisure time to reduce stress and anxiety.
Whether it's once a week or a few times a month, setting aside bathleisure time is a great self-care ritual that gives you time to pamper and spend quality time with yourself.
Create a Bathleisure Ritual
To create a bathleisure ritual, the first thing you'll want to do is turn your bathroom into the ultimate at-home spa. Diffuse aromatic scents, turn on some music and set out the candles for a calming and relaxing atmosphere. Next, slip into a fluffy robe while you run a warm bath. Don't forget to incorporate a bath soak using oils, milk or a bath bomb. To help inspire your next Instagram worthy bathleisure ritual, check out this moodboard below.

Body Nurturing Self-Care Rituals
Bathleisure time is a great body nurturing self-care ritual, but it's not the only thing you can do to treat you and your body. Try some of these other body nurturing self-care rituals to keep you healthy and happy.
Eat Clean Foods
What you put in your body has major effects on your health and wellbeing. Nurturing your body starts from within, so incorporating clean foods like fresh fruits and vegetables helps you with your body's self-care rituals.
Not only does clean eating help with physical health, but also leads to mental health. This study by The British Psychological Society shows that eating more fruits and vegetables can make you feel more positive.
Hydrate
Drinking water regularly throughout the day is an easy and very effective act of self-care. It's so important to remember to stay hydrated as dehydration very quickly affects how we think and feel, ultimately leading to a decrease in overall mental health.
Put this into play by starting each day with a glass of water. After that, keep a reusable water bottle on you at all times so you are constantly reminded to sip on it throughout the day. Make sure you are filling your bottle with plain water; soda and fruit juices don't make the cut!
Exercise
Another great self-care ritual to incorporate into your routine is exercising regularly. Getting your heart rate up increases happy hormones like serotonin and dopamine and gets the endorphins flowing. This helps boost your mood and improves your health and overall wellbeing.
Of course you could join a gym or a fitness group, but exercise doesn't have to be a long and hard workout. Taking a walk outside, doing a 30-minute circuit or even just a dance party in your room does the trick!
Stretching
Stretching is a form of exercise that most people forget about. It's so important to stretch your body daily as it keeps your muscles flexible, strong and healthy. Not only that, but it also improves your posture and can ease your mind.
To incorporate stretching into your daily routine, try stretching for 5-10 minutes right after you wake up or before you go to bed. You could also take up a practice like yoga which is also known to relieve anxiety and stress while boosting energy levels.
Mind Nurturing Self-Care Rituals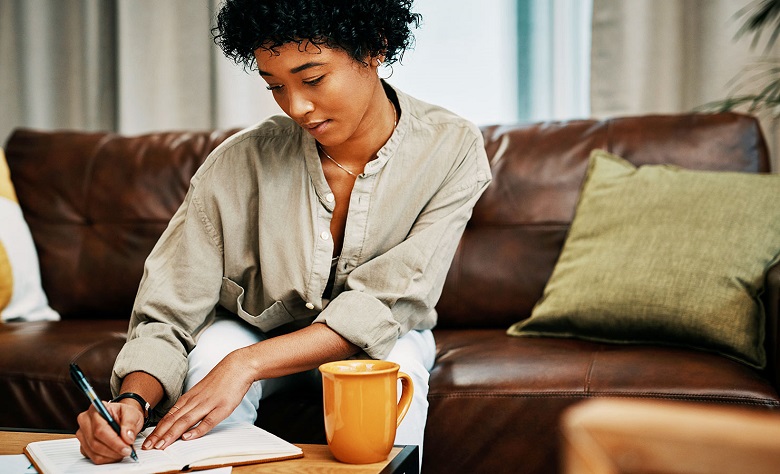 Of course, taking care of your body and physical health is important, but your mental health is just as valuable. Try some of these mind nurturing self-care rituals to add into your daily routine to help keep your mind happy and positive.
Meditation
One of the best self-care practices out there is mindful meditation as it can do a lot for your mental state. Research shows that regular meditation undoes the damaging effects of stress on our cells and boosts the immune system.
Take some time out of your day to meditate and practice mindfulness. During this time, focus on your breath and try to clear your mind of any negative thoughts. Try putting on positive frequencies, relaxing music or even a guided meditation to help you get in a relaxed state.
Reading
Reading is a self-care ritual that can become a very great escape from reality. A good book can take you to a completely different realm or open your mind to a new perspective. There are endless benefits to reading including being the best way to overcome stress.
Whether you prefer fiction or nonfiction, find a topic or genre of literature that sparks your interest and incorporate some time in your day to read at least a few pages. This can be done right before bed or as a part of your morning routine. Either way you'll reap the multiple benefits reading provides.
Journaling
Another great self-care ritual that helps with your mental health is journaling. Journaling is a great way to relax, unwind and empty a clouded mind. It can be so relaxing that some people even find it more calming than meditating.
Journaling can range anywhere from setting goals, getting things off your chest, becoming more mindful or even as a way to get to know yourself better. Many people use journaling as a way to self-reflect, but it doesn't always have to be about improving yourself. Journaling can just be a fun and creative activity to engage in!
Positive Affirmations
Starting your day with positivity and gratitude is another self-care ritual that needs to be incorporated into your daily routine. One of the best ways to do this is by using positive affirmations each morning before you begin your day expressing your gratitude, hopes and inner beauty.
To use positive affirmations, look at yourself in the mirror and say something positive about yourself. Make this a daily practice and you'll start to notice differences in your attitude and overall well being.
Nurturing the mind on a daily basis is a crucial part of self-care. To help you keep track of your mindful self-care, check out this weekly self-care worksheet, complete with journal prompts, positive affirmations, mindful reflection and more!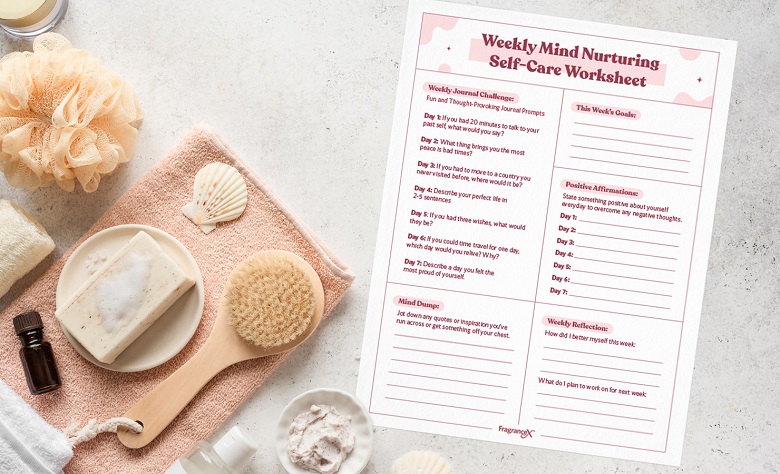 Which Self-Care Ritual is Best For You?
There are so many different ways to treat yourself and practice self-care. Some self-care practices work great for certain people, while it may not be as suitable for others. If you are trying to incorporate more self-care rituals into your life, use this flowchart to help you find the best ritual for you!

Whether you love to pamper yourself with bathleisure time, go on a run, treat yourself to a designer fragrance or journal after a long day, there is no wrong way to practice self-care. Establishing a self-care ritual is extremely important for your overall health and well-being so use these tips to help you find the perfect way to treat yourself.
Subscribe via Email
Get the best of FragranceX delivered straight to your inbox