Feb 28, 2020
|
9 min Read
15 Sustainable Beauty Swaps for Every Need
Green living is slowly becoming the norm — and for good reason. With pollution reaching an all-time high on a macro level, it's essential to look at our daily lives on a micro level.
Our beauty routines are an ideal place to start this change. Cosmetics are harming all aspects of the environment due to their destructive supply chains.
To combat this, we've created a list of 15 sustainable beauty swaps meant to green your routine and spark change. Through small changes we are able to collectively make a big impact.

1. Buy Package Free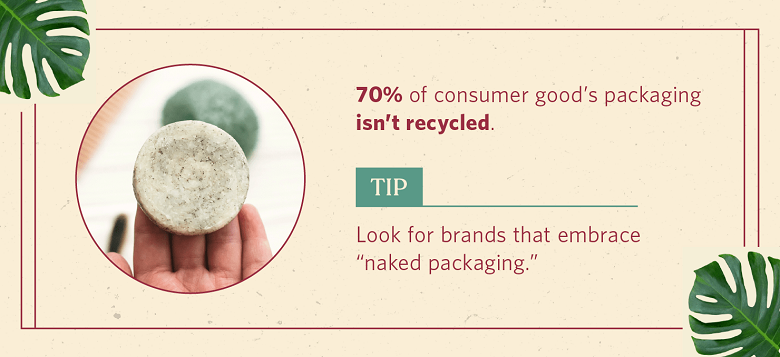 Skip the pomp and circumstance when purchasing beauty products. While the beauty industry is built on alluring packaging — especially fueled by the unboxing trend on social media — luxury packaging materials come with environmental concerns, specifically the impact plastic use has on the ocean and marine life.
Currently, there are over five trillion pieces of plastic in the ocean. While the beauty industry is just one of many contributions to global plastic use, most shampoos and body washes are packaged in single-use plastic, which  is a primary concern. According to Euromonitor International, the global beauty industry is slated to produce 2.6 billion plastic packaging units between 2017 and 2022 — a number even more striking when you consider that only 31% of total plastic waste is recycled.
As the beauty industry sets its sights on becoming more sustainable, brands are increasingly developing workarounds to plastic packaging. Package-free products are an ideal way to reduce waste from start to finish.
The message? Pass on plastic.
2. Switch to Aluminum Packaging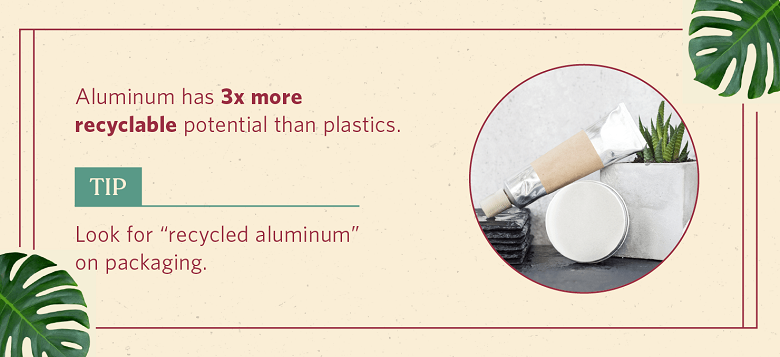 If you're unable to go completely package-free, opt for sustainable packaging. While not ideal, aluminum is much less harmful to produce than plastic. These materials can also be reused and kept out of the trash.
Aluminum is ideal because it's 100% recyclable. From car parts to beauty products, aluminum plays an influential role in our daily lives — so changing to this type of packaging can be easy to integrate.
Products like lotion, soap and even some makeup will generally have packaging options in this category, so experiment with some new looks and smells! Additionally, more-so than plastic packaging, aluminum products have a soigne ambiance about them.
3. Purchase Supersized Bottles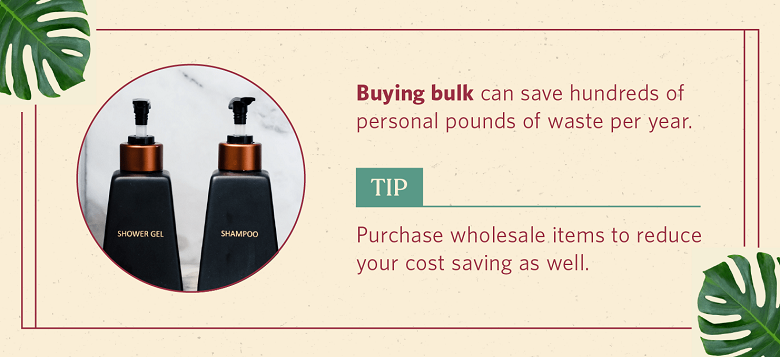 Bigger is better when it comes to beauty sustainability. If you need to get a bottled product, get the largest version. These family-sized bottles can last for months longer than individual-sized ones, meaning you only need to throw out one bottle instead of three.

4. Use Biodegradable Floss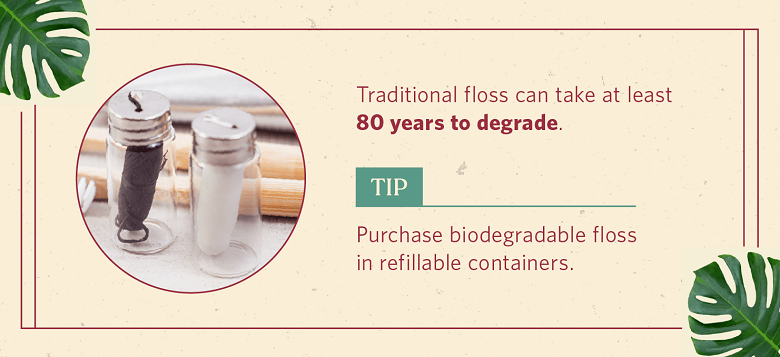 Flossing is necessary. Toothbrushes are a good start to dental hygiene, but to completely cleanse our mouths, floss is needed for the hard-to-reach areas. By design, though, floss is eco-irresponsible.
Reusing floss counteracts the reason for using it in the first place, and options like pickers are made out of harmful plastics. All traditional types generally come with heavy packaging.
Instead, use a biodegradable option. Increasingly, dental companies are using materials like silk to create a floss that will responsibly degrade once disposed of. Pair biodegradable floss with a refillable floss holster for the ideal combination to reduce waste.
5. Use Bamboo Cotton Buds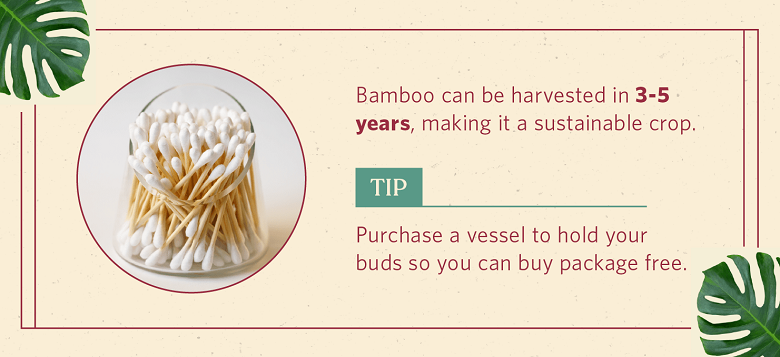 Plastic-based cotton buds, also known as cotton swabs, are currently banned in Scotland due to their harmful effects on the environment.These beautification utensils are made with materials that virtually never degrade and end up in the ocean. Once there, they can become logged in wildlife and entrenched on the ocean floor — causing a degradation domino effect.
Instead, use bamboo-based cotton buds. Sustainably sourced bamboo is a good alternative because it degrades upon disposal and, in some cases, is considered stronger than traditional cotton buds.
6. Wash with Bar Soap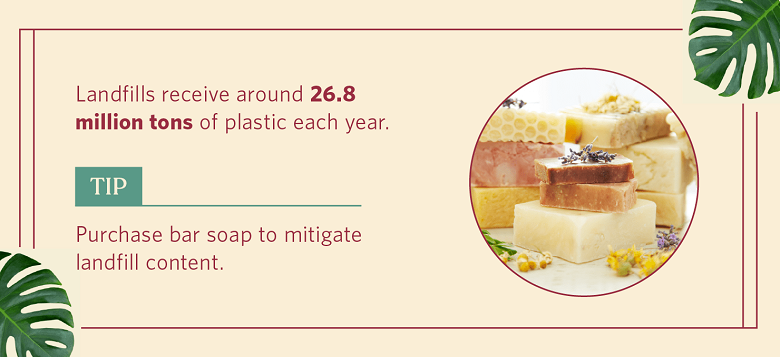 Sometimes it's best to use traditional methods. Instead of going for soap that comes in plastic bottles or wrapping, go for plain old bar soap.
Bar soap is a great way to reduce plastic in your daily routine. If you can't find package-free bar soap, opt for bars packaged in cardboard rather than plastic wrap. Often, local vendors at farmers markets or local goods shops will sell soap this way — meaning you can support local businesses and be environmentally conscious.
7. Make Use of Reusable Face Wipes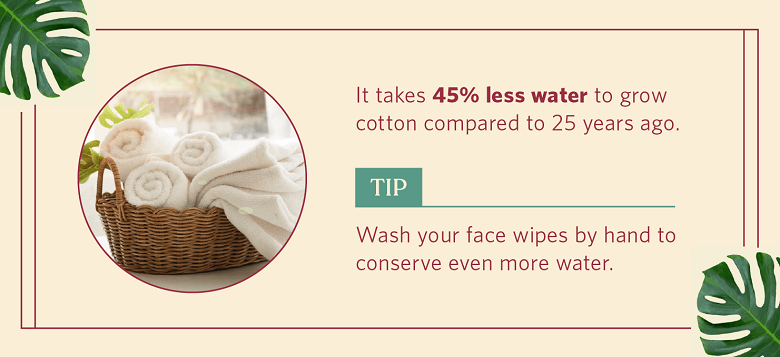 Face wipes clear pores and erase any makeup left after a long day, and are essential to any nighttime hygiene routine. Usually infused with emulsifiers and surfactants, these wipes are meant to separate makeup from the skin. However, one-time use wipes are environmentally unfriendly, and can even be ineffective because each person has unique facial cleansing needs.
Purchasing wipes or washcloths dedicated for face wiping is a much more personalized option. First, you're reducing the waste of single-use products. Second, you're able to customize them to your own experience. Reusable wipes can be infused with face wash you know works and soap to match your skin sensitivity.
8. Use Washable Makeup Rounds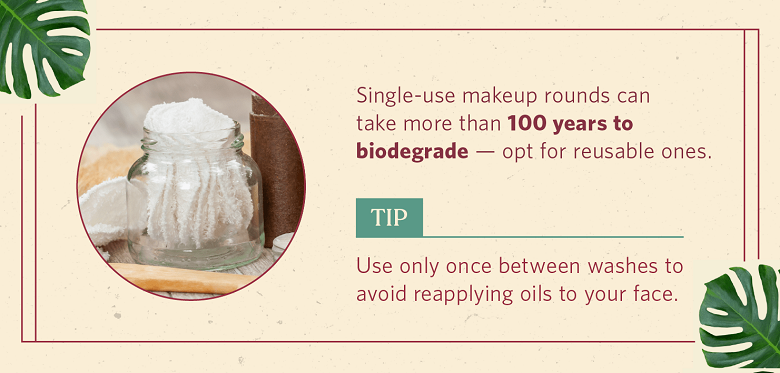 Instead of throwing away cotton balls, use washable makeup rounds. Responsibly sourced cotton can be hard to come by, so using these washable rounds reduces waste. Similar to reusable face wipes, these rounds can be infused with your makeup remover of choice. Many online beauty retailers are now offering these cleaners.
Make sure to wash these rounds after every use to ensure facial oils aren't being rubbed back into your skin.
9. Use Reusable Face Masks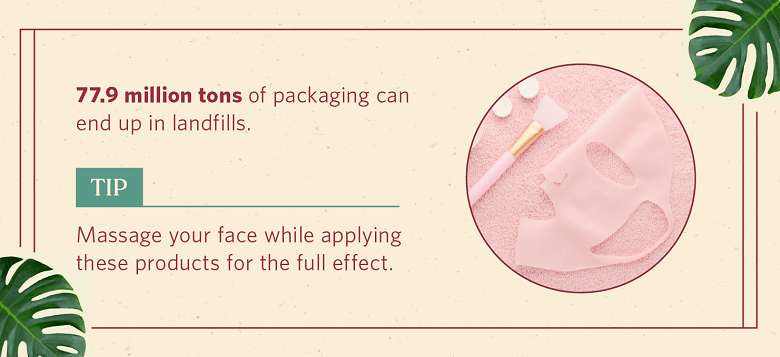 Reusable face masks, which originated in beauty hubs South Korea and Japan, are the cutting-edge of toiletry beauties. These masks work like any other face mask, but they are reusable and typically dry.
These masks require an extra message to release serum. After about 5 minutes, the mask will start to release essential oils and other vitamins into the skin. Each session should be about 15 minutes long, and each mask can usually be used for 5 sessions. Unlike traditional face masks, these reusable ones reduce waste — in production as well as packaging.
10. Use Wooden Toothbrushes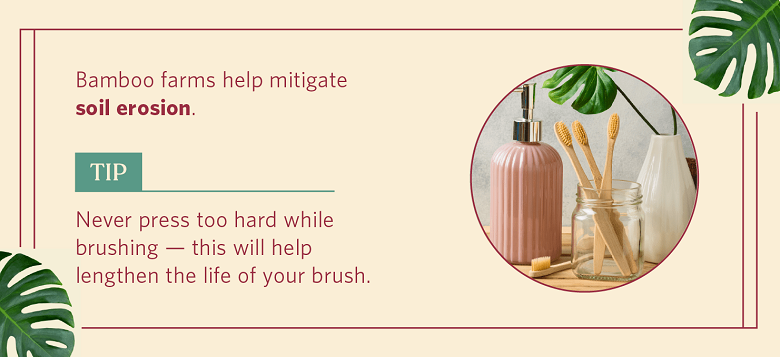 Wooden toothbrushes help reduce waste. Purchase bamboo or similar toothbrushes to help eliminate waste from plastic and batteries.
Bamboo and wooden toothbrushes are usually sourced sustainably, and have a significantly smaller carbon footprint than plastic brushes.
11. Use Shampoo Bars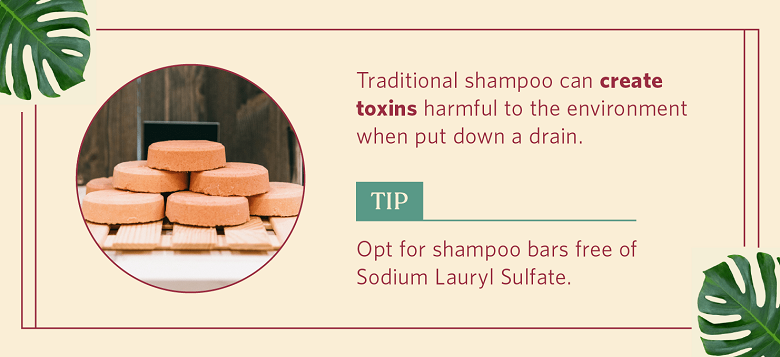 Shampoo bars are the shampoo equivalent of bar soap. They have the same ingredients, same chemical makeup and same benefits as regular shampoo — just in bar form. Many of these bars can be bought with no wrapping at all, which is ideal.
12. Purchase Reef Safe Sunscreen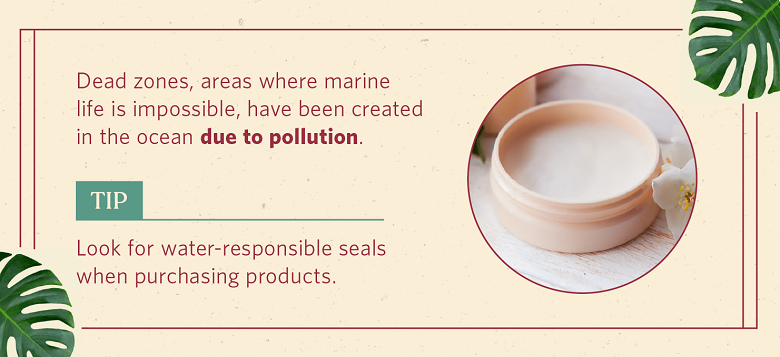 Sunscreen is another necessary beauty product. Aside from keeping your skin soft and smooth, it can save you from skin cancer down the road.
The main environmental culprits are oxybenzone and octinoxate. These chemicals are the main ingredients in many sunscreens due to their ultraviolet protection — and they're resistant to water. Luckily, there are sustainable options.
Swimming and sunscreen go hand-in-hand. Many times swimmers will lather themselves in the lifesaver and dive into a natural body of water — however, this can do major harm to marine life. The artificial liquid can wash off a body and into the water around it, causing a major change in chemical composition. Even small changes in a body of water's chemical makeup can result in harm.
To combat this, always wear waterproof sunscreen. This type of protection keeps both you and the environment safe.
If possible, find sunscreen that explicitly calls itself "Reef Safe." The chemical makeup in this protection is made to specifically keep marine life safe should it be washed off. Be warned, however, because reef safe sunscreen is a new product and doesn't currently have concrete regulations. This means while claims must be "truthful and not misleading," not all brands are producing the safest products.
Purchase this sunscreen at outdoor retailers and always look at the ingredients list.

13. Go For Water Responsible Brands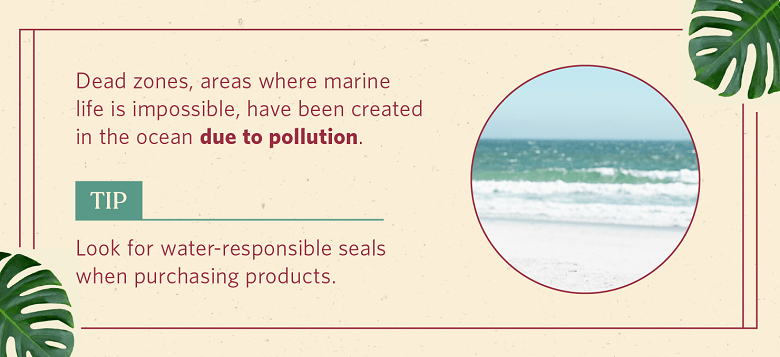 The forefront of eco-warriors and casual environment crusaders minds' alike, the ocean is a platform that's quickly receding. Trash is piling up in the big blue with over 5.25 trillion pieces of plastic debris in the ocean — and this is only supposed to increase in the coming years. Paired with offshore oil fracking and overfishing, a place romantically thought of as pristine is becoming soiled.
Luckily, beauty routine swaps can help here. Brands are pairing with water charities and conservation organizations to help mitigate degradation. Donned "water responsible" initiatives, these movements put revenue into making change.
Look for products with "water responsible" on them. This will mean either the product was made in a water-responsible way and/or the brand is donating to a water preservation fund.
14. Place a Recycling Bin in Your Bathroom Instead of Trash Can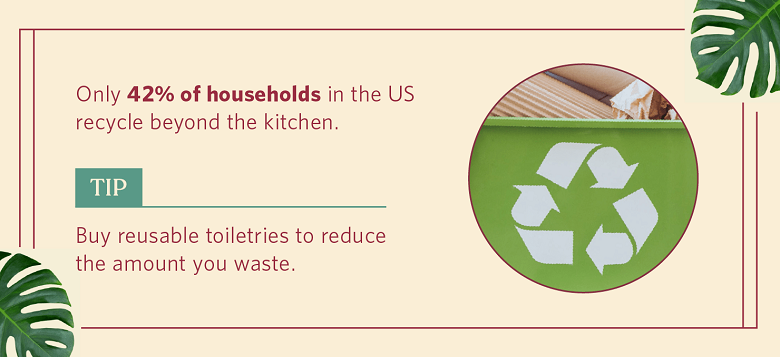 Most home bathrooms have trash cans instead of recycling bins — but in reality, most toiletries are recyclable. This paradox presents an opportunity for your bathroom routine as a whole.
Take the trash can out and put in a recycling bin. You'll be forced to keep it green while in the washroom. Paired with green products, this swap will sprout exponential growth in your personal sustainability.
15. Always Buy Sustainably Sourced Products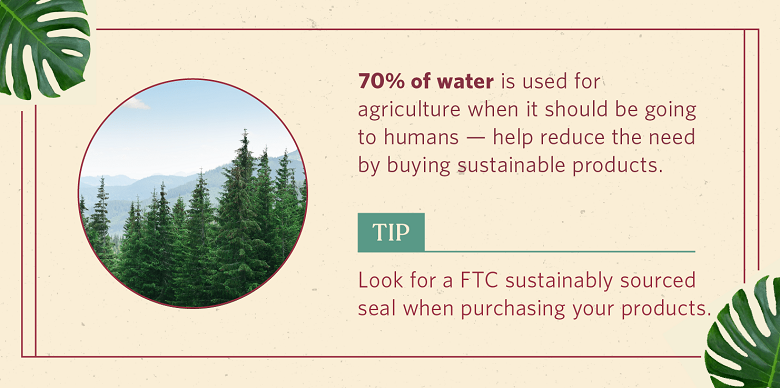 Sustainably sourced goods are products that are harvested in ethically, socially and environmentally friendly ways. These products are meant to help the communities from which they come from, and are never over-produced.
Look for the FTC seal of sustainability on beauty products. The trade organization has created a list of what certifies a product as "sustainably sourced."
Responsible carbon emissions
Compostable or recyclable
Use responsible energy to produce
Ozone-friendly or ozone-safe
Non-toxic for humans and the environment
Degradable
While not always available and picking through some skepticism over legitimacy, these products are a good starting point to your green toiletry transition.
Chemicals to Avoid
When it comes to beauty products, steer clear of all chemicals below. Not only are they sustainably irresponsible, many are immediately harmful to human health as well.
Parabens: found in leave-on, rinse-off products and can damage marine life
Sodium Lauryl Sulfate: used in shampoo; harmful to aquatic organisms
Sodium Laureth Sulfate: used in shampoo; can be harmful to organism development
Formaldehyde: found in multiple products; contributes to acid rain
Triclosan: used in product preservation; toxic to aquatic organisms
Diethanolamine: used to create bubbles in soap; can burn and cause blindness is animals
Oxybenzone: used in sunscreen, harms marine life
Phthalates: used in nail polish; can cause infertility in male organisms (including humans)
Toluene: used in nail-related products; damage plants and their leaves
Polyethylene Glycol (PEG): used in cosmetic creams; seeps into habitats and takes a long time to degrade
Additional Resources
Below is a list to further understand sustainable beauty options. Starting small is better than not starting, so read up and figure out an individualized plan to keep yourself and the planet beautiful.

EWG Skin Deep: Helps you chose the most environmentally friendly product in a certain category
Detox Me: Indicates if products you're using are chemically hazardous
Think Dirty: Scans products and gives you all the necessary information to make sustainably responsible shopping choices
Sustainability is becoming everyday practice. The frontiers in fashion and beauty are engineering ways to leave less of a carbon footprint, and more of a voguish one.
To stay ahead of the curve, FragranceX has created scents to pair with beauty swaps. Mix and match your go-to scents with your new sustainable beauty tricks to create an avant-garde profile that can set trends and keep them going — for a lifetime and beyond.

Subscribe via Email
Get the best of FragranceX delivered straight to your inbox
Related Posts
Sep 26, 2023
|
2 min Read
The Best Perfumes for When You're Craving a Pumpkin Spiced Latte
Autumn is a magical time when the world transforms into a tapestry of golds, reds, and browns....