Apr 12, 2021
|
4 min Read
What is a Perfume Atomizer and Why You Need One in Your Bag
A perfume atomizer is a petite perfume applicator that sprays a luxuriously fine mist for convenient and more efficient delivery.
Perfume atomizers have become a necessity for scent enthusiasts not just because they help your perfume last longer, but also because they're incredibly lightweight, durable, have a remarkable fragrance delivery, and are easy to refill.
How Do Perfume Atomizers Work?
This ingenious tool changed the perfume industry by allowing you to take and wear your perfume or body mist anywhere without carrying the full-size bottle or wasting a considerable amount of product. Still, the question remains, how do perfume atomizers work?
Well, you're about to find out below.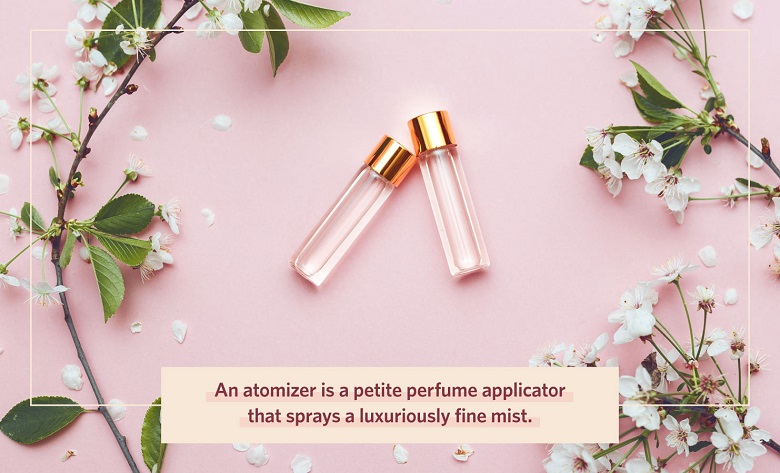 Airflow
Contrary to what it might sound like, atomizers do not magically break down liquid molecules on an atomic level. But, they do make excellent use of two important principles to help with fluid distribution: suction and airflow.
The suction is produced when air flows over a tube that's submerged in the perfume. This air is usually stored in a squeeze bulb that's designed to create suction which pulls the liquid perfume out of the reservoir and to the nozzle.
Reservoir and Feeder Tube
The perfume has to be stored somewhere, right? This specialized compartment is called the reservoir. The tube submerged in the perfume is called the feeder tube.
The airflow creates a suction effect that pulls liquid perfume from the reservoir through the feeder tube to the nozzle where it's expelled.
Nozzle
Now, this is where all the magic happens. The nozzle, which is usually made of plastic or metal, is the part of the perfume atomizer responsible for breaking up the liquid mixture and misting it finely into the air.
How to Use a Perfume Atomizer
Using a perfume atomizer is pretty straightforward, and anyone can quickly figure it out. All you have to do is pull it out of your pocket or purse, remove the top and push on the spray head to mist its contents.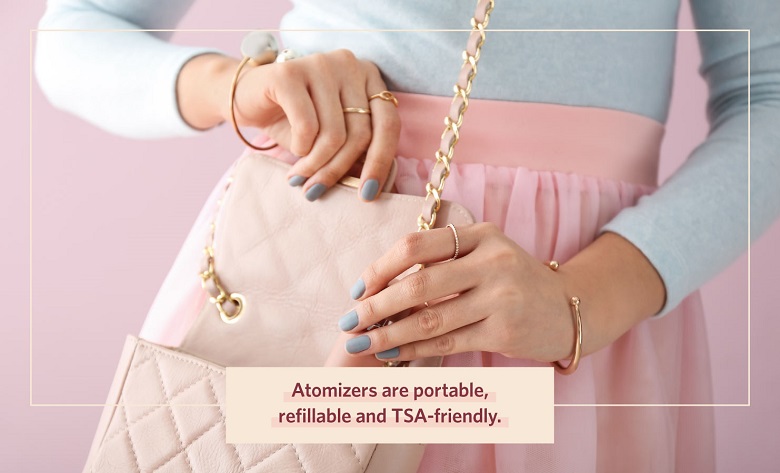 Benefits of Perfume Atomizers
For something so small, the perfume atomizer sure packs a lot of benefits for people who simply can't or don't prefer to carry their full-sized perfume bottles around.
Refillable
While they may not be able to carry large amounts of liquid perfume at a time, the fact that perfume atomizers are easy to refill makes them an even more attractive accessory to have. You don't have to worry about purchasing multiple atomizers unless you want multiple scents available at once.
TSA Friendly
Any perfume atomizer with a 3.4-ounce maximum capacity or less is safe to travel with on-flight according to Transportation Security Administration's published requirements. It's designed to provide security officers with a clear, unobstructed view of the reservoir's contents.
Sprays a Fine Mist
The perfume atomizer is intricately designed to spray a fine, consistent mist of your preferred fragrance evenly onto your clothes to keep you smelling nice all day long.
Durable
The leak-proof design and the hard external build of the perfume atomizer are usually shatter-proof, making it great for travel.
Small But Powerful
While they may be small, perfume atomizers certainly pack in power for what they lack in size. At the push of the spray head, this device emits a potent fragrance of your choice.
Leak-proof
The highly secure design of the atomizer dispels any fears you may have about the contents spilling in your pockets or purse. You can trust the leak-proof design won't fail.
Convenient
Its small size makes the perfume atomizer easy to fill and fit into any travel luggage, entirely eliminating the worry of forgetting your perfume bottles or TSA taking them out of your carry-on. Keep your full-sized perfumes stored safely at home and only bring what you need!
Easy to Monitor
Many atomizers come with a transparent reservoir that allows you to view the amount of remaining product. More expensive models may come with a barometer on the side for a sleek monitoring window.
How Do You Fill a Perfume Atomizer?
Knowing how to refill your perfume atomizer is as important as buying it. But not to worry, the process is simple.
First, remove the atomizer cap and unscrew the top of the bottle.
Next, put a small funnel into the bottle's opening and pour the fragrance through the funnel into the reservoir. Or, simply spray the perfume from its original bottle directly into the funnel.
Finally, screw the top of the bottle and put the cap back on. Reassemble the atomizer, and you're all done and ready to spritz.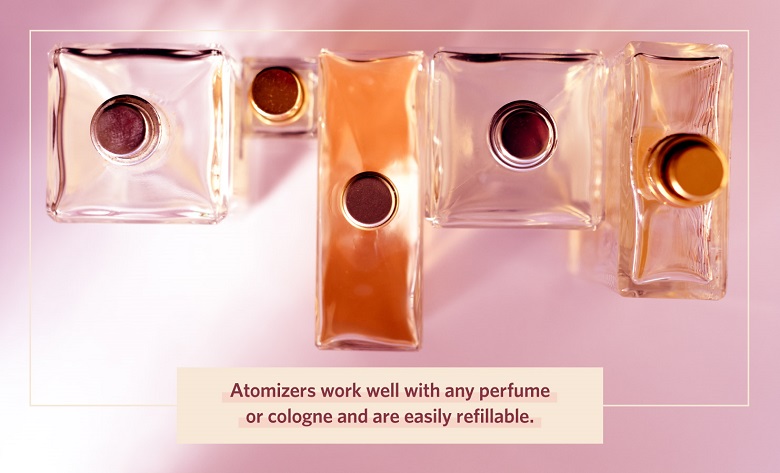 Give yourself the chance to enjoy a confident, fulfilling, and happy day every day by having your trusty fragrant perfume with you all day.
With a perfume atomizer sitting pretty in your purse or pocket, you'll have all the backup that you need to smell nice all day long.
Subscribe via Email
Get the best of FragranceX delivered straight to your inbox
Related Posts
Sep 26, 2023
|
2 min Read
The Best Perfumes for When You're Craving a Pumpkin Spiced Latte
Autumn is a magical time when the world transforms into a tapestry of golds, reds, and browns....