The Most Popular Celebrity Fragrances
Celebrity perfumes and fragrances have been popular since the 1980s. The person that is most commonly credited with creating the first celebrity fragrance is Sophia Loren. She released her perfume, Sophia, in 1981. It was created with legendary fragrance company Coty and started a wave of celebrity fragrances. Since then, iconic celebrities like Elizabeth Taylor, Britney Spears, Michael Jordan, and Taylor Swift have released their own fragrances to great reception.
The FragranceX team looked at sales data from the website between April 2021 and April 2022 to determine the best celebrity perfumes available today. See which fragrances and colognes make the list!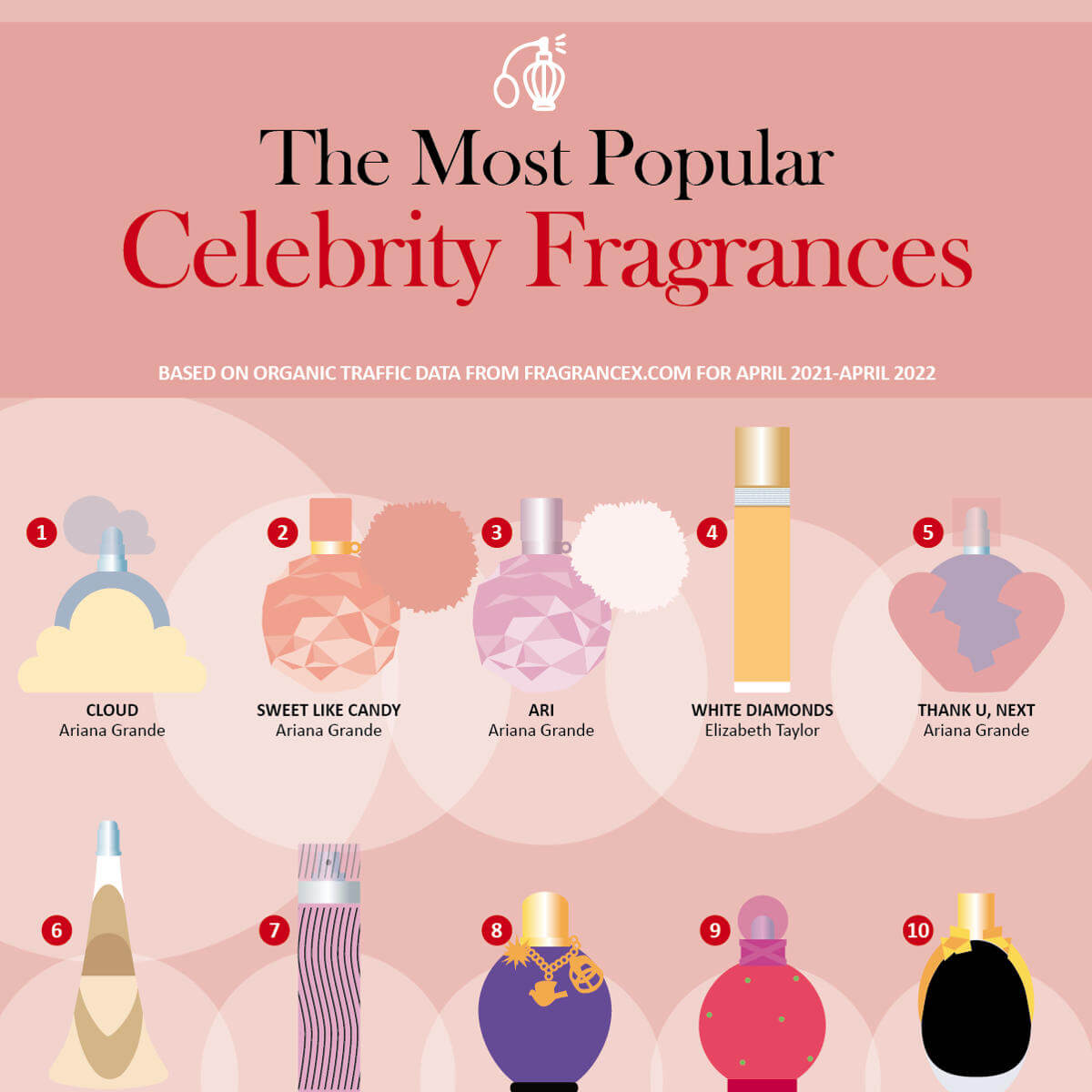 What Are Currently the Most Popular Celebrity Fragrances?
Based on sales data from our website, the best-selling celebrity perfume is Cloud by Ariana Grande. This fragrance was released in 2018 and has top notes of lavender, pear, and bergamot with heart notes of whipped cream, coconut, praline, and vanilla orchid. It has been a top seller since it came out.
Next on the list is another Ariana Grande fragrance called Sweet Like Candy. It was released in 2016 and is a sweet confection with opening notes of fruit and bergamot, with heart notes of honey, jasmine, honeysuckle, frangipani, and marshmallow.
The third most popular celebrity perfume is also another fragrance on the Ariana Grande perfume list – Ari. This fragrance came out in 2015 and is the first perfume released by the pop star. The top notes include grapefruit, pear, and raspberry with heart notes of orchid, rose, and lily of the valley. It also has woody base notes with a touch of marshmallow. Other Ariana Grande perfumes that make the list of top celebrity fragrance are Thank U, Next and Moonlight.
White Diamonds by Elizabeth Taylor ranks as the fourth most popular celebrity fragrance. This iconic perfume was released in 1991 and remains one of the most famous celebrity scents in history. It opens with white floral and citrus notes and then merges with jasmine, rose, violet, Egyptian tuberose, narcissus, and ylang-ylang. Even though the fragrance was released more than 30 years ago, it remains one of the best-selling celebrity fragrances today.
In terms of cologne for men, the highest ranking fragrance on the list is Unforgiveable by Sean Jean, which is run by Sean Combs (also known as Puff Daddy). It was introduced in 1996 and includes top notes of bergamot, basil, and birch leaf along with middle notes of clary sage, lavender, and iris. The base notes include rum, sandalwood, and amber.
The Most Popular Fragrances Created by Celebrities
| | | |
| --- | --- | --- |
| Rank | Fragrance Name | Celebrity |
| 1 | Cloud | Ariana Grande |
| 2 | Sweet Like Candy | Ariana Grande |
| 3 | Ari | Ariana Grande |
| 4 | White Diamonds | Elizabeth Taylor |
| 5 | Thank U, Next | Ariana Grande |
| 6 | Nude | Rihanna |
| 7 | Paris Hilton | Paris Hilton |
| 8 | Wonderstruck | Taylor Swift |
| 9 | Fantasy | Britney Spears |
| 10 | Lady Gaga Fame Black Fluid | Lady Gaga |
| 11 | Unforgivable | Sean John (Sean Combs) |
| 12 | JV X NJ Cologne | Nick Jonas and John Varvatos |
| 13 | Lovely | Sarah Jessica Parker |
| 14 | Curious | Britney Spears |
| 15 | Pink Friday | Nicki Minaj |
| 16 | Jordan | Michael Jordan |
| 17 | Can Can | Paris Hilton |
| 18 | Minajesty | Nicki Minaj |
| 19 | CR7 | Cristiano Ronaldo |
| 20 | Michael Jordan | Michael Jordan |
| 21 | Moonlight | Ariana Grande |
| 22 | Fancy | Jessica Simpson |
| 23 | Glow | Jennifer Lopez |
| 24 | Harajuku Lovers Pop Electric Baby | Gwen Stefani |
| 25 | Kim Kardashian | Kim Kardashian |
| 26 | Miami Glow | Jennifer Lopez |
| 27 | Rose Rush | Paris Hilton |
| 28 | Reb'l Fleur | Rihanna |
| 29 | Rogue | Rihanna |
| 30 | Sparkling White Diamonds | Elizabeth Taylor |
| 31 | Wonderstruck Enchanted | Taylor Swift |
| 32 | 3AM | Sean John (Sean Combs) |
| 33 | Legend | Michael Jordan |
| 34 | Seduction In Black | Antonio Banderas |
| 35 | Adam Levine | Adam Levine |