May 31, 2023
|
11 min Read
Everything You Need to Know About Blue Beauty
The beauty industry has changed for the better in recent years, embracing sustainable alternatives and becoming as eco-friendly as possible. Since the industry built itself on single-use plastic and packaging, this shift is a needed — and necessary — change to ensure a more sustainable world.
This shift has also led to the rise of eco beauty, a movement that includes using sustainable packaging, and the creation of blue beauty, a relatively new trend in eco beauty.
Blue beauty, spearheaded by beauty expert Jeannie Jarnot, is a movement that focuses on making sure products are safe for the environment, specifically the ocean. Brands that incorporate blue beauty use ethically sourced materials and give back in a way that has a positive impact on the planet, including using product proceeds to give to ocean-centric charities.
Jump down to the infographic or read on to learn more about how to incorporate blue beauty practices into your everyday routine.
What is Blue Beauty?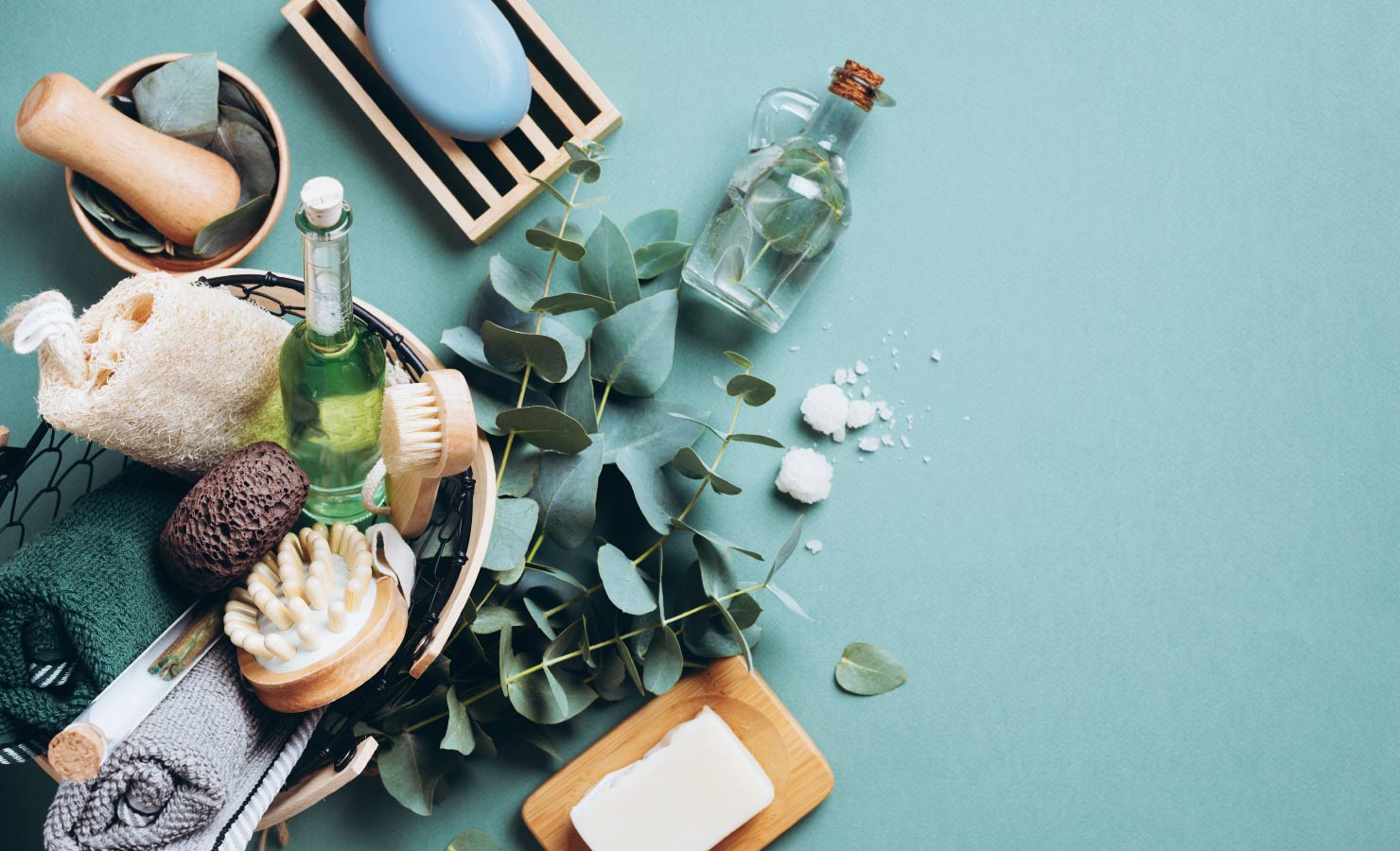 Similar to how "green beauty" is named after the eco-movement's signature color, "blue beauty" is named for the color of water because the movement focuses on oceans. These brands aim to be conscious of how their products' packaging and ingredient list can be potentially harmful to the oceans and the world as a whole.
Blue beauty brands put out products that are safe for the environment from production to disposal. This emphasis on ocean sustainability also means putting out water-safe products, such as reef-safe sunscreens, and eliminating microplastics and other sources of pollution from beauty items.
Blue beauty also wants beauty brands to focus on how they can have a positive effect on the environment and the oceans. In blue beauty, sustainability is a way of life, and beauty brands can get on board by examining what else they're doing and how they're giving back to the planet. For example, do they have initiatives in place, charities they donate to or company give-back programs?
Effects of Beauty on Marine Life and Water
From the Arctic to the Pacific, the world's oceans are often put at risk by the beauty industry.
1. Unsustainable Packaging
According to WWF-UK, the global beauty industry produces over 120 million units of cosmetics packaging per year — many of which are not sustainable, recyclable or good for the environment as a whole.
The blue beauty movement supports a reduction in packaging by encouraging brands to allow customers to send products back to be refilled, using post-consumer (recycled) plastics, and overall attempting to remove unnecessary plastic from their boxing.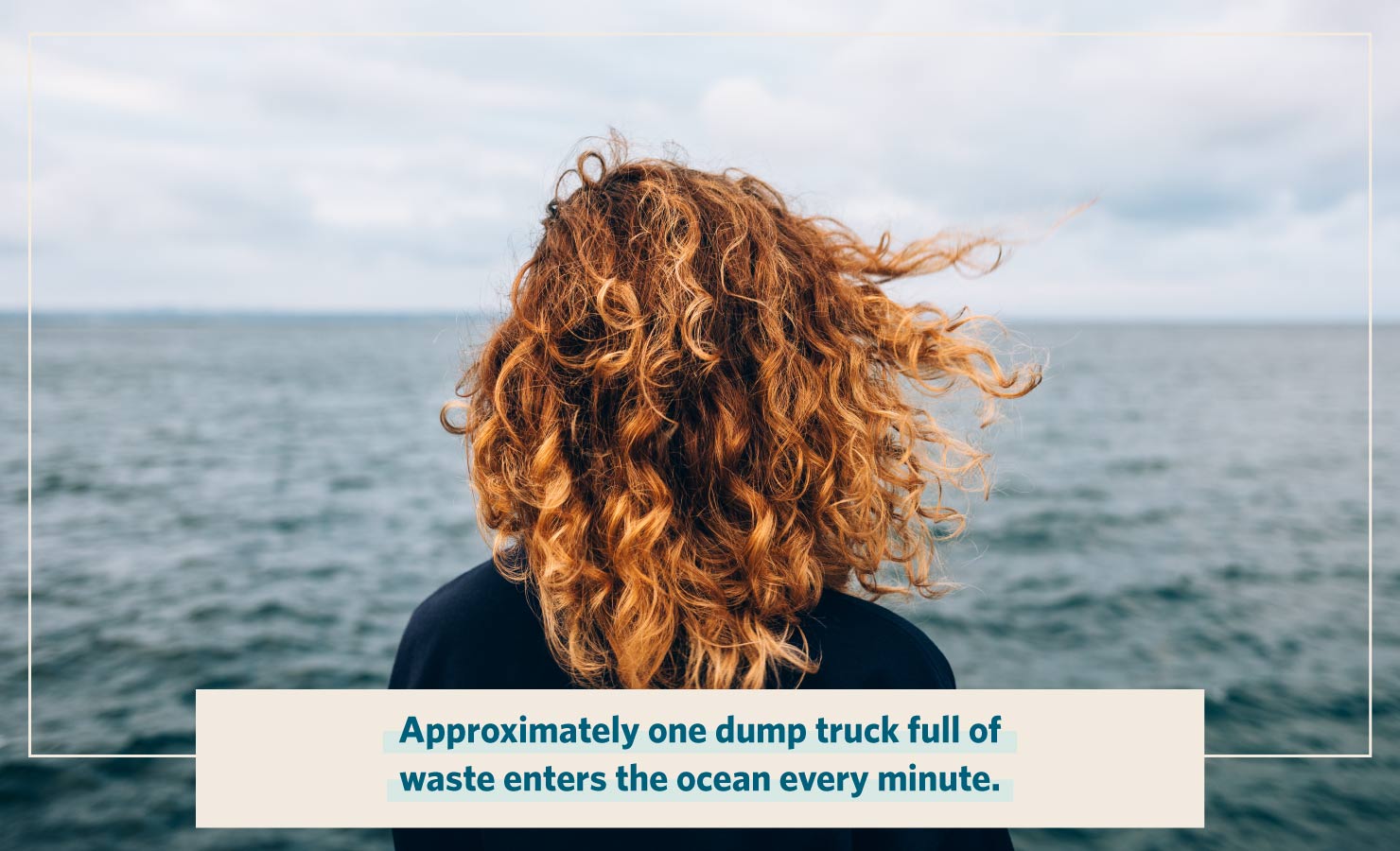 2. Harmful Ingredients
The beauty industry's impact isn't limited to unsustainable packaging and litter. The ingredients and materials used in everyday beauty products, including sunscreen, have a direct impact on the world's waterways.
The chemicals in sunscreens, particularly oxybenzone and octinoxate, do their job of protecting our skin from the sun's harmful UV rays. But once these chemicals are in the water, they can decrease coral reef's defenses against bleaching, which in turn decreases its DNA and ability to develop into a thriving environment for marine life. Coral reefs may be small, covering only 0.1 percent of the area of the ocean, but they're mighty. These reefs house over 25 percent of the total marine life in the ocean, so this impact can be devastating.
3. Damaging Microplastics
The effect of microplastics on the ocean is proof that sometimes the smallest things make the biggest impact. Microplastics are pieces of plastic that are five millimeters or less in diameter, and are produced in one of two ways:
Larger plastics that break down into smaller pieces as they float through the ocean
Intentionally small plastics used in health and beauty products that are unchanged as they journey through through waterways into the ocean
Many toothpastes, exfoliators and other skin products use microbeads, or tiny pieces of polyethylene plastic, to create an exfoliating experience. While these may have a positive impact on our skin, they have a negative impact on the waters they end up in after going down the drain. When swallowed by fish or other marine life, these microplastics cause sickness or other health issues — especially if these sick fish are then eaten by humans.
In December 2015, President Obama signed the Microbead-Free Waters Act into effect, banning the use of microbeads in health and beauty products. That said, it's still important to be on the lookout for less harmful alternatives to exfoliants, such as natural loofahs or body creams with all-natural exfoliating agents.
What's the Difference Between Green and Blue Beauty?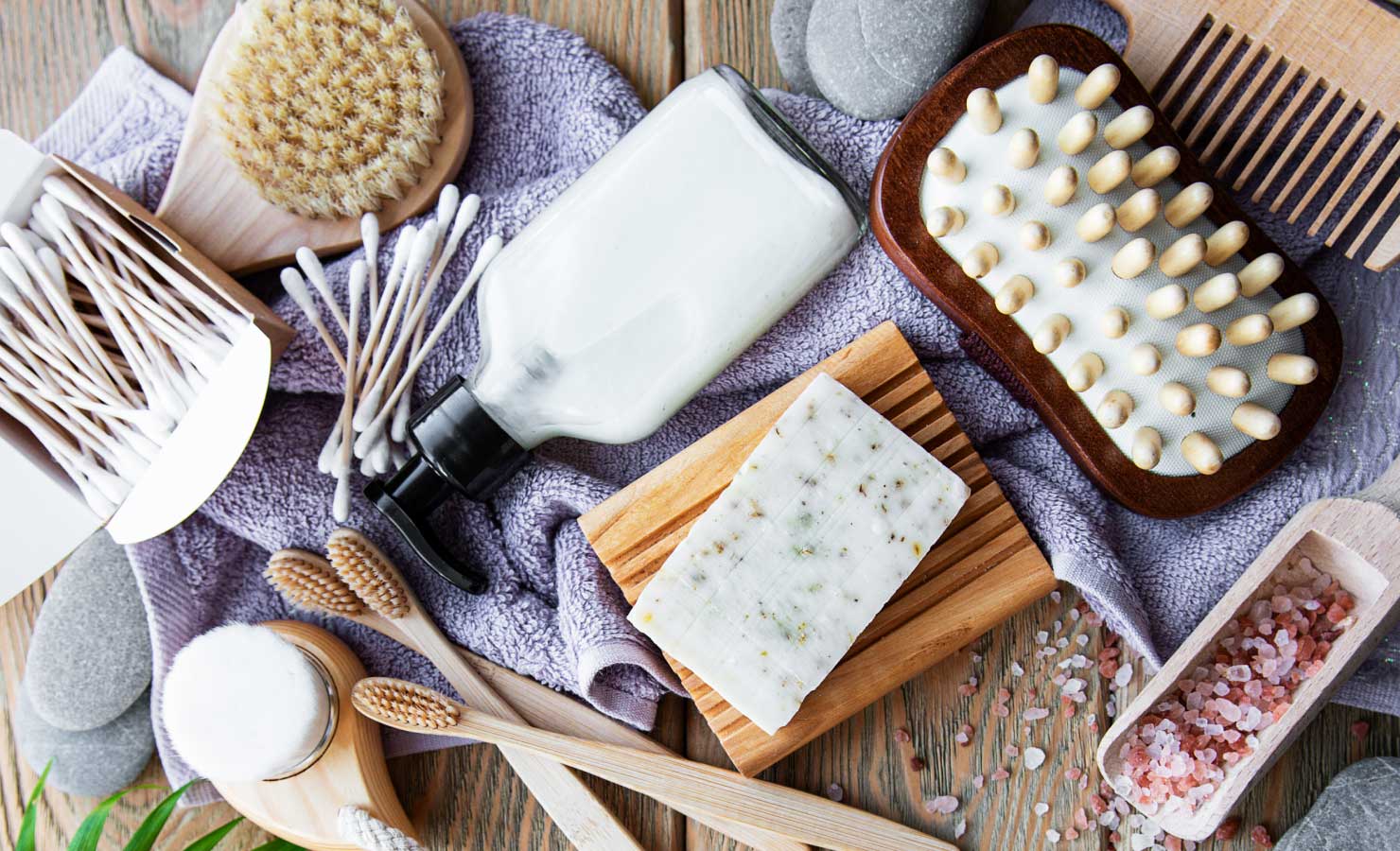 Blue beauty may seem closely aligned with green, clean or eco beauty. While the missions are similar, green beauty primarily focuses on replacing harmful chemicals with "clean" ingredients in products, while blue beauty wants sustainability to extend specifically to the oceans, as well as the world.
Green Beauty
"Green," "eco," "clean" and "natural" beauty are all similar terms that are largely used interchangeably. These initiatives have the same goal: replacing harmful chemicals, additives and ingredients with natural, clean ingredients.
In turn, this creates a more sustainable future for the beauty industry, achieved through mindful consumerism, natural ingredients and an overall emphasis on how the beauty industry can be better for the planet.
Blue Beauty
Blue beauty has a very similar goal: aiming to reduce the impact of the beauty industry on marine life, and the oceans as a whole. The impact of the beauty industry on the world's waters is often overlooked or underestimated. Blue beauty aims to make consumers more aware of this impact on the world's oceans through examining the footprint of the beauty industry, and how the industry as a whole can improve.
How to Incorporate Blue Beauty into Your Routine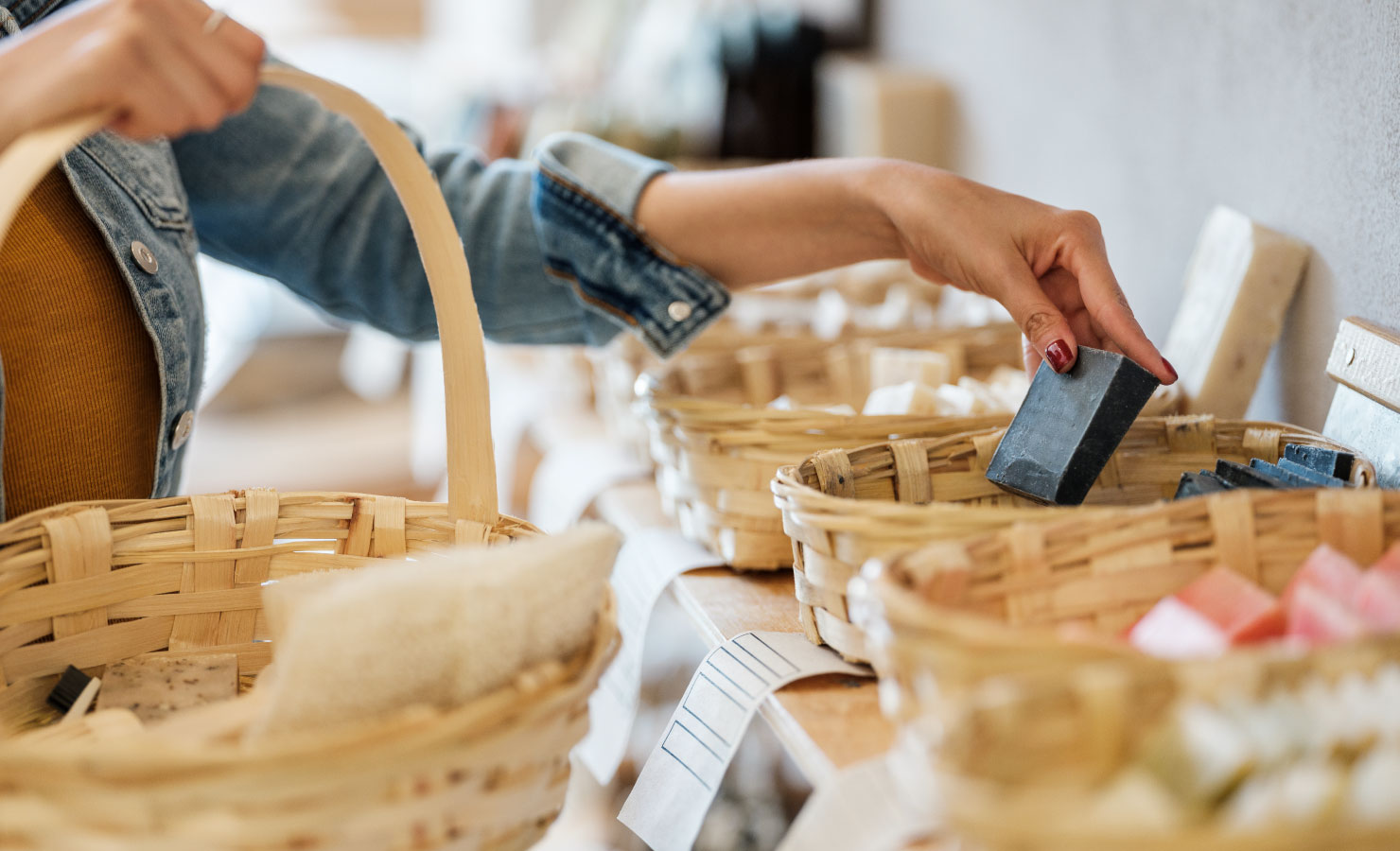 Now that you know all about what blue beauty is and what its mission aims to do, you can plan how to embrace blue beauty practices and ideology into your beauty routine.
This list doesn't include everything you'll need to incorporate blue beauty ideals into your regimen; use these as a jumping-off point for becoming a more conscious consumer of beauty products.
1. Support Sustainable Brands
One of the most important ways to incorporate the ideals of blue beauty into your beauty regimen is to support and buy from sustainable brands. While this may require a little more research before purchasing a product than you may be accustomed to, you'll be able to know you're making a difference with the dollars you spend.
Below is a non-exhaustive list of what to look for in a sustainable brand:
Ethically sourced materials and ingredients
Cruelty-free and/or vegan
Transparency in product creation and packaging locations and methods
Recyclable or reusable packaging
Limited amount of plastic
Produced ethically and/or locally
Environmentally-friendly ingredients and packaging
Additionally, you should also see what sort of company-wide initiatives they take to improve their footprint on the oceans and environment, such as donating proceeds to charities or environmental groups.
Below are five examples of brands that have committed on a company-wide scale to help protect the environment and oceans through sustainable practices:
1. Coola
The brand behind Coola Mineral Reef-Safe Sunscreen knew they needed to commemorate World Oceans Day with a show of solidarity. The brand partnered with Coral Gardens, a coral reef awareness and advocacy organization, with a commitment to plant 100 healthy corals to restore those impacted by climate change. The brand also ran a promotion on World Oceans Day, June 8, that for every website purchase made they would plant an additional coral.
2. Kevin Murphy Hair 
The namesake behind this Australian-based hair company recognized just how much plastic was being dumped into the ocean, and what we needed to do to stop it. The brand committed to every product being packaged in 100 percent reclaimed Ocean Waste Plastic (OWP), saving a projected 360 tons of waste from the ocean each year. To top it off, proceeds from these products go toward a variety of climate-focused charities including Al Gore's The Climate Reality Project.
3. REN Skincare
This skincare brand made a recent pledge to go zero-waste by 2021, leading the charge for other brands to do the same. REN seeks to reinvent the way skincare is packaged by offering refillable products instead of single-use items. While those refillable bottles are in progress, the brand teamed up with TerraCycle to create the Ocean Plastic bottle, made from recycled ocean plastics.
4. LUSH Cosmetics
When it comes to putting their money where their mouth is, LUSH Cosmetics tops the charts. The brand celebrated World Oceans Day by releasing their coveted Shark Fin Soap, with 100% of the proceeds benefiting the Rob Stewart Sharkwater Foundation; a nonprofit that raises awareness of depleting shark populations in the oceans.
5. La Mer
The highest-end brand on this list, La Mer also makes a high-end impact. The brand set up the La Mer Blue Hearts Ocean Fund, and donates $25 (up to $650,000) for every photo posted of their Blue Hearts moisturizer on social media with the hashtags #LaMerBlueHeart and #LaMerDonation. All La Mer employees also participate in yearly beach clean-ups in their local communities.
2. Look for Environmentally Friendly Packaging
Another way to bring blue beauty into your regimen is by closely examining the packaging that your favorite products come in. A few questions you can ask yourself while browsing for a new product are:
Is this packaging, both the box and the product, recyclable?
Can this packaging be cleaned and reused safely?
What is this packaging made of?
Is this product refillable, or do I have to buy a brand-new one every time I run out?
Use these questions as a guide when you're making your next purchase. When in doubt, look for glass or packaging that can be reused or recycled, or products that you can refill in the same container.
Shopping this way may sound intimidating, but many companies are making the switch to better packaging that can be repurposed or refilled. Some have even introduced package-less products, such as shampoo, conditioner or lotion bars that are an option for someone looking to reduce their impact even further.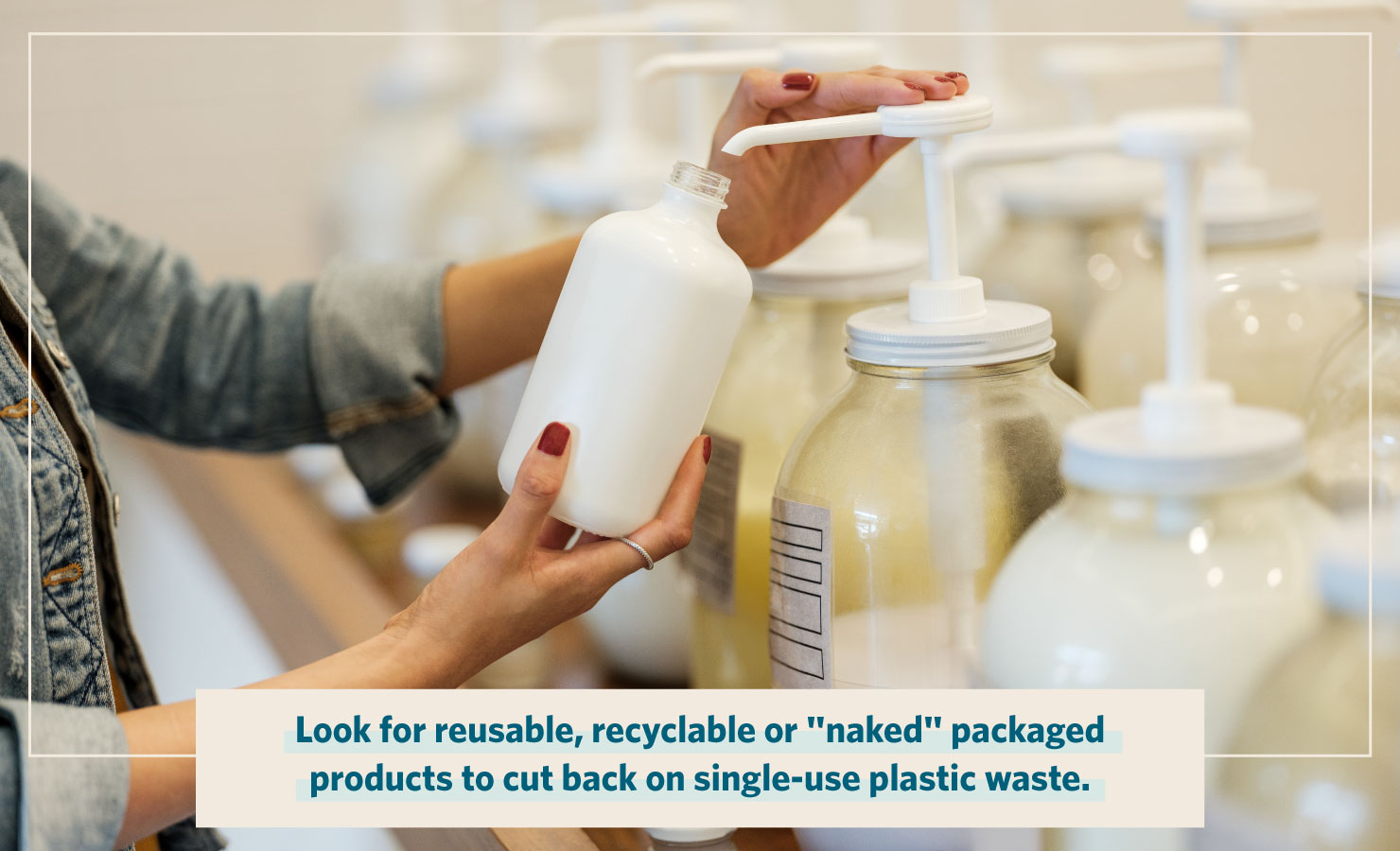 3. Use Reef-Safe Sunscreen
Several ingredients in sunscreens can bleach and negatively affect coral reefs. To do your part to keep our oceans clean, healthy and thriving for years to come, embrace another blue beauty way of life: reef-safe sunscreen.When shopping for a beach trip, it can be tempting to grab the cheapest or highest-SPF sunscreen and call it a day. Next time look for brands that specifically state themselves as "reef-safe" options, meaning they don't include the chemicals that lead to coral bleaching, such as oxybenzone and octinoxate.
Here are a few brands of reef-safe sunscreen you can pick up:
Thinksport SPF 50
Kokua Sun Care SPF 50 Natural Zinc Sunscreen
All Good SPF 30 Sport Sunscreen Lotion
Banana Boat Simply Protect SPF 50+ Sunscreen
Olita Mineral Sunscreen Lotion SPF 30
Manda Organic SPF 50 Sun Paste
Suntegrity Natural Mineral Sunscreen
Stream2Sea SPF 30 Mineral Sunblock
Loving Naturals Clear Body SPF 30+ All-natural Sunscreen
Raw Elements SPF 30 Certified Natural Sunscreen
The positive impact these options have on the world's oceans makes it one of the biggest ways you can embrace the blue beauty philosophy not only on vacation, but in everyday life.
4. Shop for Natural Ingredients
Another way to start looking for better products with a low environmental impact is to carefully consider what ingredients are in your beauty products. One rule of thumb is to read the ingredients list and see how many of those ingredients you can pronounce or recognize. If the unpronounceable chemicals and add-ins outnumber the ingredients you're familiar with, you might want to move on to a more natural product.
Especially when it comes to beauty products, the more natural you can get the better. These are products you put on your body, face, hair and skin — so using ingredients that are good for your health in the long run is vital.
Here's a list of toxic, harmful or inorganic ingredients to watch out for in beauty products, accompanied by organic ingredients that are good for both you and the planet:
BAD: Aluminum — toxic metal that can have damaging effects on the endocrine system. Found in many personal care products, especially antiperspirants.
GOOD: Charcoal — carbon that is commonly used in the medical field to treat nausea and poison. Has been used to draw out excess oil, odor, dirt, chemicals and bacteria from the skin.
BAD: Mineral oil — byproduct of petroleum that coats the skin in a plasticky film and clogs pores, leading to acne or worse. Found in many creams, cosmetics and lotions.
GOOD: Jojoba oil — produced from the seed of the jojoba shrub, whose chemical structure closely matches human sebum. Traditionally used as a moisturizing ingredient for dry skin, but can also heal sores, sunburns and scars.
BAD: Parabens — used as a preservative and has been studied to lead to hormone imbalances. May not be labeled; traditionally found in many beauty products including skincare and deodorants.
GOOD: Shea butter — derived from the nut of the African shea tree, has been used as a cosmetic ingredient since ancient Egypt. Commonly used as a moisturizer and environmental protectant.
BAD: Phthalates — chemicals used to increase strength and flexibility of plastic. Used traditionally in fragrance oils and labeled as "fragrance."
GOOD: Cedarwood oil — natural fragrance oil derived from conifers. Used as a natural fragrance, but has been known to help with acne and eczema.
BAD: DMDM Hydantoin and Urea (Imidazolidinyl) — preservative that has been known to release formaldehydes, which can lead to joint pain, loss of sleep, headaches, allergies and other conditions. Commonly found in skincare products, makeup, shampoos and conditioners.
GOOD: Chamomile — flowers commonly used in fragrance or teas. Has highly effective anti-inflammatory skincare properties, and has been used to treat eczema and other skin conditions.
Many companies are becoming more and more transparent about what ingredients they use and stay away from. Just like with choosing sustainable brands, vote with your wallet and support products that are good for you and the environment.
Sustainability is no longer just a trend — it's a way of life to ensure that the earth is around long enough for generations to come. Movements like blue beauty and eco beauty aim to help change the world, one beauty product at a time. Embrace these philosophies to become more of a conscious and eco-friendly consumer of products from lipsticks to fragrances; the world will thank you for it.

Sources: Elle UK | Travel and Leisure | Odacite | Sustainable Jungle | Allure | The Guardian | Forbes | National Ocean Service | Irish Tatler | Refinery29
Subscribe via Email
Get the best of FragranceX delivered straight to your inbox