Aug 9, 2022
|
10 min Read
What is Eau de Toilette & Eau de Parfum How Does it Compare to Other Fragrances?
Eau de toilette is a lightly scented fragrance with a lower concentration of fragrant oils than pure perfume. Derived from a French phrase that means "getting ready", the fragrance is a great choice if you're looking for a lighter scent to refresh the skin.
The term is a perfume category. Perfume categories are distinguished based on the amount of "perfume essence" in the formula relative to the amount of alcohol and water. Perfume essence includes natural ingredients, essential oils, perfume extracts, and any aromatic oil.
What is the Difference Between Extrait de Parfum, Eau de Parfum and Eau de Toilette?
The differences between eau de parfum and eau de toilette are the concentration of perfume oils, pricing, longevity of the scents and usage. A spritz contains around 5 to 15 percent of perfume essences in its top layers. The scent usually lasts for three hours.
Eau de parfum, on the other hand, will retain its scent for five to eight hours since it contains 20 percent fragrant oils. An application of pure perfume is even more potent. Because it is layered throughout with 40% aromatic oil, it releases its scent over time for up to 24 hours.
Because it is more diluted, eau de toilette is less expensive and can be sprayed liberally as a day-to-day or night scent. Eau de parfum and parfum are more expensive, but the lower amount of alcohol plays well with sensitive skin and provides a long-lasting, skin-clinging scent.
The main categories of fragrances are as follows in order of their perfume concentration:
Eau Fraiche: Considered the most diluted category of fragrance, eau fraiche contains only 1 to 3 percent of perfume oil. Due to the high alcohol content, the scent is much more subtle and generally lasts for less than an hour.
Eau de Cologne: Often created for men, cologne is designed as a light "splash" fragrance. It contains 2 to 5 percent of perfume essence and usually lasts for about two hours.
Eau de Toilette: One of the most popular fragrance types, eau de toilette is a light spray composition. Its scent contains 4 to 15% pure perfume and usually lasts for 3 to 4 hours. Considered by many to be a daytime fragrance.
Eau de Perfume / Eau de Parfum: Derived from pure perfume, eau de perfume's formula is more concentrated with 15 to 20 pure essence. It lasts for 4 to 5 hours.
Perfume (Parfum): Not to be confused with eau de perfume, pure perfume is the most concentrated of all fragrance categories. Slightly oiler in texture, a single application of perfume holds 20 to 40 percent pure essence. It can last up to 24 hours.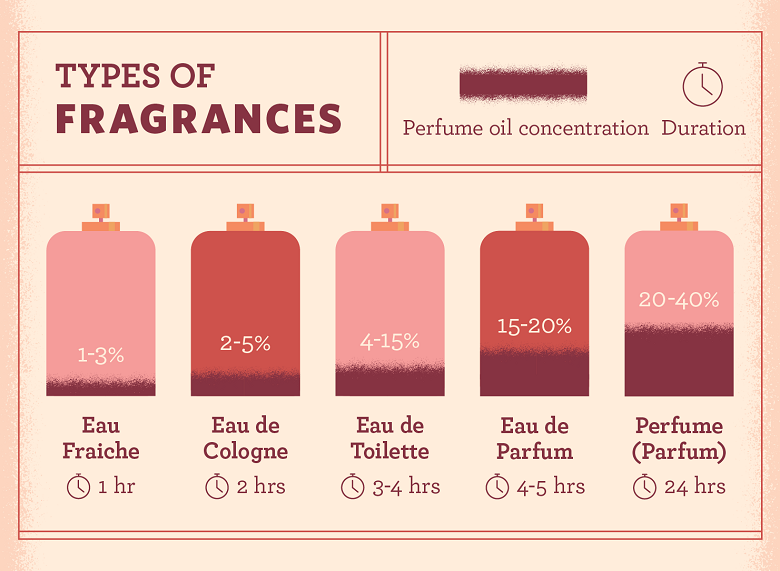 Perfume, Eau de Parfum and Eau de Toilette
Extrait de parfum (or parfum), eau de parfum and eau de toilette make up the scent group with the highest concentration of oils. Extrait de parfum (pure perfume) has the highest concentration and is the longest lasting, followed by eau de parfum and then eau de toilette.
Perfume or Parfum (Extrait de Parfum)
Extrait de Parfum(Parfum), pure perfume, is the most concentrated of all fragrance categories and lasts the longest amount of time. Slightly heavier in texture, a single application of perfume holds 20 to 40 percent pure essence. It can last up to 24 hours. Because of the low alcohol content, it sits a little closer to the skin. Roja Parfums Amber Aoud is an extrait de parfum with over 25% percent pure perfume. There is amber in its name but rose is the star. Amber Aoud is one of the most luxurious, complex, and sumptuous rose/oud fragrances of the past decade. Shop other pure perfumes using the button below!
Eau de Parfum (EDP)
Eau de Perfume / Eau de Parfum aka EDP: Derived from pure perfume, eau de perfume's formula is more concentrated than eau de toilette and has 15 to 20 percent of pure essences. EDP is richer and deeper with more of a scent trail and longevity up to 12 hours. There are thousands to choose from and are good choices for colder weather, evening, and times when you want to be noticed. A word–play on "Dior" and "I Love It," Christian Dior J'Adore has been one of the best-selling floral Eau de Parfums for over twenty years. The minute you smell J'Adore, three words come to mind: sparkling, sophisticated and sensuous. The bouquet of jasmine, tuberose and honeysuckle seem lit from within. The heart of plum and peach add bright juiciness and amber at the base adds a golden glow. CREED Aventus is one of the most buzzed about Eau de Parfums on the fragrance forums with a devoted following who swear it is the best masculine scent ever created. CREED Aventus begins with a pineapple note, lush and juicy, then tart green apple is used as contrast and blackcurrants add luster. can match. The floral heart offset the base with its masculine woody notes of birch and patchouli. This is followed by oakmoss, ambergris and musk for a balanced finish. Great longevity and projection earned it the reputation of a compliment getter. Most fragrances are released as eau de parfums. Find your perfect eau de parfum using the button below!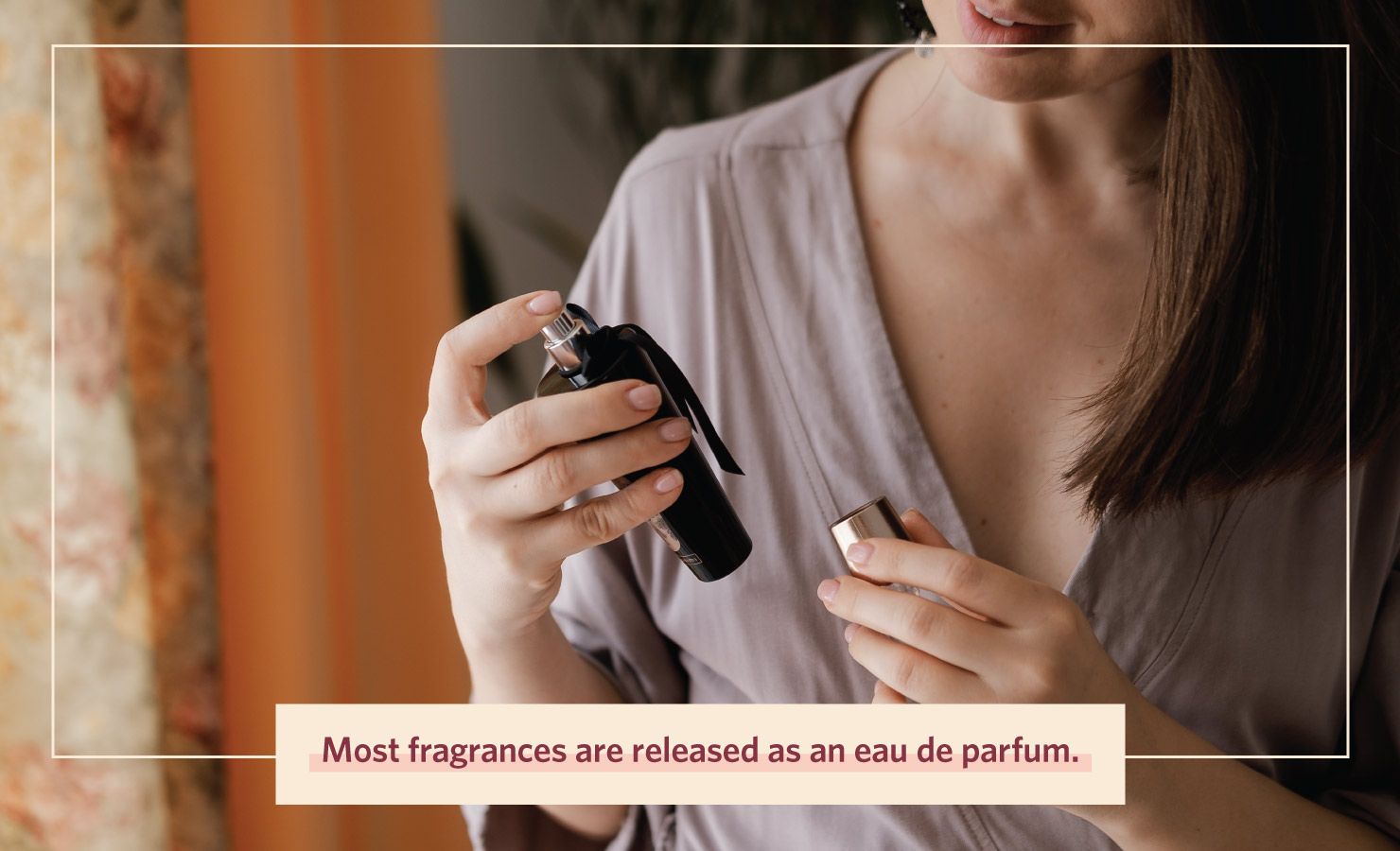 Eau de Toilette (EDT)
EDT is the abbreviation for Eau de Toilettes which have a 75 % alcohol to aromatic essence ratio and can last up to eight hours before reapplying. They are the most popular form of perfume because they can be worn for daywear and for the office. Boucheron Eau Legere for Her, with its sparkling facets of lemon, orange blossom and neroli is a great choice. This airy twist on lush florals has notes of amber and creamy sandalwood. The modern oval flacon with its silver top and yellow/blue color evokes summer sun and starry skies.  For him Dolce & Gabbana Light Blue for men is one of the all-time best sellers in men's fragrance and is an Eau de Toilette concentration. Light Blue is refreshing aquatic with notes of grapefruit, juniper and bergamot with a salty musk that gives a sea breeze effect. If you love a fragrance in eau de toilette concentration, but are looking for more longevity most designer perfumes are available in "Intense" forms. Light Blue Intense has similar notes but more woods at the dry down. See other eau de toilette fragrances available for purchase right now!
Eau de Cologne and Eau Fraiche
Eau de cologne and eau fraiche are the scent group with the lowest concentration of oils. Cologne or eau de cologne has the highest concentration, with eau fraiche having the lowest of all the fragrances.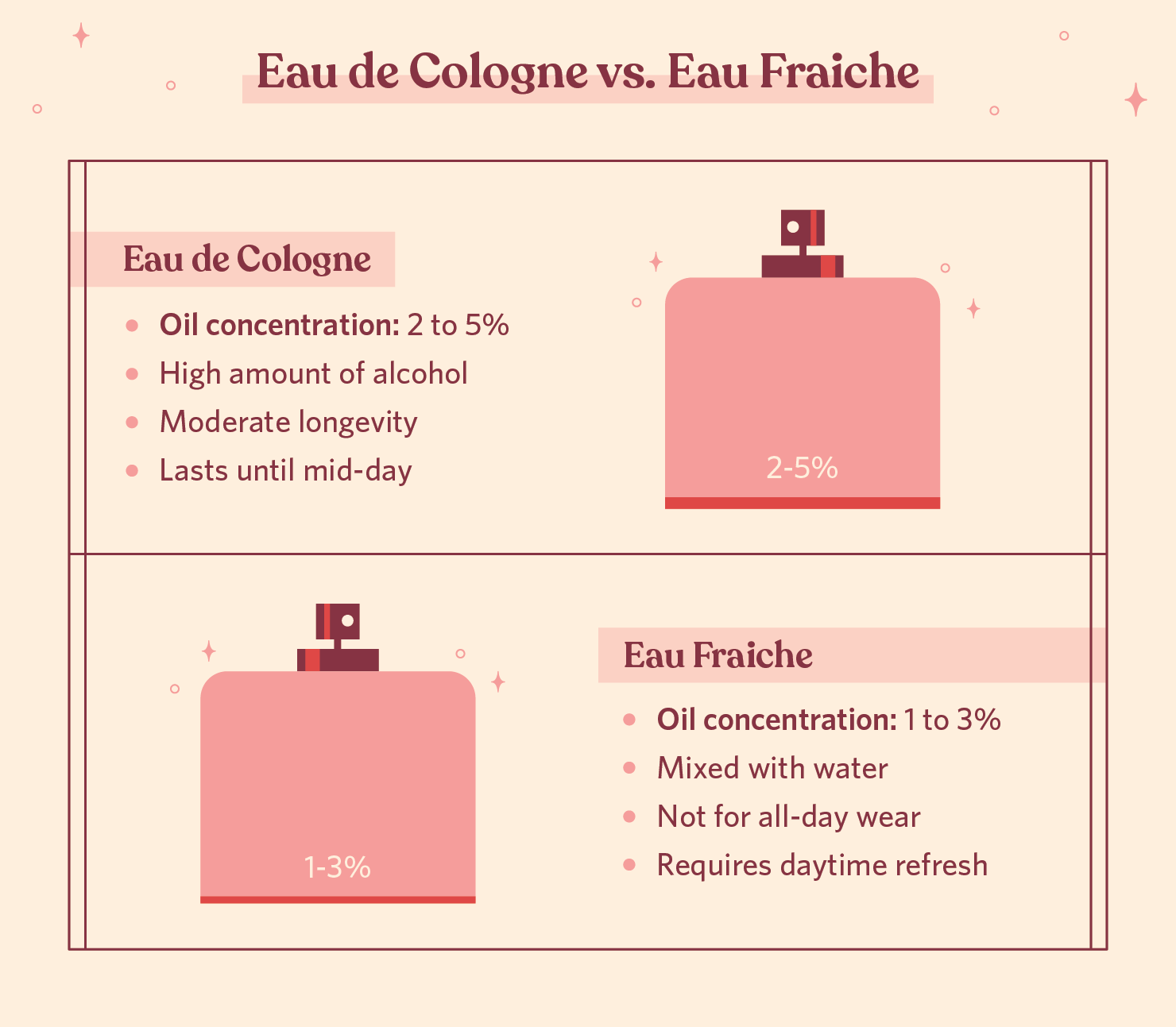 Cologne or Eau de Cologne
Cologne, or eau de cologne, can be a catch-all term for masculine scents marketed towards men. However, eau de cologne is actually a term for fragrance composed of a low concentration of perfume oils — only two to five percent — that is cut with a higher concentration of alcohol. That said, eau de cologne still has the highest amount of oils of the cologne category. As any avid cologne wearer will tell you, eau de colognes are great for a quick spray that provides a burst of fragrance, but often are not long-lasting enough for all-day wear.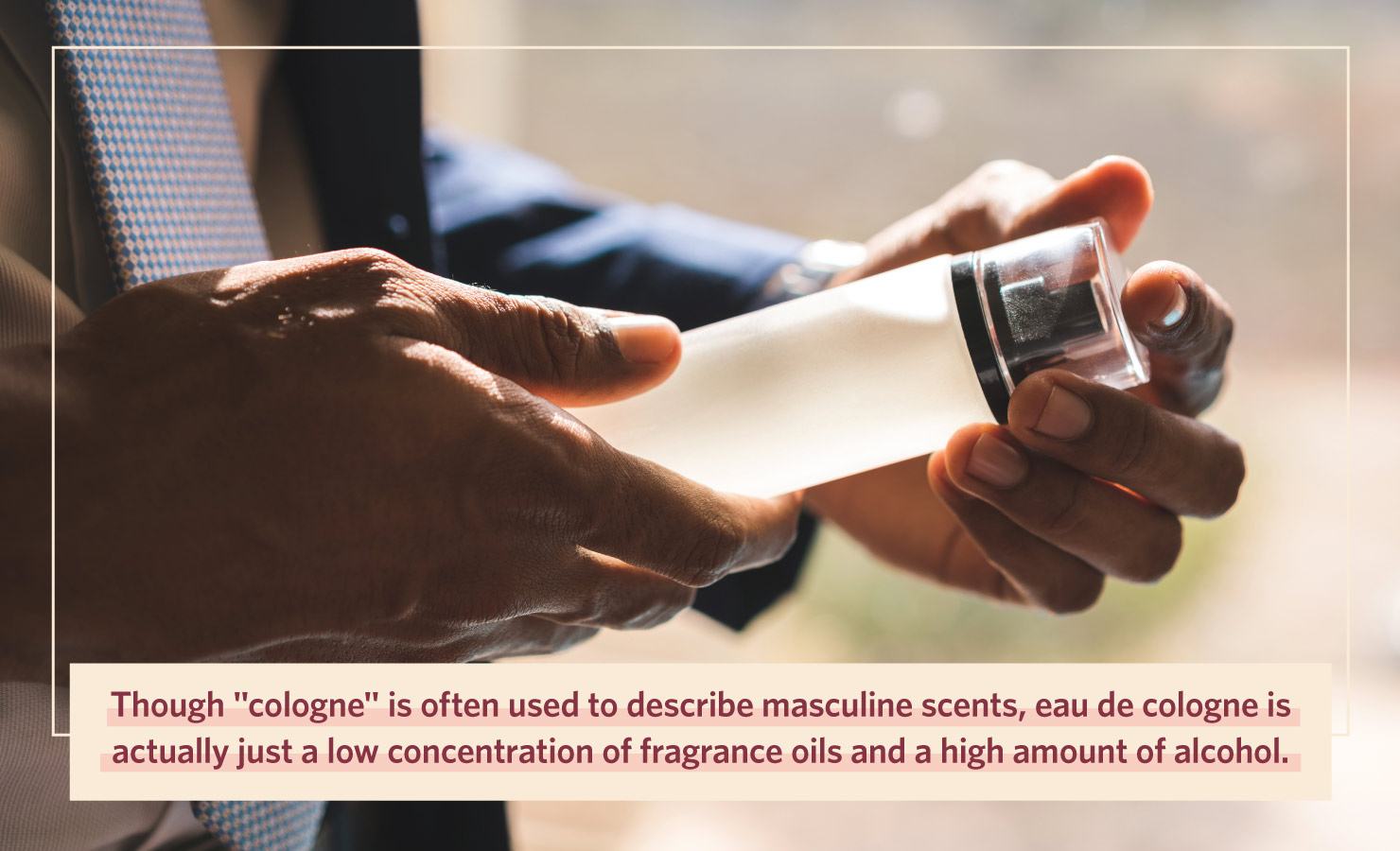 Eau de cologne can be worn by either men or women. A fan-favorite eau de cologne for men is Eau De Cologne Des Princes, masculine aroma with moderate staying power and a powerful finish. An eau de cologne designed for women is Jovan White Musk, a distinctly wearable scent with moderate longevity. Shop other colognes below.
Eau Fraiche
Eau fraiche has the lowest concentration of oils of any fragrance, having only one to three percent of oils in any given scent. The major difference between eau fraiche and other types of fragrances is that eau fraiche is mixed with water instead of alcohol. Eau fraiche is meant to be a quick refresher of fragrance, and not a long-lasting scent for all day.
An example of an eau fraiche fragrance is Baldessarini Ambre Eau Fraiche Cologne by Hugo Boss moderate sillage and light longevity. This fragrance is tailor-made for a quick refresher on sunny spring days. Shop other eau fraiche fragrances using the button below!
Oil levels aren't the only factor that provides longevity of scent. The sillage, or the fragrance trail made by freshly-sprayed perfumes; the notes; and the dry-down of perfumes all factor into how long a scent will last on your skin. The main component in perfume longevity, however, is you. Each person is different and has different skin, and how long a fragrance lasts on you may differ wildly from your friends.
When it comes to your fragrance, it really is all up to your own personal preferences. Whether you prefer a long-lasting eau de parfum with serious staying power, or an eau de cologne that provides a quick midday pick-me-up, choose what works best for you and your lifestyle.
Tips to Make Your Fragrance Last Longer
Be sure to put the cap back on the sprayer so the oxygen in the air will not degrade what's in the bottle.
Always use a moisturizer, especially in the fall and winter before applying as dry skin tends not to hold a scent.
Spray the fragrance onto are areas of your body known as pulse points, where the blood vessels are right underneath your skin such as wrists and behind your ears help the scent last longer.
Keep your perfume bottles out of direct sunlight and in a temperature-controlled area of your homes, as heat will cause the scent molecules to break down over time.
Read more about where to apply your fragrance for longer lasting scent sure to last throughout the day and tips to make your fragrance last longer.
Now that you understand the difference between fragrance concentrations, head on over to FragranceX to buy authentic perfumes, not "dupes," where the concentrations are listed in the ingredients or the box.
Is Eau de Toilette for Men or Women?
Eau de toilette can be used by both men and women. The perfume industry often markets cologne as men's fragrance and perfume as women's fragrance. However, there are options for both genders across the pe rfume categories and vary mainly by the amount of perfume oil as well as the notes and ingredients.'
Popular toilette fragrances include Nautica Voyage and Acqua Di Gio for men and Cool Water and Chanel Chance for Women, but there are unisex fragrances as well, such as CK All and Black Orchid.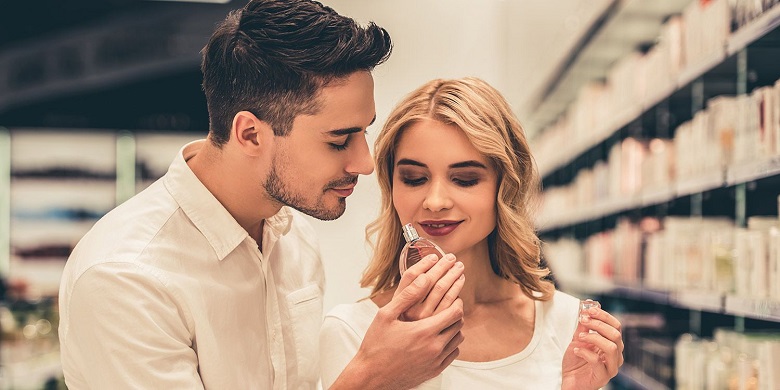 How Do You Wear Eau de Toilette?
The best practice for wearing eau de toilette is to apply it to dry skin. You'll want to focus it on heated areas on your body, including your chest, neck, lower jaw, wrist, forearm, inner elbow and shoulders. Your body heat helps diffuse the scent and make the scent last longer. You'll want to start light and layer it as you go – you don't want to be that person that reeks strongly of fragrance!
Since eau de toilette is more diluted, adding petroleum jelly or an unscented lotion before the application can help lock in the scent and increase its longevity. A spray on your hair or clothes can also help add to the overall lingering effect of the fragrance.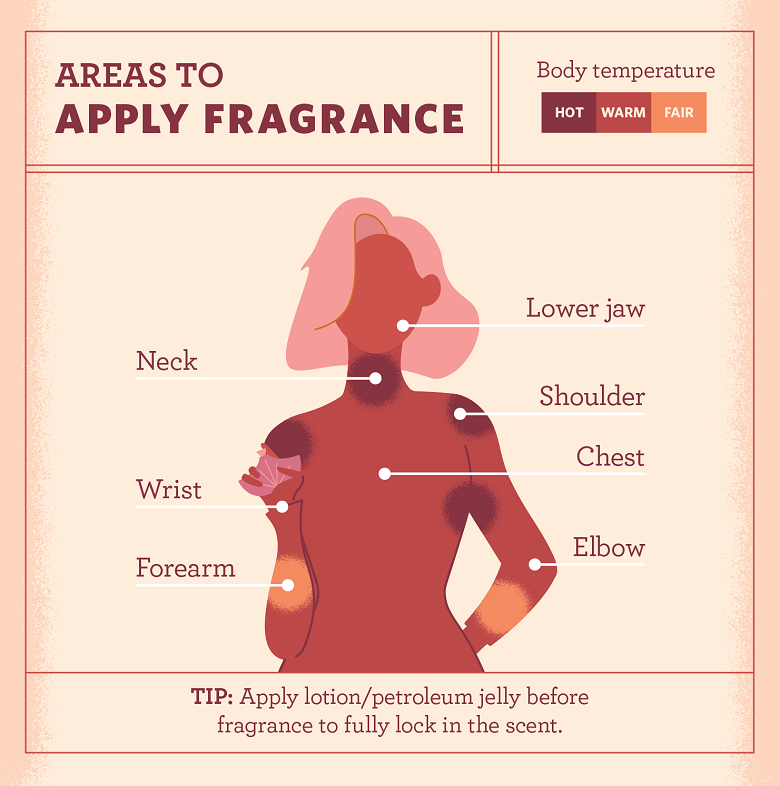 How to Choose the Right Fragrance for You
To choose the right fragrance, you'll need to consider how long you want your scent to last, your budget and the environment you'll be in. For example, if you prefer a daytime fragrance or work in a strict office setting, an eau de toilette would be the better option for you than a perfume. Consider FragranceX's perfume quiz to find your perfect fit.
You'll also want to consider your personal preferences and skin chemistry. Since eau de toilettes and perfume react differently on everyone's skin, it's important to test the fragrance if possible.
An eau de toilette is a refreshing everyday option. Compared to perfume, its top-heavy composition makes it great for layering and wearing during summer seasons and more conservative environments.
Whether you decide to get an eau de toilette fragrance or a pure perfume blend, we offer a variety of perfumes for any occasion.
Subscribe via Email
Get the best of FragranceX delivered straight to your inbox