May 12, 2023
|
6 min Read
How Much Cologne Is Too Much?
Your scent walks in the door before you do — the way you smell has the power to make a lasting impression if it's done well (or if it's done poorly). Even with the most luxurious cologne, an incorrect application can make the difference between a subtle, attractive scent and a few raised eyebrows when you're not looking. But how do you know how much cologne is too much?
You've likely been in situations where someone's fragrance was too strong. This can lead to an overwhelming and often unpleasant sensation for you and others around you. When using cologne, it's important to strike that perfect balance where your scent is subtle yet inviting.
Before anything else, you need to find the scent family that feels right for you. Whether you prefer refreshing citrus, warm spice, oriental wood or amber musk, choosing the perfect cologne is the first step to perfecting your scent. Once you've found the right scent, you also need to learn how to apply cologne correctly. Keep reading to learn how much cologne is too much and how to use it for that perfect scent.
How Many Sprays of Cologne Should You Use?
You may be wondering how many sprays to use. Spraying just the right amount is a balancing act: too much cologne can be overwhelming, but too little may not be noticeable. Typically, you should start with around two squirts and slowly build up to four or five if you want a stronger aroma.
You may also want to adjust how much cologne you use based on where you're going. If you're at the office, it's likely a better decision to be conservative with your cologne. However, if you're attending a party or dinner, you can go for a stronger scent. When deciding when to wear cologne and how much to use, it's better to err on the side of caution with too little rather than too much.
Is 3 Sprays of Cologne Too Much?
A great way to ensure you're not overwhelming others with your scent is to spray the fragrance on different pulse points around your body. While three sprays all located on your wrist might seem like a lot if you're going to shake someone's hand, you can spread between your wrists and neck — three sprays could be the perfect amount to give you that subtle scent you're after.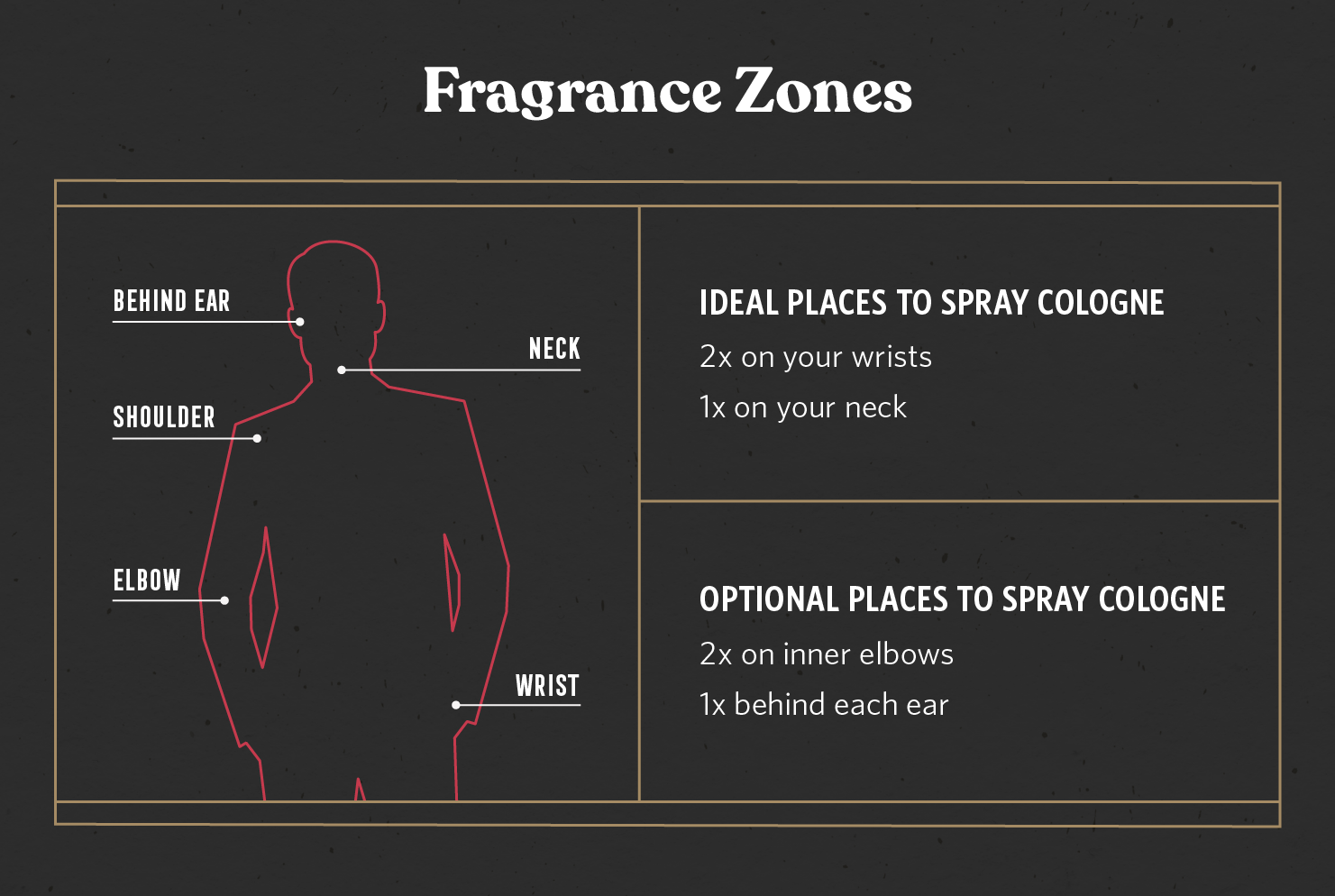 Where to Spray Cologne
Even with the most popular colognes, it's essential to know where to spray cologne to get the most bang for your buck. While many people think spraying it in the air and walking through it will distribute the scent evenly, it'll likely fade quickly since much of the cologne ends up on clothes or is lost to the air.
Instead, target pulse points like your wrists, neck, inner elbows, and chest. Since these points are warmer, they have longer staying power and can better project the scent. Be sure not to rub the cologne into your skin after applying, or you may risk changing or diffusing the scent. Instead, spray the cologne onto your skin and allow it to dry naturally.
How Long Does Cologne Last on Your Body?
The differences in fragrances depend on the varying levels of raw materials and perfume oils mixed with a solvent. So, the amount of raw material determines the scent's staying power. While higher concentrations last longer, they are also typically the most expensive. Cologne, one of the lower concentrations, typically lasts around two hours. The rest of the scent strength categories are as follows:
Aftershave: Aftershave is the weakest fragrance scent, containing around 1% perfume oil and lasting around an hour. Aftershave typically contains soothing ingredients like aloe to heal the skin after shaving.
Eau Fraiche: Eau Fraiche is the lowest strength fragrance, made of 1-3% perfume oil and lasting less than an hour.
Eau de Cologne (Cologne): Cologne is another lower strength fragrance, running around 2-4% perfume oil. Cologne will last two to three hours before requiring reapplication.
Eau de Toilette (EDT): Containing around 5-15% perfume oil, Eau de Toilette has a strong initial scent, then fades to a much subtler smell before wearing off at the four- to seven-hour mark.
Eau de Parfum (Perfume): Perfume is a much higher strength fragrance, containing 15-20% perfume oil. Perfume lasts around five to eight hours.
Although cologne is considered a scent category, it's often used as a blanket term for all men's fragrances. However, you can check the bottle's concentration level to determine which strength level your fragrance falls into.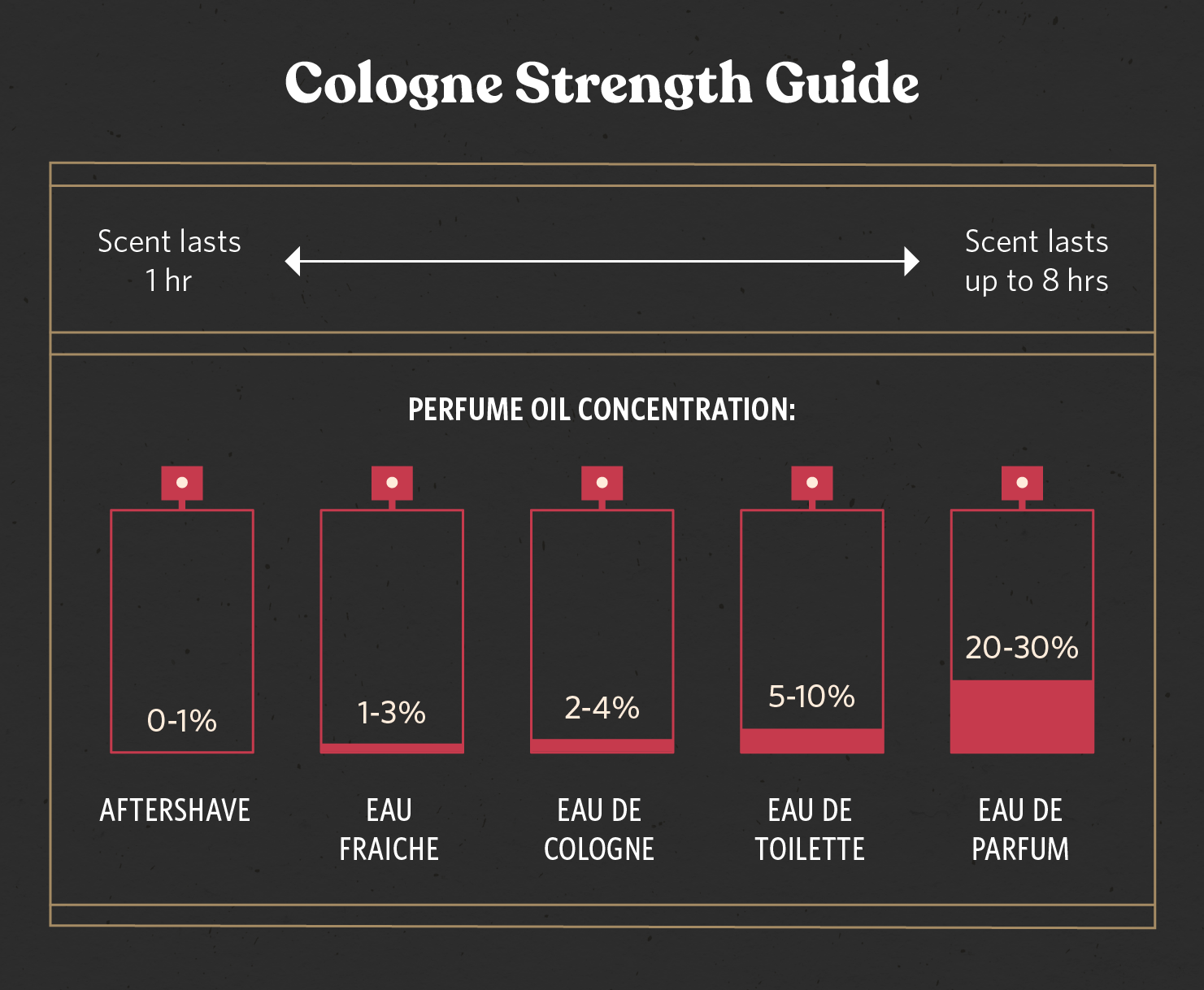 Does Cologne Go Bad?
In short: yes, cologne does go bad. However, the shelf life of fragrance varies significantly based on what it's made of. While some can expire in as little as a year, others last past the decade mark.
If you're not sure about the shelf life of your fragrance, three to five years is a good ballpark to start with. Those with heavier base notes, like musk, patchouli, amber and vanilla tend to last longer than those with light base notes.
To properly store your perfume, keep it in a cool, dark and dry place like your dresser or closet. Many people may think a bathroom medicine cabinet is an excellent place to store fragrances. However, the temperature and humidity fluctuations can expedite the shelf life.
How to Apply Cologne: Tips and Tricks
Since fragrances are made up of varying chemicals, it's essential to apply them correctly, so they break down over the longest period possible. Even with the most luxurious colognes, proper application is crucial to get the most out of your fragrance.
With correct application, your cologne will fade in layers: initially showing its top notes, then mid-notes, and finally revealing the subtle base notes later on. Here are some tips and tricks to learn how to apply cologne:
Be Direct: Don't spray it into the air and walk through it. Instead, apply cologne directly to clean, dry skin.
Pulse Points: Apply cologne to pulse points on your skin like your wrists, neck and inner elbows.
Distribute the Scent: Instead of targeting your cologne in one area, use one spray in each pulse point for a subtle, diffused scent.
The Sweet Spot: Hold the cologne bottle three to six inches away from your skin.
Less is More: Start with one or two sprays of cologne, and work your way up to four or five if you want a stronger scent.
Air Dry: Don't rub the cologne into your skin. Instead, spray and allow it to air dry for maximum staying power.
Don't Overdo It: Instead of spraying all your cologne at the start of the day, use fewer sprays but reapply more often for a subtle scent with staying power.
Reapply: Since cologne is a lower strength fragrance, you'll likely need to reapply every few hours.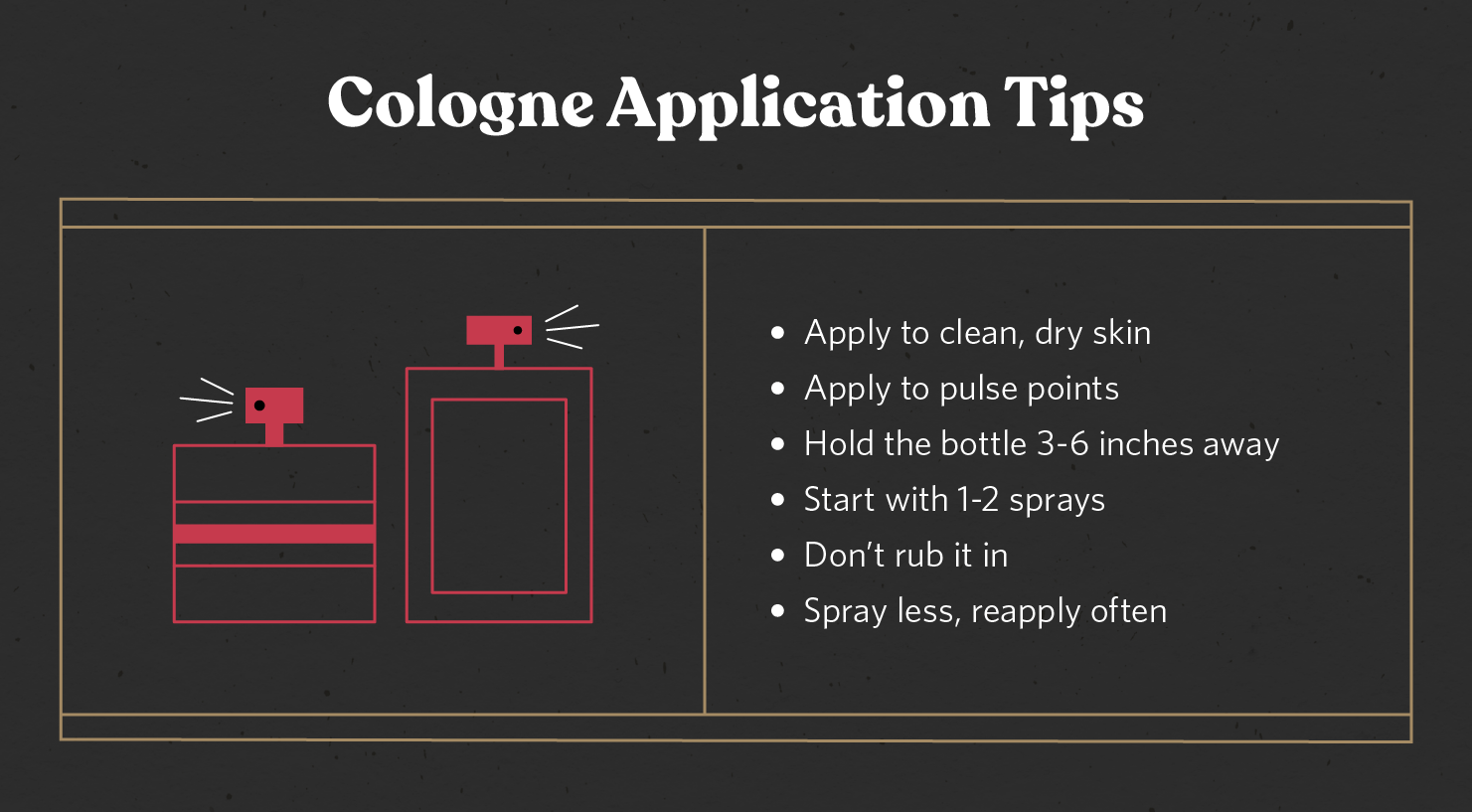 Finding your perfect cologne is an important step for every man. And there's no better way than to test the scents out for yourself. While many men treat fragrances like an afterthought, your scent has the power to make a lasting impression on people around you. If you're trying to find the right scent and strength but you're not sure how much is too much, try starting with one or two squirts and building up throughout the day.  Check out our large collection of men's cologne to get started finding your perfect scent today.
Subscribe via Email
Get the best of FragranceX delivered straight to your inbox