Jun 15, 2023
|
11 min Read
Versace Crystal Noir: The Perfect Gift for the Holiday Season
There are some people in this world who like to choose a signature scent and stick with it.
Then, there are the rest of us.
I have always been someone who likes to change my scent with the changing seasons.
In fall and winter, I tend to look for scents that are a bit more earthy and filled with smells like musk and woody tones.
These scents conjure up cozy rooms and crackling fireplaces as well as the aura of celebrations and glamor all mixed together.
But in the spring and summer, I lean towards scents that are more floral and even fruity.
I find myself reaching for the eau de toilette that has top notes of gardenia and peony mixed with hints of lemon and even coconut. These scents give me visions of beach holidays and magical nights under the stars.
So this year – as the summer holiday season approached – I found myself on a quest to find the perfect fragrance.
Summer holidays are by far my favorite.
Though I love sweater weather almost as much as the next person, there is nothing like a sunset cocktail hour on the beach or a romantic evening spent dancing the night away in an oceanfront club.
And, since this is by far my favorite time of year, there is nothing better than finding the perfect scent to accompany it.
For this summer holiday season, I decided to look for something that was less fruity and flirtatious and something a bit more sophisticated, more elegant perhaps.
I wanted a scent that would capture the essence of the endless summer, a time of year that always seems full of possibility, intrigue, and excitement.
I wanted a scent that would transport me to exotic destinations, evoke feelings of glamor and allure, and embody the sexy spirit of adventure.
I wanted an eau de toilette scent that would help me forever remember this holiday summer season in my mind.
My search led me to discover Versace Crystal Noir.
Versace Noir Crystal: The Allure of this Alluring Fragrance
From the moment I sprayed the Versace Crystal Noir eau de parfum onto my neck, I knew this was going to be a fragrance that would exceed my expectations in every way.
Versace Crystal Noir effortlessly captures the essence of exotic destinations.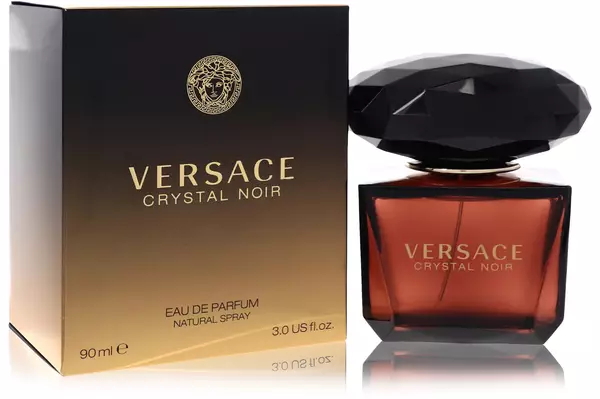 Whether it whisks me away to state-side sun-kissed beaches, vibrant eastern bazaars, or Mediterranean balmy summer nights, this eau de toilette spray is a luxurious fragrance that is going to be hard to forget, no matter where your travels take you.
The fragrance opens with a burst of fresh and juicy notes, like a basket of ripe exotic fruits.
The blend of blackcurrant, black fig, and violet leaves creates an immediate sense of intrigue and sets the stage for the journey that awaits.
As the Crystal Noir eau de toilette fragrance evolves, the heart notes reveal a sensual and intoxicating bouquet.
The central note fusion of tuberose, gardenia, vanilla pod, jasmine, and frangipani envelops the senses, transporting you to a tropical paradise where flowers bloom in abundance. These floral notes add an air of elegance and sophistication to the fragrance, making it perfect for both daytime adventures and evening soirées.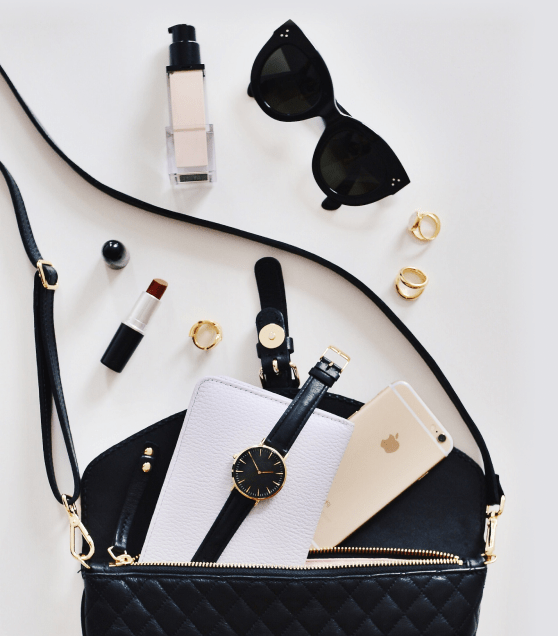 DISCOUNT PERFUME
FOR WOMEN
Discover our range of discounted fragrances that won't compromise on quality
SHOP NOW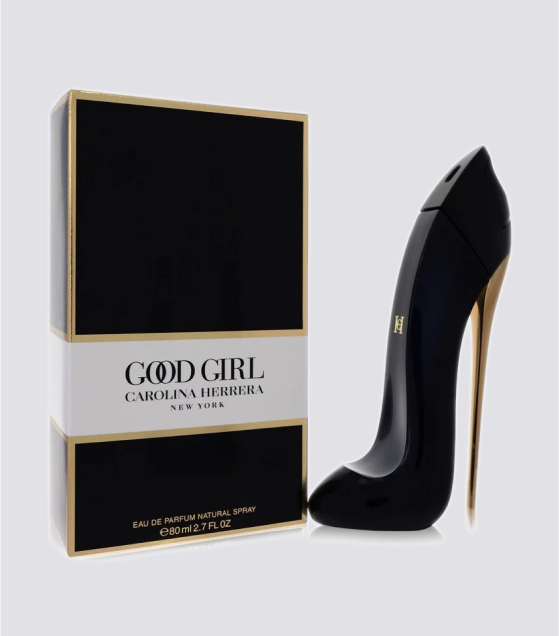 Versace Crystal Noir eau de toilette also exudes an air of glamor and intrigue thanks to the base notes that follow. The smells of sandalwood, cashmere wood, and amber provide a warm and velvety foundation, adding depth and sensuality to the fragrance.
These notes create a captivating trail that leaves a lasting impression that will carry long into the colder months to follow.
What sets Versace Crystal Noir apart is its subtle hint of spice. The inclusion of cardamom and pepper in the composition adds a touch of mystery and allure, giving you a sense that you might be tucked away in a secret spice bazaar in an enchanting corner of a bustling foreign market.
This delicate balance of warmth and spice creates a perfume that is both sophisticated and enticing, making it ideal for those sultry summer evenings spent dancing under the stars or just sitting on a blanket, gazing up at them.
Versace Crystal Noir: Embodying the Spirit of Adventure:
Versace Crystal Noir embodies the spirit of adventure that is synonymous with almost any summer holiday season.
It is a fragrance that dares you to explore, to step out of your comfort zone, and embrace new experiences.
The intoxicating blend of notes creates a sense of confidence and empowerment, inspiring you to seize every opportunity that comes your way.
Whether you're strolling along the cobblestone streets of a historic city, lounging by the poolside of a luxurious resort, or embarking on a thrilling outdoor adventure, the Versace Crystal Noir eau de toilette spray is the perfect summertime scent.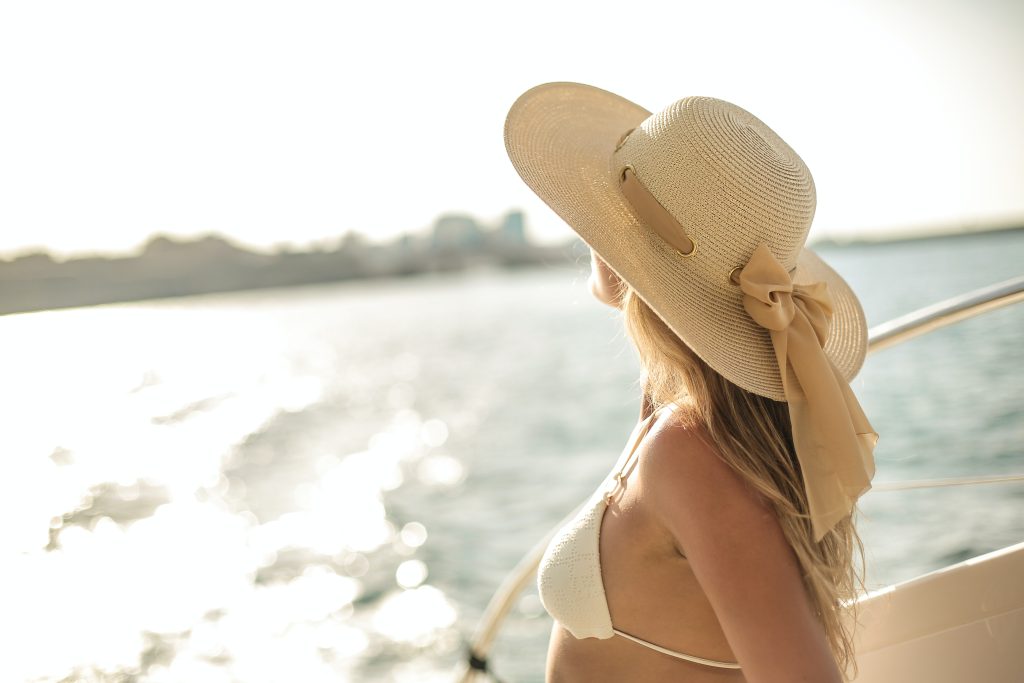 Though many may think this scent is too overpowering for regular daytime use (particularly in the warmer summer months) I just can't agree.
Crystal Noir evokes a sense of wanderlust in me and encourages me to embrace the unknown, to create unforgettable memories and write my own summer holiday story complete with my own summer holiday scent.
The Versace Crystal Noir bottle is a stunning embodiment of elegance and sophistication.
Designed to captivate the eye, its sexy and slender silhouette exudes a sense of timeless beauty.
The bottle is crafted from clear glass, allowing the rich amber-hued fragrance to shine through, reminiscent of a precious jewel glistening under the sun. Adorned with a sleek black cap, it adds a touch of mystery and allure to the overall design.
What truly sets the Crystal Noir bottle apart is the intricate detailing that adorns its surface. Delicate lines and curves are etched into the glass, creating a mesmerizing play of light and shadow. It is as if the bottle itself captures the essence of the eau de toilette scent it holds inside — a perfect balance of light and darkness, of subtlety and intensity.
The iconic Versace Medusa logo, adorned in gold, takes center stage, evoking a sense of power and sensuality.
The Crystal Noir bottle is a masterpiece that effortlessly blends modern aesthetics with classic sensibilities. Its luxurious design is a testament to the attention to detail and craftsmanship that Versace perfume women is renowned for. Even among over classic bottle designs like Versace L'Homme or Versace Santal Boise, Crystal Noir stands out.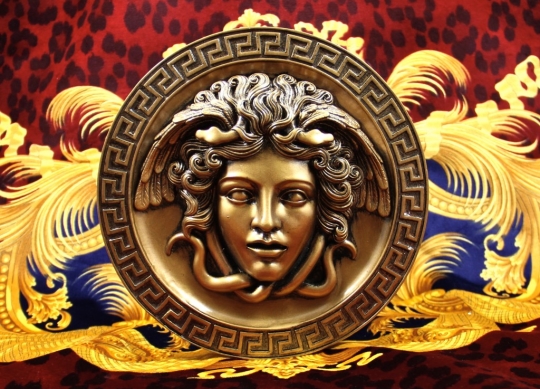 Whether a vanity or dressing table, this statement piece exudes a sense of refinement and sophistication.
The beauty of the bottle is a reflection of the allure and elegance of the fragrance it contains inside this gorgeous new packaging, making it an exquisite addition to any perfume collection.
Whether displayed as a work of art or held in your hand, the Versace Crystal Noir bottle is a testament to the brand's commitment to timeless beauty and uncompromising quality. It is a visual representation of the captivating and alluring experience that awaits when you embrace the smell within.
In my quest to find the perfect scent for the summer holiday season, Versace Crystal Noir emerged as the clear winner.
This eau de toilette spray has the ability to transport me to exotic destinations, to give off the allure of glamor and intrigue, and to inspire in me the spirit of adventure all while I sit poolside with a friend or enjoy an evening dining al fresco with a special someone.
Versace Crystal Noir is not just a fragrance as far as I'm concerned. This scent is a gateway to a world of endless possibilities and unforgettable experiences.
Whether you choose to wear it for your own summer adventures or gift it to someone special, Versace Crystal Noir is sure to become a treasured companion during the summer holiday season and beyond.
Feeling like trying a specific
scent

today?
Subscribe via Email
Get the best of FragranceX delivered straight to your inbox