Aftershave vs. Cologne: A Guide for Men
We've all been there once — you're staring at two products, trying to decide which one will fit your needs best. Will aftershave vs. cologne get you that much-desired smell? Should you use both of them?
It's hard to know which will suffice, but when you do know, you'll pick the right product for the right occasion so you don't underdo it — or worse, overdo it.
What is Aftershave?
Unlike perfumes, colognes, or eau de toilettes, aftershaves have a greater purpose aside from just enhancing your scent. They come in different forms (gel, liquid, or lotion) and are meant to calm the skin while closing your pores.
How to Use Aftershave
As the name suggests, you will typically use this post-shave. Apply it to the shaven areas of your face and let it clean and seal your pores. This is especially important if you have sensitive skin, are prone to acne, or knicked yourself with the razor (the alcohol content will clean the wound). While the most common area for application is the face, you can also use it on other parts of your body; including your legs or arms.
Because aftershave typically contains moisturizing ingredients like aloe vera or shea butter, it can be used as part of your everyday skincare routine as well. If you choose to do this, be mindful of the alcohol content and other ingredients that may irritate your skin.
How Long Does Aftershave Last?
Aftershave is the weakest on the fragrance scale. With only about 1% fragrance oil, the scent lasts for about an hour, but some can last upwards of two to three hours.
Your aftershave will typically stay true to its scent for three to five years, although some outlive their listed expiration dates. If your aftershave begins to smell like vinegar or is significantly different than it was originally, it may mean the aftershave is expired and it's time to get a new one.
What is Cologne?
Cologne typically comes in a spray form, but you can also find it as a solid. It contains mainly water, alcohol, and fragrance oil. The amount of fragrance oil is less than eau de parfum but more than eau fraiche, making the scent a perfect in-between for a lighter fragrance with some staying power.
Apply cologne before significant events, going on a date or a night out, or any other time you want a little extra something to draw the ladies in or feel refreshed.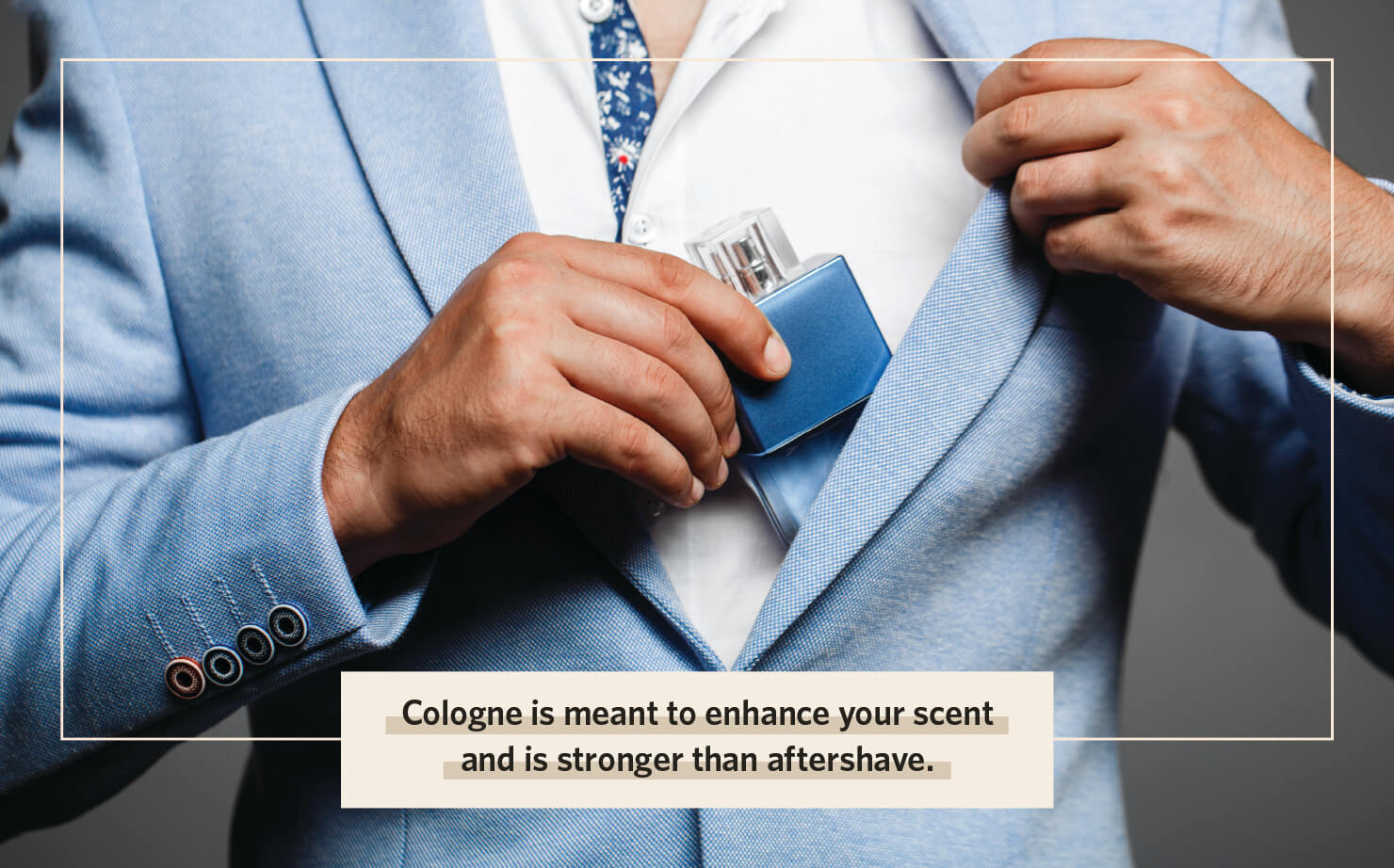 How Long Does Cologne Last?
With a 2–4% fragrance oil concentration, cologne holds the scent longer than an aftershave. However, you'll only be able to go around three hours before having to reapply.
Most colognes don't go bad for a few years if you store them in a cool, dark, and dry place. Colognes with heavier base notes (like musk or vanilla) will last longer than lighter base notes.
How to Apply Cologne
The ideal places to spray cologne are on the warmest parts of your body — your pulse points. Behind the ear, on your neck, wrist, or inner portion of your elbow are ideal places.
Start by spraying yourself with two squirts and incrementally increase as needed. Depending on the occasion, you'll want a more subtle scent or a more obvious one, so apply accordingly.
Can You Wear Aftershave as Cologne?
While aftershave does contain fragrance oil to create a gentle scent, it doesn't have a very high concentration and won't hold the smell for long. However, if you're only going out for an hour or so, leaving the cologne out of the mix is just fine. If you're looking for a longer-lasting fragrance, stick to adding a spritz or two of cologne before heading out the door.
Since aftershave has such a light fragrance, using both cologne and aftershave is an option as well. Be sure to find scents that complement each other to get the best smell possible.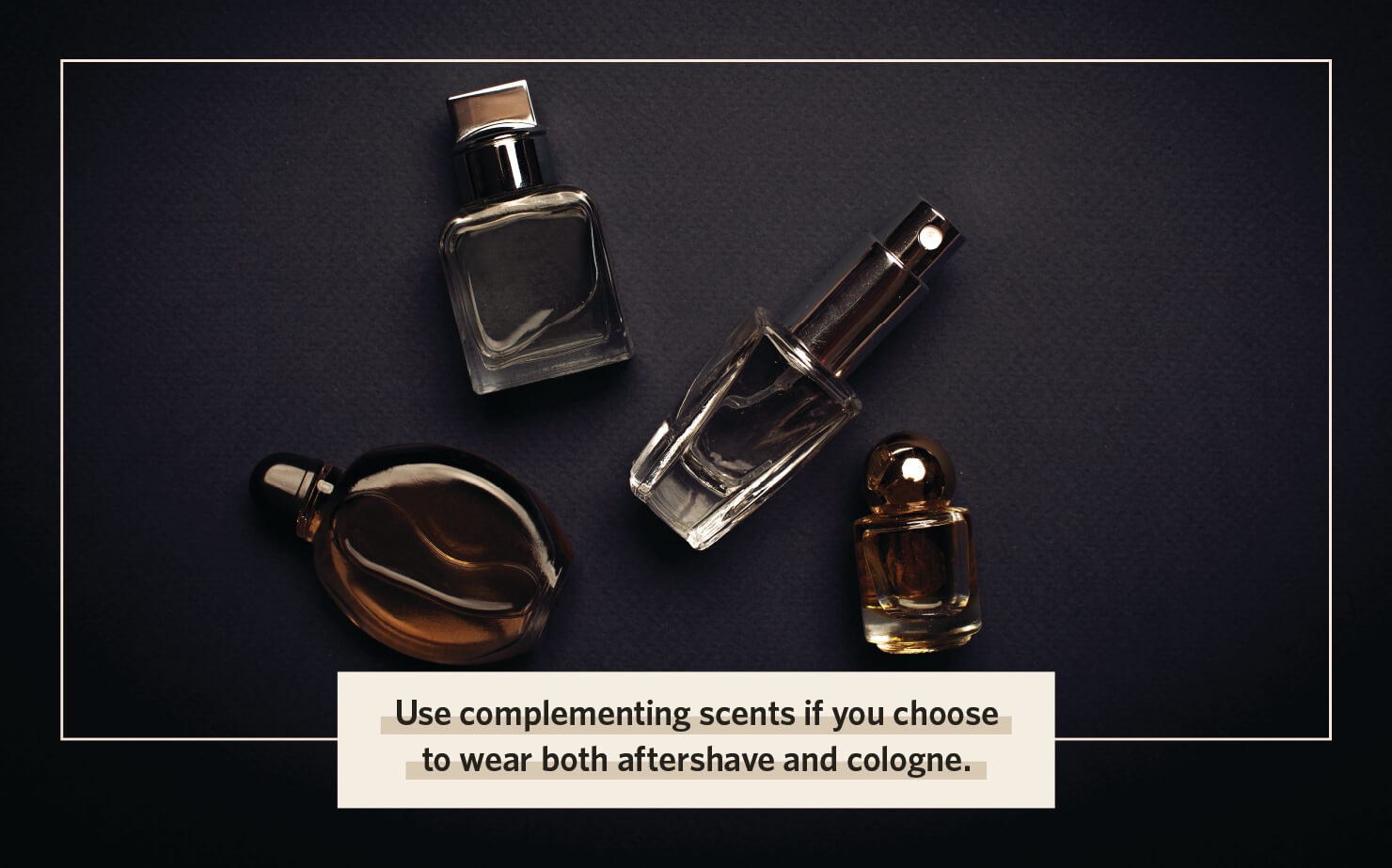 Cologne and aftershave have different purposes, oil concentrations, and ingredients. Use aftershave to clean & close the pores on your freshly shaven skin, and cologne for an added measure of fragrance. Feel free to use both, but remember that when it comes to using aftershave vs. cologne for a stronger scent, cologne is the better option.
If you're looking for a more potent scent than your aftershave or spritz of cologne will give you, try out some perfumes with similar notes as your favorite fragrance. Shop our selection of discount sprays for your perfect scent.
Subscribe via Email
Get the best of FragranceX delivered straight to your inbox