Jul 25, 2023
|
4 min Read
What is Scent-scaping? Here's How to Do It
You walk into the spa and instantly feel relaxed, soaking up its serene notes of cucumber, mint, and lemon. 
Or you walk into the kitchen and breathe in the gorgeous, spicy notes of dinner cooking. 
Or maybe it's the end of the day and you're stepping into your bedroom, breathing in the powdery, musky, comforting bed-time notes.
Feel a little familiar? That's the essence of scent-scaping: a new interior design trend that uses different fragrances to create distinct moods and atmospheres in your home. By choosing the right scents for each room, you can enhance your well-being, productivity, and comfort. 
How's that for a life hack of always feeling great?
What is Scent-scaping?
Scent-scaping involves decorating a space or room with scent, based on the purpose or mood of the room. Like the examples we listed above, this basically means choosing how you want to feel when you step into the room and picking scents that encourage that feeling. 
Once you've got the hang of it, you'll likely find you want to scentscape your entire house, from your bedroom and living room through to your home office, bathroom, and kitchen!
How to scent-scape a house
Scent-scaping can be done using candles, diffusers, sprays, oils, fresh flowers, potpourri or your favorite perfumes. The key is to choose scents that match your personal preferences and style, as well as the season and the time of the day. You can also mix and match different scents to create your own custom blends – a little like perfume layering but for your house, not your body. 
What are the benefits of scent-scaping? 
Scent-scaping is more than just a way to make your home smell welcoming. It can also have a positive impact on your mental and physical health, as well as your overall quality of life. 
It can help you reduce stress and anxiety. Scents can trigger emotional responses in our brain and some scents can have a calming and soothing effect on our nervous system. If you want your bedroom to be a sanctuary for tranquility and relaxation, you can try scent-scaling this room with notes of lavender, chamomile, and vanilla. 
Alternatively, if you're known for avoiding your home office and want to make the space more approachable, you can use scent notes that stimulate your body and uplift your mood. Citrus, mint, and ginger are great choices that are known to enhance alertness and motivation.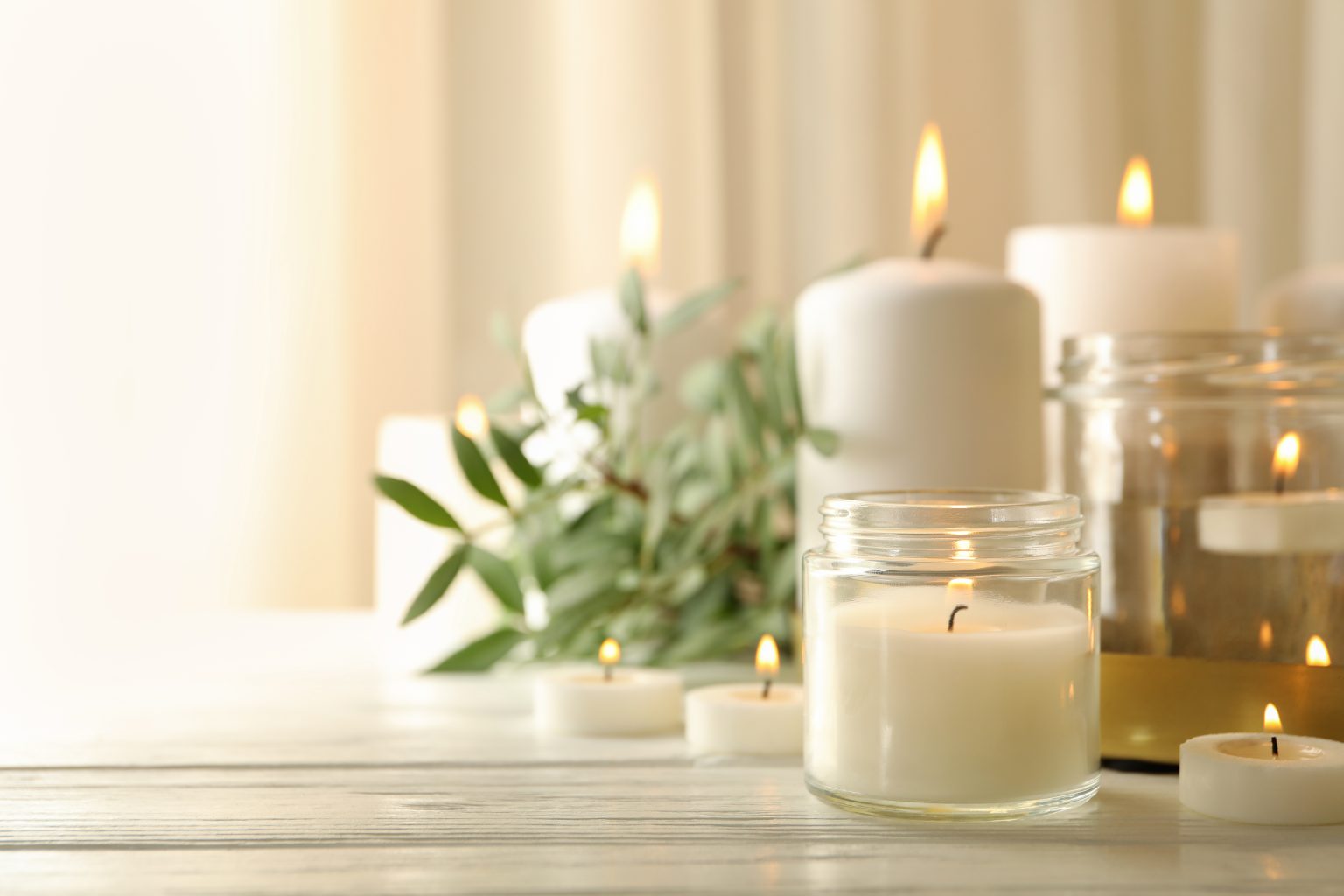 The steps to scent-scaping your home
Begin by identifying the different zones in your home and their functions: what do you spend most of your time doing in each room? Then, you can choose the atmosphere you want to encourage in each zone. When it comes to picking the scent for each room, you'll likely want to lean into your intuition and personal taste – there's no point scent-scaping by following someone else's favorite perfumes!
Bedroom
To create a relaxing mood in your bedroom, use scents like lavender, chamomile, or vanilla. You can use candles or diffusers to fill the room with a comforting aroma before you head to sleep. You could also spray lavender oil on your pillow or sheets for extra comfort.
Home office
Need something to perk you up other than your morning caffeine? Citrus, mint, and ginger are your best bets here. Use diffusers or sprays to refresh the air during the day or place fresh lemon or mint leaves on your desk for a colorful boost to your day.
Living room
Some people prefer their living rooms to be fairly minimal, with musky, powdery notes that are simplistic yet effective. Others lean into the cozy, warming mode, with notes like cinnamon, clove, and woods. If you've always dreamed of having a wood burning stove in your living room, we'd recommend candles that smell like the latter.
Bathroom
You'll likely want your bathroom to be refreshing and spa-like for ultimate cleanliness. Lean into the spa theme with notes like cucumber, lemon, and mint to ensure everyone who steps foot in your bathroom comes out feeling cleansed. 
Kitchen
Scent-scaping in your kitchen is a little trickier, particularly if your home often lights up with the rich scents of dinner cooking. But you can build upon those hearty notes with pink pepper, salt, tomato leaves, and other savory notes. 
Here at FragranceX.com you'll find a huge range of incredible scents to keep you smelling delicious on all occasions. Shop our best sellers here. Read on for more fragrance guides!
Subscribe via Email
Get the best of FragranceX delivered straight to your inbox