Aug 22, 2023
|
4 min Read
How to Build a Fall Capsule Wardrobe: 12 Essential Pieces According to Experts
Fall is the season of cozy sweaters, pumpkin-spiced lattes, and beautiful foliage. As the leaves begin to change color, it's time to reevaluate our wardrobes. Enter the capsule wardrobe: a streamlined, stylish collection of essentials that can be mixed and matched effortlessly. Let's dive into what makes a capsule wardrobe and how to craft one for fall.
What is a capsule wardrobe?
A capsule wardrobe is a concise, curated collection of timeless, versatile clothing pieces that can be effortlessly paired together. Rather than being overwhelmed by a closet bursting with items (many of which you probably don't wear), a capsule wardrobe focuses on quality over quantity. By owning fewer but more versatile pieces, you can create numerous outfits without the daily stress of deciding what to wear. A capsule wardrobe lets you be selective about the clothing you own, only keeping things that make you look and feel your best.
How to build a capsule wardrobe
One of the initial steps to building a capsule wardrobe is decluttering your existing collection. Try sorting your clothes into the following four piles:
I would wear it tomorrow: These are your go-to pieces that fit well and make you feel confident.
Maybe: Items you're unsure about. Maybe they need tailoring, or you're waiting for the right occasion to wear them.
I no longer like it: These are the items that no longer resonate with your personal style. Consider donating or selling them.
Seasonal: Items that are off-season but still loved. Store them away until their season returns.
Types of Clothing and Accessories for Building a Capsule Wardrobe
Bottoms: Focus on versatile pieces like jeans, trousers, or skirts that can be paired with multiple tops.
Tops: Aim for a mix of basic tees, button-up shirts, and blouses.
Outerwear: Depending on your location, consider jackets, trench coats, and heavier coats.
Dresses: A few staple dresses can be a game-changer, especially when layered with other items.
Shoes: A blend of casual and formal shoes will give you flexibility.
Handbags: Stick to neutral shades for maximum versatility.
Accessories: Scarves, hats, belts, and jewelry can add flair to even the simplest outfits.
12 Essentials from Expert Stylists
Here's a curated list of 12 essential items that experts believe should form the core of your fall capsule wardrobe. Feel free to tailor to your liking.
Your favorite skinny or straight leg jeans: A staple that can be dressed up or down.
Wide leg trousers: Perfect for both office and casual settings.
Basic solid-colored tees: These will be your everyday heroes.
Button-up shirts: Ideal for layering or wearing on their own.
Chunky sweaters: Essential for those chilly fall mornings.
Classic blazers: Adds a touch of professionalism to any outfit.
Trench coats: Timeless and stylish, perfect for unpredictable fall weather.
Plain black midi dress: A versatile piece for any occasion.
Leather ankle boots: A fall must-have that pairs with almost everything.
Loafers: A comfortable yet chic choice for everyday wear.
Black or brown handbag: Choose a classic design to go with all your outfits.
Accessories: Think scarves with autumnal tones, statement earrings, or belts to cinch in those chunky sweaters.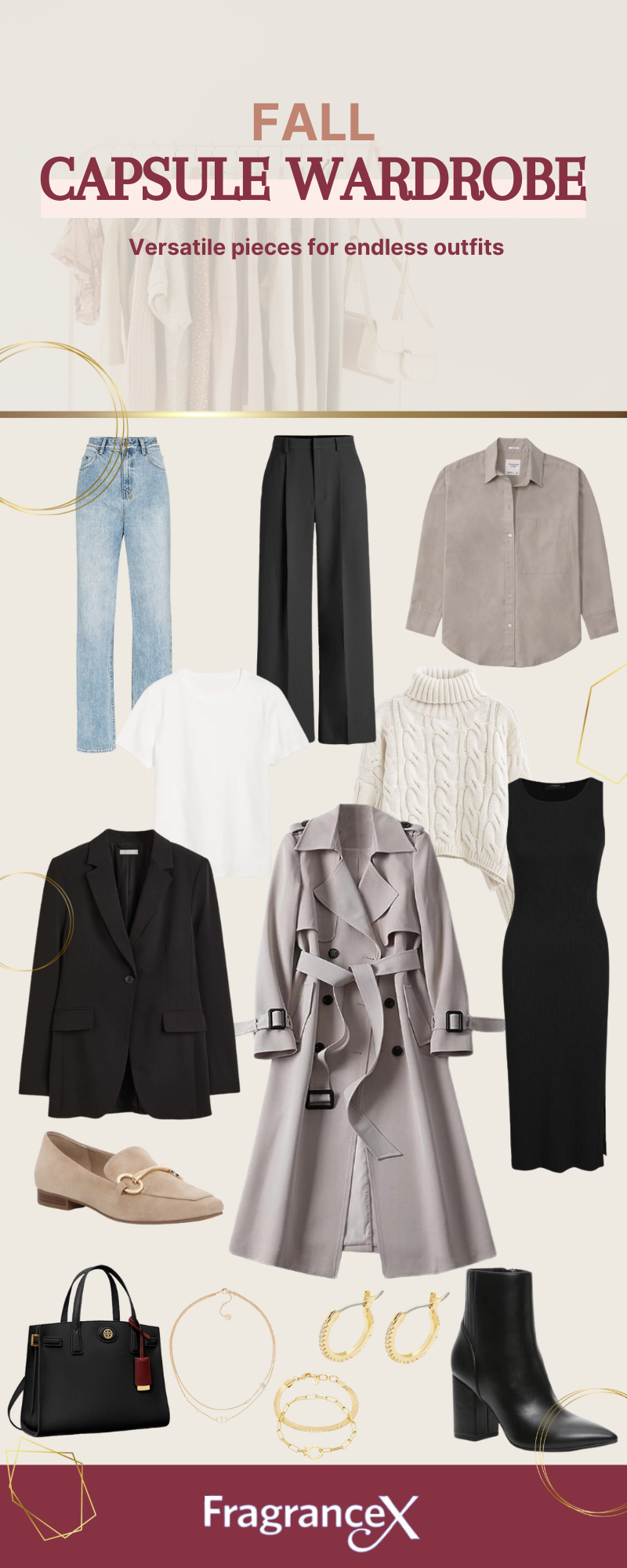 Don't forget about fall fragrances
Fall is a season of warmth, depth, and richness, encapsulating a mix of earthy undertones and spicy highlights. Here are some of the best scent notes to look for when selecting a fall fragrance:
Woody Notes: Cedar, sandalwood, and oud provide a deep, earthy base, reminiscent of a walk through an autumnal forest.
Spicy Notes: Cinnamon, clove, and nutmeg evoke the cozy feeling of being wrapped in a blanket with a cup of spiced tea.
Sweet Notes: Vanilla, amber, and tonka bean add a touch of sweetness, mirroring the comfort of baked goods and roaring fireplaces.
Fruity Notes: Apple, pear, and blackcurrant can bring a fresh, uplifting edge, reminiscent of a brisk fall morning.
Resinous Notes: Frankincense, myrrh, and benzoin lend an exotic warmth, perfect for those chilly evenings.
Recommended fall fragrances: Tom Ford Tobacco Vanille, Jo Malone Wood Sage & Sea Salt, Le Labo Santal 33, Chloe Nomade, Byredo Gypsy Water
When curating a capsule wardrobe, many focus solely on the visual aspects, often overlooking the subtle yet powerful impact of fragrances. Perfume is, after all, often dubbed "invisible fashion." Just as your clothing choices transition with the changing seasons, so too should your fragrance. Find out how to build a fragrance wardrobe.
In conclusion, building a capsule wardrobe for fall is all about selecting timeless, versatile pieces that resonate with your personal style. It's a conscious choice to prioritize quality over quantity, ensuring that you look your best while simplifying your daily outfit decisions.
---
Read on for more FragranceX shopping guides:
Subscribe via Email
Get the best of FragranceX delivered straight to your inbox
Related Posts
Nov 27, 2023
|
4 min Read
Best Incense Perfumes
From the beginning of civilization, it was believed that the only the smoke of incense could...