Aug 11, 2023
|
4 min Read
Ariana Grande Debuts Her Cloud Pink Perfume
Ariana Grande invites you to experience her latest perfume, 'Cloud Pink,' her newest introduction to her award-winning fragrance collection.
When it comes to pop sensations, Ariana Grande is a name that needs no introduction. With her powerful vocals, stylish presence, and trendsetting fashion choices, Grande has captivated the world. But her influence doesn't stop at music and fashion; she's also a force to be reckoned with in the fragrance industry. After the immense success of her original Cloud perfume, Grande has recently announced the launch of her newest creation, 'Cloud Pink'.
"I can't begin to describe how excited I am to launch Cloud Pink," says Grande. "Cloud is a fragrance that will always be so close to my heart, and I thank my fans for showing it so much overwhelming love all of these years. Developing a new fragrance under this fan favorite franchise was daunting at first, but I really do think that we've created the perfect sister scent to the original Cloud. It's snuck into my top favorites, as of late. I've been wearing it nonstop these past few months. Working with Clement and the team on this new pillar was a labor of love, and has been such an exciting secret to keep!!!! I couldn't wait for this announcement and I cannot wait for everyone to experience CLOUD PINK…"
The original Cloud perfume became an instant hit, enchanting wearers with its dreamy and ethereal aroma. Crafted in collaboration with master perfumer Clement Gavarry from the renowned fragrance house Firmenich, Cloud Pink builds upon the success of its predecessor, offering a new sensory journey that is bound to captivate perfume enthusiasts worldwide.
Described as a sensual blend of ambery woods, magenta moss, and a touch of sweetened praline, Cloud Pink promises an fragrance adventure that transcends the ordinary. The fragrance embarks on its journey with a velvety fusion of rich berries and sparkling fruits, immediately igniting the senses and setting the tone for what's to come. As the scent unfolds, delicate floral notes of vanilla orchid and blush ambrette gently envelop you, like being wrapped in an embrace of feathery, cotton-like clouds.
But it's the lasting impression that truly leaves an impact. A warm blend of addictive, skin-sensual musk and amber woods creates an alluring aura that lingers on the skin and in the memory. This intricate combination of ingredients not only showcases Grande's sophisticated taste but also highlights the expertise of Clement Gavarry and his team in crafting a fragrance that is both evocative and memorable.
For fans of the original Cloud perfume, the launch of Cloud Pink is undoubtedly a momentous occasion. It's a chance to explore a new facet of the Cloud universe, one that reflects Grande's growth and evolution as an artist and a person. The fact that Grande herself has been wearing Cloud Pink passionately for the past few months speaks volumes about the quality and character of the fragrance.
The perfume industry often rests on the fine balance between tradition and innovation, familiarity and novelty. Ariana Grande's Cloud Pink manages to walk this tightrope with grace, offering a fragrance that pays homage to its predecessor while carving out its own distinct identity. The amalgamation of sweet and sensual notes, the play of floral and woody accords, and the overall allure of Cloud Pink create an experience that is both comforting and daring.
Bottle Design
Cloud Pink follows the same iconic bottle design of the original Cloud perfume. Cloud Pink is simply reimagined in the perfect shade of pink still sitting comfortably in a white puffy cloud base. This new perfume is the perfect sister fragrance to Cloud.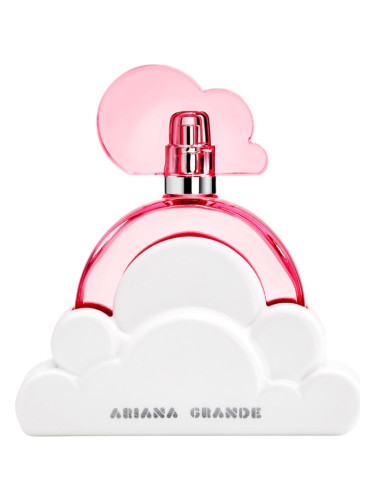 As we eagerly await the release of Cloud Pink on August 13th, it's clear that Ariana Grande's venture into the realm of perfumery continues to be a resounding success. With her keen sense of style and an unerring ability to connect with her audience, she's proving that her talents extend far beyond the stage and the recording studio. So, mark your calendars, perfume aficionados, because Cloud Pink is poised to be the next big sensation in scent, a fragrant masterpiece that's as enchanting as its creator herself.
You can purchase the original Cloud perfume here at FragranceX.
Ariana Grande Cloud Eau de Parfum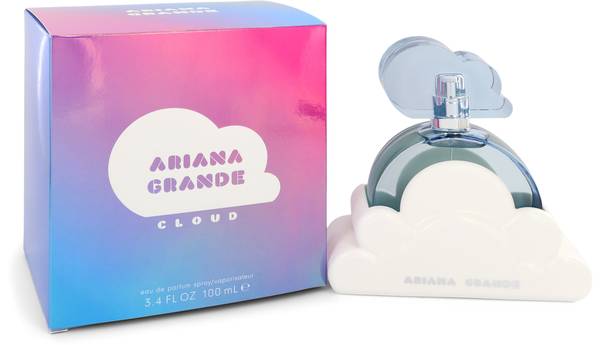 The Original Cloud Perfume: This fruity floral gourmand perfume combines notes of alluring lavender blossom, forbidden juicy pear, vanilla orchid, whipped cream, crème de coconut, and a musky woody base, resulting in an uplifting and alluring scent experience that you'll absolutely love.
View all Ariana Grande perfumes.
---
Read on for more FragranceX shopping guides.
Subscribe via Email
Get the best of FragranceX delivered straight to your inbox