Can You Bring Cologne & Perfume On a Plane?
As you pack your bags for an upcoming vacation or business trip, you may run across your favorite bottle of cologne that would be the perfect final touch to wear out to dinner or that special event, which then stems the question, "can you bring cologne on a plane?"
Like most toiletries, cologne and other liquid fragrances fall under the TSA's 3-1-1 rule, which essentially means that these items are allowed in your checked luggage and carry-on bags. However, TSA is very strict about the amount you can pack, specifically in your carry-on bag or personal item.
Here is everything you need to know about bringing cologne or perfume on a flight.
How Much Cologne Can You Bring On a Plane?
The amount of cologne you can bring on a plane depends on which piece of travel luggage you plan to pack it in. If you'd like to bring your full-size bottle of cologne (around 6.8 oz), then you'll have to pack it in checked luggage. If you were planning on only bringing a carry-on bag or personal item, then you'll have to follow the TSA liquid rules which limit the size you can carry as well as the way it's packed.
What Are the TSA Liquid Rules for Perfume or Cologne?
TSA has a 3-1-1 rule which states that all carry-on liquids, including gels, creams and aerosols, must be in containers no larger than 3.4 ounces. If your liquids are in containers any larger than that, you'll have to put them in your checked bag, unless it's medically necessary. 
Also, note that your 3.4-ounce containers should be packed in a clear plastic closable bag — one for each passenger.

How Do You Fly With Cologne or Perfume?
If you only plan on bringing a carry-on bag while traveling, you'll have to make sure all of your liquids, including your fragrances, are in a 3.4-ounce container or smaller. Even if there is less than 3.4 ounces of liquid in a bottle, you'll still need to transfer it into a smaller container that meets the TSA perfume limits. You can refill a smaller perfume bottle or pack one of these items:
Perfume Atomizer – A perfume atomizer is an applicator that provides you an easy and convenient way to travel with your favorite fragrance as they are small, durable, leak-proof and TSA-friendly. Explore this What is a Perfume Atomizer resource for more info. 
Fragrance Samples – A cologne or perfume sample is an inexpensive way to not only try out a new fragrance, but travel with so you can easily bring your preferred cologne on a plane with you. Here's What to Do With Perfume Samples.
Travel Minis – Packing a travel mini cologne or perfume is a sure way to bring your favorite scent with you wherever you travel without having to worry about making it through the airport.
Fragrance Testers – Perfume and cologne testers are exactly 3.4 ounces, so they are perfect for packing away in your carry-on bag to take with you on a plane.
Rollerball – A rollerball perfume or cologne is another type of airplane-friendly sample perfume that you can roll onto your pulse points for applying cologne properly. 
Packing Fragrances For Air Travel
Whether you are bringing a travel-friendly cologne or you've transferred it into a smaller container, you'll need to know how to properly pack it.
How to Pack Cologne & Perfume in a Carry-On Bag
First, add all of your liquid toiletries, like cologne, in a clear quart-size sealable bag. Each passenger is allowed to pack a single 1 quart-size bag in their carry-on luggage.
Next, nestle this bag within soft clothing deep inside your carry-on or checked bag to avoid the breakage of delicate glass. If you are packing something durable like a perfume atomizer, this step isn't necessary. 
Lastly, you'll need to pull this bag out as you go through security, so make sure you still have easy access to it so you can avoid any inconveniences while going through TSA.
How to Pack
Cologne & Perfume in a Checked Bag
For checked bags, you can bring any size of liquid toiletries you desire, including a full-size bottle of cologne. However, these tend to leak more, so smaller sizes are more efficient to pack when traveling with fragrances. 
If you still wish to bring your full-size cologne, pack it in a clear sealable bag, separate from other toiletries in case of leaks. Nestle your bag within soft clothing or wrap your bottle in bubble wrap before packing.
Duty-Free Perfume & Cologne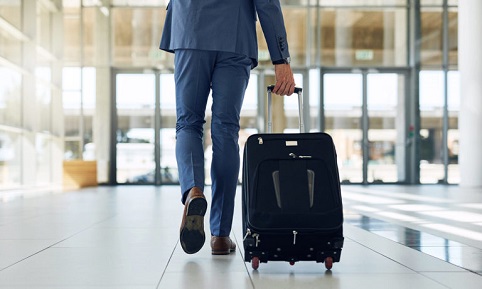 The only way around bringing a bottle of cologne over 3.4 ounces in your carry-on or personal bag is by purchasing one in a duty-free shop within the airport. Since duty-free shops are usually found after airport security, the goods sold within these stores have already been securely checked.
If you purchase your cologne in a duty-free shop, you may take it on the plane with you as long as it's apparent that it was packaged by the retailer in a tamper-evident bag and you have a receipt to show proof of purchase within 48 hours.
Whether it be strict TSA guidelines or travel inexperience, it's understandable to wonder if you can bring cologne on a plane. Cologne is perfectly fine to bring on an aircraft as long as you follow the TSA liquid rules or purchase it at a duty-free store within the airport. If you have an upcoming trip, check out our collection of travel-friendly colognes and perfumes so you can feel good about bringing even your most expensive cologne with you.
Can't decide which fragrance to bring along for your trip? Explore these resources on the hottest scent notes and brands to help make your decision:
Subscribe via Email
Get the best of FragranceX delivered straight to your inbox
Related Posts
Sep 26, 2023
|
2 min Read
The Best Perfumes for When You're Craving a Pumpkin Spiced Latte
Autumn is a magical time when the world transforms into a tapestry of golds, reds, and browns....