Nov 15, 2021
|
6 min Read
8 Best CREED Colognes of All Time
For the last several hundred years, CREED has dominated as one of the most notable and consistently high-quality fragrance brands in the world.
We've hand-selected the best of the long, impressive list of CREED colognes for men. Follow along to figure out the best CREED fragrance for you!
Why are CREED Fragrances so Popular?
Despite origins in the 1700s, CREED fragrances continue to be some of the hottest, most desirable colognes for men and women in 2021. From royalty like Grace Kelly, to First Ladies like Michelle Obama, to a long list celebrities like Frank Sinatra, Lil Wayne, Diddy and David Beckham all have worn CREED Colognes because of their quality ingredients and luxurious reputation. The House has a pedigree of seven generations of Creed perfumers including the youngest, Erwin Creed who is also known for his adventurous spirit and for racing cars in the Grand Prix.
Follow along for the best CREED Colognes and find your signature scent that will be sure to get you noticed while you are admired for your great taste in colognes.
What Are the Best CREED Colognes for Men?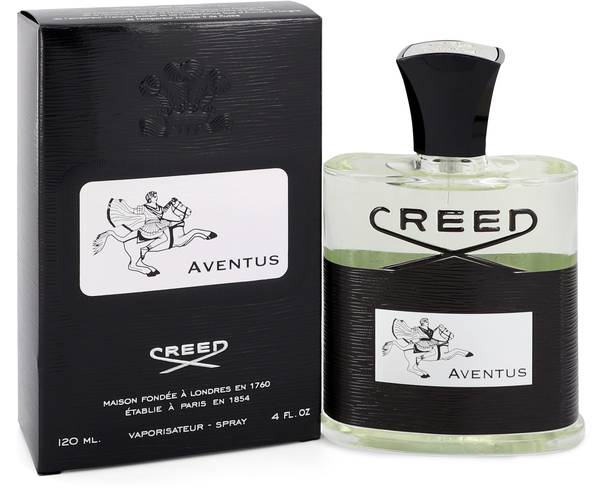 When it was released in 2010 the story behind Aventus is that it was meant to be a tribute to Napoleon Bonaparte. If you look on the fragrance forums or your Instagram feed, what you will notice that there is a devoted following who swear it is the best cologne ever created. CREED Aventus begins with a pineapple note, lush and juicy, then tart green apple is used as contrast and blackcurrants add luster. Perfumer Olivier Creed uses them to create an energy few Colognes can match. The floral heart offset the base with its masculine woody notes of birch and patchouli. This is followed by oakmoss, ambergris and musk for a balanced finish. Great longevity and projection make it CREED's greatest masterpiece. Just a single spritz on is enough to carry you all day and into the evening with style. 
Recommended related fragrances: CREED Millesime Imperial Parfums de Marly Herod, Heritage by Guerlain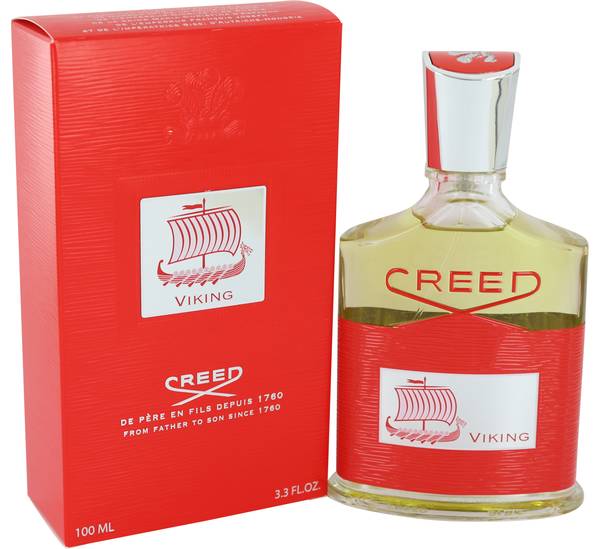 The  new generation after CREED Aventus, Viking Cologne was  recently released and has its own upbeat style, CREED Viking Cologne is super fresh and bright with of lemon and petitgrain. Next, CREED adds a green herbal twist with rosemary and sage. Masculine lavender is made smoky with frankincense. Patchouli and sandalwood are at the luxurious base yet is never heavy. A new modern classic for daywear or office.
Recommended related fragrances: Sauvage Christian Dior, Tom Ford Cologne, Azzaro Wanted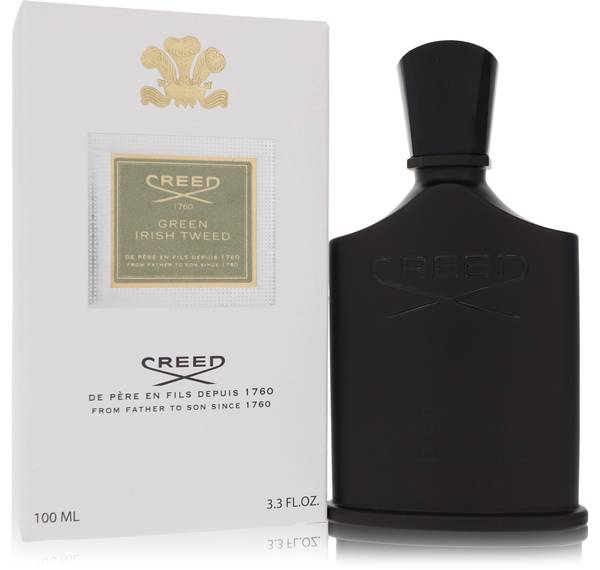 As green as grass, a walk-through County Cork, one of the loveliest spots in Ireland, yes, CREED Green Irish Cologne lives up to its name. Opening with a burst of lemon and verbena that lead you down a road covered in green moss to the quiet of violet leaves still dewy with raindrops. The delightfully textured cologne winds its way to a base of mildly sweet sandalwood and ambergris. A green cologne that has its roots in classic Fougères but settles into a comfortable skin scent.
A celebrity favorite, George Clooney, Cary Grant Clint Eastwood and even Naomi Campbell have been said to wear this CREED cologne.
Recommended related fragrances: Guerlain Vetiver Banana Republic Classic Green, CREED Original Vetiver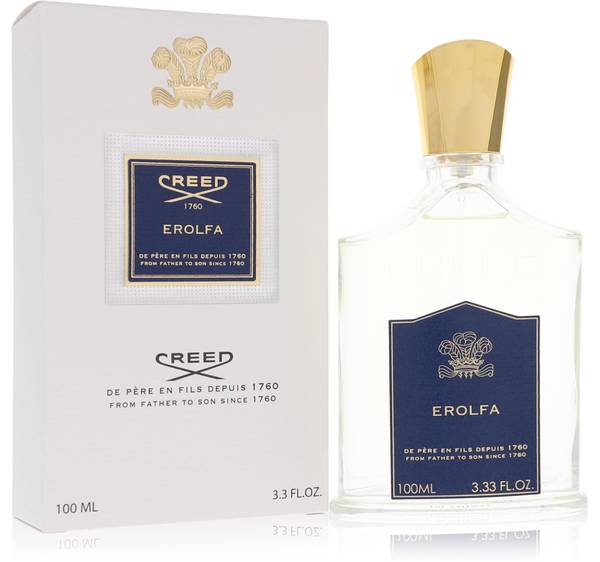 What's in a name, with Erolfa it is everything. ER" represents Erwin the seventh-generation head of the house, "OL" is for Olivia his sister and visual artist for the company while "FA" stands for Fabienne their mother.  CREED EROLFA captures the family's vacations to the Mediterranean coast where briny sea spray mixes with the fragrant breezes from the citrus groves ashore. Bergamot, tangerine and sandalwood with a slight saltiness from ambergris make this cologne an unforgettable fresh, clean and stylish scent perfect for any man. 
For more beach-y fragrances, check out the Best Tropical Perfumes and Best Aquatic Perfumes guide.
Recommended related fragrances: Acqua di Palma Colonia Pura,   Davidoff coolwater Giorgio Armani Stronger With You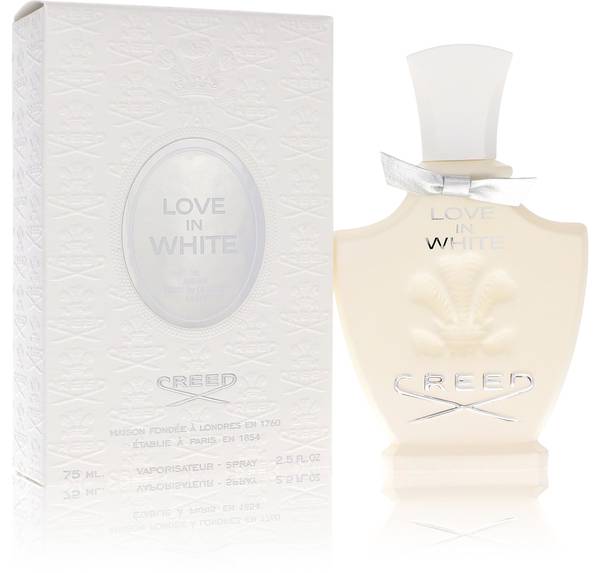 CREED Love in White was released in 2005 and the idea for Love in White was to feature ingredients from each continent: rice husk from Asia, magnolia from the Americas, and orange zest from Europe. The first bottle of this CREED Cologne was sent to America to First Lady Laura Bush and later on First Lady Michelle Obama began a fan, purchasing it herself.
This unisex fragrance will smell great for daytime or evening wear.
Recommended related fragrances: Tom Ford Orchid Soleil, Estee Lauder Eau de Private Collection, Bvlgari White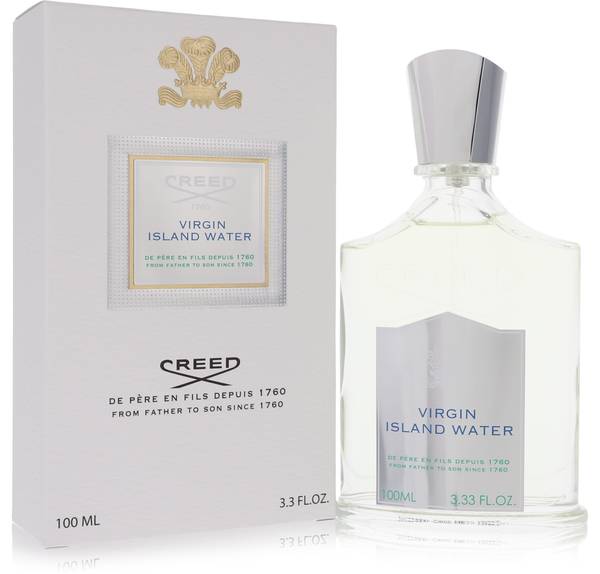 In the Virgin Islands, white frangipani hangs from the cliffs, the delicate white blooms surrounded by swaying coconut trees. The opening of fresh lime and juicy bergamot, accompanied by the scent of coconut and rum, creates the sensation of drinking a cocktail by the ocean, even if you are in your backyard swimming pool. Virgin Island Water by Creed is an aquatic fragrance that will take you to the white beaches in the Bahamas when you smell it.
Recommended related fragrances: CLEAN Air and Coconut Water, Demeter Mojito Perfume, Mancera Coco Vanille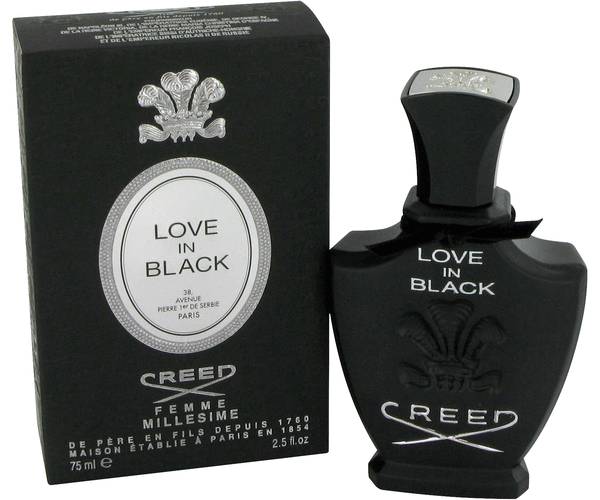 CREED Love in Black cologne was created and inspired by the former US first lady Jacqueline Kennedy Onassis. Each note reveals a place she loved Night–blooming wildflowers from the Greek isles where she remarried; Violet from Italy a country she loved, Iris from Florence, a favorite city and Virginia Cedarwood where she would rid horses as a young girl. The classic blend of iris and violets is offset by a hint of rose. This floral melody segues into deep rich black currant – a berry both tart and sweet, before settling into a dusky musky base. 
Despite being made for women, Love in Black's aphrodisiac scent is certainly a fragrance that women love on men.
Recommended related fragrances: Oui by Lancome, Poison Girl by Christian Dior,  Victoria's Secret Noir Tease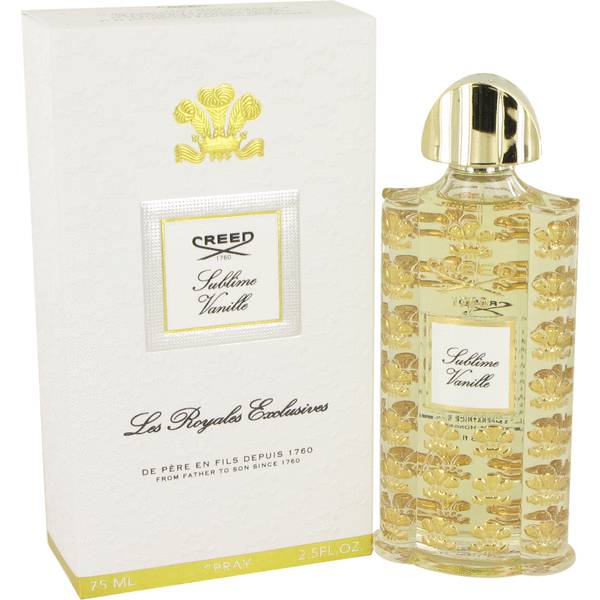 Vanilla for royalty? Yes, and Sublime Vanille is fit for a both a king and queen. It not plain nor is it overly sweet, rather it opens with zesty lemon, Calabrian orange that makes it quite sunny and fresh. Tahitian orchid wraps around a crown of tonka bean and bourbon vanilla before settling into a regal musky light drydown.
Recommended related fragrances: Mancera Velvet Vanilla, Juliette Has A Gun Vanilla Vibes
CREED Colognes For Men – In Conclusion
CREED Colognes are the ultimate statement of luxury and class. This French brand that is always impressive using the finest ingredients. CREED has a collection of colognes that range from bold, fresh, clean, citrus,  sweet and fruity colognes.
FragranceX carries a great range of authentic CREED Colognes for women at less than department store prices. Shop discounted designer fragrances now!
Interested in learning about other top perfume brands? Check out the other FragranceX perfume guides:
---

Leanna Serras is an educated and well-versed fragrance writer with a passion for scents. She has loved trying new perfumes since she was a child, and has tried everything from fruity to woodsy fragrances in her time cherishing scents. Outside of writing and collecting fragrances, Leanna loves fashion, skincare, "the Bachelorette," and kicking back on the beach.
Subscribe via Email
Get the best of FragranceX delivered straight to your inbox