Aug 23, 2021
|
6 min Read
9 Best Tropical Perfumes for Women 2022
Tropical perfumes bring to mind soft breezes, warm air, exotic destinations and rich white floral fragrances with a deep blue ocean in the background. The perfect accent is coconut – milky, fruity and buttery with a touch of nuttiness.
Tropical perfumes have the magical ability to transport us to exotic places. Even when you can't get away, spritz on a scented postcard from paradise. You won't need a boarding pass because you are only a click away from some of the best tropical destinations in the world:
In the Virgin Islands, white frangipani hangs from the cliffs, the delicate white blooms surrounded by swaying coconut trees. The opening of fresh lime and juicy bergamot, accompanied by the scent of coconut and rum, creates the sensation of drinking a cocktail by the ocean, even if you are in your backyard swimming pool. Virgin Island Water by Creed is an aquatic fragrance that will take you to the white beaches in the Bahamas when you smell it.
Recommended related fragrances: CLEAN Air and Coconut Water, Demeter Mojito Perfume, Mancera Coco Vanille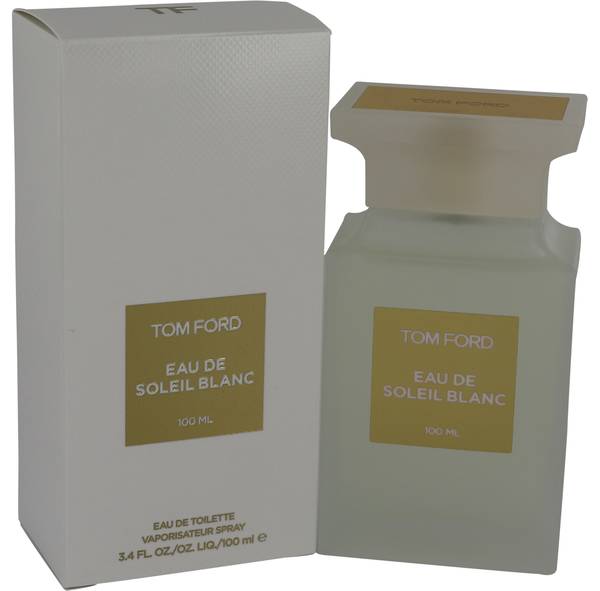 This beautiful sensual fragrance smells like the most expensive suntan lotion in the world; there is nothing Coppertone about Tom Ford's Eau de Soleil Blanc. Feminine, fresh and ultra-stylish, Eau de Soleil de Blanc opens with clean and bright citrus that adds solar radiance to the creamy luscious notes of pistachio and coco de mer. A touch of cardamom adds a little spice to this decadent mix of tuberose, jasmine, and ylang-ylang flowers and amber. Tom Ford is always inspired by his own travels and this sexy summer scent is his memory of the island of Comoros, off the Indian Ocean. A great perfume for date night. Its Eau de Parfum concentration means a little spray goes along way.
Recommended related fragrances: Hermes Jour d'Hermes, Versace Crystal Noir,  Tom Ford Costa Azzura
A tropical perfume classic from Estee Lauder, Bronze Goddess captures the sunny beachy state of relaxation that you feel on an extended vacation. Imagine the tropical smell of the air after a long swim, with the scent of suntan lotion still clinging to your skin. With fragrance notes of creamy coconut, fresh mandarin, sandalwood and Tahitian gardenia petals, when you wear this feminine fragrance you will feel like royalty without a care in the world. A vacation in a bottle, any day every day.  This long lasting perfume is best for day to evening wear.
Recommended related fragrances: Ellen Tracy Exotic Bronze, Philosophy Grace Endless Summer Aqua di Parma  Fico di Amalfi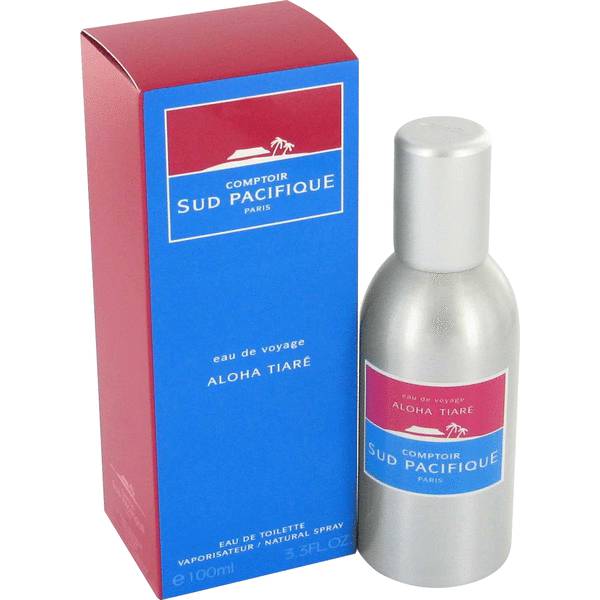 Tiare, the Queen of Polynesian flowers, is a striking, white, star-shaped flower that smells a little like gardenia and is the national flower of all the Polynesian islands. For a scented summer trip to Tahiti, spray on a sensual perfume with notes of heady jasmine and warm musk infused with coconut, that reminds us of the floral oils called monoi, that Polynesian women use to smooth their skin and hair. Palm trees, beach and ocean view not included.
Recommended related fragrances: Escada Miami Blossom, Intense Tiare by Montale, Jovan Island Gardenia
If you were planning the ultimate summer snorkeling adventure, but can't get away, Michael Kors Coral is the perfume equivalent to a week exploring the deep-sea coral reefs and sunbathing in Fiji. Imagine every shade orange from light and milky to deep and ambery: mandarin and orange blossom meld with colorful notes of black current, pink pepper. The scent of dried salt on musky skin evokes days and nights on land and at sea.
Recommended related fragrances: Escada Sunset Heat,  Boss Orange Sunset, Estee Lauder Beyond Paradise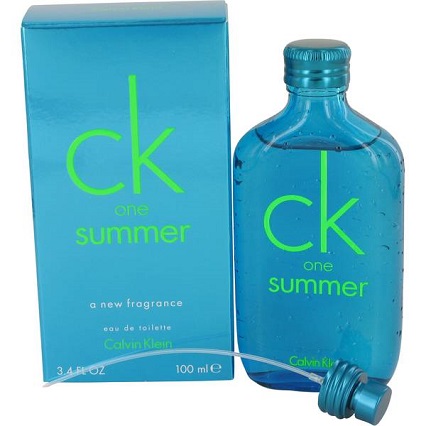 CK One Summer is the ideal scented tropical vacation even if you are land-locked. The sea breeze accord and notes of fresh tangerine and sweet kiwi make you feel like you are sipping a fancy cocktail on an exotic beach. Pull up a lounge chair as this Calvin Klein tropical cologne can be shared by men and women, so everyone can  enjoy an everlasting summer.
Recommended related fragrances: CK In 2 U, Light Blue by Dolce & Gabbana, Moschino Fresh Gold Couture
If your dream summer destination is the chic white sands of a posh Caribbean beach that attracts the rich and famous, spritz on Set Sail St. Bart by Tommy Bahama. This is a fresh, feminine tropical fragrance with notes of lime and tequila, with a touch of salt that will have you day dreaming that you are sipping frozen margaritas until the sun sets. You just may spot celebs like Leonardo di Caprio and the Jenner-Kardashian family who have summer getaways in St. Barts. Wear it for sunlit summer day and sophisticated nights.
Recommended related fragrances: I Love Love by Moschino, Tommy Bahama St. Kitts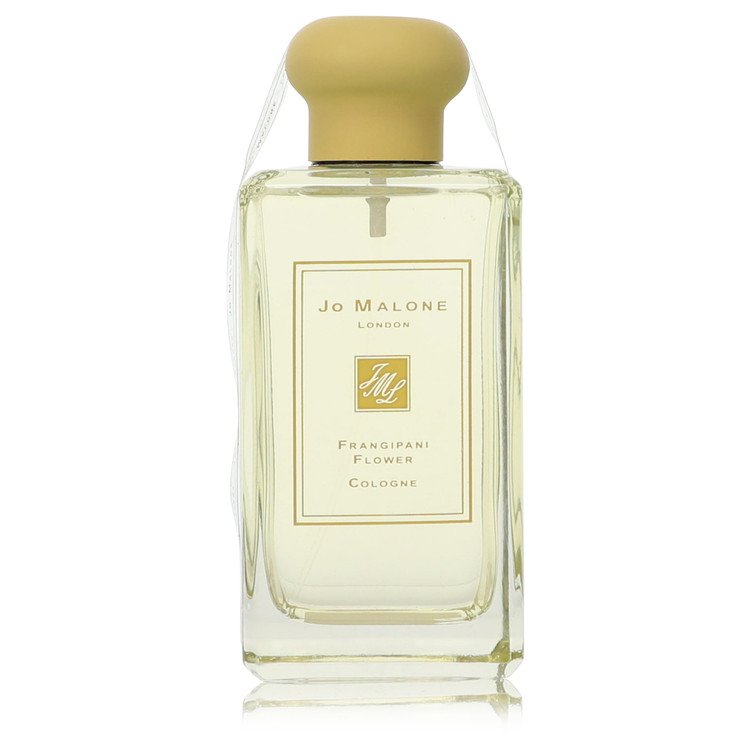 With Jo Malone London Frangipani you can enjoy the sensation of solar caresses on your skin and the feeling of losing yourself into the depths of turquoise waters. Dive into sparkling aldehydes, as bubbly as champagne and emerge yourself in a juicy, fruity, and delectable citrus notes. The use of frangipani is essential in the composition, supporting a mélange of ylang-ylang, light and fresh jasmine that dries down to dreamy, creamy sandalwood.
Recommended related fragrances:  Woods of Windsor White Jasmine, Gap Coconut Tuberose
From the French niche house of Juliette has a Gun,  Sunny Side Up isn't about how you like your eggs!!! This modern tropical fragrance for women was composed by perfumer Romano Ricci  to captures the scent of fresh yellow flowers on a warm summer day. He chose yellow for the bottle top to reflect the happy and optimistic feelings of spending a day basking in the sun. Creamy coconut milk feels like sunscreen on your warm skin and sandalwood at the drydown is light and velvety. Fresh, floral and joyful… what more can you want in a summer perfume?
Related recommended fragrances: Hermetica Sandal Sun, Juliette has a Gun Moscow Mule. L'Artisan Parfumeur Batucuda
Tropical Fragrances – In Conclusion
Tropical perfumes are closely tied to the smell of sweet, rich, mouth-watering floral and fruity scents. Best worn in summer and when the weather is warm, whether you are looking for a beachy fragrance or an island escape in the middle of winter, tropical perfumes are easy to wear and range from fresh, airy and light to heady and redolent of the steamy tropics.
FragranceX carries a great range of authentic tropical perfumes for men and women at less than department store prices. Shop discounted designer perfumes and colognes now!
---
Read on for more of the most popular scents available:
Subscribe via Email
Get the best of FragranceX delivered straight to your inbox
Related Posts
Sep 26, 2023
|
2 min Read
The Best Perfumes for When You're Craving a Pumpkin Spiced Latte
Autumn is a magical time when the world transforms into a tapestry of golds, reds, and browns....