Nov 16, 2021
|
11 min Read
20 Best Fruity Perfumes of All Time
This article was updated and republished on November 16, 2021.
Bursts of fruity freshness — without smelling like a Starburst 
When it comes to sexy scents, most people think of woodsy fragrances, but in summer we all want to feel light and fresh. That's where fruity perfumes come in. Though they're wonderful and appropriate year-round, fruity scents are particularly popular for warmer weather. That's when they provide the same alluring qualities of woodsy offerings without the heaviness.
If that's confusing, it might be because you still associate "fruity" with the vomitaciously-unsubtle scents of your youth. We're not talking about those in-your-face strawberry perfumes. You know the ones — they leave you feeling like you just took a bath in some Bonne Maman jam!
Instead, we've rounded up sophisticated fruity scents that blend fruits with more grounding fragrance notes that are complex and utterly coveteable. 
Here's a look at the 20 best fruity perfumes for 2022.
Best Fruity Perfumes of All Time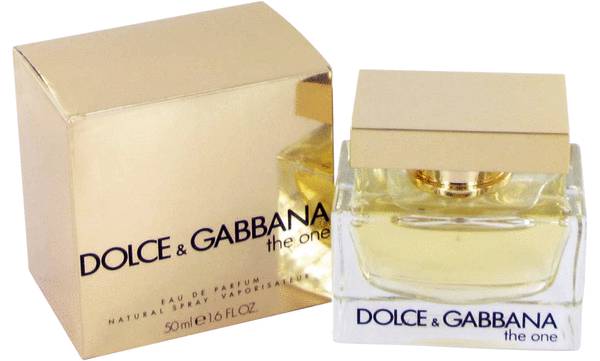 This intoxicating fragrance blends fruity notes like mandarin orange, lychee and peach with floral tones including jasmine and lily. It closes with notes of amber, vetiver and vanilla for a well-rounded scent that transitions seamlessly from one season to the next. Dolce & Gabbana The One for Women is the perfect perfume for someone looking to dip a toe into the fruity realm, or for those seeking a special mood to carry them from day to night. 
Recommended related fragrances: Madame Rochas By Rochas, Fidji By Guy Laroche, Boucheron Place Vendome By Boucheron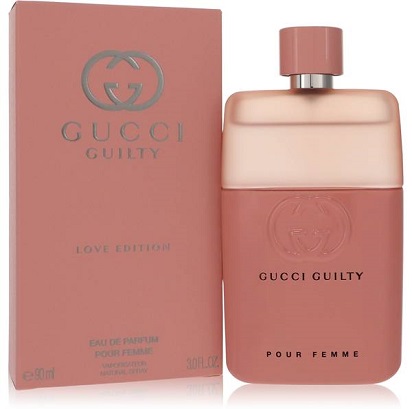 You'll love this overtly-feminine scent, which blends fruity, floral, and powdery accords for a bright and whimsical result. Top notes include touches of raspberry and grapefruit balanced out with floral middle notes and base notes of amber, patchouli and musk for sensual, warm undertones. (It is Gucci, after-all, so you're always guaranteed a sexy element.) Gucci Guilty Love Edition is an alluring date night aphrodisiac fragrance.
For more from this iconic fragrance brand, read on in the Best Gucci Perfumes of All Time guide.
Recommended related fragrances: L'instant Magic By Guerlain, Kenzo Jungle Elephant By Kenzo, Boss By Hugo Boss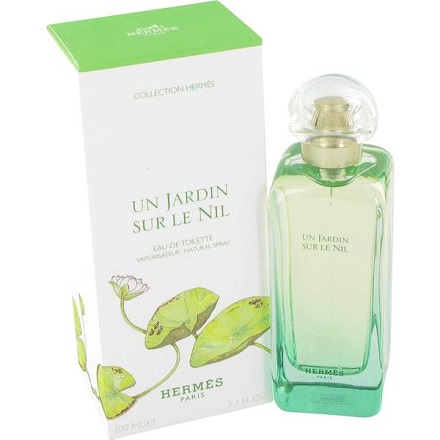 If Hermes is famous for something other than their handbags, it's their carefully-crafted fragrances. They curate a long list of perfumes that have stood the test of time, and Un Jardin Sur Le Nil is poised to follow suit. So far it has only grown in popularity in the nearly two decades since its release. This timeless scent crafted by legendary perfumer Jean-Claude Ellena is meant to evoke a stroll in the garden islands of the Nile at Assouan and does just that, blending green notes with hits of citrus and fruit. Top notes include grapefruit, green mango, tomato, and carrot, while peony comes through strong in the middle. The inviting base blends musk, cinnamon and iris.
Recommended related fragrances: Light Blue Dreaming In Portofino By Dolce & Gabbana, Angel, Eau Sucree By Thierry Mugler, La Tentation De Nina Ricci By Nina Ricci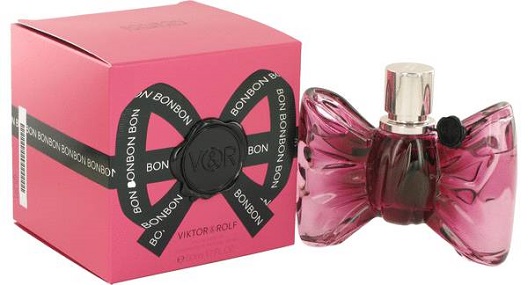 Bon Bon — meaning "candy" in French — is true to its name. It's delectably sweet, with a main note of caramel, balanced by top fragrance notes of mandarin, peach, and orange. The Viktor & Rolf fragrance comes bottled in a pink flagon shaped like a wrapped, delicious candy. It's the ideal mood for dessert and coffee at your favorite restaurant.
Recommended related fragrances: SJP Nyc By Sarah Jessica Parker, Kelly Caleche By Hermes, L'instant Magic By Guerlain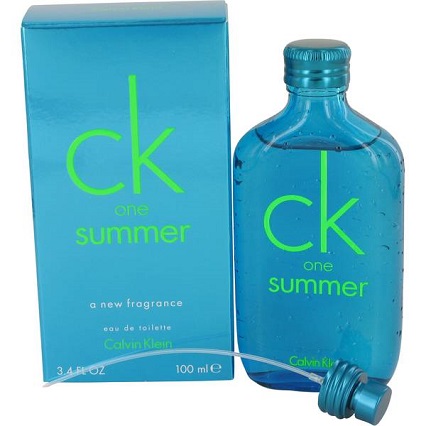 CK One Summer Perfume by Calvin Klein is a unisex fragrance brimming with luscious, sweet accords throughout its composition. The fruity perfume opens with an intense kiwi and citrus scent, then adds cactus and blueberry leaf, finishing with earthy musk. This is a fantastic option for those days where you're looking for a burst of energy or a mood pick-me-up.  
Recommended related fragrances: Mon Jasmin Noir L'eau Exquise By Bvlgar, Eau Des Merveilles By Hermes, Gucci Ii By Gucci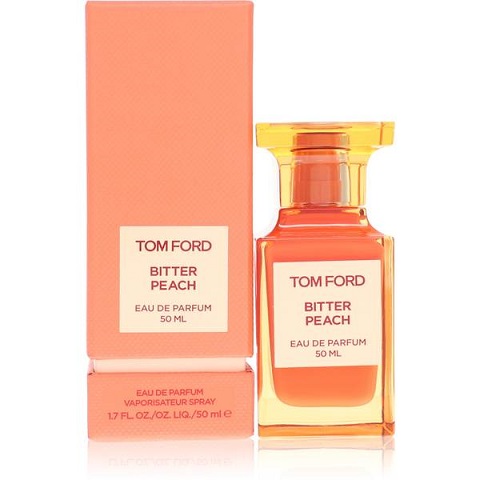 Like all of Tom Ford's scents, Bitter Peach is entirely unique. While it's on the pricey side, a little goes a long way and the fragrance will linger, so you won't need extra spritzes throughout the day. Top notes include peach, Sicilian blood orange, and cardamom, followed by middle notes of jasmine, rum, and cognac for a fragrant punch. Rounding out this seductive elixir are base notes of vetiver, Indonesian patchouli leaf, vanilla, tonka bean, and sandalwood. This excitingly fruity perfume is as sexy as it sounds. 
Recommended related fragrances: L'instant Magic By Guerlain, Un Jardin Sur Le Toit By Hermes, Kelly Caleche By Hermes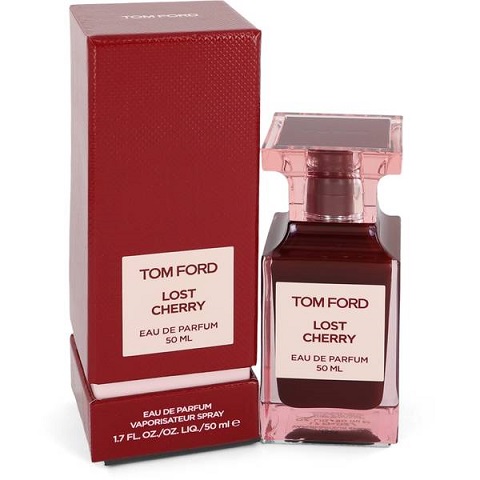 Another top fruity smelling perfume from Tom Ford is Lost Cherry. This isn't your classic uber-sweet summer cherry. Instead, think of a Mon Cheri liqueur chocolate cherry, balanced with a touch of bitter almond. This is a sexy, multidimensional fragrance that's a true conversation starter. The scent opens with black cherries, cherry liqueur (cherry on cherry for the win!) and bitter almond. The heart continues the cherry theme with griotte syrup, a sweet-and-sour concoction made from Morello cherries. It also pulls in heady floral hits of Turkish rose and jasmine. A variety of woody notes completes this sweet-smelling perfume. This is a great after-dark option.
Recommended related fragrances: Angel Eau Sucree By Thierry Mugler, Rumeur 2 Rose By Lanvin, Very Irresistible Sensual By Givenchy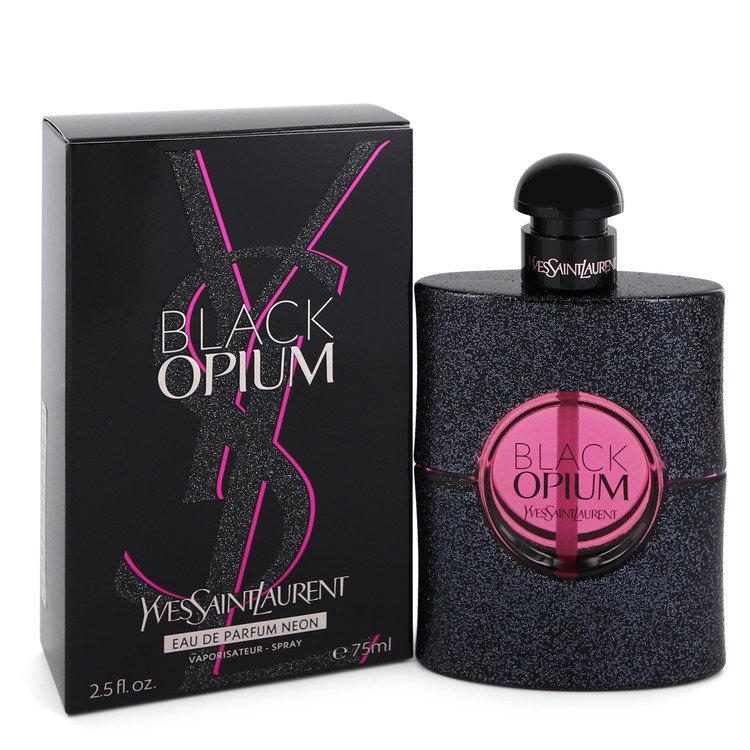 If you're not into fruity perfumes in the traditional sense, you'll love this offering from Yves Saint Laurent. It's sexy and rugged with head notes of pear, pink pepper, and orange blossom. Coffee, jasmine, bitter almond, and licorice infuse the heart notes. Woody undertones balance out its base. While this fruity floral perfume might be a bit heavy for a summer scent, it works wonderfully as we transition between seasons. 
Recommended related fragrances: Hot Couture By Givenchy, Prada Infusion D'iris By Prada, Happy Heart By Clinique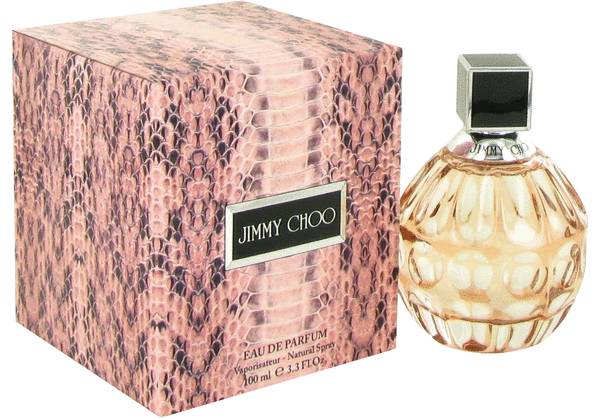 This lusciously vibrant fruity scent is perfect for a date night or a summer cocktail party. It's bubbly and fun, with rich top notes of Mandarin orange and ripe pear, along with subtle green undertones that make you think of garden parties. Base notes of Indonesian patchouli and creamy toffee lend depth and complexity to this vivacious fruity perfume.
Recommended related fragrances: Viva La Juicy Gold Couture By Juicy Couture, Olympea By Paco Rabanne, Daisy By Marc Jacobs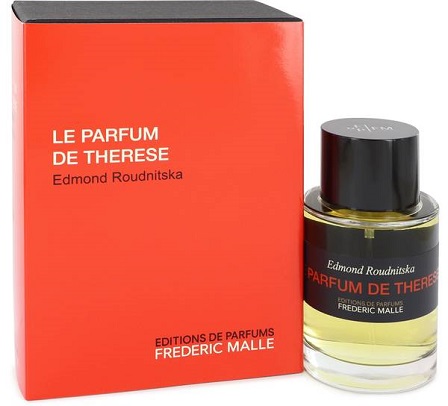 There's a unique story behind this fruity scent. It was originally created in the 1950s by famed French perfumer Edmond Roundnitska for his wife's personal use. In later years, he gave it to Frederic Malle, who launched it publicly in 2000. Fittingly, there's a romantic feel to this sophisticated fragrance. The top notes are fresh melon and sweet tangerine, followed by middle heart notes of lush plum and romantic rose. Pungent leather, musty vetiver and aromatic cedar finish off this fruity, woody offering. 
Recommended related fragrances: Blu Mediterraneo Mirto Di Panarea By Acqua Di Parma, Acqua Di Parma Gelsomino Nobile By Acqua Di Parma, Vetiver Ambrato By Bois 1920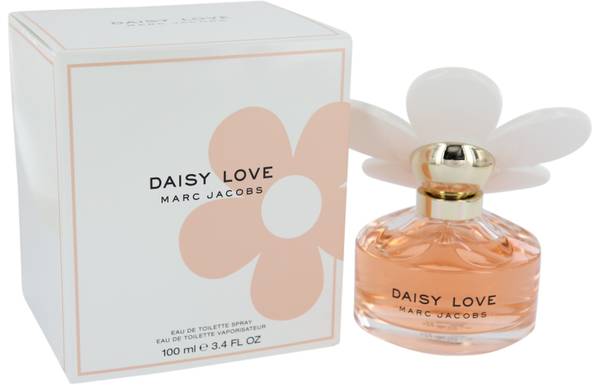 This fresh floral perfume is a perfect day-to-night option in the spring or summer. It's an update of the popular original Marc Jacobs scent, Daisy. The youthful fragrance opens with fruity notes, most notably berry. It finishes with a woody base where musk dominates, rounding out and balancing the mood. 
Read on about the Marc Jacobs Daisy line and other top perfumes from the brand in the Best Marc Jacobs Perfumes of All Time guide.
Recommended related fragrances: Armani Code By Giorgio Armani, Gucci Bamboo By Gucci, Versace Eros By Versace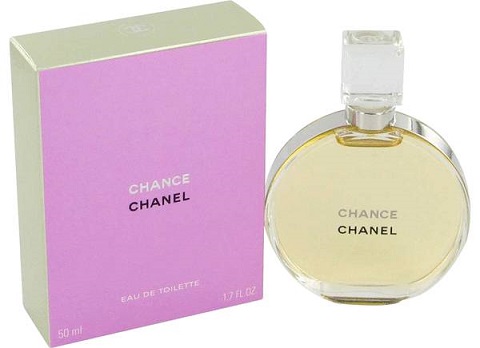 You didn't think there would be a "best of" list that wouldn't include Chanel, did you? This fruity floral delivers notes of grapefruit, quince, white musk, and rose accord. Its perfectly-balanced hints of fruity, sweet, and woodsy elements make it ideal for a boozy brunch, or any time you're trying to get attention from a suitor. 
There's a long list of Chanel perfumes and colognes worth exploring. Learn more in the Best Chanel Perfumes of All Time guide.
Recommended related fragrances: Light Blue By Dolce & Gabbana, Coco Mademoiselle By Chanel, Bright Crystal By Versace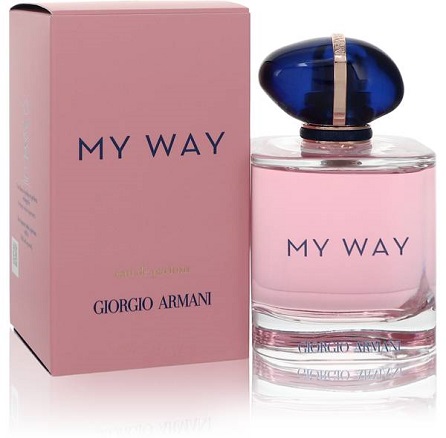 This intense and long-lasting fruity Giorgio Armani perfume's main notes are wild strawberry, orange blossom, and tuberose. It's a fun fragrance that fits in equally at an outdoor wedding or a chamber music concert. My Way is perfect for summer, reflected in the cheery rosy-pink glass flacon, which comes topped with a mysterious sapphire-blue stone.
Recommended related fragrances: The One By Dolce & Gabbana, Dune By Christian Dior, Daisy Eau So Fresh By Marc Jacobs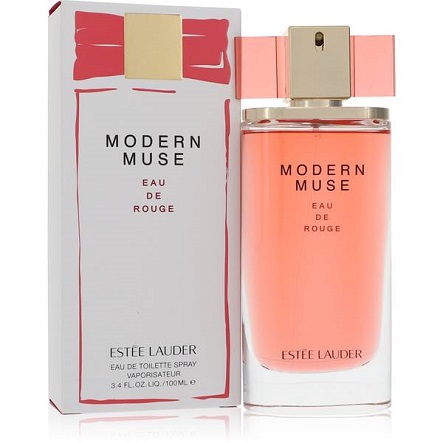 Orange, cherry, rose, saffron, and vanilla make for a welcome potpourri of notes in this fruity Estée Lauder perfume you'll come back to season after season. Modern Muse Le Rouge Gloss is a versatile fragrance. You can wear it no matter where life takes you, as it's not overpowering in any way. 
Recommended related fragrances: Rive Gauche By Yves Saint Laurent, Samsara By Guerlain, Alien By Thierry Mugler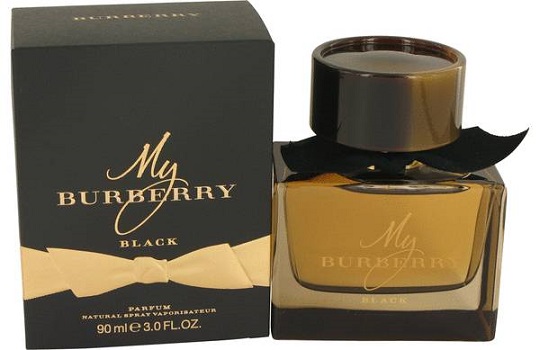 My Burberry Black doesn't sound like a particularly fruity perfume, but with peachy notes balancing its hints of jasmine, rose and patchouli, you get a beautifully-even, juicy yet sexy scent that's perfect for day-to-night wear. This great smelling perfume works just as well during a day in the park as it does out on the town with friends.
To explore other Burberry fragrance options, read on in the Best Burberry Perfumes of All Time guide.
Recommended related fragrances: Stella By Stella McCartney, Olympea By Paco Rabanne, Flora Gorgeous Gardenia By Gucci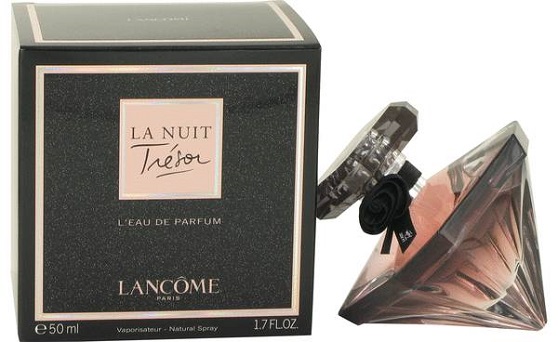 A fresh, fun strawberry perfume, La Nuit Tresor will put a smile on your face with its youthful exuberance. Its name might leave you thinking it's an after-dark scent ("la nuit" means "the night" in French). But this is actually a very versatile fragrance that you'll love wearing day or night. Its top notes set a fruity tone with lychee and raspberry. Middle notes of black rose and strawberry extend that theme. Meanwhile, base notes of patchouli and vanilla tahitensis add a tantalizing warmth to this popular Lancome scent.
Recommended related fragrances: Daisy Dream By Marc Jacobs, Escada Magnetism By Escada, Paris By Yves Saint Laurent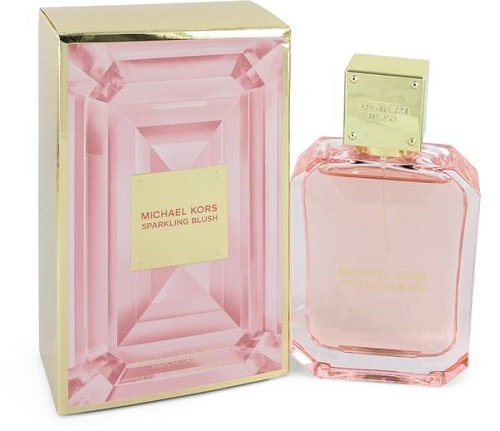 Michael Kors' Sparkling Blush is a delicious and long lasting fruity perfume that's not overpowering. Alongside floral and oriental notes, you'll find exuberant fruity tones including tangy pear, bergamot orange and juicy tropical lychee. It's a fun signature scent for outdoor cafes and evenings out.
For more tropical fragrances, read on in the Best Tropical Perfumes of All Time guide.
Recommended related fragrances: Flora Gorgeous Gardenia By Gucci, 24 Faubourg By Hermes, Lacoste Pour Femme By Lacoste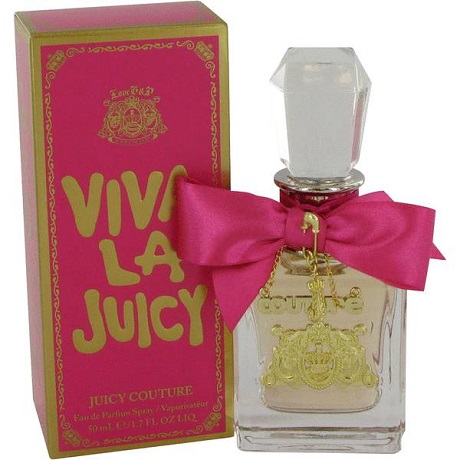 Juicy Couture may be past its prime, but don't overlook their signature fragrance. Viva La Juicy is as good today as when it launched over a decade ago. Its pure fruity deliciousness makes it a great weekend scent when you're hitting the beach or going out for brunch with friends. The main notes are wild berries and sweet mandarin orange.
Recommended related fragrances: Olympea By Paco Rabanne, Paloma Picasso By Paloma Picasso, L'air Du Temps By Nina Ricci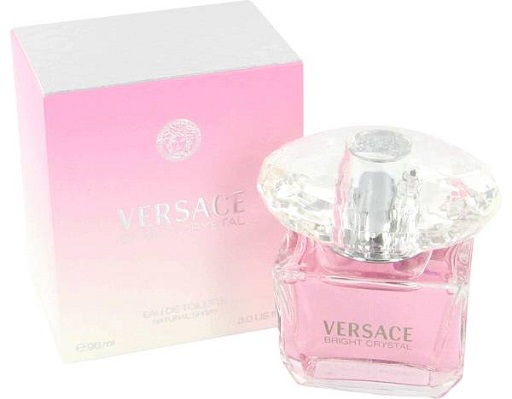 This fresh and fruity scent, true to the Versace brand, is fun and youthful with a hearty smattering of sensuality. Notes include pomegranate, tart-sweet yuzu, and amber. The pink fragrance is housed in a jewel-like bottle, perfect to display on your vanity. 
Recommended related fragrances: Weekend By Burberry, Flora By Gucci, Narciso Rodriguez By Narciso Rodriguez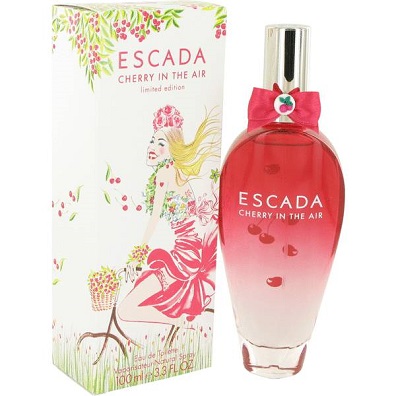 Cherry in the Air is a sweet, fruity scent from Escada with notes of raspberry, mandarin orange, and, of course, sour cherry. It's balanced in the middle with floral elements, and at its base with woodsy ones for a versatile, year-round fragrance. 
Recommended related fragrances: First By Van Cleef & Arpels, Oscar By Oscar De La Renta, Kenzo Flower By Kenzo
Summary
This list of the best fruity perfumes on the shelf brims with fun fragrances that elevate your presence. Far from the cloyingly fruity scents of your youth, these offerings delight and invite with tantalizingly-sophisticated notes. Check out these delightful fruity scents and other luxury perfumes and colognes at reasonable prices at FragranceX.
Read on:
---
About the Author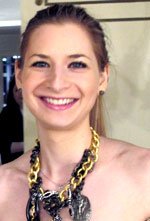 Sharon Feiereisen is a freelance writer who specializes in fragrance, makeup, wellness, health, skincare, and general lifestyle topics. Her work has been published in Time Out, Newsday, The Knot, Teen Vogue, Business Insider, Real Simple, and Hamptons Magazine among many other print and online outlets. When she's not writing about new, exciting fragrances, you can usually find her on an airplane or at a boutique fitness studio.
Subscribe via Email
Get the best of FragranceX delivered straight to your inbox