Feb 10, 2022
|
10 min Read
14 Best Juicy Couture Perfumes Of All Time
There aren't many fragrance brands with a personality quite like Juicy Couture's. Free-spirited and always up for an adventure, these fruity, floral scents come bursting at the seams with delicious blends that any woman will love. 
A luxury brand full to the brim with carefree charm, a Juicy Couture perfume is an easy choice for daytime or nighttime occasions when you want to feel a little special. Spray one of the best Juicy Couture perfumes and find yourself dazzling under a spotlight of luxurious accords. Once you've sampled one Juicy Couture perfume, you'll want to sample them all.
What Is Juicy Couture Perfume?
Juicy Couture perfume is fun, light-hearted, and youthful. Many Juicy Couture fragrances are fruity or sweet-based, with beautifully blended notes that take each wearer on a unique journey. Juicy Couture perfume works for all kinds of occasions but especially those with spontaneity or fun in mind. 
There are more than 50 Juicy Couture perfumes around. We'll pre-warn you that, once you've sampled one, you'll likely want to build up quite the collection from this addictive brand. Not sure where to start? Read on for our guide to all of the best Juicy Couture perfumes for women.
Juicy Couture's original fragrance, also named Juicy Couture, is the best example of everything the eponymous brand is famous for. A little bit floral, a touch of caramel, and a whole lot of sweetness, this Juicy Couture vanilla perfume has a certain personality that's hard to pinpoint. 
Cheeky, suggestive, and incredibly multi-faceted, this beautiful Juicy Couture fragrance is just as suitable for stepping out of the shower as it is for impressing everyone in the room. It also smells a little differently for everyone who wears it, thanks to its never-ending list of notes including watermelon, passionfruit, tuberose, lily, vanilla, and patchouli. 
Similar to: Bright Crystal by Versace, Dolce & Gabbana Light Blue Perfume, Jimmy Choo by Jimmy Choo

Juicy Couture Viva la Juicy is radiant and raucous. It's the loudest voice at the party and the first to break into applause. This sweet, floral fragrance is undoubtedly one of the best Juicy Couture perfumes and shines brightly as a perpetual crowd-pleaser for all occasions. 
Charming and colorful, Viva la Juicy has an innate confidence that it spills unashamedly over its wearer. Its top notes of wild berries and juicy Mandarin orange are a smile in a bottle, while base notes of amber, caramel, and vanilla continue the sweet theme with a gourmand, ready-to-eat finish.
Similar to: Pink Sugar Perfume by Aquolina, Eternity by Calvin Klein, The One Perfume by Dolce & Gabbana
Juicy Couture Couture Couture is intricate and exotic — an oriental blend that whispers closely in your ear, skin prickling with the sweet, warming scent of African Orange flower, Mandarin orange, and grapefruit. Softly feminine without being juvenile, Couture Couture is the sound of high heels briskly approaching the room and the confident woman who walks through the door. 
It's designed for evening occasions and nights out with friends, with an amazing, long-lasting base of amber, vanilla, and sandalwood. It's memorable to the point of being unforgettable.
Similar to: Euphoria by Calvin Klein, Burberry Brit Perfume by Burberry, Oscar Perfume by Oscar de la Renta
Juicy Couture Oui is the scent of saying yes to things, whether that's a spontaneous summer picnic or an adventure through the meadows. It's light, sprightly, and energetic, combining fruity notes with a white floral undertone that makes it the perfect scent for long summer days. 
Honeysuckle, jasmine, and tuberose grow in long vines all around you, twisting and turning and verging on maze-like. Base notes of musk and amber add a familiar touch to this intoxicating blend, promising a well-roundedness that leaves a pleasant second skin on everyone who breathes it in. One of the best Juicy Couture perfumes for a new adventure.
Similar to: Versace Eros Perfume by Versace, Burberry Body Perfume by Burberry, Daisy Eau So Fresh Perfume by Marc Jacobs
Juicy Couture Couture La La is full-spirited and hard to control. It's a more adventurous, upgraded version of the brand's original scent with a punk rock touch. You'll breathe in familiar fruity, white floral notes with an elevated finish. 
Lily of the valley and orange blossom come blended with powdery violet leaves — an ethereal final breath that's just as glamorous as it is welcoming. This signature scent is fresh and green-tinted with warm, floral notes and a dash of excitement keeping you on your toes.
Similar to: Narciso Rodriguez Perfume, Alien by Thierry Mugler, Dolce & Gabbana Light Blue Perfume by Dolce & Gabbana
Regal and stately with a subtle hint of cheekiness thrown in, Juicy Couture Royal Rose is one of the brand's newer fragrances and dances lightly across powdery, amber-heavy accords. 
This gorgeous fragrance leans more towards the mature end of the spectrum, with an elegant blend of Taif rose, exotic incense, and musk that settles down comfortably on the skin. Warm and dense, this Juicy Couture perfume is suitably refined and perfect for special occasions. It's not an everyday option, but it's a masterpiece you'll add to your collection and admire each morning.
For a deeper dive into the best rose scents, explore the Best Rose Perfumes of All Time guide for more.
Similar to: Crystal Noir Perfume by Versace, Eternity by Calvin Klein, Burberry Brit Perfume by Burberry
You'll save Juicy Couture Pretty In Purple for those days when you want to feel extra special. A white floral second skin that seems to glimmer from within its equally pretty bottle, this best Juicy Couture perfume lasts for hours on the skin. 
It's woody and musky, filled with comforting notes of Turkish rose oil, gardenia, and cedar, that you'll wrap around yourself like a hug from a friend. Subtly sweet with just the right amount of complexity, it's a Juicy Couture fragrance that softens the longer you wear it.
Similar to: Sweet Like Candy Perfume by Ariana Grande, Reb'l Fleur Perfume by Rihanna, Prada Candy Night Perfume by Prada
Juicy Couture Oui Glow is a citrus-heavy contrast to the standard Juicy Couture fragrance. It's a light that continually flickers and twinkles with bursts of Brazilian orange in the distance. A firework of a fragrance, Oui Glow verges on neon in its approach. It's definitely not one for the fainthearted. 
Ever so slightly oriental with a light, youthful appeal, this is a Juicy Couture fragrance that adds a spring to your step and a zing to your look. Like a freshly popped bottle of Champagne, Oui Glow dazzles with raspberry, cassis, and frangipani.
Similar to: Coach Perfume by Coach, Versace Yellow Diamond Perfume by Versace, Versace Pour Femme Dylan Blue Perfume
Juicy Couture Glistening Amber is a freshly discovered jewel glinting among the rubble. It's one you'll find yourself drawn to with its charming, intimate blend that beckons like a freshly manicured finger. 
Powdery, musky, and above all amber-heavy, Glistening Amber is decadent and hedonistic, designed for late nights and bright eyes. Incense, vanilla, and orris dance like shadows in the light — silhouettes flickering and twisting and constantly stealing your attention. Glistening Amber has a similar appeal. It's enchanting and attracting, moth-to-a-flame style.
Similar to: Shalimar Perfume by Guerlain, Bright Crystal by Versace, Alien by Thierry Mugler
Juicy Couture Rah Rah Rouge Rock The Rainbow is a much anticipated show. It's bright spotlights and the heat that follows, with peals of laughter and clinking of drinks. It's a theater full of dazzling colors reflecting on every surface and an invitation to join in. 
This fruity, sweet blend is definitely one of the best Juicy Couture perfumes if you're looking for happiness in scent form. Pineapple, plum, and Mandarin orange are the standing ovation while musk, vanilla, and sandalwood cheer from the sides.
Similar to: Versace Eros Perfume by Versace, Ombre Rose Perfume by Brosseau, Prada Candy Night Perfume by Prada
The rush of ecstatic relief that comes from jumping into a cool body of water on a hot day — that's the scent of Juicy Couture Bye Bye Blue. An aquatic blend that's a world away from the usual Juicy Couture arrangement, Bye Bye Blue is welcoming and refreshing, an invigorating blast of lemon, florals, and driftwood. 
Breathe in the relaxation from sun-kissed walks along the shore in the early morning with the salty breeze gently pulling your hair back. Delicate, clean, and respectful, Juicy Couture Bye Bye Blue is a literal breath of fresh air.
Similar to: Jimmy Choo Fever Perfume by Jimmy Choo, Bright Crystal Absolu Perfume by Versace, Moschino Pink Fresh Couture Perfume by Moschino
Juicy Couture Viva La Juicy Gold Couture is the rich, sweet caramel that drips from your fingers when eating a deliciously decadent dessert. It's enticing and thrilling, a treat of a perfume that's seriously potent. 
This caramel and vanilla-heavy perfume sits at the top of the gourmand scale with well-deserved hype from anyone who breathes it in. One of the best Juicy Couture perfumes to wear as the weather gets cooler, it's a scent of warming hot chocolate, red-golden leaves falling from the trees, and sweet treats greeting you as you arrive back home.   
Similar to: Narciso Rodriguez Perfume, L'eau D'issey (Issey Miyake) Perfume by Issey Miyake, Jean Paul Gaultier Perfume by Jean Paul Gaultier
Juicy Couture Viva La Juicy Rose is the embodiment of seeing the world through rose-tinted glasses. An impossibly pink-hued fragrance, this is a perfume that sparks excitement with every spritz. Like its name suggests, this is a rose-heavy fragrance, but one with a little extra music playing in the background. 
Floral notes sway in time with hints of peony and jasmine sambac, while ambroxan, orris, and benzoin nod approvingly with each step. Fresh, sweet, and fruity, this best Juicy Couture fragrance comes filled with joy.
Similar to: The One Perfume by Dolce & Gabbana, Kenzo Flower Perfume by Kenzo, Lolita Lempicka Perfume by Lolita Lempicka
Juicy Couture Viva La Juicy Noir is the elevated, upgraded, night-time essence of the brand. Bewitching, enticing, and exhilarating, it's one you'll spray only once or twice before inevitably soaking up its magic. 
Fruity and woody, it effortlessly blends wild berries and Mandarin orange with amber and sandalwood for a mythical twist that gently fades into the distance. Perfectly balanced without swaying too far towards any one accord, Viva La Juicy Noir is versatile enough for all seasons, but should be reserved for post sunset-occasions.
Similar to: Crystal Noir Perfume by Versace, Fantasy Perfume by Britney Spears, White Diamonds Perfume by Elizabeth Taylor
Summary
Juicy Couture perfume is a little like the forbidden fruit of the fragrance world — its offerings are good enough to eat and smell wonderful no matter whether they're worn alone or layered with other scents. You'll find a huge range of the best Juicy Couture perfume for women and more at FragranceX.
For more perfume information, read on:
---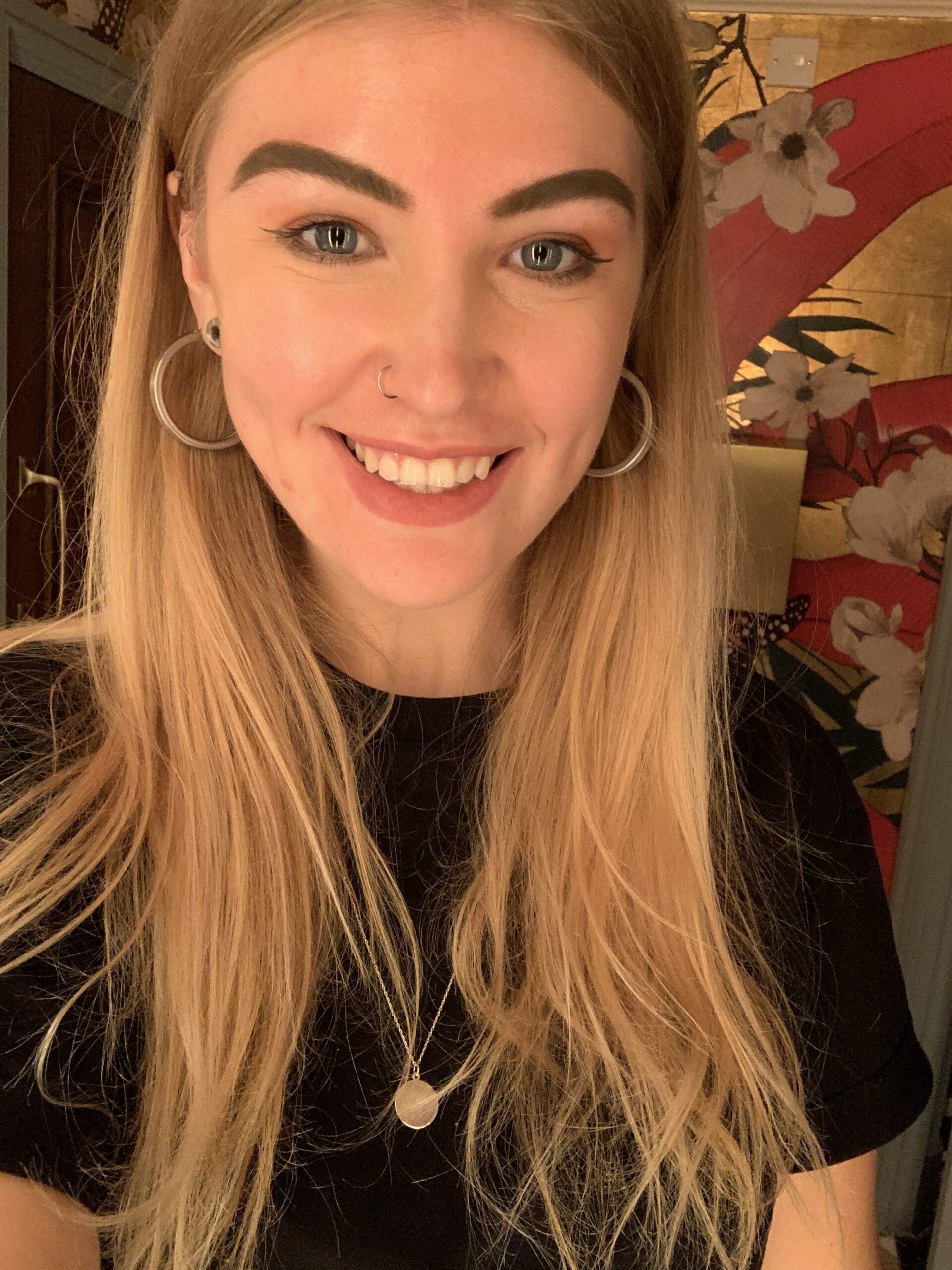 Georgie Darling is a freelance lifestyle and travel writer from London, England. Her work has been published in Grazia, HuffPost, YAHOO!, Culture Trip and Fodor's amongst others. When she's not writing, Georgie spends most of her time travelling to new countries and scuba diving. She's been an avid fragrance lover since a young age and considers Alaïa by Alaïa Paris to be her signature scent.
Subscribe via Email
Get the best of FragranceX delivered straight to your inbox
Related Posts
Aurelien Guichard and His Most Famous Perfumes
Aurelien Guichard was born in Grasse, the perfume capitol of the world.  You can say...