May 26, 2023
|
10 min Read
Best Ariana Grande Perfumes of All Time
It's hard to pinpoint the psychological appeal behind celebrity fragrances, but it's definitely there. There's just something about a colorful bottle emblazoned with the name of your favorite pop star or actress that makes it so… desirable. The glory days of celebrity perfumes have somewhat plateaued (remember Britney Spears' Fantasy?), but some household names have staying power in the fragrance industry.
Case in point: pop music superstar Ariana Grande has dropped seven fragrances to date, and all have won as much acclaim from critics as her songs have. And rightfully so—they manage to smell delightfully youthful, yet sensually mature at the same time. That's a feat nearly impossible to nail in the world of perfumes. 
Maybe you're drawn in by the pretty bottles (FYI, they look even prettier all together) or impressed by the luxury-level smell of every Ariana Grande perfume. Or maybe you simply have to know what a dangerous woman smells like (pretty great). Either way, it's not hard to see why Ariana Grande fragrances are loved by fragrance connoisseurs and perfume newbies alike. Below, we've broken down all of the Ariana Grande perfumes ranked with details on what they smell like and how pricey they are (with $ being less expensive and $$$ being on the pricier side) to make the search for your signature scent a bit easier.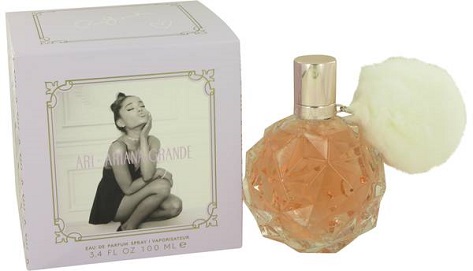 If you want a rose perfume that isn't grandmotherly, this fragrance will change everything you think you know about the stigmatized floral. Neither too floral nor too fruity, Ari's first OG fragrance for women strikes a perfect balance in between. Initial fragrance notes like pink grapefruit and juicy raspberry are offset by notes of rose and lily of the valley during the dry down period, establishing a maturity that belies its youthful exterior. Reviewers also commend its wearability, noting that coworkers still give compliments after a full 8-hour workday. This is the first of all Ariana Grande perfumes, launched in 2015.
Price: $$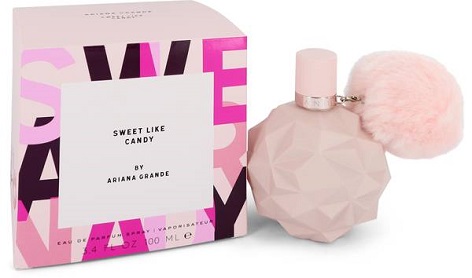 If you're into flirty, feminine scents (think Vanilla Sugar from Bath and Body Works), this smell will be right up your alley. Like its name suggests, it's a sweet gourmand through and through. But don't worry—although the smell is syrupy, it's not sickly or cloyingly sweet. Imagine warm bake sales and nostalgic candy shops. One whiff transports you to a happy place with scents of vanilla, whipped cream, and marshmallow that envelop your senses like a warm blanket (sounds good enough to eat, but please don't!). It's also worth noting that the scent is a great dupe for Prada Candy at a fraction of the price. 
Price: $$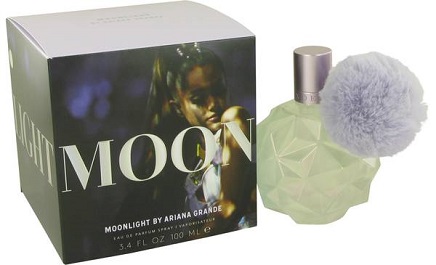 The purple packaging (complete with a fluffy—and detachable—pom-pom) practically screams Ariana, and it captures exactly what we'd imagine her to smell like (is that weird?). Similar to Sweet Like Candy, it's primarily sweet with the exception of a more sultry start (thanks to juicy plum and blackcurrant) and powdery finish (creamy sandalwood and black amber). At the heart of the scent is marshmallows and peonies, two things that you wouldn't expect to mesh as well as they do. Because of its universality, just expect both your friends and mom to want to cop off your signature scent.
Price: $$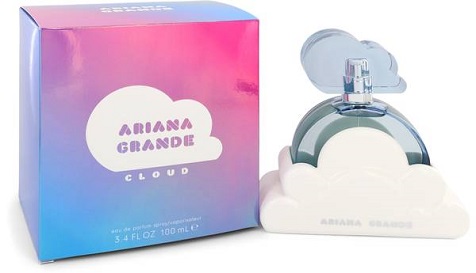 Ari's Cloud fragrance has very accurate packaging considering the juice inside smells like a heavenly dream. The ethereal scent is a go-to for many Arianators, and with thousands of 5-star Ariana Grande Cloud perfume reviews, you can probably deduce it's very versatile. When you first apply the scent, you get a burst of bergamot, pear, and lavender, but as it settles into your skin, it smells like a cozy, woodsy musk that isn't too overwhelming. It's particularly great for everyday wear because you won't obviously smell like you're wearing perfume—it just smells like you recently stepped out of a really, really nice shower.
Price: $$$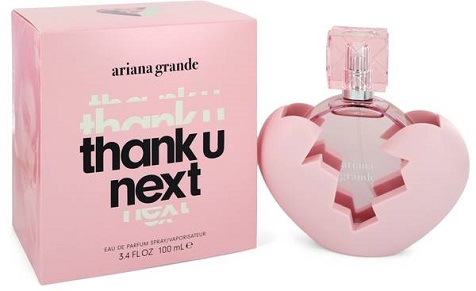 The branding may be inspired by her record hit album, but you won't be saying Thank You, Next to this perfume once you give it a whiff. Infused with sugar, spice, and everything nice, it opens with juicy notes of wild raspberry and sparkling white pear that eventually softens into a sugary, velvety musk. Because the sugary scent has an almost burned aspect, it blends wonderfully with the musk to give the fragrance a more elegant aura. The olfactory experience exudes Ari's exact energy: feminine sweetness with just a dash of attitude.
Price: $$$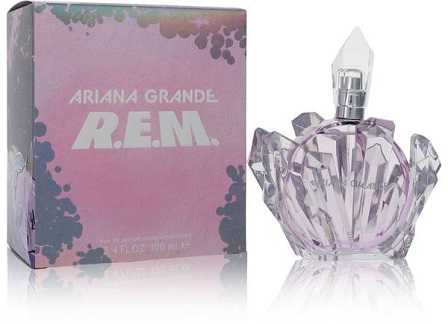 Ari may have named her most recent fragrance after her Sweetener single "R.E.M.,"  but it also happens to be a great scent to coax you into R.E.M sleep, due to its calming notes of fig, lavender, and tonka bean. The crystal-encased fragrance is impressive alone (can we please take a moment to appreciate the throne of translucent crystals?), but the scent inside is truly out of this world—terrible pun intended. It carries a warm, pillowy sweetness mingled with a muffled, misty version of salted caramel. If this is what space smells like, count us in.
Price: $$$
Ariana Grande's "God is a Woman" perfume is a captivating olfactory creation that embodies the essence of empowerment and femininity. Inspired by her hit song of the same name, this fragrance exudes a blend of alluring and celestial notes that transport you to a realm of confidence and grace. The opening of this eau de parfum bursts with sweet and fruity accords, while a heart of sensual floral undertones adds depth and allure. As the fragrance settles, it leaves a warm and mysterious trail of creamy vanilla and rich amber. "God is a Woman" perfume is a delightful ode to self-assurance, encapsulating the essence of Ariana's persona and offering a unique sensory experience for its wearers.
Price: $$
Similar Fragrances to Ariana Grande Perfumes
TBH, you can't go wrong with the best Ariana Grande perfumes. They're all available on FragranceX at crazy discounted prices, so you can buy some for your friends and yourself without feeling credit card guilt. While you're there, you might want to check out some rare throwback perfumes from your other past (or current) favorite stars—but make sure to shop swiftly! Some of these bottles are getting harder to find. Similar to Ariana Grande's perfumes, they're all guaranteed to send dozens of "what are you wearing?" questions your way, but it's up to you if you want to tell them where it's from (they probably wouldn't believe these prices anyway).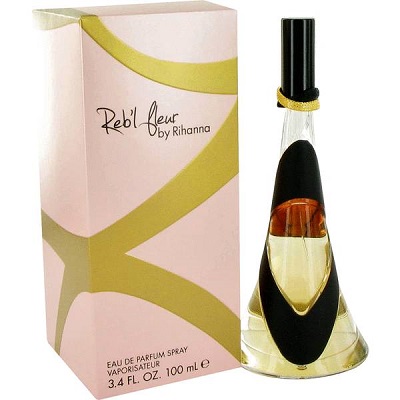 Before Fenty Beauty shook the beauty world to its foundations, Rihanna was all about perfumes. She lived in New York City at the time Reb'l Fleur was released in 2010, so the fragrance is meant to represent the glamour of NYC juxtaposed with her Barbados roots. The powerhouse scent mixes vibrant peach, juicy plum, and coconut with earthy notes of patchouli, musk, and amber. While the initial whiff is sweet, it leaves behind a spicy, intoxicating aftertone that will keep your nose coming back for more. 
Price: $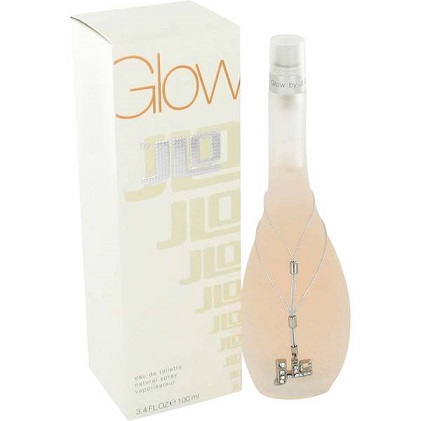 This fragrance is definitely more of a summer perfume—not because it's overwhelmingly coconut-y, but because one whiff will transport you to the tropical paradise vacation of your dreams. The escapist scent we all need right now, it contains top notes of neroli, orange blossom, and grapefruit, middle notes of jasmine, rose, and tuberose, and a warm base of musk, sandalwood, and vanilla. If you like more natural perfumes, you'll be pleased to know that J.Lo herself describes Glow as 'a skin-scent': clean and soapy with a sweet, powdery trail.
Price: $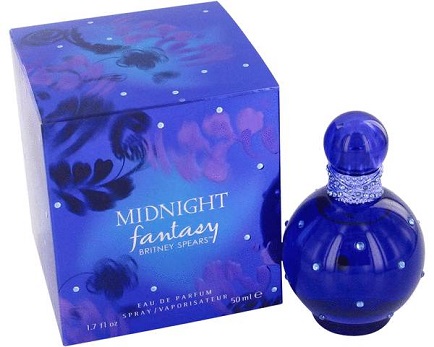 We can't talk about celebrity perfumes without mentioning Fantasy, a nostalgic perfume that's almost old enough to be dubbed vintage. This fragrance was initially designed for a younger crowd, but don't count it out if you're past the millennial cutoff. The formula inside is surprisingly complex and sophisticated. The first notes you'll pick up are blueberries, but after a few moments the flirty florals—a sophisticated garden of orchid, iris, and freesia—come out to play. The dry down contains hints of vanilla and spices for a warm, comforting finish.
Price: $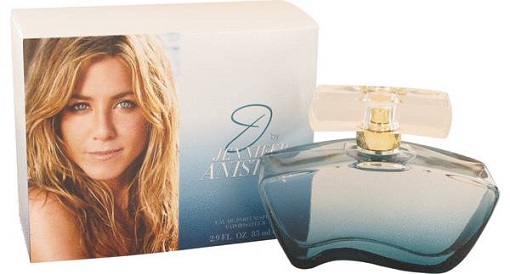 Do you thrive by the seaside? Aquatic and crisp with plenty of character, Jennifer Aniston's fragrance launched in 2014 has an unmistakable scent of salty sea air (even if you're only going there in your imagination). The top notes of the perfume consist of a salty sea accord, water lily, and bergamot, creating the kind of warm, fuzzy feeling of a hot day on the beach. Middle notes include jasmine and freesia, simmering down to a base of tahitian vanilla and sandalwood. In short, it's a sophisticated hot-weather scent and the perfect perfume for non-perfume lovers.
Price: $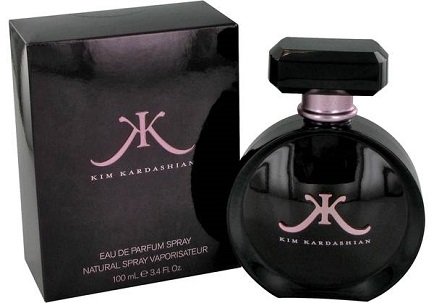 Kim Kardashian's namesake perfume may have been released over a decade ago, but the sophisticated blend inside is intricate, nuanced, and totally modern. Honeysuckle bursts from the top, tempered by buttery tuberose, but it's the soft musk and sandalwood that are left to linger. Woody and floral, it's fresh enough to be subtle, yet with enough presence that you can still tell you're wearing perfume.
Price: $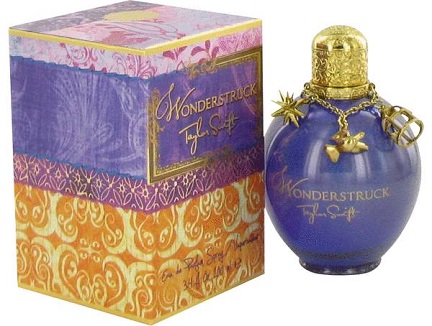 You'll love this fragrance if you miss the "old Taylor"—the sweet scent inside definitely veers less "Reputation," more "Fearless." Sweet pineapple, fresh passion fruit, and juicy peach are blended with freesia, apple blossom, and raspberry. There's even a hint of Folklore in there, thanks to a foundation of soft moss, sweet vanilla, and milk. It's lovely (or shall we say, enchanting) from the moment you spritz it on until you wash it away.
Price: $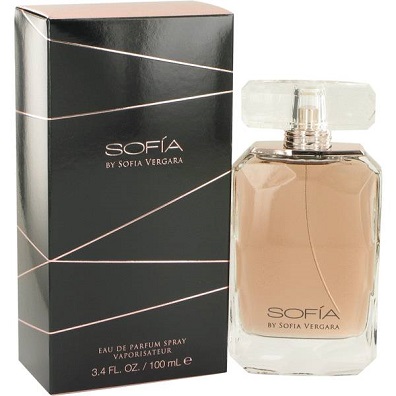 Fans of Sofia Vergara's signature perfume swear it smells like a delightful mix of designer perfumes at a fraction of the price. You'll especially appreciate it if you're a fan of Chanel's Coco Mademoiselle. Juicy blackberry and plum are at the forefront, though the base notes of sandalwood and musk are strong enough to make it totally unisex. Best reserved for date night, it's the ultimate sensual Parisian aroma that moves through the day without burning off into oblivion. 
Price: $
Ariana Grande Fragrance List – In Summary
This list of the best Ariana Grande perfumes has something for fragrance lovers of all stripes. From her refreshing floral scent in Ari, to her calming R.E.M., Arianators will find plenty to love. And to spread your search out side to side, try the seven similar fragrances above by Rihanna, Sofia Vergara, and other wonderstruck pop stars and actresses.
You can buy Ariana Grande perfume and other fragrances from luxe brands at FragranceX.com. Don't forget to snag some extra FragranceX coupons!
---
Read on for more FragranceX shopping guides:
Subscribe via Email
Get the best of FragranceX delivered straight to your inbox
Related Posts
Sep 26, 2023
|
2 min Read
The Best Perfumes for When You're Craving a Pumpkin Spiced Latte
Autumn is a magical time when the world transforms into a tapestry of golds, reds, and browns....