Jun 11, 2023
|
10 min Read
12 Best Burberry Perfumes of All Time
Timeless, quintessential, and undoubtedly British: Burberry perfume encapsulates a unique charm that promises a burst of cool-girl style with a single spritz. Home to an impressive archive of more than 80 fragrances, this luxury fashion house and purveyor of incredible scents is an ever-popular choice for any age. 
Burberry may be known best for its iconic tartan trench coats, but its fragrance line is also more than worthy of worldwide attention. All of the best Burberry fragrances have the ability to whisk you away, hand-in-hand, into a dewy spring garden party, a rainy stroll through London Town, or a summer's day with bursts of sunshine. 
The best Burberry perfume? We couldn't say. But read on for some of our favorite scents from the brand.
What is Burberry Perfume?
Burberry perfume is a quintessentially British fragrance brand released by the classic fashion house. Burberry perfume is charming and elegant, blending contemporary English notes with a modern, international edge. Most bottles come designed with Burberry's signature tartan with floral notes throughout.
Read on for a look at the greatest Burberry perfumes for women:
Burberry For Women is rich and full — a deliciously mouthwatering blend that combines an entire spectrum of notes that somehow remains simple. It's a fragrance that tells a bespoke story for every person who wears it, one that doesn't simply follow a linear path through top notes to base notes. 
Wear this and expect a lengthy journey across lands dipped in spicy peaches and apricots, dabbed with jasmine and moss, and finally finished with vanilla, cedar, and musk. Somehow fruity, powdery, and woody all at the same time, its complexity lies within its simplicity. Released in 1995, it's a work of magic in the world of perfume. It's likely to become as much a staple for you as it was for your favorite auntie.
Burberry Her marked a new beginning in the world of Burberry Fragrance. Launched in 2018, this fruity, soft, and sweet perfume was the first to come with the brand's new packaging; just as smooth and soft as what's inside. Her is a sunburst of youthful, electric energy. It's a confident scent, filled to the brim with handfuls of vibrant berries and the promise of warm summer days. 
This is undoubtedly a perfume suited to weekend picnics and your favorite summer outfit — or days when you're trying to channel those feelings. Wear a spritz or two of Her and transport yourself into fields of strawberries and raspberries, clutching handfuls of violet and jasmine. Her is a memorable, signature scent, with an irresistibly creamy base and a unique DNA.
Looking for more amazing summer fragrances? Read on in our 25 Best Summer Fragrances of All Time guide.
Not to be confused with Burberry's Her London Dream (a heavy rose, floral-filled scent), Burberry London is all about finesse. Sure, it's still a floral scent, but it's lighter and brighter with white floral accords and hints of citrus. Designed to hit the pulse of England's never-slowing-down city, Burberry London is quick and persistent. As a Burberry fragrance, it's one that makes itself known immediately. 
Heady and intense, you only need a quick dose of London to set you up for the day. Each spritz comes loaded with a bold burst of self-confidence, suitable for mornings when you need an extra helping of energy that's beautiful and feminine. Honeysuckle, tangerine, and rose all stroll in proudly, immediately, like three different London personalities grabbing your hand and coolly, knowledgeably introducing you to the city.
My Burberry is sophisticated and classy. Staple by name and a staple by nature, this long-lasting fragrance is somehow fun and professional at the same time. It's also incredibly versatile. Sweet Pea and bergamot pull your hand towards a summer-ready smell, while base notes of patchouli, musk, and leather make it just as suitable for cold, wintery days. 
For best results, pair it in the middle, with warmer autumn evenings. That's also where some of the inspiration for this perfume comes from — the cult trench coat of the Burberry brand and a British garden after heavy rain. Think floral bouquet with a peppery twist; a modern fragrance that'll have you determined to wear it with the trench coat itself. 
Walk along the streets of Paris in your mind and the scent accompanying those daydreams will almost definitely be Burberry's Touch. Soft and delicate, Touch is a toned-down variation of Burberry's charming personality, with less of an in-your-face appeal and more focus on dainty, intricate, graceful fragrance notes that dance around you with every step. 
This daytime scent is floral and woody, with rose, lily of the valley, and jasmine weaving invisible strands of magic with comforting clarity. But it's not purely a floral fragrance. Base notes here are just as comforting as a hug from a loved one, designed to carefully encourage you in a way that feels safe and protected. Breathe in the scent of cedar, oakmoss, and vanilla the same way you would a calming mug of cocoa.
Soft, sensual, and seductive: Burberry Body is stripped down, bringing things back to basics in a way that's both exciting and familiar. This fragrance will leave you feeling almost exposed. It's a second, sexy skin that warms into something intimate. It's also the perfect perfume for when you don't want something too overpowering, Burberry Body is powdery and creamy, a scent you'll spray after a shower automatically to just feel that little bit more cleansed. 
Think demure, clean femininity, but with more warmth and subtle invitation. But like all Burberry perfume, Body tells a story with its notes. It's both complex and gentle, with top notes of wormwood, peach, and freesia that slowly pave the way for further notes of sandalwood, musk, and amber. It's the kind of perfume that'll have people wondering if you're even wearing any, or just naturally smell that good.
"Spring in a bottle" is probably the most accurate way to sum up Burberry Weekend. This fragrance that seems to bottle that feeling of euphoria that comes with waking up fresh on a Saturday morning. Burberry Weekend will have you lazily singing around the house, barefoot, pouring a cup of coffee and wondering what the next two days will bring.
This isn't an overpowering fragrance, more so one that you'll spray lightly a few times for a classy, fresh, and simple addition to your look. Mignonette and Mandarin orange gently soothe the skin, while middle notes of nectarine, blue hyacinth, and peach blossom keep you feeling light and refreshed. This floral, powdery scent works well any time of year, but particularly when you need a quick pick-me-up. 
Young and tart, My Burberry Blush is the youthful sister to many of Burberry's other popular scents. Slightly reminiscent of those burst-in-your-mouth fruit candies you loved as a kid, My Burberry Blush is the refined, delicate combination of those zesty flavours paired with a floral finish. It's not a juvenile scent, but it's one usually preferred by a younger crowd. 
Akin to sipping cold fruit tea on a summer evening, My Burberry Blush is destined for the warmer seasons, dressed in your favourite linens. Expert heavy bursts of pomegranate and lemon followed by a simple, clean dose of wisteria and jasmine. It's the latter that loyally sticks around hour after hour — something that ensures its position as one of the best Burberry fragrances. 
Have a liking for fruity perfumes? Read on in our Best Fruity Perfumes of All Time guide.
Think of Burberry Brit the same way you'd think of British humor: sharp to begin with, followed by softer undertones and mellow endings. This spicy, peppery fragrance was designed to encapsulate British irony, which it does with a handful of gourmand almond and a sprinkling of sugar. 
It's considered by many to be the best Burberry perfume and it's one that keeps you guessing by making its mark uniquely on each person. Some wearers will bring out its stronger notes of lime and pear, while others will soak up the base notes of Tonka beans and amber. Creamy and sensual, this is a balanced fragrance that complements whatever you're wearing. And it behaves similarly, emphasizing your personality without being overbearing. It's the recipe for a meal you've confidently perfected. Wear during the colder months to keep you cozy.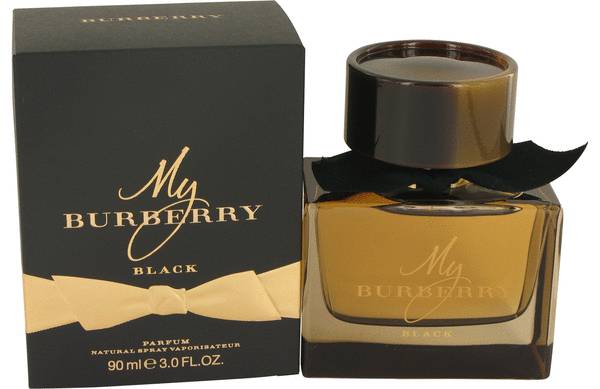 My Burberry Black is dark and foreboding, an amber-strong fragrance that leads you round tight corners and between folds of magic in a way that's bewitching and exciting. Known as one of Burberry's most long-lasting perfumes, this scent sticks around long after you've left the room. It's also one to use sparingly, allowing its seductive, smooth, and all-round beautiful scent to work its magic without distractions. 
It's a magnet in a bottle, alluring and tempting, with jasmine, peach, and rose all standing their ground confidently. Wear My Burberry Black multiple times, and you'll start to associate it with comfort; a warm hug in fragrance form. To onlookers and those experiencing it for the first time, it verges on edginess — something incredibly attractive yet strangely enchanting. 
Burberry The Beat is a little different from other Burberry offerings. That's something you'll notice immediately, from the modern, brushed-silver cap, right through to the intense sparkling citrus aromas. The Beat was inspired by music, and acts as the fragrance-equivalent of getting out of bed and playing your favorite tracks on repeat.
It's the friend who creates spontaneous plans, the surprise set from your favorite artist, the presence of sunshine on a previously cloudy day. It's happiness and potential wrapped into one bottle, smelling fresh and exciting and ready to press play. Smell The Beat and feel a spring in your step, with bursts of pink pepper, Mandarin orange, and cardamom dancing alongside you with a grin on your face. That feeling of starring in your own music video as the world goes by? That's all but sponsored by The Beat.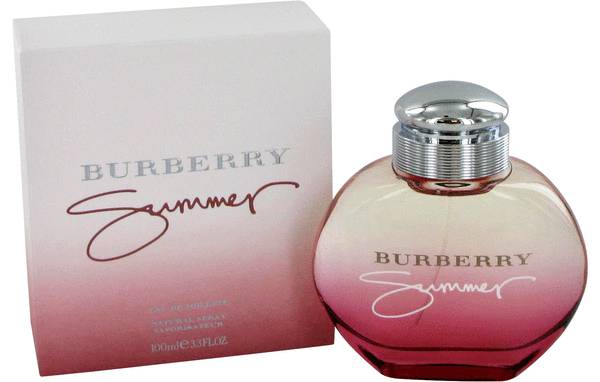 Light and subtle, Burberry Summer is the initial crack of sunlight as the morning breaks, or the first notes of your favorite song starting to play on the radio. This isn't a heavy scent — instead it's one that lets the rest of your personality do the talking while it hangs back, necessary but relaxed. 
Woody and floral, it's a fragrance best suited to daytime wear with its beautiful bouquet and occasional tangs of juicy pomegranate. You'll wear this as a safe choice on hot days — a memorable addition to your favorite fragrances that brings back memories of summers past whenever you spritz it. The best word to describe Burberry Summer would be "lovely." It's carefree as a summer breeze with its green leaves and airy hints of freesia.
Best Burberry Fragrances – In Summary
Floral, woody, spicy, or citrus: the beauty of Burberry is that it covers all ground. The world of Burberry perfume for women is like a castle hedge maze that you'll thoroughly enjoy wandering through. Let each scent work its magic while you slowly savor each aroma, one by one.
Shop for discounted Burberry perfumes and other iconic fragrance brands at FragranceX!
---
Eager to continue learning about the best perfume brands and scent notes? Read On:
Subscribe via Email
Get the best of FragranceX delivered straight to your inbox