15 Best Victoria's Secret Perfumes 2022
This powerhouse fashion brand has a booming fragrance line. Here are Victoria Secret's best perfume options
Victoria's Secret is alive and thriving in the perfume space. Though angel wings and bedazzled undergarments aren't everyone's cup of tea, crowds of women (and men) still love Victoria's Secret's fragrances. In fact, their Bombshell Eau de parfum is one of the best-selling fragrances in America. It's equally popular internationally (you didn't think it was a coincidence that there are so many Victoria's Secret stores at airports, did you?). 
What's so appealing about Victoria's Secret's scents as a whole is that whether you're opting for a fresh-and flirty fragrance or a sensual and seductive one, you're bound to discover one that smells enthralling. This is saying a lot, because Victoria's Secret has dozens upon dozens of eau de parfums, eau de toilettes, and mists.  
Here's a look at 15 of the best-smelling Victoria's Secret perfumes:
Naturally, we have to start with the bestselling Victoria's Secret Bombshell perfume. It's the most well-known Victoria's Secret fragrance. This is a fruity and floral scent that was created over a decade ago and, because it's an eau de parfum (versus a less concentrated eau de toilette), it has fantastic longevity both literally and figuratively! Notes include grapefruit, passionfruit, pineapple, strawberry, peony, jasmine, musk, and oakmoss. Even though this is an incredibly popular scent, the passionfruit and strawberry notes give it a unique touch. It feels young, fresh and, of course, sexy. This is perfect year-round and day-to-night because, while it may be called Bombshell, it's clean and fresh enough that it's appropriate for just about any situation. 
This amber vanilla scent is simple, clean, and perfect for any age. In fact, it's not only the best Victoria's secret vanilla perfume, it's one of the best vanilla perfumes — period. This is a warm, fluffy scent (think: a big hug!) with great sillage and longevity. Besides the vanilla note, expect some brown sugar and cashmeran to round out this perfect year-round scent.  
This is another standout gourmand Victoria's Secret fragrance, but it's more complex than Bare Vanilla. The vanilla and sweet notes are balanced out by floral and fruity ones. As you might imagine given its name, Tease, this VS perfume is a wonderful aphrodisiac scent for a first date. 
If you're looking for a great Victoria's Secret floral perfume, you can't go wrong with Very Sexy Now Wild Palm. It's a white floral with fruity, woody, and tropical notes. It's perfect when you're vacationing on an island — or stuck at home wishing you were jet-setting to one. Trust us: it's impossible not to see visions of coconuts and sand when you spray this on your body. 
The alluring Very Sexy Now scent delivers tropical vibes, but they're more seductive and sensual than Very Sexy Now Wild Palm. This scent leans toward oriental and spicy notes in addition to the expected floral and tropical hits. Very Sexy Now doesn't have the best longevity (not much longer than a body mist), so it's best layered with the corresponding body lotion. Save this scent for warm summer nights when you're on the prowl or out with a lover. 
A creamy, warm, musky floral, Heavenly is perfect for those evenings where all you want to do is kick back and de-stress. It also works for an exciting date night where you want to "play it cool." That's because this attractive fragrance smells a bit like you just came out of the shower — but amplified. Victoria's Secret scents all convey a transporting quality, but this one takes it to the next level. It uses notes like white musk, sandalwood, vanilla, and peony.
This is another standout Victoria's Secret floral perfume, because while it's floral and fresh, Crush also has soft, spicy notes that give it a well-rounded profile. The complexity makes it a little more grown up than other fragrances from the brand. If you're heading into a boardroom meeting, you can feel confident with this sprayed on your body. Notes of peony, pink pepper, and ashoka flower add a little mystery. 
You will love Victoria's Secret Love perfume. It feels warm and cozy and works just as well for men as it does for women as a day-to-night scent. Notes of juniper, apricot, and cotton flower, create a fragrance that's casual but buttoned up. It's great for brunch with friends, a day at the office, or any occasion when you're looking for something delightful, but not cloying. It's also appropriate for anywhere your days and nights take you, and it has the longevity to back it up. 
Love Star is an amber floral scent with notes of apple, white lily, and rum. It's intoxicatingly warm and cozy and has a unique je ne sais quoi thanks to its enticing rum note. This is a sweet scent, but not cloying. Plus, it has wonderful sillage and top-notch longevity. Wear Love Star in a crowd, and you're almost guaranteed to get a comment about it. This special juice is always a conversation starter.
If you're looking to attract the attention of a potential suitor, look no further than Tease Rebel. Its many fans rave that their significant other can't keep their hands off when it's sprayed on. With that said, it's much more "tease" than "rebel." Notes of leather, violet, and rose make for a fresh take on a run-of-the-mill floral. It's also surprisingly long-lasting, with a strong sillage given that it's on the lighter side. 
Launched in 2020, Bombshell Passion is a relatively new Victoria's Secret scent, but one that has quickly become a favorite. It's a floral fragrance with notes of cassis, peony, and rose. This perfume is beautifully blended, resulting in a warm and sweet feel that smells a lot more expensive than it actually is. Wear this cassis-dominant scent any time you're looking to impress. 
Dedicated to Paris — a city for love, life, and undeniable sex appeal — Bombshell Paris is a woody armomatic that you'll want to save for wild nights out. It has a unique combination of notes for a Victoria's Secret scent, including cypress, white cedar extract, oakmoss, and jasmine. For the price, it offers unbeatable longevity and silage, and will work just as well for women as it will for men. That said, this scent works best in the winter or in the fall, day or night. 
This day-to-night, summer-through-autumn white floral scent is heady without being overpowering. Notes of amber, vanilla, musk, jamine, rose, freesia, citrus, and orange blossom, work together to create a complex and inviting fragrance. As far as Victoria's Secret floral perfumes go, this is on the heavier side, so we love it for music festivals, concerts, and other crowded events. It lets the wearer stand out in the best possible way. 
If you're going for a free and effortless vibe, Xo Victoria Perfume is a beautiful option. It's a casual Victoria's Secret fragrance with notes of apple, rose, orchid, and wood for a touch of sex appeal (it's still a Victoria's Secret scent after-all!). Reach for this scent on those days where you're going for that "I didn't try hard" vibe, but you still want to make a good impression.
Love Me smells as posh as its bottle looks with its famed pouf atomizer. Main notes of neroli, French narcissus, and amber create a sexy but feminine juice that's versatile enough to wear year-round. It's best saved for after-dark hours given its sugary, warm scent profile. That said, it's not heavy but has long-lasting power.  
Summary
The great news for people looking for the best Victoria's Secret perfume is that you really can't go wrong with any of them. Whether you're looking at Victoria's Secret floral perfume options or Victoria's Secret vanilla perfumes — or one of their long list of other VS perfume options — you're in luck. They all manage to deliver an appealing juice that smells a lot more luxurious than the price tag would suggest.
Shop for your favorite Victoria's Secret perfumes and other top fragrance brands at a discount with FragranceX!
Want to learn more about the best perfume brands and scent notes? Read On:
---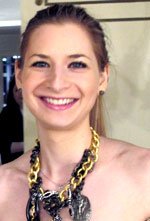 Sharon Feiereisen is a freelance writer who specializes in fragrance, makeup, wellness, health, skincare, and general lifestyle topics. Her work has been published in Time Out, Newsday, The Knot, Teen Vogue, Business Insider, Real Simple, and Hamptons Magazine among many other print and online outlets. When she's not writing about new, exciting fragrances, you can usually find her on an airplane or at a boutique fitness studio.
Subscribe via Email
Get the best of FragranceX delivered straight to your inbox
Related Posts
Aurelien Guichard and His Most Famous Perfumes
Aurelien Guichard was born in Grasse, the perfume capitol of the world.  You can say...