Mar 2, 2022
|
13 min Read
Best Perfumes Made & Worn by Celebrities of All Time
There are few choices in life quite as personal as perfume. So, when you're admiring your favorite celebrities and doing your best to emulate their styles, you'll definitely want to take note of their top scents.
You'll be pleased to hear that many of the best celebrity perfumes are worn by the celebrities who created them, bringing you one step closer to that stylish life of fame and luxury that most of us would love to attain.
We've rounded up all the best perfumes celebrities wear below, featuring not only the best fragrance from each celebrity but also their top picks — when they're not wearing their own scents, of course. 
What Is the Best Perfume Made and Worn by Celebrities?
The best perfume made and worn by celebrities is Rihanna's Reb'l Fleur. Some of the other best celebrity perfumes include Beyonce Heat Rush, Kim Kardashian Perfume, and Glow by Jennifer Lopez. These fragrances are all renowned for their unique blends, long-lasting power, and impeccable scents.
The list of the best perfumes worn by celebrities keeps on growing, as more artists and performers create their own delectable perfume lines. But not to worry — we've pulled together the best celebrity fragrances for every season and every occasion. Read on for all of the most delicious choices for your vanity top.
Much like the singer herself, Rihanna's perfumes are bold, powerful, and sensual. The best Rihanna perfume is also her most popular — Reb'l Fleur, a gorgeous patchouli scent bolstered with plump, juicy fruits. 
With hints of vanilla and sweet notes, this Rihanna fragrance is a brush of warm skin against your body, a lingering look over a passing shoulder, and a hypnotic spin that you can't quite take your eyes away from. Designed in the shape of a high heel, Reb'l Fleur is sophisticated and enticing — a constant source of flickering heat.
Similar to: White Diamonds Perfume by Elizabeth Taylor, Bright Crystal by Versace, Euphoria by Calvin Klein
What perfume does Rihanna wear?
Rihanna's favorite perfume is Kilian Love, Don't Be Shy, as revealed by Harper's Bazaar on Instagram. Celebrities often talk about how delicious Rihanna smells. And knowing this is her signature scent, we understand why!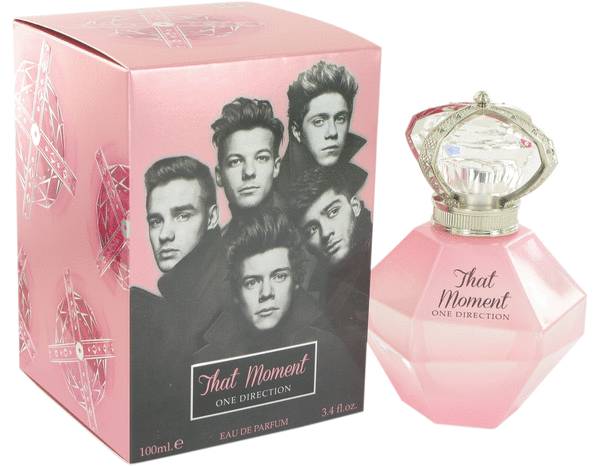 Youthful and fun, the best One Direction perfume brings to life the excitement of your favorite celebrity walking on stage or the first beat of a hit song played live in front of you. These celebrity fragrances are lighthearted and refreshing, soft and feminine with a giggle rather than a burst of laughter. 
Our Moment Perfume by One Direction is the brand's most popular scent. It's a fruity, woody, and floral blend of forest fruits, redcurrant, and pink grapefruit that's as reinvigorating as it is sharp. Base notes of patchouli and musk ensure this fragrance doesn't come off as too young. One of the best celebrity perfumes for men, too.
Similar to: Pink Sugar Perfume by Aquolina, Oscar Perfume by Oscar de la Renta, Eternity by Calvin Klein
What perfume does Harry Styles wear?
Harry Styles' favorite perfume is Gucci Mémoire d'une Odeur. He told Vogue Magazine that in addition to being the face of the fragrance, he wears it all the time, including to bed. 
The best Ariana Grande perfume is fun, sassy, and a little bit cheeky. It's just as friendly as the singer herself — a wide open smile and peals of laughter with a swish of the hair and a tap of high heels to finish. 
Cloud by Ariana Grande is a sweet, whimsical blend of lavender, pear, and bergamot served with a flourish of whipped cream and a shaving of coconut. It's translucent and wide-eyed, a powdery-soft second skin.
Similar to: Fantasy Perfume by Britney Spears, Dolce & Gabbana Light Blue by Dolce & Gabbana, Bright Crystal by Versace
What perfume does Ariana Grande wear?
Ariana Grande's favorite perfume is Neroli Portofino Acqua by Tom Ford. However, she's known for wearing a lot of different scents, including Viktor&Rolf Flowerbomb
Beyonce perfume is the perfect fusion of the Crazy in Love singer's personality: seductive, confident, and one of a kind. Choose Beyonce Heat Rush to emulate a similar personality, with a fruity, sweet, subtly tropical scent that's reminiscent of lengthy summer days surrounded by friends and laughter. 
A song in fragrance form, Heat Rush is the daytime version of the ever popular Heat perfume — the best celebrity perfume for sensual evenings. Choose Heat Rush for a blast of passionfruit, blood orange, and cherry that glimmers on the skin.
Similar to: White Diamonds Perfume by Elizabeth Taylor, Jimmy Choo by Jimmy Choo, Angel perfume by Thierry Mugler
What perfume does Beyonce wear?
Beyonce's favorite perfume is the ever-popular Emporio Armani Diamonds Intense, which she loves for its "soft, sweet, and comforting" smell. 
Taylor Swift perfume is cute and girly, a rom-com adventure with teenage love and pinned-up photographs of the past. Taylor Swift Wonderstruck is a memory of younger Taylor, infusing raspberry and blackberry-tinted innocence with blushing apple blossom and freesia. 
This ever-so-sweet perfume is most definitely youthful, playful in its approach with an ever-cheerful smile. Perfectly encapsulating your younger years, it'll have you dreaming about your favorite former crushes and those friendships you never thought would end. Buy for pre-teens to add a gentle sparkle.
Similar to: Juicy Couture by Juicy Couture, Burberry Body Perfume by Burberry, Someday Perfume by Justin Bieber
What perfume does Taylor Swift wear?
Taylor Swift's favorite perfume is Escada Moon Sparkle but she's also a big fan of Viktor&Rolf Flowerbomb and Tom Ford Santal Blush. 
Loud, proud, and sassy with a vibrant pink outlook on life: Nicki Minaj perfume comes bursting at the seams with its unique power. This is among the best celebrity perfumes to wear when you're heading out on a Friday night or gearing up for a tough conversation and you need a burst of energy and self-love. 
Pink Friday by Nicki Minaj is the singer's most popular fragrance, named after her first studio album and filled to the brim with fun, fruity top notes of Italian mandarin, starfruit, and boysenberry.
Similar to: Viva la Juicy Perfume by Juicy Couture, Euphoria by Calvin Klein, Angel perfume by Thierry Mugler
What perfume does Nicki Minaj wear?
Nicki Minaj's favorite perfume is Chloe Eau de Parfum. She once famously told InStyle Magazine: ""People always ask me what scent I'm wearing. I went a day without this (Chloe EDP), and I didn't get any compliments!"
There's no celebrity perfume with an appeal quite like Kim Kardashian's. Designed to impress with awe-inspiring character, Kim Kardashian Perfume by Kim Kardashian highlights the pure magic of scent, sexuality, and femininity. 
Light and subtle, Kim Kardashian blends white floral notes of tuberose and gardenia with a light brush of spices and a strong, musky undercurrent. It's addictive and mesmerizing, like a new obsession you can't take your eyes off. Intriguing and layered, this is one of the best celebrity perfumes for women looking to dazzle.
Similar to: Elizabeth Arden Red Door Perfume by Elizabeth Arden, Obsession Perfume by Calvin Klein, Cool Water by Davidoff
What perfume does Kim Kardashian wear?
Kim Kardashian's favorite perfume is Michael by Michael Kors. She mostly wears her own fragrances, having perfected a custom line for every occasion but, when wearing a different scent, she often chooses white floral notes like tuberose and jasmine. 
Fantasy Perfume by Britney Spears is a celebrity fragrance that never gets old. A quick spritz reveals a fast-paced slideshow of glittering memories, softly tinted with a tropical blend of kiwi, litchi, and golden quince. 
Fruity, floral, gourmand, and just a little sexy, Fantasy is a whirlwind of a fragrance with a provocative heart, designed to steal the show and anything that follows. It's a wonder — an eye-catching and heart-pulling jasmine and white chocolate blend that's impossible to forget.
Similar to: Lolita Lempicka Perfume by Lolita Lempicka, Still Perfume by Jennifer Lopez, 5th Avenue Perfume by Elizabeth Arden
What perfume does Britney Spears wear?
Britney Spears' favorite perfume is Fantasy – Britney Spears. The singer adores her own fragrance line and often talks about it on Instagram. She's also known for wearing Estee Lauder Beautiful and Dolce & Gabbana Feminine.
Not only is Glow Perfume by Jennifer Lopez one of the best celebrity perfumes, it's also one of the best perfumes all round.
Released back in 2002, Glow is soft and floral, white petals dreamily drifting through the wind, brushed with a musky edge and a lemon-yellow tint of citrus fruits. This record-breaking fragrance is clean and powdery, offering a soft, ethereal glow.
Similar to: White Diamonds Perfume by Elizabeth Taylor, Lovely Perfume by Sarah Jessica Parker, Dolce & Gabbana Light Blue Perfume by Dolce & Gabbana
What perfume does Jennifer Lopez wear?
Jennifer Lopez' favorite perfume is Plum Japonais by Tom Ford. However, she also wears her own fragrances frequently and says that her Promise scent, makes her feel sexy and strong.
Jennifer Aniston's perfume covers a lot of ground, ranging from the girl-next-door comforting floral scents to the daring and vivacious evening-time essentials. Chapter One by Jennifer Aniston leans towards the former — a laid back California lifestyle, barefoot in the sand and hair wild in the breeze.
Chapter One is floral and musky, a golden hour in scent form, bringing together fragrance staples like pink pepper, bergamot, and orange blossom with location-specific notes like Grapevine Flower, a white flower found throughout California's wine country.
Similar to: Ombre Rose Perfume by Brosseau, Shalimar Perfume by Guerlain, Our Moment Perfume by One Direction
What perfume does Jennifer Aniston wear?
Jennifer Aniston's favorite perfume is Anais Anais L'Original Perfume by Cacharel and, when she's not wearing that, she opts for other classic floral scents.
Much like Lady Gaga herself, the Fame singer's perfume is boundary-pushing and all round unusual. Fame Black Fluid Perfume by Lady Gaga is innovative and daring, blending poisonous Belladonna flower and incense with sensual honey, saffron, and apricot. 
This is a "you can look but can't touch" fragrance, one that wraps itself like a vine around your body, whispering gently in your ear with an invisible and untouchable force. It's the closest thing you'll find to magic in perfume form — one of the best celebrity perfumes purely for its unique and captivating qualities.
Similar to: First Perfume by Van Cleef & Arpels, The One Perfume by Dolce & Gabbana, Cabotine Perfume by Parfums Gres
What perfume does Lady Gaga wear?
Lady Gaga's favorite perfume is Womanity by Thierry Mugler, a scent just as captivating as the star herself.
Adam Levine Perfume by Adam Levine is rich and warming, a top celebrity fragrance with a long-lasting ability that seems to invigorate the skin the longer you wear it. Almost smokily soft, this creamy celebrity perfume is a seasonless favorite: one that works just as well on fresh summer mornings as it does as a winter warmer. 
Spicy, woody, and subtly vanilla, this celebrity perfume fuses together marigold, saffron, and citrus notes into a bottle that excels as a standalone bottle and stuns when layered with other scents (especially tropical ones). It's among the best celebrity perfumes to wear year round.
Similar to: Fantasy Midnight Perfume by Britney Spears, Provocative Perfume by Elizabeth Arden, Alien by Thierry Mugler
What perfume does Adam Levine wear?
Adam Levine's favorite perfume is Yves Saint Laurent Beauté's Y Eau De Parfum. He's been the face of the fragrance since 2018 and loves it for its individuality.
Selena Gomez perfume is pretty and preppy. It's freshly washed laundry, bright white trainers, and just-out-of-the-shower clean hair. It's youthful and endearing, sparkling lip gloss and coordinating clothes worn with a sense of pride. 
Selena Gomez Perfume by Selena Gomez follows a similar train of thought. It's a fruity, floral blend of pineapple, raspberry, peach, and orange that sings and dances with a rainbow of ribbons. This girly scent is a brilliant, optimistic, mood booster of a celebrity perfume.
Similar to: Oscar Perfume by Oscar de la Renta, Paloma Picasso Perfume by Paloma Picasso, Tresor Perfume by Lancome
What perfume does Selena Gomez wear?
Selena Gomez' favorite perfume is Marc Jacobs' Daisy, a scent she's been linked with many times before.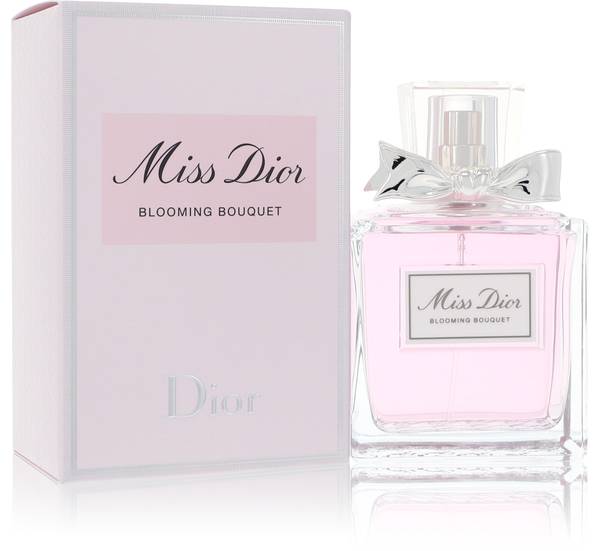 Natalie Portman might not officially have her own fragrance line, but she's associated so closely with Christian Dior's Miss Dior that it might as well be her own beautiful brand. Delicate and soft-edged with a stronger undercurrent that mostly stays hidden, Miss Dior (miss Dior Cherie) is a defiant glance at authority and a determination to stick to one true path. 
It's fruity, sweet, and woody — a slightly edited revisit of an old favorite fragrance with a modern approach to match. Strawberry, Mandarin orange, and rose form the unbeatable girl gang.
Similar to: L'air Du Temps Perfume by Nina Ricci, Mitsouko Perfume by Guerlain, Stella Perfume by Stella Mccartney
What perfume does Natalie Portman wear?
Natalie Portman's favorite perfume is Miss Dior Blooming Bouquet Eau de Parfum. She became the face for the perfume back in 2011 and has been associated with the fragrance ever since.
Learn more about this popular scent in our Miss Dior Perfume Review: What You Should Know
Celebrity Scents – In Summary
The best-smelling celebrity fragrances cover a lot of ground, from the soft and gentle to the hard-hitting and domineering. It doesn't matter what sort of scent you're looking for or for what sort of occasion, you'll find a huge range of the best celebrity perfume bottles here at FragranceX.
For more perfume information, read on:
---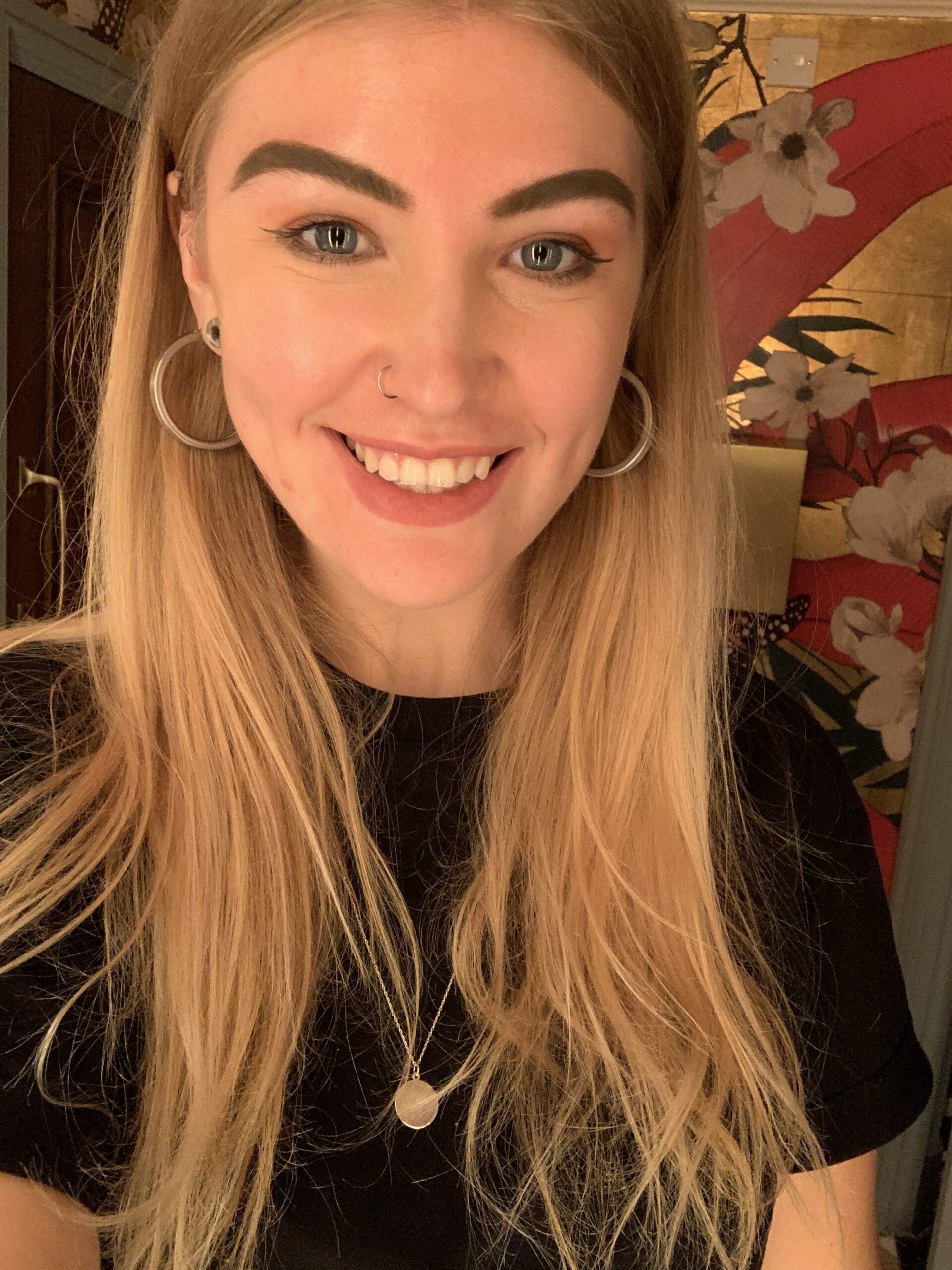 Georgie Darling is a freelance lifestyle and travel writer from London, England. Her work has been published in Grazia, HuffPost, YAHOO!, Culture Trip and Fodor's amongst others. When she's not writing, Georgie spends most of her time travelling to new countries and scuba diving. She's been an avid fragrance lover since a young age and considers Alaïa by Alaïa Paris to be her signature scent.
Sources: 
Rihanna – https://www.myimperfectlife.com/news/rihanna-favorite-perfume 
Harry Styles – https://www.vogue.co.uk/gallery/celebrity-fragrances 
Ariana Grande – https://celebanswers.com/what-perfume-does-ariana-grande-wear/ 
Beyonce – https://www.cheatsheet.com/entertainment/what-is-beyonces-favorite-perfume-and-where-can-fans-buy-it.html/ 
Taylor Swift – https://celebanswers.com/what-perfume-does-taylor-swift-wear/ 
Nicki Minaj – https://www.theperfumegirl.com/perfumes/fragrances/chloe/chloe-perfume/ 
Kim Kardashian – https://celebanswers.com/what-perfume-does-kim-kardashian-wear/ 
Britney Spears – https://www.instyle.com/celebrity/britney-spears-perfume-billion-dollar-business and https://style.nine.com.au/latest/britney-spears-fantasy-perfume-best-celebrity-fragrance-tiktok/20b6bca5-7837-4f6f-8b32-7b8fe8a44736
Lady Gaga – https://thecandyperfumeboy.com/2013/08/19/scent-a-celebrity-series-artsniff-scenting-lady-gaga/ 
Adam Levine – https://celebanswers.com/what-cologne-does-adam-levine-wear/ 
Selena Gomez – https://www.mtv.com/news/m4jr9d/selena-gomez-fragrance
Natalie Portman – https://www.allure.com/story/natalie-portman-skin-care-makeup-fragrance-interview
Subscribe via Email
Get the best of FragranceX delivered straight to your inbox
Related Posts
Nov 27, 2023
|
4 min Read
Best Incense Perfumes
From the beginning of civilization, it was believed that the only the smoke of incense could...