Miss Dior Perfume for Women: What You Should Know
Everything to know about Christian Dior's iconic signature fragrance Miss Dior
The holiday season always brings a bevy of new scents. No surprise there — perfume is one of the most sought-after gifts to give and receive. With that in mind, Christian Dior's Miss Dior Eau de Parfum is trending heavily, thanks to its jaw-dropping ad with Natalie Portman and a showstopping blend of inviting floral notes. This is an exciting amber floral from master perfumer Francois Demachy.
Actress and director Natalie Portman has been the face of the French luxury house's signature floral fragrance since 2011. That's when Miss Dior Chérie was released. Portman features in both the print and TV ad campaigns.
What Is Miss Dior Perfume?
Miss Dior Eau de Parfum is love, fun, and adventure in a gorgeous flacon. Notes of iris, peony, lily of the valley, and rose take your hand and lead you on a breathtaking romp. Meanwhile, apricot, peach, and vanilla add an oh-so-sweet longing. As the scent blossoms on your body, tonka bean, musk, sandalwood, and benzoin add just enough mystery to keep your admirers guessing.
This is a more accessible Miss Dior fragrance than the chypre floral original, which famously features notes of patchouli, musk, rose, Egyptian jasmine, and Italian mandarin.
The new Miss Dior bottle is an old friend to those who know and love the iconic original scent. Just in time for the holidays, the new offering is finished with an haute couture-inspired bow around the bottle's neck. 
The Face of Miss Dior: Natalie Portman!
The wow-getting Miss Dior commercial you've seen features Natalie Portman frolicking in a flutter of lush, natural scenes. There are refreshing feelings of freedom, love, hope, fantasy, and nature, along with a general range of intense emotions and, of course, flowers — lots, and lots and lots of flowers!
The hugely successful commercial (it has been viewed over 75 million times!) begins when the actress says "wake up!" — set to Janis Joplin's classic cover of "Cry Baby." Portman wears a stunning Dior Haute Couture gown designed by Dior creative director Maria Grazia Chiuri. The "millefiori" dress is similar to other floral-inspired ones she's worn in past Miss Dior campaigns. The commercial ends with Portman asking "And you, what would you do for love?"
Miss Dior Review – Does It Live Up to the Hype?
Now on to the big question — Is this Miss Dior perfume as good as the ad? In a word, yes! It's warm and inviting, a burst of thousands of flowers on your skin. Such a classic scent, it will quickly become your absolute favorite perfume. A little goes a long way, turning heads and delivering showers of compliments every time you spritz.
The new Miss Dior perfume for women is also a wonderful gift — but surprise! It's far from the only Miss Dior fragrance worth gifting. 
Keep reading for a look at the five best Miss Dior fragrance options on the shelf. The best part? You can buy all of them at discounted prices, right now. 
5 Best Miss Dior Perfumes by Christian Dior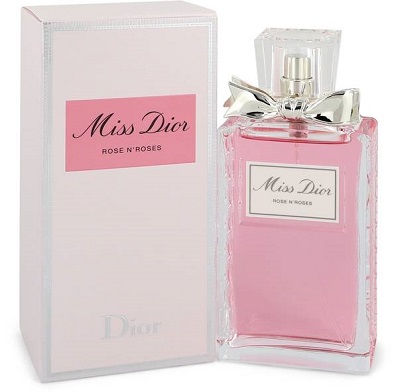 Launched in 2020, Rose N'roses is one of the latest Christian Dior perfume launches. It's a fresh floral scent that, true to its name, goes heavy on exotic varieties of roses. Standout notes of geranium, bergamot, and Italian Mandarin whisk you away to an overseas garden. Grasse rose, damask rose, and white musk beautifully balance light powdery accords with fresh, musky ones. This refreshing scent, while not groundbreaking, is an all-around people pleaser that makes a cherished gift for a woman of any age. Refreshing, light, and comfortable, it works particularly well in warmer months and during the daytime. It's also worth highlighting that this fragrance is very long lasting. For more of the best long-lasting fragrances, read on in our Best Long-Lasting Perfumes guide.
Recommended related fragrances: Hypnotic Poison Perfume By Christian Dior, 24 Faubourg By Hermes, Lacoste Pour Femme By Lacoste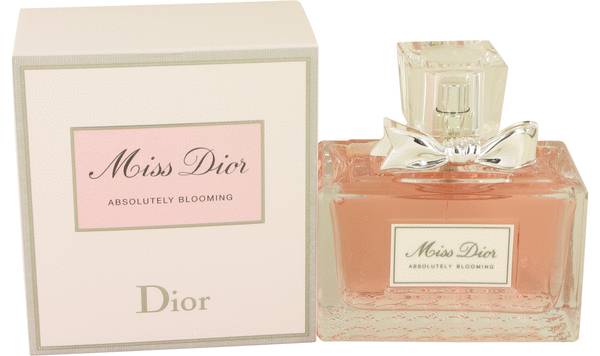 All Miss Dior perfume options are frilly and feminine, but this one is especially girly. Miss Dior Absolutely Blooming, true to its vibrant pink hue, is perfect for a teenager or pre-teen looking for something appropriate to wear anytime of day. This Dior fragrance shines in school and year-round. It's a floral and fruity scent with notes of pomegranate, pink pepper, and raspberry to tempt your passions. Black currant, may rose, peony, and white musk get your pulse racing. This is an upbeat, exuberant scent designed to navigate the ups and downs of everyday life. Miss Dior Absolutely Blooming also has great projection and sillage, so it lingers well on your skin. 
Recommended related fragrances: Dune By Christian Dior, Black Opium Perfume for Women by Yves Saint Laurent By Yves Saint Laurent , Oscar By Oscar De La Renta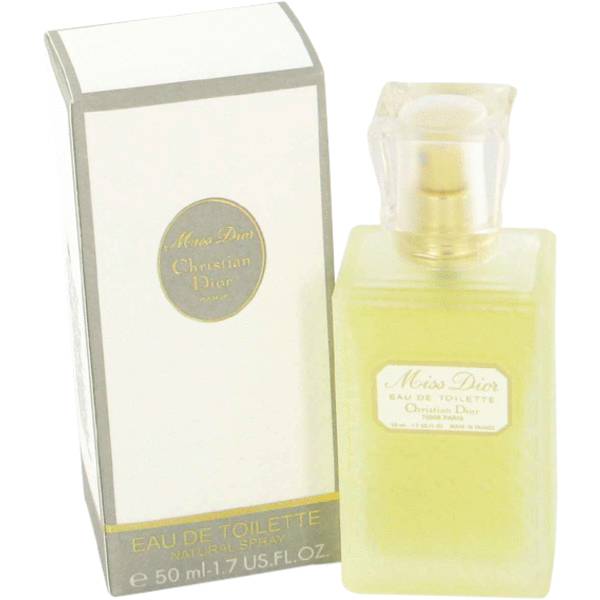 Miss Dior Eau de Toilette Originale is guaranteed to show up in any list of the best Miss Dior fragrance. This reformulation of the original Miss Dior Eau de Toilette from 1947 is a chypre floral fragrance. Launched in 2011, it created lots of buzz thanks to sharp and crisp notes that contrast the classic and floral ones most associated with the Miss Dior brand. If you're looking for something more than just a straightforward, run-of-the-mill floral with wide-reaching appeal, this eau de toilette is a breathtaking option. Notes of galbanum, jasmine sambac, and patchouli create a fresh scent that excels in the daytime and year-round. This is a much lighter version of the Miss Dior Eau de Parfum it's inspired by. 
Recommended related fragrances: Hypnotic Poison By Christian Dior, Miss Dior Blooming Bouquet Perfume By Christian Dior, Escada Magnetism By Escada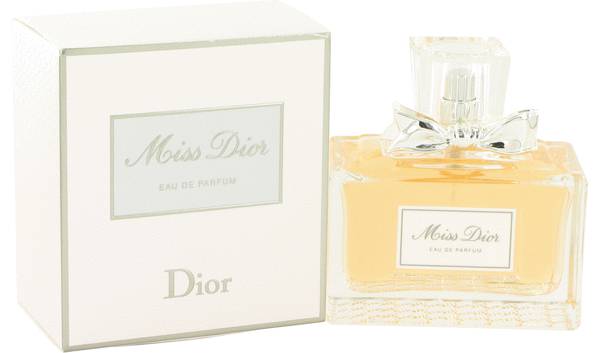 This Miss Dior perfume for women was launched in 2011 as a new, more subtle version of Miss Dior Cherie eau de parfum — originally launched in 2005. It created a huge splash with its glossy ad campaign fronted by Natalie Portman, and remains a popular scent today. The chypre fruity fragrance blends notes of strawberry, rose, mandarin orange, jasmine, patchouli, sandalwood, amber, oak moss, and vetiver. This scent is what signature scents are made of. Many women say they first received this as a gift in high school and years later, they still wear it. It's pretty and  feminine, but also fun and flirty, making it a versatile year-round option. 
Recommended related fragrances: Angel Eau Sucree By Thierry Mugler,  Flowerbomb Perfume By Viktor & Rolf , Jean Paul Gaultier Perfume By Jean Paul Gaultier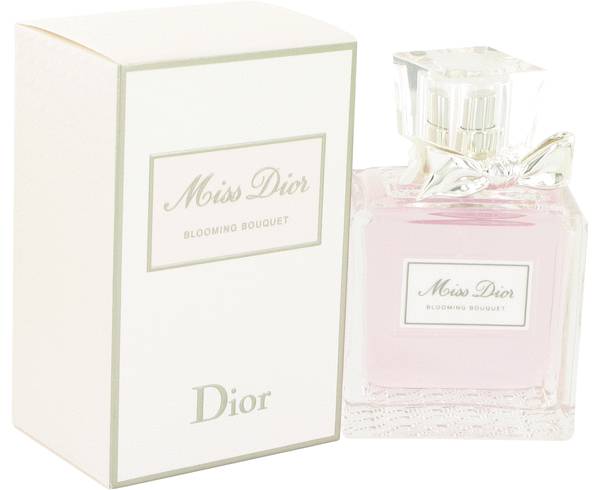 Given its name, it should come as little surprise that Miss Dior Blooming Bouquet is a fresh floral scent that will leave you smelling like a bouquet of flowers. But don't be alarmed, this is an eau de toilette, so it's light. Despite an abundance of floral notes, there's nothing too overpowering in this enticing juice. Notes of pink peony, damask rose, apricot, and peach give it zest. Meanwhile, Sicilian mandarin and white musk add complexity, making it a popular year-round go-to for many women. Natalie Portman's ethereal and delicate image are the perfect face for this scent. The pink hue of the juice is fitting and adds a nice touch on a vanity. As for the bottle itself, it's the classic Miss Dior shape accented with a decorative silver ribbon-style bow. This is a beautiful fragrance for a warm day. Not as long-lasting as some of the other Miss Dior options. 
Recommended related fragrances: Flowerbomb By Viktor & Rolf, Flora Gorgeous Gardenia By Gucci, Alien By Thierry Mugler
Miss Dior – In Summary
When it comes to the Christian Dior brand's Miss Dior perfume, you really can't go wrong with any of the choices above. Any entry on the list makes the perfect all-around crowd-pleasing gift. We can all use some floral freshness this time of year when we want to pretend it's summer! Miss Dior perfumes for women are floral classics that work across generations and lifestyles. As you saw in the latest Natalie Portman commercial, they spark a range of exuberant emotions to help escape the daily grind.
For more information on the best scent notes and perfume brands, read on:
The Best Perfumes for Teenage Girls Ever
Best Summer Perfumes of All Time
Best Fall Perfumes of All Time
Best Spring Perfumes of All Time
Best Winter Perfumes of All Time
Best Annick Goutal Perfumes of All Time
Best Ariana Grande Perfumes of All Time
Best Victoria's Secret Perfumes of All Time
Best Mancera Perfumes of All Time
Best Montale Perfumes of All Time
Best Aquatic Perfumes of All Time
Best Tropical Fragrances of All Time
Best Honey Perfumes of All Time
Best Long-Lasting Perfumes of All Time
The Most Expensive Perfumes in the World
Men's Colognes that Women Love
Iconic Perfume Quotes Any Fragrance Lover Will Appreciate
---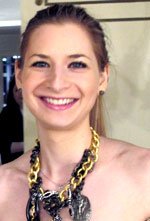 Sharon Feiereisen is a freelance writer who specializes in fragrance, makeup, wellness, health, skincare, and general lifestyle topics. Her work has been published in Time Out, Newsday, The Knot, Teen Vogue, Business Insider, Real Simple, and Hamptons Magazine among many other print and online outlets. When she's not writing about new, exciting fragrances, you can usually find her on an airplane or at a boutique fitness studio.
Subscribe via Email
Get the best of FragranceX delivered straight to your inbox