Feb 11, 2020
|
3 min Read
Our Favorite Winter Fragrances You Can Spritz into Spring
The cold, dreary nights of winter can feel never-ending, but spring is finally on the horizon. As the days get longer, find a fragrance that can warm up those last winter nights and keep you feeling fresh into spring days. To get you started, we've compiled our favorite winter fragrances to help you beat the winter blues and gear up for spring!
You'll Love These Winter Fragrances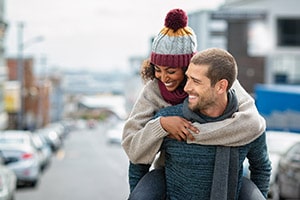 Shopping for a fragrance to wear in winter weather opens up your possibilities. Spicy and warm scents, which can feel overwhelming in the heat of summer, are alluring and cozy in the cold air. Still, you can keep things a little more mysterious by blending these classic notes with fruity, earthy, citrus, and woodsy accords. Not only will it keep everyone guessing, but it will also make your winter perfume or cologne versatile enough to last all season long. If you're on the hunt for a signature scent to fit your vibe, look no further than these top winter fragrances.
Winter Fragrances for Women
Winter Fragrances for Men
Whether you're drawn to a winter scent that features a spicy blend of peppercorn and nutmeg, fresh accords of orange blossom and geranium, or one with earthy and musky base notes, you're sure to find it at FragranceX! With fragrances from the top perfumers, at the best prices, there's something for everyone. Check out our selection of the hottest fragrances for men and women to find one that compliments you!
Subscribe via Email
Get the best of FragranceX delivered straight to your inbox