Oct 28, 2021
|
6 min Read
How To Ship Perfume in the Mail
Perfume is one of the top beauty products sold online, but shipping it can be a challenge because of its fragile containers and tricky ingredients. After looking at all of the rules and regulations put in place by most mailing services, shipping perfume can seem like a daunting task. Fortunately, with some research and understanding of carrier guidelines, you can expect your perfume to reach its destination safely.
Below you will discover how to ship perfume, package it correctly, learn the different mailing service guidelines, and ultimately get it to its final destination safely. Whether you're shipping your signature scent to yourself or sending a gift set to a friend, we've with these tips and tricks shipping perfume will be a breeze.
Can You Ship Perfume in the Mail?
Although many individuals wouldn't consider perfume a hazardous liquid, it falls into the "Dangerous Goods" category of most carriers. Most contain alcohol which can be extremely flammable under certain temperature and pressure changes during travel. This factor can make it more difficult for mailing services to deliver fragrances to their final destination safely. With this in mind, carriers include strict instructions on how to safely send these products across the country.
When shipping perfumes, there are several steps someone needs to take in order to get your fragile goods to their landing place in one piece.
First, look at the perfume ingredients to determine which type of transportation options are available.
Next, research the shipping regulations and labeling requirements of your desired destination. Many countries have rigid policies against accepting fragrance products from other countries.
Lastly, be sure to gather all of the items you need to package your items correctly to avoid breakage.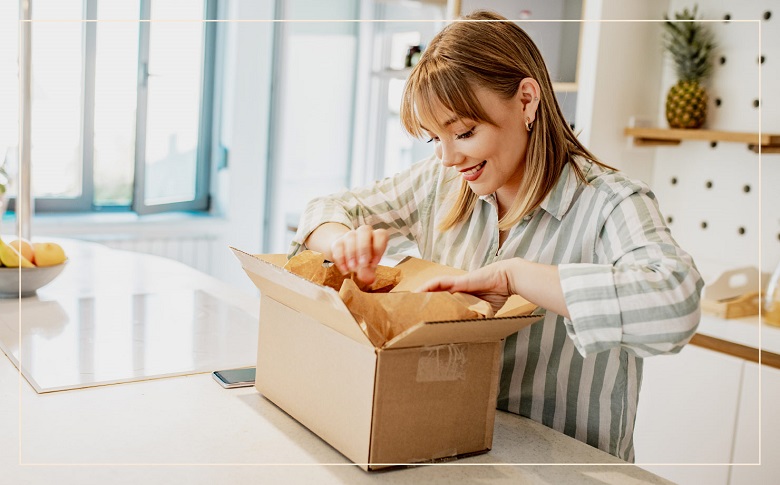 How To Ship Perfume USPS (Rules)
USPS is a great option for small lightweight items with a mix of affordable rates and delivery times. Along with the other carriers, they have their own set of rules for how to carefully transport your delicate items.
Any fragrance item containing alcohol can only ship domestically and cannot ship internationally because of USPS restrictions.
If there are more than 4 ounces of liquid, there are several steps to the packing process. The original container needs to be wrapped in padding, then put inside a leak-proof container, and finally put into a larger outer box.
Perfumes can only be shipped using ground transportation and cannot be shipped using air transportation.
How To Ship Perfume FedEx (Rules)
FedEx has very similar packing and shipping standards to other standard mailing services on the market.
Leak-proof containers with a sealable lid are required while shipping fragrances, and each item must be wrapped individually in padding.
A durable and secure box needs to be used for fragile items to prevent the breakage of perfume bottles.
The sender must properly identify and classify all dangerous goods on their packaging label for all liquids containing hazardous ingredients.
Each package needs to include absorbent materials on the inside of the container.
How To Ship Perfume UPS (Rules)
If you don't want to go through the USPS, you can ship perfume via UPS.
UPS is a great option if you are sending multiple bottles of a fragrance in one shipping container. This is because they have some of the best options for delivering heavy and large packages.
UPS shippers may be required to provide a contract stating that they are in compliance with all ADR regulations when shipping any product deemed to be a dangerous good.
Packages must be properly sealed to prevent leakage, contents must be secured inside the package, and stay within the allowed quantity limits.
No matter what carrier you decide to use to transport your goods, it is important to check all of their regulations before shipping to guarantee your shipment will arrive at its final landing place.
How To Ship Perfume Internationally
There are extra restrictions when it comes to international shipping compared to domestic. Unfortunately, any fragrance that contains alcohol cannot be shipped overseas because all mailing services only provide ground transportation for these products. As stated earlier, this is because alcohol is a hazardous item that makes it unsafe to travel by air for carriers.
This can be a big inconvenience to people trying to send perfume gifts to another country, but there are other alternatives. If you are not willing to hand deliver your perfume using a perfume atomizer to pass TSA restrictions there are still some extra alternatives.
Thankfully, there are some alcohol-free perfumes on the market that are perfectly safe to deliver internationally. It is the alcohol and not the perfume itself that gets it placed on the dangerous items list, which means without this element you are free to send perfume abroad.
Another option if you still want to send a lavish perfume that contains alcohol is to send it straight from the distributor's website. Many brands are licensed to send internationally because they have been certified to safely pack and ship these types of items.
How To Pack Perfume For Safe Shipping
Properly packing your perfume for shipping is a vital step in ensuring that your perfume remains safe while in the mail. Most perfume products come in glass bottles because they don't absorb the scent molecules like plastic does. This can lead them to easily shatter in transit making it of paramount importance that you package your products correctly.
Below are some ways to ensure that your expensive cologne is delivered in one piece.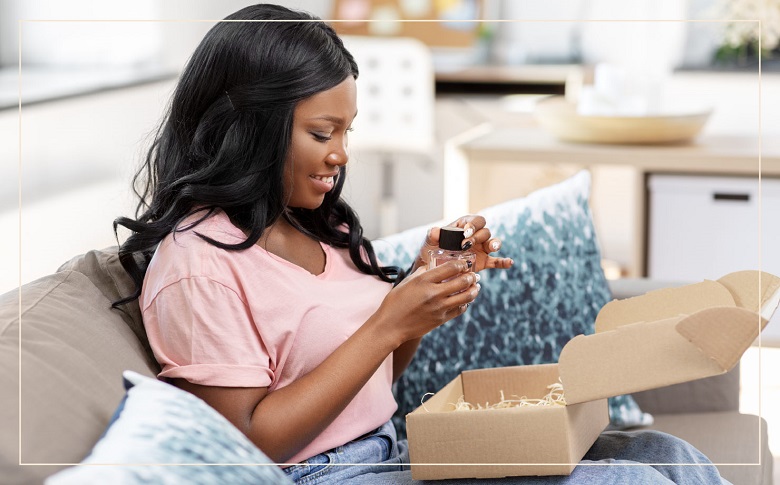 Package Your Perfume Properly
Bubble wrap
Duct tape
Cardboard box
Packing material (newspaper, styrofoam, etc.)
Sealed and leakproof container
Packing Instructions
Start by wrapping each bottle individually in four to six layers of bubble wrap and wrap the layers in sturdy tape to make sure your perfume is stored securely. Put the protected bottle in a sealed container to protect it from potential leaks. Next, find a box that offers four inches of space around the container and add a layer of packing material beneath and around the original box. Finally, add the correct labeling and symbols to your box for shipping.
Use strong and reliable packing tape.
Use two boxes that are different sizes to prevent breakage.
Fill boxes with packing material and wrap bottles in bubble wrap.
Include absorbent material in your box in case of spills.
Although it can be more complex to figure out how to ship perfume compared to other items, with the proper precautions you can ensure your beauty product has a safe shipment. With these tips and tricks you will be able to deliver your fragile gifts every time with ease.
If you would rather skip the inconvenience of sending perfume yourself, then check out our vast selection of discounted fragrances that can be shipped directly to you or your loved ones from our stores at a fraction of the price.
If you're trying to decide what perfume to buy, check out these guides on the hottest perfume brands and scent-types:
Best Affordable Perfumes of All Time
Best Fall Perfumes of All Time
Best Annick Goutal Perfumes of All Time
Best Burberry Perfumes of All Time
Best Victoria's Secret Perfumes of All Time
Best Mancera Perfumes of All Time
Best Montale Perfumes of All Time
Best Aquatic Perfumes of All Time
Best Tropical Fragrances of All Time
Best Miss Dior Perfumes of All Time
Best Musk Perfumes of All Time
What is Oud? What Does Oud Perfume Smell Like?
Iconic Perfume Quotes Any Fragrance Lover Will Appreciate
Subscribe via Email
Get the best of FragranceX delivered straight to your inbox