Jan 11, 2022
|
9 min Read
14 Best Carolina Herrera Perfumes of All Time
This article was updated a republished on January 11, 2022
Intricate, suave leather. Rich, intense spices, Light, dainty florals. When it comes to producing fragrance, Venezuela-born designer Carolina Herrera has all grounds covered. With more than 100 timeless, luxurious fragrances under her belt, many of which are considered worldwide best sellers, it's fair to say that discovering the best Carolina Herrera perfume is a marathon rather than a sprint.
Each unique blend produced by the brand comes with its own distinctive characteristics, with masterful aromas and premium bottles designed to leave an impact. Buy a Carolina Herrera fragrance and rest assured that you'll leave the house smelling incredible, no matter the bottle or the occasion. Read on for our roundup of the best Carolina Herrera perfume for women. 
What is Carolina Herrera Perfume?
Carolina Herrera perfume is feminine and lively, with plenty of jasmine, tuberose, and sandalwood notes. Carolina Herrera scents are classy and personal and have been popular since they first launched in the 1980s. While these fragrances may cover a lot of ground, each bottle is sensual and elegant.
Here's a list of the greatest perfumes for women by Carolina Herrera: 
Most Popular Carolina Herrera Perfumes for Women
Carolina Herrera by Carolina Herrera is a staple. It's the orange blossom that slowly floats from the trees during your morning commute, or the waft of jasmine as you first leave your front door. It's a white floral fragrance in an impeccable arrangement that even the most senior of florists would envy. Bringing together a meticulous combination of Brazilian rosewood, Indian tuberose, and honeysuckle, Carolina Herrera by Carolina Herrera brings together a world of opportunity, collated in one deliciously fresh bottle. A classic and easygoing perfume, it's best worn on spring or summer mornings when the sun peeks through the clouds.
Carolina Herrera Good Girl is anything but. Charming and sexy, it's a contrasting bottle with a larger-than-life character and plenty of surprises. This unique fragrance dances on both sides of femininity, drawing together the good and the bad with a musical array of notes spanning gourmand almond and freshly ground coffee to intense cinnamon and comforting patchouli. Filled to the brim with warmth and sex appeal, Good Girl comes infused with its own special power that promises an instant re-buy after you've exhausted its initial powers. Wear for first dates or stylish nights out.
212 Sexy is a sultry unspoken word or a longing look, a powdery, sweet, amber-based fragrance that proves once and for all that scent is the most seductive sense. Deep and balmy with a whisper of vanilla and a caress of rich chocolate, this evocative perfume by Carolina Herrera is a sophisticated request or a seductive demand. It's everything its name suggests — a pink pepper invitation, a violet-hued shadow dancing in the light, and a hefty dose of creamy, spicy notes to pull it all together. It's the best Carolina Herrera perfume for all kinds of evening occasions, particularly when you're looking to leave a lasting impression.
Chic is weekend shopping trips and stylish brunches, accentuated with a glass of your favorite wine and some very Instagrammable dishes. It's artful presentation, curated design, and a never-failing sense of security all rolled into one. This floral fragrance dazzles with its subtle power, one you'll struggle to pinpoint but will never doubt. Tuberose, sandalwood, and musk ensure some familiarity at the depth of this bottle, most suited for career-orientated women for morning meetings or late Fridays. Potent and intense, it's one that encourages you to take up space wherever you go.
CH is the globe that never stops softly spinning. This chic, stylish fragrance warms like the sunshine from the beginning, before paving the way for deeper notes. It's a journey in a bottle, with vibrant oriental scarves, dark, leather notes and hints of tropical coconut playfully chasing each other's footsteps from one continent to the next. While this might sound overpowering, it's so creatively blended that the effect is exciting rather than over-stimulating. CH is revitalizing and captivating, a bottle that keeps on giving. For those who stick to a monochrome wardrobe, consider CH as the crucial splash of color. 
Red carpets and fine champagne have nothing on the power that 212 VIP oozes when it enters a room. A Carolina Herrera vanilla perfume for those who take no prisoners and know exactly what they want from life, 212 VIP is an intense, powerful, and stylish fragrance that never second guesses itself. A vanilla-heavy scent, its artful blend of rum, passion fruit, and tonka bean ensures a perpetual mood of not just beautiful fragrance but also confidence. It's one of the best Carolina Herrera perfumes for parties, with an exciting, luxurious, and all-round playful approach to life. 
Herrera Tuberose is exotic and elegant, gold-brushed on the outside and filled with deep, rich orange flowers and vanilla on the inside. Perfect for whisking you away on sunny vacations, this Carolina Herrera fragrance is creamy and smooth, a thick smudge of tuberose with dainty petals framing its borders. Jasmine and ylang ylang offer a tender smile, encouraged with sweet base notes of opulent vanilla. Its white floral heart ensures this fragrance in its position as a daily favorite, most enjoyed on warm spring mornings or day-to-day workwear. An ever-so-gentle kick of pepper leaves a pleasing impression.
Sandal Ruby is a just-brushed gem, gleaming with a confident and proud shine that's welcoming and heart-warming. This spicy, woody fragrance walks briskly in high-heeled shoes leaving nothing but a haze of sweet cinnamon and smooth sandalwood behind. It's a unisex fragrance that leans towards the feminine end of the spectrum, with a contrasting blend of black pepper, geranium, and atlas cedar that'll remind you of tanned skin glistening with oriental oils. Beautiful, mature, smokey, and exclusive, spritz Sandal Ruby as your own form of medicine for a soft, velvety fragrance that fuses the gap between comforting and sharp. One of the most fitting perfumes by Carolina Herrera for adding mystery to your life.
Bergamot Bloom is citric and aromatic, a fragrance that spins a story edged with freshly plucked flowers and a quick squeeze of fruit. It's a stunning floral-fresh creation that glows with life, a sunbeam on a cloudy day spiced up with pink pepper and ginger. This potent Carolina Herrera perfume sticks around on the skin for hours, a new favorite song heard on the radio that you sing over and over in your head. An underrated Carolina Herrera perfume, Bergamot Bloom promises to captivate anyone with its youthful smile. This is the best Carolina Herrera perfume for teens, twentysomethings, and the young at heart.
CH L'eau is cooling and refreshing, a reassuring burst of cold air after the heat of a long summer day. Leaning towards the masculine end of a "for her" fragrance, CH L'eau is simple and clean, a brilliant everyday staple that you'll appreciate most in the springtime. Fusing together lemon, blood orange, and Tunisian neroli, this is a bottle with a deep heart that makes itself comfortable without revealing its full personality instantly. Base notes of atlas cedar and patchouli calmly sit themselves down, content without a proper introduction. Aromatic, herbal, and clean, you'll rush for this bottle first thing in the morning, fresh out the shower.
CH Privée is loud and proud — the sultry black heels worn to dominate the room or the swish of hair as you leave. It's the smell of a new leather jacket, a quick sprinkle of vanilla and a comforting dash of amber to round it off. Its leathery base is almost intimidating, an evening-only fragrance that threatens to overpower anything that dares to step in its way. Proving that there's far more than initially meets the eye, CH Privée grows sweeter as time passes. Subtle and intimate, you'll want to spend time with this fragrance to fully appreciate its unique magic. 
Platinum Leather is unusual and polished — a scent of contradictions that ensures you always want to delve deeper. It's a leather fragrance but not in the traditional sense, bolstered by mythical musky notes and earthy Cypriol oil. It's the scent of making yourself comfortable in a brand new, chauffeur-driven luxury car with a bouquet of white flowers in hand. It's also the jasmine petals left on the seats and the pink pepper as you step out at your faraway location. Mostly, it's the best Carolina Herrera perfume for those cold, grey days, when it almost forcefully takes your hand with a look of determination, pulling you into an alternate world.
212 is the scent of life, of movement, and of vigor. This Caronla Herrera ladies perfume impatiently waits with tapping toes, striding forward and leaving wisps of orange blossom, cactus flower, and bergamot in its path. A spring morning in a bottle, the original 212 fragrance is one of chance and opportunity. It's a fresh morning with enough energy and curiosity to satiate even the most adventurous of women. Its freesia sharpness contrasts beautifully with a soft, clean, professionally fresh finish. It's a bottle you'll want to carry around with you to spray at any given opportunity.
Good Girl Legere is the original Good Girl's younger sibling. It's a fresher, lighter variation of the original with a sweeter blend of notes and a carefree nature to match. A caffeine-free perfume with the same oriental, floral bouquet, Good Girl Legere's creamy drydown is a firm favorite for joyful date nights and new, spontaneous experiences. This complex perfume is sexy enough for evening occasions but friendly enough to not push the boundaries of an intense spray. Zesty, versatile, and a sure-fire signature, this Carolina Herrera fragrance brings together the classy DNA of the original with a newly youthful edge.
Summary
Exquisite blends and captivating aromas ensure the best Carolina Herrera fragrances refuse to back down in the world of popular perfumes. With a range of premium fragrances pulling together sweet, spicy, leathery, citrus, and floral notes, FragranceX is the place to shop for all of the best Carolina Herrera perfumes.
---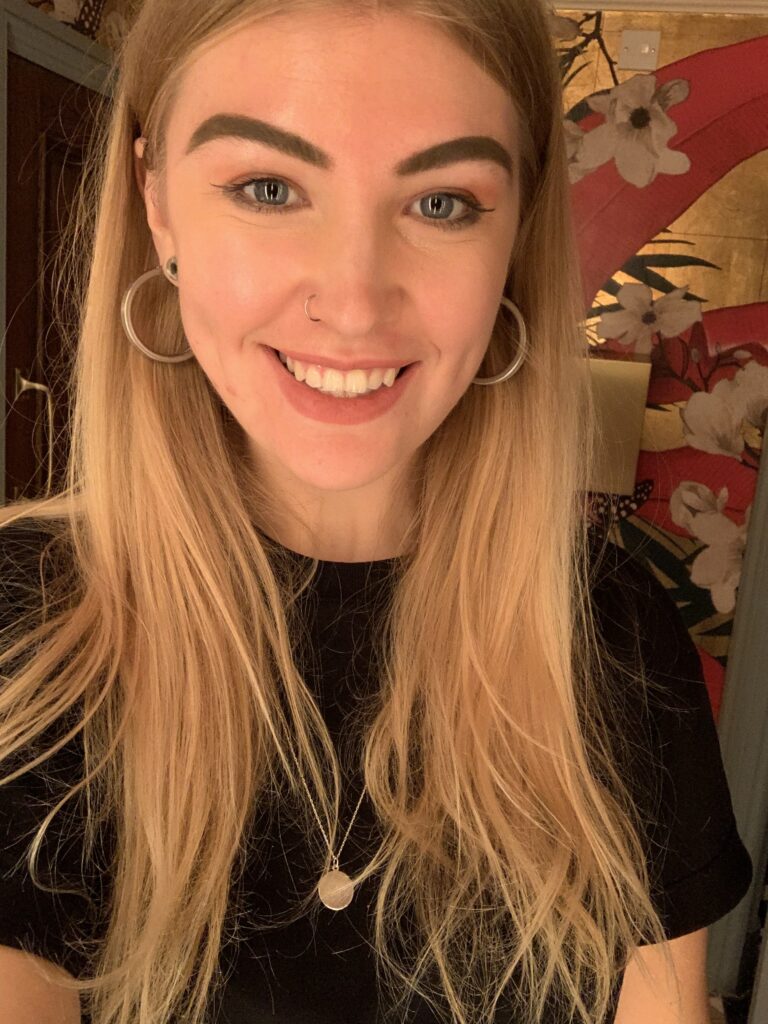 Georgie Darling is a freelance lifestyle and travel writer from London, England. Her work has been published in Grazia, HuffPost, YAHOO!, Culture Trip and Fodor's Travel amongst others. When she's not writing, Georgie spends most of her time traveling to new countries, cooking unusual recipes or scuba diving.
Subscribe via Email
Get the best of FragranceX delivered straight to your inbox
Related Posts
Nov 27, 2023
|
4 min Read
Best Incense Perfumes
From the beginning of civilization, it was believed that the only the smoke of incense could...