Aug 31, 2022
|
5 min Read
What Perfumes Does Ariana Grande Wear? 
Let's be honest: we all want to be Ariana Grande. This fun-loving beauty has it all, from the stunning looks to the confident, don't-mess-with-me personality, and the incredible lifestyle to match.
While we can't promise to bring your entire Ariana daydream to life, we can help you take the first step by smelling like this talented powerhouse. If you've been wondering what Ariana Grande's favorite perfume is, read on for all the answers.
What perfume does Ariana Grande wear?
Ariana Grande's favorite perfume is Viktor & Rolf Flowerbomb, although she's also known for wearing Givenchy Hot Couture, Tom Ford's Neroli Portofino Aqua, and Trish McEnvoy Sexy #9. Ariana describes herself as a huge fragrance lover and loves sweet, sensual fragrances with floral and fruity notes.
If you're looking for Ariana Grande's perfume list, you've found it. See the pop singer's top perfumes below.
The perfume that Ariana Grande smells like on a regular basis is Viktor & Rolf's Flowerbomb. This floral, patchouli-heavy scent is a powerful one with top notes of Sambac jasmine, Centifolia rose, freesia, and orchid and a lengthy base of milky, powdery notes. It's a sophisticated, stylish scent with a brilliant longevity.
You may not be surprised to hear that Ariana Grande's favorite fragrance list also includes one from her own lineup. Ari is both fruity and sweet — a youthful, fun-loving scent that's best worn during the summer months. Blending delicious top notes of raspberry, pear, and grapefruit with heady vanilla orchid and lily-of-the-Valley, it's a fragrance that matches Ariana's bright personality.
Givenchy Hot Couture is an elegant scent that deserves to be paired with flawless makeup and Ari's signature long ponytail. A combination of classically fruity and unusual fresh spicy notes, it's a popular fragrance in a classy bottle that's best suited to dinner parties. The heart notes of magnolia, pepper, and vetiver here give this perfume a complex edge.
Ariana Grande's fragrance line: the best scents
Here are the top Ariana Grande perfumes from the star's signature fragrance line.
Ariana Grande Cloud smells good enough to eat. This girly, youthful scent is best suited to teenagers and women in their early 20s, thanks to its potent sweet, vanilla-scented accords. With its unusual bottle shape, it's one of the best Ariana Grande perfumes for gifting and, with notes of whipped cream, praline, coconut, and vanilla orchid, it promises to serve up a treat on the skin.
Ariana Grande Sweet Like Candy is a little sassier than Ariana Grande's other scents. This cheerful fragrance offers a boost of confidence in a sweet, vanilla, fruity form that you'll love the most on Friday nights. With its pastel pink bottle color, oversized fluffy pom pom attachment, and notes of berries and candies, it's a delight from start to finish.
Ariana Grande Moonlight is intoxicatingly delicious. A heavier scent with Ari's signature fruity, sweet accords, it opens with a burst of powdery floral goodness and an innocent appeal to match. Created to inspire confidence and happiness in everyone who wears it, Moonlight wows with its marshmallow, peony, and sandalwood notes and impressive longevity.
Ariana Grande Thank U, Next is fruity and sweet. Spritz this fragrance initially and you'll fall for its raspberry and coconut top notes, paving the way for a summer-ready blend of roses and tropical fruitiness. This is one of the best Ariana Grande perfumes to take on vacation, when its base notes of macarons and musk promise to hold their own for hours.
Ariana Grande God Is A Woman is somehow light and powerful at the same time. A little more refined and suitable for evening occasions, God Is A Woman is an amber-heavy scent with musky undertones. This classy perfume makes good use of elegant notes like Turkish rose, Madagascan vanilla, and ambrette to fuse together with unbeatable charm. 
How can you smell like Ariana Grande without breaking the bank?
So — what perfume does Ariana Grande wear? All the ones on the list above. You'll find Ariana Grande's fragrance line here at FragranceX along with discounted scents from all of your favorite brands. Looking to smell like your ideal celebrity or on the hunt for a new signature perfume? Scroll through our thousands of scents to discover your next new fragrance.
---
For more perfume information, read on: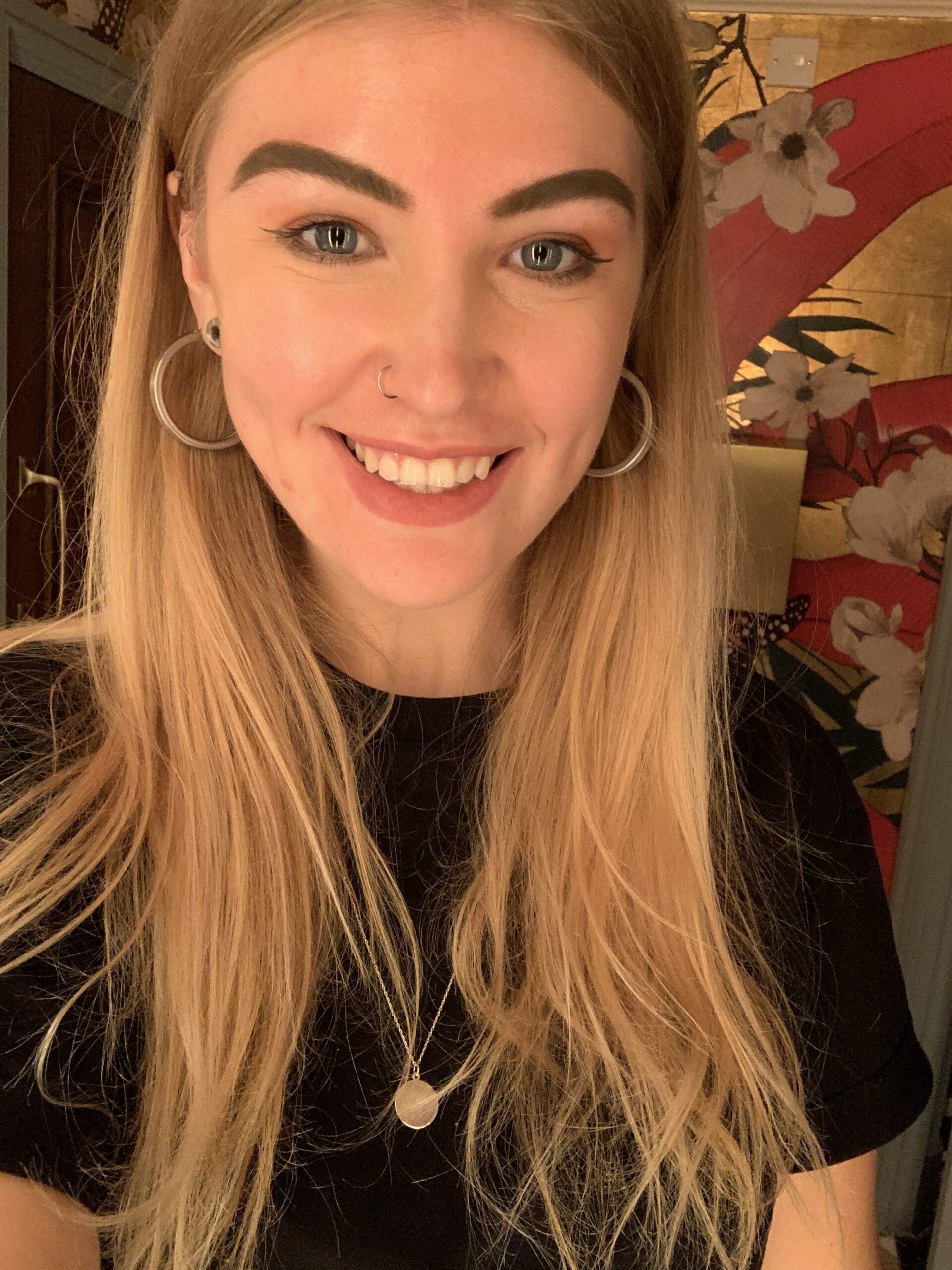 Georgie Darling is a freelance lifestyle and travel writer from London, England. Her work has been published in Grazia, HuffPost, YAHOO!, Culture Trip and Fodor's amongst others. When she's not writing, Georgie spends most of her time travelling to new countries and scuba diving. She's been an avid fragrance lover since a young age and considers Alaïa by Alaïa Paris to be her signature scent.
Subscribe via Email
Get the best of FragranceX delivered straight to your inbox