Oct 10, 2022
|
5 min Read
8 Best Roja Parfums 
A bottle of scent, for me, is an Aladdin's lamp. You open the bottle and release a genie." -Roja Dove of Roja Parfums
Roja Dove of Roja Parfums is one of the most famous names in fragrance, with a global cult following. His brand uses only the finest and costliest ingredients across scent profiles, including modern chypre, floral, oud and sweet extrait de parfums and eau de parfums to make any perfume lover happy with a long-lasting and memorable scent. 
Here are some of Roja's best parfums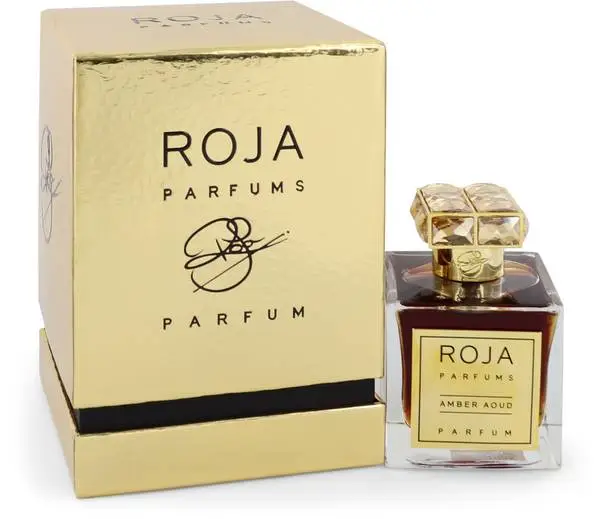 Amber Aoud is one of the most iconic and beloved perfumes in the Roja Parfums collection and is an extrait de parfum which means it contains 20-40 percent pure perfume. There is amber in its name but rose is the star. Amber Aoud is one of the most luxurious, complex and sumptuous rose/oud fragrances of the past decade.The oud is wrapped in a big jammy velvety rose which is offset by Moroccan fig which is sweet, bright, and warm. Incense and resins at the base add a touch of smokines.. 
It is bold, so just one or two sprays will linger for the entire day. If you want to know what "classy" smells like … this is it. Amber Aoud is a real compliment getter and unisexy. The man in your life is likely to sneak a spritz.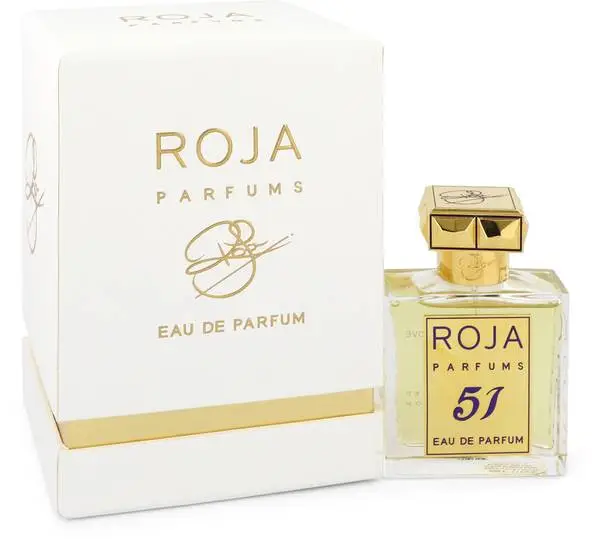 Roja Parfums 51 Pour Femme smells expensive on first spritz. This fruity floral oriental is in a word…beautiful. Scents of lily of the valley, leafy violet, exotic tropical flowers and orange blossom glows with ambery sunshine in this scent that evokes a young feeling. Clove and cinnamon are sprinkled over a raspberry kiss as vanilla and benzoin caress sheer woods, benzoin and vanilla at the base. Whether you are at work or out on a date, 51 Pour Femme will get a lot of attention.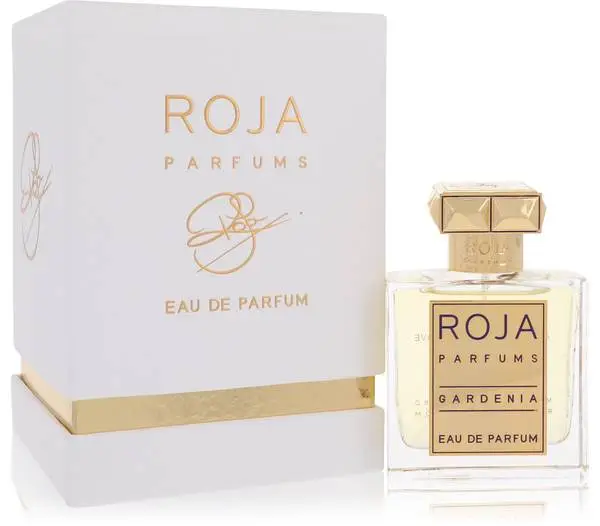 Gardenia opens with scents so lush and fresh, your heart will skip a beat. It's a glorious blend of rose, jasmine, mimosa, violet, orange blossom, and heliotrope.The florals are lifted by fresh bergamot and supported by cedar and sandalwood. Peach leaves, styrax and elemi add depth while a sensual musk pulses throughout the composition. 
Wear Gardenia when you want to feel elegant. It is gorgeous all year round and especially lovely in warmer weather. Well suited for day or evening wear.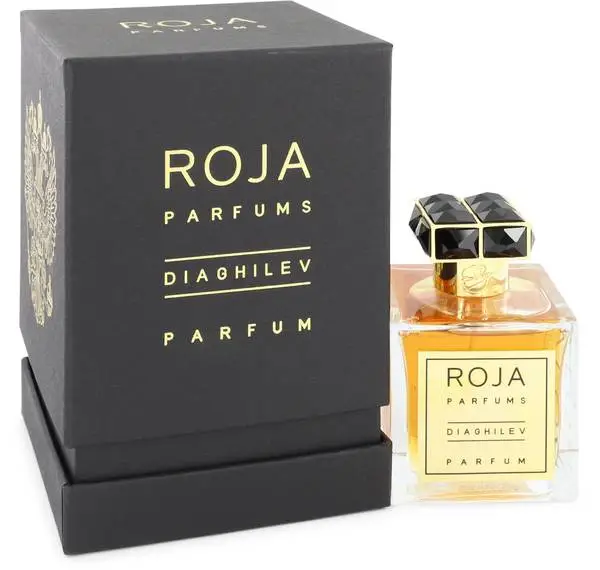 Roja Parfums Diaghilev was named for a famous Russian artist who wore one of Roja Dove's favorite Guerlain perfumes, which has a similar chypre structure of bergamot, oakmoss, and labdanum. Diaghilev opens with a realistic peach note, and is sweetened by ambrette. It is very complex, yet very easy to wear with notes of rich leather, ripe fruit and musk.  Many fragrance lovers claim it is one of the best modern chypres ever.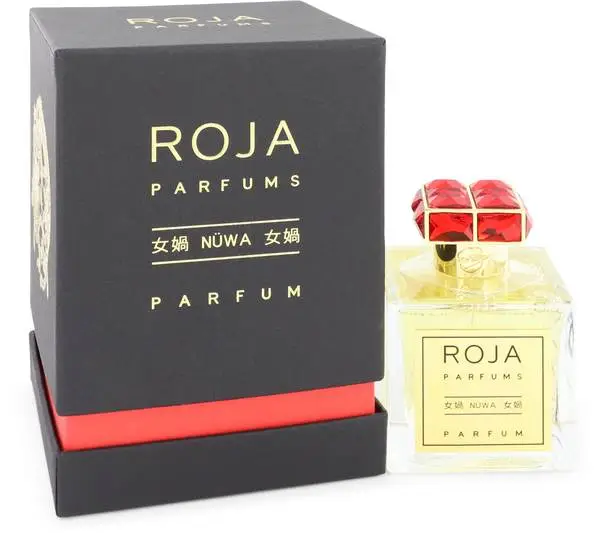 Nuwa is the fabled Chinese Goddess who is said to have created humanity. According to legend, Nuwa filled all flowers with fragrance. Roja Dove spent 27 months to complete this feminine perfume, using the Chinese tradition of subtlety and balance. Delicate florals are gently spiced and float on top of a peachy osmanthus heart which is offset by black tea. A shower of golden resins warms the air and rests on a vanilla and amber base.The bottle is hand set with fourteen Swarovski crystals is the deepest ruby red; the color representing joy, good fortune, and happiness associated with Chinese celebrations and weddings. Nuwa would be a wonderful perfume for a bride or to wear for special occasions.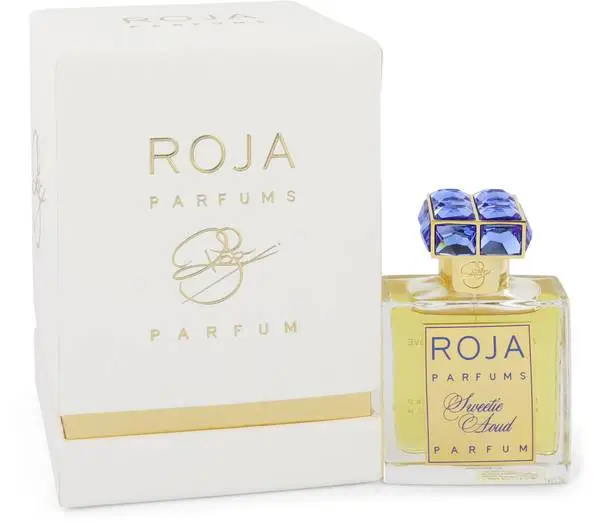 Roja Dove spends a lot of time in the Middle East and his AOUD series of fragrances is a great example of Eastern style perfumes but with a contemporary French twist. Roja Parfums Sweetie Aoud is an opulent gourmand perfume with a unique patisserie accord, delicious with a buttery tone that blends beautifully with oud. Sumptuous spices, exotic woods and a touch of incense create the base which supports the delicious sweetness that lasts all day. Sweetie Aoud is cozy and luxe, making it great in cooler weather.
Roja Vetiver is one of the most versatile in the collection, with natural, fresh and green smells paired with bright bergamot and clean vetiver. There are hints of jasmine, rose and lemon at the heart which are blended beautifully with green notes, a variety of spices including pink pepper, caraway and nutmeg add flavor and flair before settling on the woody, slightly smoky notes of woods and oakmoss at the base. Pure class and great for business occasions, it is unisex with outstanding longevity and can be worn all year round.
Best Roja Parfums
Roja Parfums are luxurious, elegantly packaged, use the best quality ingredients and are all created by master perfumer Roja Dove. Using mostly ambery, floral and resinous notes they range from classic to modern, chypre to gourmand, romantic to bold. 
Although they are complex creations, they are easy to wear and are compliment getters. FragranceX carries a great range of authentic Roja Parfums for less than department store prices. Shop discounted designer fragrances now!
---
Interested in learning about other top perfume brands? Check out the other FragranceX perfume guides:
Leanna Serras is an educated and well-versed fragrance writer with a passion for perfume. She has loved trying new perfumes since she was a child, and has tried everything from fruity to woodsy fragrances in her time cherishing scents. Outside of writing and collecting perfume, Leanna loves fashion, skincare, "the Bachelorette," and kicking back on the beach.
Subscribe via Email
Get the best of FragranceX delivered straight to your inbox