Dec 28, 2021
|
8 min Read
11 Best Perfumes By Kilian of all Time
Despite being a relatively new fragrance brand, By Kilian has made a major splash with delicious-smelling scents and iconic in-house perfumers.
But which Kilian fragrance is best for you? Follow along to learn which By Kilian perfume, whether bold or subtle, is bound to become your signature scent.  
What is Kilian Perfume?
Kilian is one of the most successful luxury perfume brands of the last decade.  Founded in 2007 by cognac heir Kilian Hennessey, his By Kilian Perfumes burst on the scene and captured the noses of perfumistas everywhere with his stunning L'Oeuvre Noire (Black Masterpiece) collection. 
Ever since, without exception, the line is beautifully composed of high-quality materials by well-known perfumers including the award-winning perfumer Calice Becker. Kilian perfumes are often based on stories of seduction and each is dazzling and often provocatively named. By Kilian perfumes are packaged lavishly and elegantly, sparing no expense, in finely lacquered flacons and luxe boxes.
Here's a list of the best perfumes ever made by Kilian.
11 Best Perfumes for Women By Kilian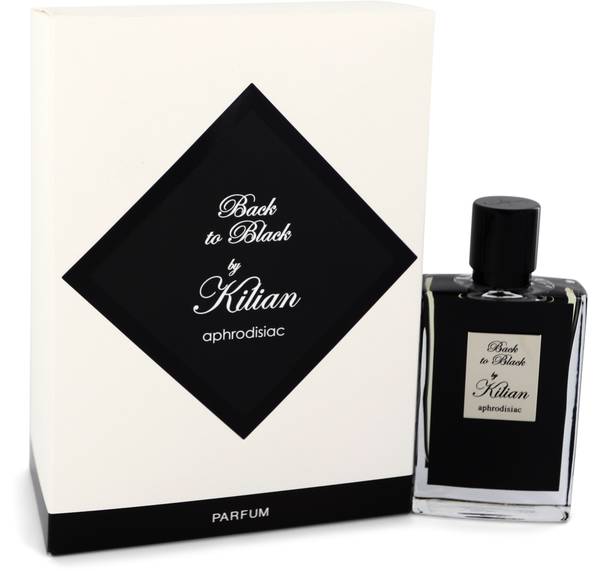 Considered a modern masterpiece and the 8th in the L'Oeuvre Noire collection Back to Black Aphrodisiac is the most well-known By Kilian Perfumes is rumored to be a tribute to singer Amy Winehouse. Working with perfumer Calice Becker this fragrance taunts and tantalizes with the "narcotic lure" of tobacco and a return to sensuality. 
Women will find the ambery-woody scent feminine (but men will enjoy it as well). The perfume notes feature bergamot, nutmeg, saffron, cardamom, coriander, raspberry, blue chamomile, honey, olibanum, cedar, oak, tobacco accord, patchouli, vanilla, almond and labdanum. Best worn in the evening or when you want to make a statement.
Recommended related fragrances: Prada Amber, By Kilian Intoxicated,  Escada Magnetism By Escada
 
Liaisons Dangereuses launched in 2007 as one of the first in the L'Oeuvre Noire collection and means 'dangerous encounters". This femme fatale fruity floral uses an exquisite combination of coconut and rose. The top notes are deliciously fruity and aromatic, cool and creamy and mix with sweet peach, tart plum, and tangy blackcurrant. The dry down hints of spices and clean musk, with a lasting note of coconut sorbet. Sexy and sweet, a great fragrance for day or night.
Recommended Related Fragrances: Diptyque Philosykos,  Balanciaga Florabotanica, Bvlgari Splendida Rose Rose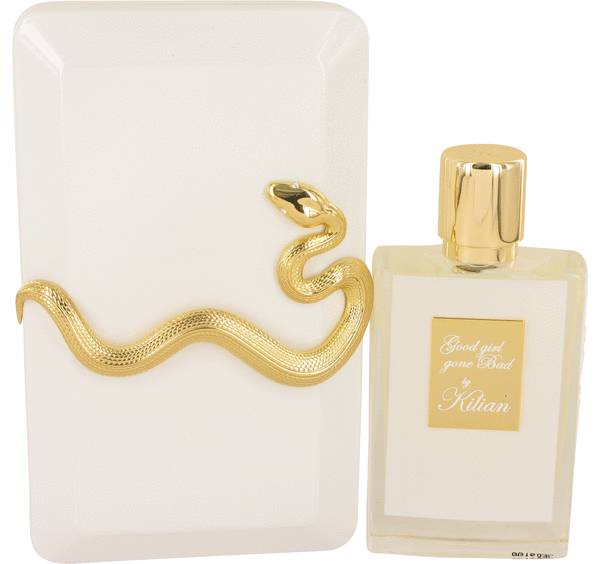 If you are a fan of sweet fruity floral fragrances, you are sure to love By Kilian Perfumes Good Girl Gone. With an innocent opening of Rose de Mai, the most expensive in the world, soft jasmine and peachy osmanthus are flirty and innocent A floral heart of jasmine and rose make way for the bad girl of florals, sensual tuberose. It's definitely a fragrance to wear in the evening or special occasions. The unique box looks like an evening purse, and a golden snake slithers and hints of the seduction inside.
Recommended related fragrances:  Angel Perfume by Thierry Mugler, Euphoria by Calvin Klein, Shalimar by Guerlain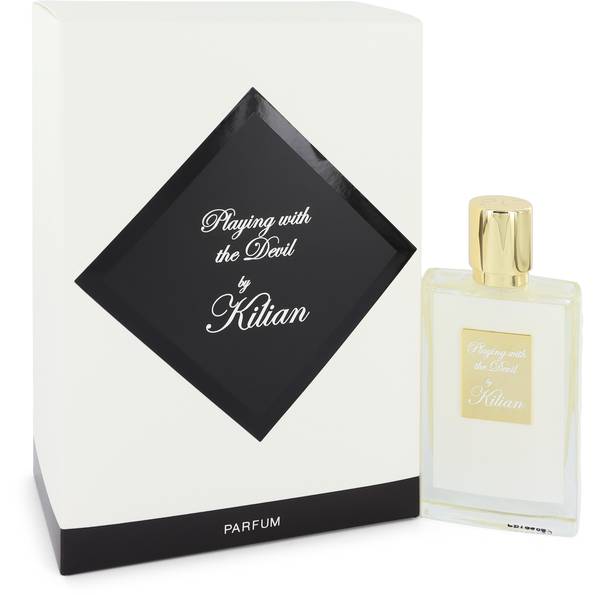 Opening with a burst of blood orange, By Kilian Playing With The Devil is bright and cheerful, but wait there is the temptation ahead. Perfumer Calice Becker, who is exceptionally talented, has created a fragrance that is boozy, fruity and sweet. Pimento adds contrast and rich tonka bean, benzoin, and vanilla rest on a base of golden amber and tantalizing musk. 
Recommended related fragrances:  Madame Rochas By Rochas, Fidji By Guy Laroche, Boucheron Place Vendome By Boucheron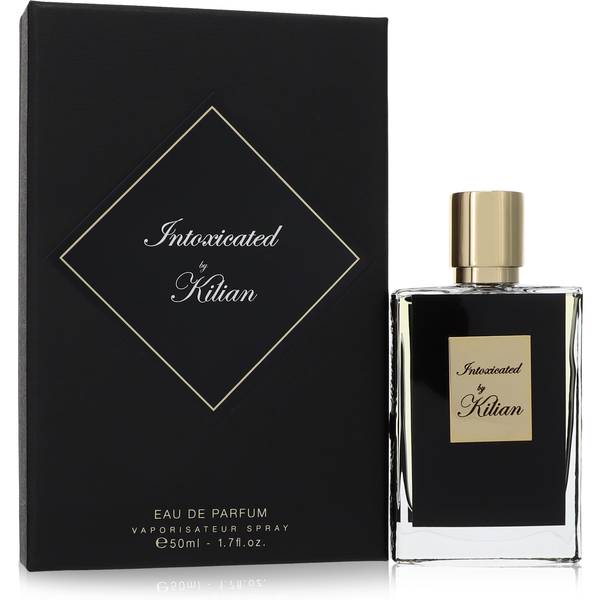 Master Perfumer Calice Becker was inspired by Turkish coffee when she created Intoxicated. Richly spiced cardamom known as the Queen of Spices reigns and lends an exotic aroma with warm, spicy and highly aromatic nuances. The 1001 Arabian Nights makes frequent reference to cardamom's use as an aphrodisiac. If you are looking for a long-lasting perfume with sillage and one with seduction, add By Kilian Intoxicated to your evening or date night perfume collection.
Recommended related fragrances: Back to Black Aphrodisiac, Rolling in Love Eau de Parfum, Paris By Yves Saint Laurent
From the Asian Tales scents, By Kilian Flowers of Immortality a perfumed reflection of Eastern aesthetics. Simply and beautifully, Calice Becker has managed to bring to life the Chinese myth of "The Fountain and the Peach Blossom Spring" in Flowers of Immortality by swirling together notes of peach blossom, translucent white peach combined with the soft green of irises blowing on a dry breeze of carrot seeds.  Green leaves shimmer on soft woods. By Kilian Flowers of Immortality is a very balanced and Zen-like scent, as ephemeral as it is elegant.
Recommended related fragrances: Angel, Eau Sucree By Thierry Mugler, La Tentation De Nina Ricci By Nina Ricci, Fidji By Guy Laroche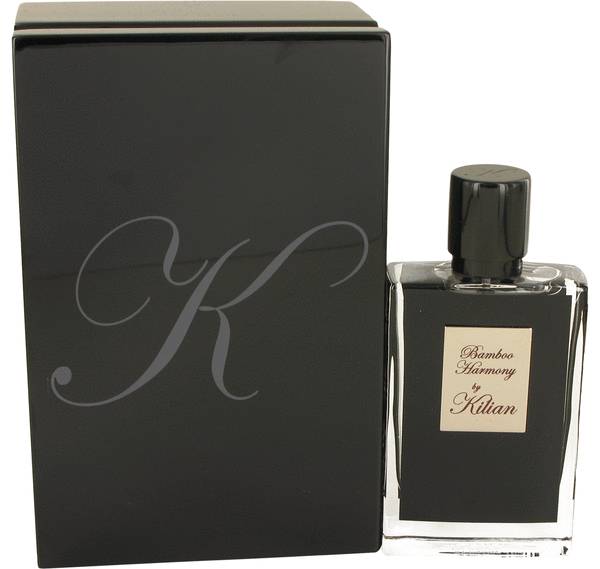 Perfumer Calice Becker creates a scent that is light, breezy, and soft, but at the same time remarkably long lasting. Bamboo Harmony centers around a white tea note, that is sweet, smooth and clean and there is a hint chrysanthemum which is a good luck flower in Asia adds a powdery touch to the watery lily and lotus that floats throughout. Best for day or casual wear.
.Recommended related fragrances: Escada Magnetism By Escada, Paris By Yves Saint Laurent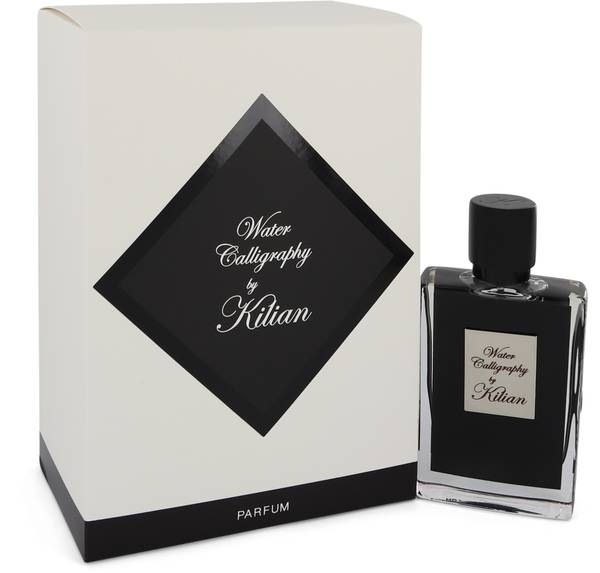 Another perfume from the Asian Tales collection, Water Calligraphy opens with grapefruit and herbal reseda blossoms. Invigorating yet somehow soothing, this morphs into a soft and somewhat creamy floral with magnolia that adds a delicate facet to the intoxicating jasmine and aquatic water lily.  All of these notes blend together, like a stream joining a river, to "flow over vetiver and cardamom. Peaceful and uplifting, Water Calligraphy is a great every day fragrance and especially lovely in summer
Recommended related fragrances: Demeter Wet Garden, Daisy Eau So Fresh, DKNY Be Delicious Fresh Blossom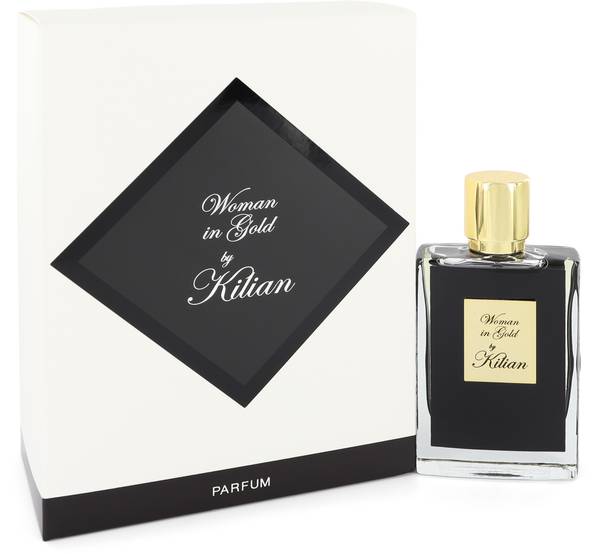 By Kilian Woman in Gold gleams on the skin like a ray of golden sunlight. This warm, woody and sweet fragrance opens with a burst of bergamot that shimmers and reveals a rose in full bloom. Geranium pairs with the rose adding luminous freshness. A slightly spicy patchouli adds depth and contrasts with smooth vanilla, in a delightful feminine fragrance. Exceptional longevity and a memorable scent trail makes this a rose perfume that stands out from the crowd and is unique. 
Recommended related fragrances: La Vie Est Belle by Lancôme, Shalimar by Guerlain, Oscar Perfume by Oscar de la Renta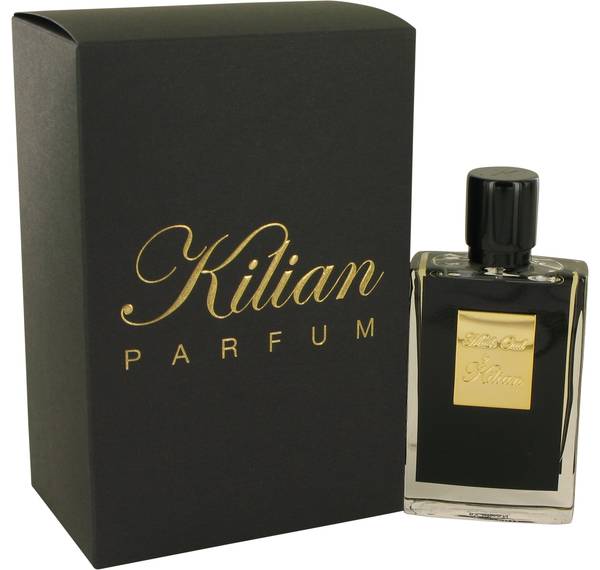 By Kilian Musk Oud is an oud-centric fragrance, that is softer and easy to wear with a bright burst of bergamot. There is a bit of cypress and coriander but it is the freshness which start things off. Cardamom is an elegant foil for the citrus notes and it is the critical early note.  The heart is rose, a liquor-like davana, and rum. It is mostly rose but the rum accentuates the sweet part of the rose. Davana also helps on keeping the rose sweet but it is the rum which gives it a bit of boozy foundation which makes the heart  beat. In the base the title notes as oud and musk finally make their presence known. When they come together it forms an intense but not overpowering oud perfume that lingers for hours on the skin. For men and for women, this is a great oud perfume if you arenew to the ingredient or want a lighter scent.
Recommended related fragrances: Viktor and Rolf FlowerBomb, Bvlgari Goldea, Calvin Klein Obsession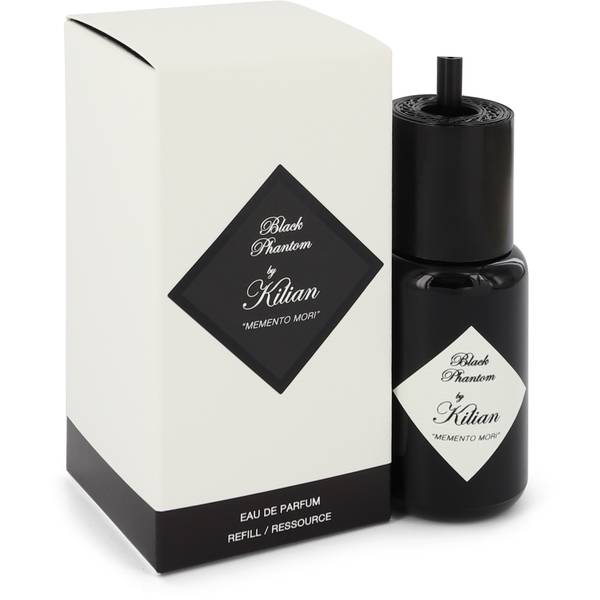 From the luxury house of By Kilian Perfumes Black Phantom Memento Mori is a multi-faceted dark chocolate gourmand perfume.  Notes of chocolate, caramel, and coffee combine creating a complex and sweet perfume that has hints of boozy rum and powdery almond that has a fantastic creamy, dreamy sandalwood base. The ultimate in indulgence, this chocolate perfume is long lasting and is for men and women who want to stand out from others.  Long lasting with a lingering trail, Black Phantom Memento Mori is best for evening and cooler weather.
Recommended related fragrances: By Kilian Intoxicated, By Kilian Playing With the Devil, Mancera Choco Violette 
Best Kilian Fragrances – In Conclusion
By Kilian Perfumes are luxurious and highly regarded with a wide range of scent profiles- from dark and rich to light and subtle. Using the finest ingredients and packaged in beautiful bottles they offer both sexy sophistication and casual elegance.
FragranceX carries a great range of authentic By Kilian Perfumes for women and men at less than department store prices. Shop discounted designer fragrances now!
For more on the greatest perfume brands and scents, read on:
---

Leanna Serras is a well-versed fragrance writer with a passion for perfume. She has loved trying new perfumes since she was a child, and has tried everything from fruity to woodsy fragrances in her time cherishing scents. Outside of her love for writing and collecting perfume, Leanna enjoys fashion, skincare, "the Bachelorette," and kicking back on the beach.
Subscribe via Email
Get the best of FragranceX delivered straight to your inbox